The Best Acupressure Mats for Your Money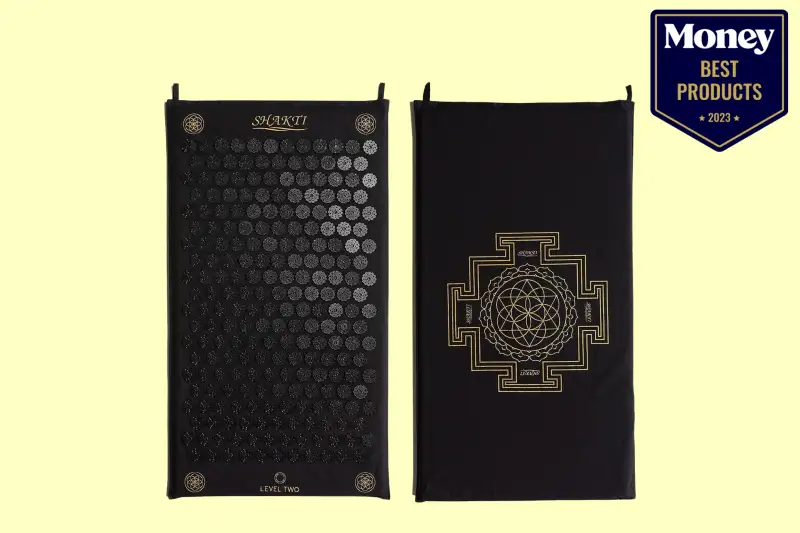 Acupressure is an ancient healing practice based on the idea that energy flows through the body along pathways, and when these pathways become blocked, the body can experience pain and other unpleasant symptoms. Acupressure aims to remedy this energy blockage with pressure application on specific points along the body. One of the most popular ways to enjoy the benefits of acupressure from home is by investing in an acupressure mat. These products are designed to deliver pressure to specific points on the body to restore energy and reduce pain and stress.
In this article, we'll provide a detailed breakdown of the finest acupressure mats of 2023, discussing their pros, cons and features. We'll also share our expert buying tips to help you choose a product that suits your needs. Read on to learn more about how an acupressure mat can enhance your overall health and find the right one for you.
Best Overall: ProsourceFit Acupressure Mat Set
Best Accessories: DoSensePro Acupressure Mat Set
Best for Sturdy Construction: ShaktiMat Acupressure Mat
Best for Easy Maintenance: Sivan Health and Fitness Acupressure Mat Set
Best for Portability:NAYOYA Acupressure Mat Set
Comparing the Top Acupressure Mats of 2023
List Price: $29.99
The ProsourceFit Acupressure Mat Set is the best overall option on our list due to its high-quality design and impressive range of sizes and colors. The cotton-linen cover encases a thick, comfortable foam pad made from cotton and other natural materials. There are 6,210 plastic spikes strategically placed along the mat to aid in alleviating pain, promoting relaxation and improving circulation. The set also includes a neck roll pillow with 1,782 acupressure spikes.
This product is available in large and extra-large size options. The large size comes in 11 color combinations, and the extra-large size comes in four color choices. The mat's foam core is removable, allowing you to hand wash the cover when needed. Laying on this high-rated mat for as little as 10 minutes each day can go a long way in improving your blood flow, sleep quality, energy level and overall health. It can also be used seated if you prefer, though the pressure will be most evenly distributed when used conventionally.
Pros
Made from natural materials
Comes with a matching acupressure pillow
Offers excellent coverage
Cons
Isn't machine washable
May be uncomfortable for some
List Price: $58.77
The DoSensePro Acupressure Mat Set comes with useful accessories, setting it apart from comparable products. The mat and pillow can be compactly stored in the included travel bag when they're not in use. The bag features a drawstring closure with a cord lock for extra security, making it ideal for traveling and on-the-go use. The set also comes with a medium-sized, reusable hot/cold gel pack. Simply heat the pack in the microwave or chill it in the refrigerator for additional relief from aches, pains and sore muscles.
This longer-than-average acupressure mat measures 29 inches long, offering plenty of coverage. The cotton cover is as durable as it is comfortable, and the high-density foam filling offers excellent support and is latex-free, so it's safe for individuals allergic to this material. Using this set for as little as 20 minutes each day can offer similar benefits to a professional massage at a fraction of the cost.
Pros
Carry bag and gel pack included
Extended length for optimal coverage
Latex-free foam core
Cons
Limited color choices
Not resistant to water
List Price $89.00
The ShakiMat Acupressure Mat features a durable, handcrafted construction for long-term use. The spikes are made from top-quality ABS material, and they're ultra-sharp so they won't dull or lose their shape over time. The product is glue-free and each spike is individually attached using a unique clip technique. Manufactured in India, this mat is made with organic cotton and organic dyes, making it safe and gentle on the skin.
The manufacturer offers a 30-day guarantee, allowing you to test out the mat for a month without risk or commitment so you can purchase it with confidence and peace of mind. If you don't love the product before the month ends, simply return it for a refund — no questions asked. This pick also features a pretty design on the back and is available in five eye-catching colors.
Pros
Safe, organic materials for sensitive skin
Thirty-day return policy
Unique construction process with durable spikes
Cons
Difficult to clean
No pillow included
List Price: $34.99
If you're looking for an option that's easy to maintain, the Sivan Health and Fitness Acupressure Mat Set is a breeze to clean. Simply slip off the removable cover, wash it by hand and allow it to air dry. With a 29.5-inch length, this mat is longer than most comparable products, offering extra coverage and making it a solid choice for taller users. The spikes are strategically placed along the mat to provide even pressure and are made from toxin-free, safe plastic material.
This set also includes a neck pillow, which is outfitted with acupressure spikes for a balanced combination of support and pressure. It's a great choice for on-the-go use, as the mat folds down to a compact size for easy traveling. You can choose from green and black color options based on your style preferences.
Pros
Removable cover for easy cleaning
Extended length for better coverage
Matching acupressure pillow included
Cons
No carry bag included
Limited color choices
List Price: $74.99
The NAYOYA Acupressure Mat Set consists of a mat and a matching pillow — both conveniently packaged in a carry box. The packaging features an integrated handle for easy portability and can also be used to safely store the mat and pillow when they're not in use, making this a solid choice for anyone looking for on-the-go pain relief. Plus, the included neck roll is perfectly sized for travel, offering excellent support, comfort and pain relief whether you're traveling by plane, train or automobile.
Featuring 6,210 and 1,782 acupoints respectively, the mat and pillow work together to target and stimulate the body's pressure points for quick, convenient pain relief. Using this set as part of your daily routine can yield various health benefits including better circulation, improved sleep quality, higher energy levels and even relief from symptoms of some conditions, including fibromyalgia and sciatica.
Pros
Designed with portability in mind
Provides excellent support and coverage
Features durable non-toxic plastic spikes
Cons
Doesn't come in additional colors
Doesn't come in additional sizes
Buying Guide: Acupressure Mats
With so many options available, choosing the best acupressure mat for your needs can be challenging. This buyer's guide will walk you through the most important factors to consider so you'll be able to make an informed purchase decision.
Design
The mat's shape, size, texture and thickness should suit your height and comfort level. A quality mat should provide even pressure throughout the body, as well as adequate coverage.
Materials
An acupressure mat's materials will determine how comfortable, durable and effective it is. Many high-quality acupressure mats are made from sturdy, safe materials like organic cotton, plant-based foam and natural rubber that'll last years with proper care.
Pressure points
Look for mats that have strategically placed pressure points to ensure maximum benefits. The pressure points should be evenly spaced along the mat; some models even come with adjustable spikes, allowing you to customize your experience. The spikes on acupressure mats can also have different numbers of points depending on the product, which can affect the pressure levels.
Filling
Some mats are filled with microbeads that provide additional cushioning and comfort or herbs and spices for additional therapeutic benefits. Other models may feature a foam core for added support. Consider which material will offer you the most comfort and support when deciding.
Price
Look for acupressure mats that offer good value for money and are within your budget. Mats sold on their own are often less expensive than ones that come in a set with additional accessories.
Portability
If you plan to travel with your mat, look for one that has a foldable and lightweight design. Some products come with a carrying bag or box, which makes transportation and storage easier and more convenient.
Safety
Choose a mat that's safe to use. It should be made from materials free of toxins, lead, latex and BPA. Some brands offer hypoallergenic mats, which are great options for people with allergies or sensitive skin. The mat's spikes should be sharp enough to apply adequate pressure yet blunt enough not to pierce the skin.
Ease of care
Choose a mat that's easy to clean and care for so it'll remain effective and in good condition over time. Opt for one made with higher-quality materials that can withstand regular use without breaking down prematurely. Some of the best options have removable, washable covers for convenient maintenance.
Warranty coverage
Look for acupressure mats that come with a manufacturer's warranty to ensure you're covered if you have issues with the product down the line. Ideally, the warranty should remain effective for at least one year, however, some brands offer extended coverage.
Customer reviews
Read customer reviews for insight into the product's performance, effectiveness and reliability. Reviews can also provide useful information about specific features and models, making them a helpful part of the decision-making process.
People Also Ask
What's the difference between acupressure and acupuncture?
Acupressure and acupuncture both involve applying pressure to specific points along the body, however, they differ in how they do this. In acupressure, pressure is applied using the hands (or mats fitted with spikes), whereas pressure is applied in acupuncture by inserting ultra-thin needles into certain points on the skin.
Does using an acupressure mat hurt?
Acupressure mats can be uncomfortable initially and may take some getting used to. It can be helpful to lay a towel over the mat to alleviate some of the pressure and discomfort. After a brief adjustment period, most regular users no longer experience pain or discomfort; many even enjoy using the mats.
What are the benefits of using an acupressure mat?
Some of the most commonly experienced benefits of using an acupressure mat include pain relief, improved sleep, better circulation, reduced stress and tension, increased energy levels and improved posture.
How often should I use an acupressure mat?
Generally, we recommend using an acupressure mat once or twice daily for 10 to 30 minutes at a time for maximum benefit. However, it's important to consult your doctor to determine the best frequency for your individual needs.
How much does an acupressure mat cost?
This depends on the mat's quality, materials and whether it's sold individually or as part of a set. Generally, these mats cost between $15 and $60.
During what part of the day should I use an acupressure mat?
This depends on what you're trying to accomplish by using the mat. If you're looking to minimize insomnia or improve your sleep quality, then it's best to use the mat just before you go to sleep. If you're aiming to alleviate pain and tension, you can use the mat at any point of the day, however, it can be most effective to use the mat when your pain and stress levels are high.
Why Trust Us
Our commitment to customers begins with a carefully curated product selection process, ensuring we provide high-quality and reliable options. We meticulously vet each acupressure mat, analyzing quantitative aspects, such as star ratings and review count, and qualitative factors, including review content and product features. Our dedicated team of bargain hunters consistently prioritizes your budget by meticulously scouring the market and identifying the best acupressure mats available without ever compromising on quality or performance. Our panel focuses on presenting the pros and cons of each acupressure mat and converting technical specs into understandable insights. Our mission is to help you achieve effective pain relief with top-rated holistic equipment.