The Best Arthritis Creams for Your Money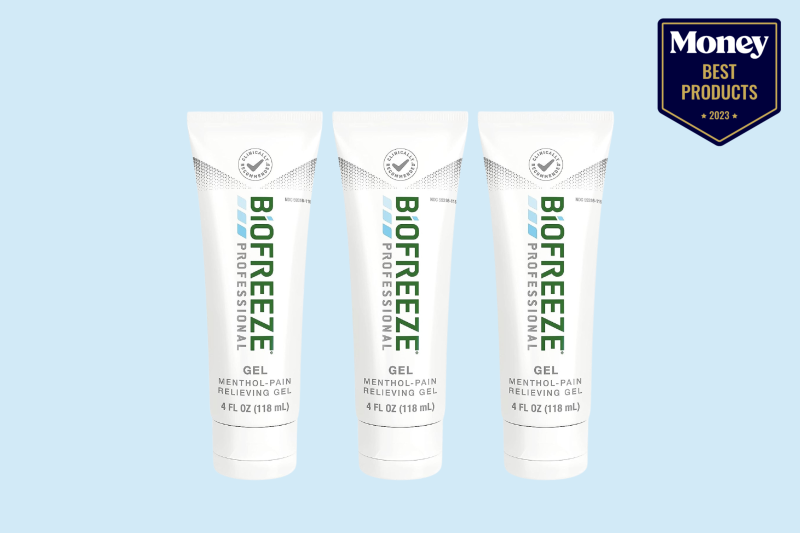 While there's no cure for arthritis, there are ways to manage your symptoms and improve your mobility and quality of life. When it comes to soothing the relentless discomfort of arthritic joints, the right topical cream can be a game-changer. These products are applied to the skin and are formulated with ingredients that target pain right at its source, offering relief from stiffness, inflammation, and discomfort. With so many options to choose from, finding a cream that works for you can be challenging. In this post, we aim to help you find the right product for your needs by reviewing the best arthritis creams of 2023. Read on to learn more about the many benefits arthritis ointments have to offer.
Best Overall: Aspercreme Maximum Strength Pain Relief Cream
Most Portable: Voltaren Arthritis Pain Gel
Easiest Application: Australian Dream Topical Arthritis Pain Relief Cream
Longest Lasting: Biofreeze Arthritis Pain Relief Gel
Most Effective: HealthCareAisle Prescription Strength Arthritis Cream
Comparing the Best Arthritis Creams of 2023
List Price: $6.89
Say goodbye to persistent arthritis pain with Aspercreme Maximum Strength Pain Relief Cream. Available in 3-ounce and 5-ounce sizes, this topical cream earned its place at the top of our list thanks to its convenient packaging and odor-free formula. It comes in a portable tube with an easy-to-open flip-top cap for easy on-the-go use. Plus, it goes on smoothly and doesn't have a strong smell so you can use it without feeling self-conscious.
This ointment doesn't leave a greasy residue and won't stain your clothes or fabrics. Its main ingredient is trolamine salicylate, which is known for its strong analgesic properties. The cream is easy to apply and absorbs into the skin quickly to deliver speedy relief from pain and joint discomfort. It can also be used to alleviate pain caused by strain, sprains, bruises and cramps. It doesn't contain aspirin, and its soothing aloe infusion prevents skin irritation and dryness.
Pros
Travel-friendly, convenient packaging
Easy application and fast absorption
No strong smell or residueWide range of uses
Cons
Not always effective for severe pain
Frequent reapplication may be needed
List Price: $31.99
Next up on our list is Voltaren Arthritis Pain Gel, which is designed to provide quick relief from arthritis pain, even when you're on the move. It comes packaged in two 3.5-ounce tubes, for a total of 7 ounces of product, and it can easily be tossed into your travel bag, purse or briefcase for on-the-go relief. It doesn't require a prescription, and it's formulated to improve mobility, alleviate pain and reduce stiffness.
This triple-action ointment not only soothes arthritis pain but also enhances mobility and minimizes joint stiffness. It's formulated with diclofenac sodium, a potent non-steroidal anti-inflammatory drug (NSAID), offering an effective alternative to pain pills. It can be applied directly to the joints for localized treatment in areas like hands, wrists, elbows, feet, ankles and knees. It penetrates the skin deeply and speedily, attacking pain at its source rather than merely masking it. It's free from parabens and dyes and can significantly improve your quality of life when used as directed for at least one week.
Pros
Absorbs into the skin quickly
Goes on smoothly and easily
Comes in travel-friendly packaging
Cons
Needs to be applied several times daily
May cause an allergic reaction in some
List Price: $24.99
The Australian Dream Topical Arthritis Pain Relief Cream is a solid pick for anyone looking for an easy-to-apply salve. It boasts a lightweight formula and comes in a 4-ounce container with a wide opening for easy access. It rubs on smoothly, absorbs quickly and doesn't feel greasy or leave a residue behind. It won't stain fabrics and the lid keeps the ointment securely contained to preserve potency for optimal results.
Also available in 2-ounce and 9-ounce sizes, this cream features histamine dihydrochloride as its primary ingredient. It's formulated without capsaicin and NSAIDs to prevent skin irritation and burning. The ointment absorbs into the skin fast, delivering quick relief from pain and discomfort. A little goes a long way so the container should last through many applications, providing countless hours of pain reduction and improved blood circulation.
Pros
Comes in three sizes
Doesn't contain NSAIDs or capsaicin
Won't stain clothes
Cons
Not effective for severe pain
Has a slight odor
List Price: $24.50
Designed for both small and large muscle areas, the Biofreeze Arthritis Pain Relief Gel offers long-lasting relief from arthritis pain, backaches, joint stiffness, bruises and muscle soreness. Its cooling menthol formula delivers fast-acting results that won't wear off prematurely.
This cruelty-free product is free from NSAIDs and comes packaged in three 4-ounce tubes for a total of 12 ounces. The tubes have convenient flip-top caps for effortless application, even on the go, and they're small enough to keep in your travel bag or backpack for easy access to pain relief no matter where you are. This gel can be applied to small or large areas, and it's also effective in relieving pain caused by sprains, bruises and backaches.
Pros
Comes in portable packaging
Applies easily and absorbs quickly
Works on large and small areas
Cons
Has a strong smell
May irritate sensitive skin
List Price: $17.99
Our final pick, the HealthCareAisle Prescription Strength Arthritis Cream, packs the same punch as prescribed ointments but is conveniently available over the counter for easy access to reliable pain relief. It features diclofenac sodium as its primary ingredient and is designed to combat pain at the source.
This clinically proven, non-steroidal anti-inflammatory gel offers temporary pain relief for the hands, wrists, elbows, feet, ankles and knees. It can be applied to these areas up to four times per day as needed, for a maximum of three weeks. It comes in a portable 5.29-ounce tube that's easy to travel with, and it's also available in a 3.53-ounce size. The tube has a flip-top cap for easy dispensation and application. Not only can this ointment reduce pain, but it can also help to minimize swelling and stiffness in select areas of the body.
Pros
Doesn't require a prescription
Can reduce inflammation and stiffness
Comes in convenient packaging
Cons
Feels tacky as it dries
Not suitable for back, hips or shoulders
Buying Guide: Arthritis Pain Relief Creams
Arthritis often means having to deal with chronic pain and reduced mobility. However, the right pain relief ointment can help you live a more comfortable life. With numerous arthritis creams available on the market, choosing the most suitable one can be challenging. This guide will help you understand the essential product features to consider so you can make an informed decision.
Active ingredient(s)
An arthritis cream's active ingredient determines its effectiveness. Common active ingredients include non-steroidal anti-inflammatory drugs, capsaicin, menthol and salicylates. NSAIDs, like ibuprofen, and salicylates reduce inflammation while capsaicin disrupts or overrides pain signals. Additionally, some salves contain glucosamine and chondroitin to support and cushion the joints. Depending on the severity and nature of your symptoms, you might prefer one active ingredient over another.
Strength
The strength or concentration of the active ingredient in the cream is another important feature. Higher strength equals more potent pain relief, but it may also increase the risk of side effects. Always start with a lower-strength arthritis cream and increase gradually, if needed, under a healthcare professional's guidance. For relief from more severe symptoms, you may have to work your way up to maximum- or prescription-strength products.
Formulation
Arthritis creams are available as gels, lotions and creams. Gels and lotions are usually lighter and suitable for daytime use, while creams are thicker and provide long-lasting relief, making them ideal for nighttime use. Pick the formulation that fits in with your skin type and lifestyle.
Price
Consider the price of your arthritis cream. Remember, a higher price tag doesn't always guarantee better performance. Compare prices and features across multiple products and aim for one that offers a combination of effectiveness and value.
Brand reputation
Buying from a reputable brand can give you peace of mind about the product's quality, effectiveness and safety. Research the manufacturer online and read through product reviews to get a sense of the brand's reputation and customer satisfaction rate.
Clinical studies and FDA approval
Arthritis creams supported by clinical studies and approved by the FDA are likely to be safe and effective. This information can usually be found on the product packaging or the manufacturer's website.
Allergies and skin sensitivity
If you have allergies or sensitive skin, you should consider this when choosing an arthritis cream. Avoid any ingredients that might trigger an unwanted reaction. Look for hypoallergenic products or those made from natural, organic ingredients that are less likely to cause irritation.
Scent
Some arthritis creams have smells that can linger or be overpowering. If you're sensitive to smells or want a cream you can wear discreetly, look for options that are either odor-free or have a light, pleasant fragrance.
Ease of application
Look for arthritis pain relief creams that are easy to apply. Ideally, the product should go on smoothly and absorb quickly. Aim for creams that don't have a sticky or tacky consistency and won't leave an oily residue behind or stain fabrics. The product should come in a convenient tube or container that allows for easy dispensation.
People Also Ask
What is arthritis cream?
Arthritis cream is a topical medication intended to relieve joint pain and inflammation often associated with arthritis. It's applied directly onto the skin over the affected area.
What ingredients are commonly found in arthritis cream?
Arthritis cream ingredients may vary from one product to another. Most often, these creams contain counterirritants, like menthol or methyl salicylate, capsaicin or NSAIDs, like diclofenac.
How do I use arthritis cream?
To use arthritis cream, apply a small amount onto the affected area and gently massage until fully absorbed. Don't apply more than directed and avoid contact with your eyes, mouth, and open wounds.
How often should I use arthritis ointment?
The frequency of application depends on the specific product and the severity of your symptoms. Generally, arthritis ointments can be applied up to three or four times daily unless otherwise directed by a healthcare professional.
Can I use arthritis cream with other arthritis medications?
Generally, arthritis cream can be used with oral arthritis medications. However, it's essential to speak with your healthcare provider before starting any new treatment to ensure there are no interactions.
Is arthritis cream suitable for all types of arthritis?
Not necessarily. Arthritis creams are mainly effective for osteoarthritis. For other types like rheumatoid arthritis, which affects the entire body, systemic medication is usually more effective. Always consult your healthcare provider for personalized advice.
How long does it take for arthritis cream to work?
The effect of arthritis creams can vary from person to person. Some people may feel relief shortly after the first application, while others may need to use the product regularly over a period of days or weeks to notice improvement.
Does arthritis ointment have side effects?
While arthritis ointments are generally safe, some people may experience mild skin irritation, burning or redness at the application site. If these symptoms persist or worsen, stop using the cream and consult your healthcare provider.
How do I store arthritis cream?
Store your arthritis cream at room temperature, away from extreme heat or cold. Make sure the lid or cap is secure, and keep the product out of reach of children and pets.
Can I use arthritis cream if I'm pregnant or breastfeeding?
It's crucial to consult with your healthcare provider before using arthritis cream during pregnancy or while breastfeeding, as some ingredients may not be safe.
Why Trust Us
Our commitment to customers begins with a carefully curated product selection process, ensuring we provide high-quality and reliable options. We meticulously vet each arthritis cream, analyzing quantitative aspects, such as star ratings and review count, and qualitative factors, including review content and product features. Our dedicated team of bargain hunters consistently prioritizes your budget by meticulously scouring the market and identifying the best arthritis creams available without compromising on quality or performance. Our panel focuses on presenting the pros and cons of each product and converting technical specs into understandable insights. We aim to ensure you find the most effective arthritis cream that meets your individual needs, so when pain spikes you get the relief you need.