The Best Compact Air Fryers for Your Money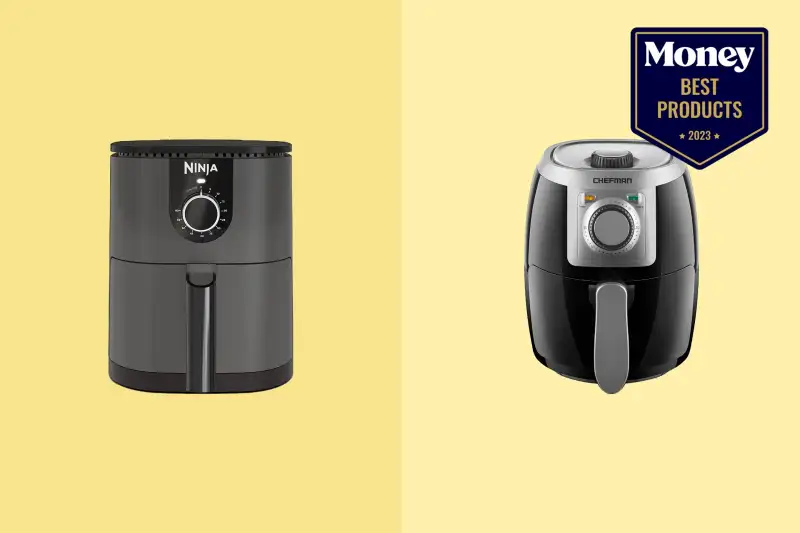 Gone are the days of heavy, bulky air fryers that take up most of your kitchen counter. Today's air fryers are more advanced, efficient and a lot more compact, making them a great choice for anyone looking to enjoy delicious, restaurant-style food from the comfort of their home. Air fryers allow you to cook food using hot air instead of oil, meaning you'll get amazing texture, delicious taste and the right tenderness without the added fat.
Compact air fryers are becoming increasingly popular thanks to their small size and high efficiency. If you're looking to get an air fryer but don't want something that will take up a lot of space, then we've got you covered. We've put together a list of the best compact air fryers of 2023 to help you find the right appliance for your needs. Read on to learn more about them.
Best Overall: Pro Breeze Compact Air Fryer
Editor's Pick: Chefman Compact Air Fryer
Best Value: Dash Compact Air Fryer
Easiest To Use: Ninja AF080 Compact Air Fryer
Most Premium: Cosori Compact Air Fryer
Most Versatile: Cuisinart Compact Air Fryer
Comparing the Best Compact Air Fryers of 2023
List Price: $149.99
Check on Amazon | Check on Sears
Elevate your cooking experience with the Pro Breeze Compact Air Fryer, one of the most innovative and highest-rated kitchen appliances, and bring healthy and delicious meals to your table. Packed with features and accessories, this air fryer is designed to simplify your culinary journey and revolutionize your family's cooking.
Healthy cooking takes center stage with this air fryer. Indulge in delicious meals with less fat as it can prepare a wide range of foods, from crispy fries to perfectly cooked steak, using up to 80% less oil. Thanks to its cutting-edge Cyclone Technology, hot air circulates efficiently around the oven, ensuring fast, flavorful and health-conscious meals with each use.
Embrace family cooking like never before with the generous 12-quart capacity, three tiers and 12 pre-set cooking modes. This culinary powerhouse is your go-to cooking companion, offering convenience and simplicity. The built-in smart programs cater to a variety of dishes, making it effortless to create wholesome meals for your loved ones. At 14 x 12 x 15 inches, its dimensions ensure it fits seamlessly into your kitchen. Between its versatile design, numerous cooking modes and cooking technology, this compact air fryer is the best overall option on our list.
Pros
Up to 80% less oil usage for healthy meals
Three tiers and 12 pre-set cooking modes for versatile use
Extensive accessories and parts enhance cooking options
Cons
May require dedicated counterspace
May need to tighten door screws initially
List Price: $44.99
Check on Amazon | Check on Walmart
If you're looking for an easy-to-use air fryer that can help you make healthy recipes, make sure you check out the Chefman Compact Air Fryer. Its space-saving design can fit almost anywhere, making it a great choice for studio apartments and college dorms. And, because it's compact, you can easily tuck it away in a cabinet when it's not being used. This compact air fryer is the ideal way to achieve tasty results without using lots of oil, helping you enjoy fried favorites in a healthier way.
You can set this compact air fryer's temperature between 200 degrees Fahrenheit and 400 degrees, making it great for all kinds of meals. Its built-in timer allows you to set a cooking time of up to 60 minutes, while the auto-shutoff mode means you won't have to always keep an eye on your food as it cooks.
The basket and tray are made from high-quality materials, meaning they won't show signs of wear and tear after use. The basket features a nonstick coating, while both the basket and tray are removable and dishwasher-safe for easy cleaning. And, with safety features like a cool-touch exterior, you won't have to worry while you or your family use it. Thanks to its convenient design, this compact air fryer is one of the top options on our list.
Pros
Adjustable temperature control
Space-saving, flat-basket design
One-year warranty for peace of mind
Cons
Can be difficult to read controls
May heat up counter
List Price: $49.99
Check on Amazon | Check on Zola
Looking for a high-tech product that won't burn a hole in your wallet? The Dash Compact Air Fryer is a great choice if you're buying on a budget. This two-quart air fryer uses AirCrisp technology to cook crispy, delicious food using less oil. Plus, it won't leave a smell behind after you've enjoyed your food.
This compact air fryer is quick and easy to use: simply load up the fryer basket, set the temperature and timer and voila, your food will be ready in no time. It has an auto shut-off setting that ensures you never overcook or burn whatever it is you're making, and it boasts a cool-touch exterior to help you safely handle your piping-hot food.
This compact air fryer is extremely versatile, as it allows you to easily cook everything from appetizers to desserts in a flash. It's also lighter than bulky air frying appliances, making it ideal for people who want to be able to use it for on-the-go cooking (like in an RV, for instance). In addition to all of that, it comes in several trendy color options for you to choose from. If you're looking for a reliable air fryer that can make delicious fried food, then this appliance should definitely be on your list.
Pros
Non-slip feet offer increased stability
Recipe book included
Several color options are available
Cons
Fan is prone to failure
Finish may wear off over time
List Price: $79.99
Check on Amazon | Check on Walmart
The Ninja AF080 Compact Air Fryer is a great way to enjoy the taste of fried food without all the unhealthy fats and oil. This compact 2-quart air fryer is designed to fit up to a pound of French fries, making it ideal for snacks and small meals for one or two people. To start cooking, all you need to do is turn its timer. Once your food is done, it will let you know. This is because it functions at a consistent 400 degrees Fahrenheit, making it easier than ever to enjoy hot, delicious meals.
This compact air fryer features a timer you can set anywhere from one to 60 minutes, so you can use it for almost anything you want to prepare. And, because it cooks with less oil than traditional frying methods, you can indulge in all your fried favorites without worrying too much about unhealthy side effects.
Cleaning this compact air fryer is a breeze, which is all because of its nonstick basket and crisper plate that make it easy to wipe away any residue after you're done cooking. Plus, it comes with everything you need — a 1,000-watt unit, a nonstick cooking basket and a nonstick crisper plate — to start air frying immediately, with no extra accessories required. With its easy-to-use timer and simple one-temperature setting, this air fryer can quickly become an important part of your daily routine.
Pros
High-quality build for long-lasting use
Wide timer range
Dishwasher-safe and easy to clean
Cons
May produce a burning smell on first use
Can't adjust the temperature
List Price: $99.99
Check on Amazon | Check on Walmart
If you want to upgrade your appliance collection but don't have a lot of space in your kitchen, the Cosori Compact Air Fryer can be a perfect choice. It has nine one-touch functions that can make cooking a breeze, and its 360-degree rapid heat circulation technology allows you to cook food using less oil. This compact fryer features a sleek tempered glass display and a non-stick basket, so it's extremely easy to clean and maintain.
It comes with a cookbook of 30 tasty recipes, and you can download the free VeSync app on your smartphone or tablet to gain access to over 100 more different recipes and find out new ways you can use your air fryer. Whether cooking for yourself or preparing a meal for your family, this air fryer can do it all, and you can even purchase additional accessories (such as disposable liners) that can make using it a lot more convenient.
This compact air fryer meets the standards set by the ETL (Electrical Testing Laboratories) and boasts a 1,500-watt power rating, and you can adjust its temperature from 170 degrees Fahrenheit all the way up to 450 degrees. Its one-touch cooking functions, wide temperature range and American-made design mean that this air fryer can be a solid option for anyone looking for a fast, efficient way to make healthier fried food without compromising on either quality or taste.
Pros
Dishwasher-safe for easy cleanup
Shake reminder for even cooking results
Compact design with a large interior capacity
Cons
Crisper plate is poorly designed
Buttons make a loud beeping noise
List Price: $129.95
Check on Amazon | Check on Walmart
The Cuisinart Compact Air Fryer offers an efficient way to make delicious meals with less hassle. With a 1,800-watt motor and six-in-one cooking functionality, this appliance can add culinary convenience to your life. Its wide temperature range extends from a simple warming function to 450 degrees Fahrenheit, making it perfect for everything from baking and toasting to broiling and even whipping up a pizza.
This compact air fryer boasts a large cooking capacity and can handle up to 2.5 pounds of food at once. Its adjustable temperature dial makes it easy to prepare all kinds of meals, and because it comes with all the necessary accessories (including an oven rack, a baking pan and an air frying basket), you can use it straight out of the box.
This compact air fryer even features a toast shade selector, so you can start the day with the perfect piece of toast. Its combination of sophisticated features and an easy-to-use design is sure to make life easier for any home chef, and it can be an ideal choice for anyone who wants to spend less time in the kitchen and more time chowing down on their favorite meals.
Pros
Has a powerful, space-saving design
Features a toast shade selector
Backed by a three-year limited warranty
Cons
Managing its trays can be a hassle
Not much vertical space
Buying Guide: Compact Air Fryers
Choosing the right compact air fryer for your needs can be tough, considering all the different features and options that are available. That's why we've put together this comprehensive buyer's guide to help you sort through your options. By evaluating these features, you'll be able to find a high-quality compact air fryer that can help you enjoy delicious, healthier meals without taking up too much space in your kitchen.
Temperature range and settings
Air fryers are typically capable of reaching temperatures between 175 and 400 degrees Fahrenheit, although some models may offer a higher maximum temperature. When exploring your options, it's important to look at both the minimum and maximum temperatures offered, as well as any "preset" cooking settings available. These preset modes allow you to select a tailored cooking temperature and time for a particular food item (like chicken or fries), which makes it easier to achieve consistently delicious results.
Higher temperatures are ideal for things like French fries, while lower temps can help when preparing vegetables. When choosing a compact air fryer, check its temperature range and the settings it offers to ensure it meets your cooking needs.
Timer settings
The timer setting on an air fryer is one of its most important features, as it allows you to set a specific amount of time for your food to cook. Some models offer digital timers, while others simply have a manual dial or a knob. Additionally, some models will automatically shut off when the timer reaches zero to prevent overcooking or burning, while others may require you to manually turn the appliance off when it's finished.
Basket size
Many air fryers come with one or more removable baskets, which hold the food while it's cooking. It's important to look at the size of these baskets before making a purchase, as larger baskets will be able to accommodate more food. Additionally, some air fryers use multiple baskets at once for greater cooking capacity and convenience.
Wattage/cooking power
Wattage is an important factor when it comes to selecting an air fryer, as a higher wattage typically translates to faster cooking times. Look for air fryers with at least 1,500 watts of power to ensure your food cooks quickly and evenly every time.
Heating technology
Compact air fryers can feature all kinds of heating elements. These include convection heating elements that circulate hot air around food for quick, even cooking, infrared heating elements (known for their short preheating times) and halogen heating elements, which offer excellent heat distribution with minimal energy consumption. Each type has its benefits, so be sure to consider which is right for your needs before making a decision.
Customer reviews
Reviews from other customers can be incredibly helpful in finding out what others think about a particular compact air fryer. With this in mind, consider checking what people have been saying about a certain model before finalizing your purchase. This will give you a better idea of which models offer good performance and customer satisfaction, two essential factors when shopping for an air fryer.
Overall design and aesthetic
Aesthetics shouldn't be overlooked when selecting a compact air fryer, as after all, looks do matter, especially if you spend lots of time in the kitchen. So, check out various designs that are available and make sure you like how a certain one looks before bringing it into your home. Additionally, check for features like handles or knobs that offer extra convenience, as these can make using your air fryer even easier.
Safety features and certifications
As with any kitchen appliance, safety is always a priority, so make sure your compact air fryer has passed all necessary safety tests before you make your purchase. It's also highly recommended you look for certifications from ETL (Electric Testing Laboratories) or CE (Conformité Européenne) when shopping around, as these show that a product has passed rigorous testing requirements to meet certain standards set by organizations within their respective countries/regions (such as North America or Europe).
Warranty coverage
This is especially important if you plan on using your compact air fryer frequently. Look into what type of warranty each model offers before making a decision. Most reliable brands will offer some kind of coverage ranging from one to two years, depending on the model. This means that if anything goes wrong with your appliance during this period, the manufacturer will offer repairs or replacements at little or no cost.
Additional features
Look for compact air fryer models with a user-friendly control panel that clearly displays all of its settings, as well as a removable basket that can easily be cleaned after each use. Many models feature a non-stick surface that prevents food from sticking during cooking and makes cleanup much easier.
You should also look for models that automatically shut off when the timer runs out, as this prevents overcooking and ensures safety when cooking is complete. Many models come with this feature built-in, but you should still check just in case it isn't. The unit should also feature an indicator light that lets users know when the unit is on and when it's off.
People Also Ask
Which accessories or attachments should my compact air fryer include?
While most air fryers only come with a cooking basket, there are many add-ons available for purchase that can enhance the functionality of your appliance. Many compact air fryers come with additional accessories, such as baking trays, skewers and disposable liners, allowing users to expand their culinary horizons beyond simply fried foods. Be sure to check which accessories are included before making a purchase, as they can often make a huge difference when it comes time to cook delicious meals.
Can I cook a complete meal in my compact air fryer?
While compact air fryers sacrifice cooking capacity and can usually only make a single serving of veggies, fries or nuggets, bigger versions are frequently capable of cooking multiple items at once. If you spend a little extra, you can often get a machine with a larger cooking capacity that won't take up too much space or one with multiple compartments to help you cook an entire meal. Some high-end models can be great for preparing dinner for the family, which could include a whole chicken, potatoes and another side. Using a compact air fryer is the perfect way to cook delicious food while using the least amount of energy.
Do air fryers and ovens work in the same way?
Most ovens have two heating elements, one of which is on the top of the oven and another that's on the bottom. These heat the air inside the oven, which then cooks the food. Convection and fan ovens also have a fan on the back or side of the oven to help move this hot air around and make the effect stronger. This is why most fan ovens have lower cooking temperatures and is one of the reasons why it's better to turn off the fan when tackling delicate cooking tasks like baking.
Air fryers, on the other hand, are like small yet powerful convection ovens. They utilize a heating element to circulate hot air throughout a much smaller space. This heating element is on top, above the food, and there's a fan right below it. This combination in a small space creates a more intense heat that can cook food faster than a traditional oven. Also, food comes out crispier in an air fryer than in an oven, making it perfect for French fries and other foods you want to be crunchy.
Is buying a compact air fryer worth it?
Compared to your oven or a large air fryer, a compact air fryer uses less energy due to the fact that it's smaller and cooks faster. This means it's a more environmentally friendly cooking option and can help you save money on energy bills in the long run.
Are there any safety precautions I should follow when using a compact air fryer?
Yes, there are several safety precautions you should take when using a compact air fryer. These include keeping the appliance away from children and using oven mitts when handling hot plates or baskets. Additionally, it's important to ensure the appliance is plugged into a grounded outlet and not placed near any flammable items or materials that can easily catch fire.
Are there any tips or recipes available for using an air fryer?
Yes, there are plenty of resources available online, including recipes for specific meals as well as general tips that can make your experience cooking with an air fryer more convenient. You should preheat your compact air fryer before using it so that it will cook your food evenly, and make sure that all ingredients have been properly trimmed before putting them into the basket/tray to cut down on cooking times.
Why Trust Us
Our commitment to customers begins with a carefully curated product selection process, ensuring we provide high-quality and reliable options. We meticulously vet each compact air fryer, analyzing quantitative aspects, such as star ratings and review count, and qualitative factors, including review content and product features. Our dedicated team of bargain hunters consistently prioritizes your budget by meticulously scouring the market and identifying the best compact air fryers available without ever compromising on quality or performance. Our panel focuses on presenting the pros and cons of each compact air fryer and converting technical specs into understandable insights. Our mission is to make sure you get the most bang for your buck…or, in this case, the best cooking for your coins.