The Best Large Air Fryers for Your Money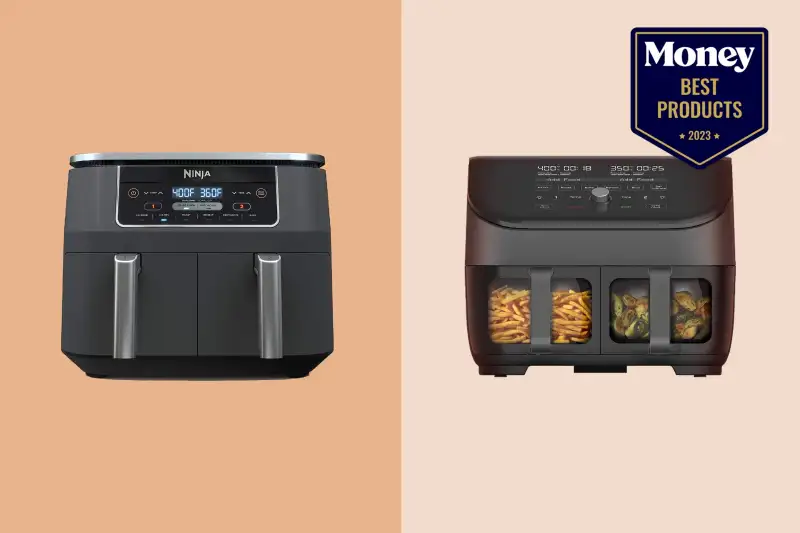 Having a large air fryer in your kitchen is like owning a mini restaurant. With its high-tech design, this appliance can fry, bake, roast, and even grill virtually any food item you desire. An air fryer is a kitchen workhorse that allows you to enjoy fried food without worrying about extra calories, and it's great for anyone with a big family who wants to cook in bulk.
A large air fryer can make lengthy food preparation a thing of the past. These devices have surged in popularity over the past few years and are amazingly versatile, circulating hot air to cook fried food with little to no oil. If you're on the search for the top-rated large air fryer of 2023, you've come to the right place. Whether you're looking for a budget-friendly option or something with plenty of features, we've got you covered. Without further ado, let's get started.
Best Overall: Ninja DZ201 Large Air Fryer
User-friendly: Instant Pot Vortex Large Air Fryer
Most Innovative: Nuwave Large Air Fryer
Budget-friendly: Gowise USA Large Air Fryer
Easy to Use: Kalorik Large Air Fryer
Comparing the Top-rated Large Air Fryers of 2023
List Price: $149.99
Elevate your cooking experience with the Pro Breeze Large Air Fryer, a culinary marvel that brings healthy and delicious meals to your table. Crafted with innovation, this air fryer utilizes cutting-edge Cyclone Technology to circulate super hot air within its spacious oven, resulting in delectable dishes with up to 80% less oil. From crispy fries to succulent steak, savor the taste of wholesome indulgence.
Embrace the joy of family cooking with the generous 12 quarts capacity, three tiers, and 12 pre-set cooking modes of this versatile air fryer toaster oven. Its user-friendly design and convenient operation offer the perfect cooking companion for every meal. With dimensions measuring 14x12x15 inches, this appliance perfectly combines functionality and form.
Equipped with an impressive array of 19 accessories and parts, the Pro Breeze Air Fryer ensures endless culinary possibilities. From a drip tray and cooking trays to a rotisserie set and rotating fry basket, the options are limitless. Delight your taste buds with crispy rotisserie chicken, kebabs, and vegetables using the included eight skewers, two racks, spit, and forks.
Pros:
Utilizes Cyclone Technology for healthy and tasty cooking
Comes with an impressive assortment of 19 accessories and parts
Incorporates a versatile rotisserie function for diverse meals
Cons:
List price: $159.99 - $219.99
The Ninja DZ201 Large Air Fryer offers an innovative and efficient way to prepare all kinds of meals. This air fryer boasts amazing features that make it stand out from other air fryers, the most notable of which are its two independent baskets that allow you to cook two different dishes at the same time. This can help save time and effort, with its DualZone Technology allowing you to choose between Smart Finish and Match Cook modes; Smart Finish lets you use different settings for each basket that will conveniently finish cooking at the same time, while Match Cook will use the same settings across both baskets.
This large air fryer boasts impressive 6-in-1 functionality and an extra-large cooking capacity. You can use both its 4-quart baskets to cook main courses and sides at the same time, which can help you get dinner on the table a lot faster. And, with its wide temperature range of 105 degrees Fahrenheit to 450 degrees, you can use it to dehydrate your favorite foods or quickly cook and crisp them to perfection.
Additionally, cleaning this large air fryer is made easy with its dishwasher-safe crisper plates and baskets; feel free to either toss them in the dishwasher or wash them by hand. To top things off, this large air fryer also comes with 15 recipes.
Pros
Offers six programmable cooking functions
Sync settings across both zones
Intuitive touchscreen design
Cons
May set off smoke alarms
Can take a while to cook
List price: $169.95 - $219.99
The Instant Vortex Large Air Fryer is a revolutionary kitchen appliance that can certainly transform the way you cook. This air fryer boasts a large 8-quart capacity across its two separate baskets, allowing you to prepare large batches of food with the same settings or multiple foods that require different settings. Plus, you can keep an eye on your food as it cooks thanks to the unit's clear windows and internal lighting.
This large air fryer's EvenCrisp technology circulates air from the top down to ensure your food is cooked to perfection every time. It comes equipped with eight one-touch cooking programs, allowing you to air fry, bake, roast, broil, and more. Even better is that preheat times are minimal, so you'll be able to set it anywhere from 95 degrees to 400 degrees Fahrenheit and start eating before you know it.
But that's not all, because there's also a user-friendly app you can download that gives you access to over 100 delicious recipes you can make in your new large air fryer. The non-stick, dishwasher-safe baskets and trays make clean-up a breeze, while integrated safety features like overheating protection and auto-shutoff offer complete peace of mind while cooking. With its advanced technology and user-friendly design, this large air fryer oven can quickly become your go-to for tasty, healthy dinners.
Pros
Cook with different or same basket settings
Features eight cooking modes
Windows and light help you monitor cooking
Cons
Baskets could be better quality
Long cooking times
List price: $99.50 - $129.99
Trying to eat a bit healthier? The Nuwave Large Air Fryer is an excellent choice for busy households looking for a convenient, easy-to-use appliance that delivers delicious results. It boasts 1,800 watts of power along with intuitive digital controls so you can make adjustments on the go without having to start all over again. Not only that, but its digital display is also easy to read in any lighting.
Offering a healthy way to enjoy fried food without the extra calories that come from cooking with oil, you can even cook frozen food in this large air fryer without having to defrost it. There's also an integrated digital temperature probe that monitors your food while it's cooking and shuts the appliance off when it's ready to eat, so you won't have to worry about undercooking or overcooking whatever it is you're making.
Plus, this innovative large air fryer comes with 100 preprogrammed menu presets that can help you make all kinds of recipes, as well as 50 memory slots for storing your own recipes. Its patented linear thermal technology monitors cooking temperature and makes any necessary adjustments, ensuring each meal you make is cooked to perfection.
Pros
Temperature probe for precise results
One-touch cooking for added convenience
Includes menu presets and memory slots
Cons
Poor basket design; difficult to clean
May leave an unappealing aftertaste
List price: $58.85 - $98.79
The Gowise Large Air Fryer is an ideal choice for anyone looking for an appliance that doesn't cost an arm and a leg. It can help you fry, bake, grill, and roast with less oil than typical cooking methods, allowing you to make healthier versions of all your favorite foods. It boasts a sleek design, with an advanced touchscreen menu that gives you access to its eight cooking presets: fries, chicken, steak, pork, pizza, fish, shrimp and cake.
This large air fryer offers a temperature range of 180 degrees Fahrenheit to 400 degrees and a maximum cooking time of up to 30 minutes. Additionally, there's a Start/Stop button you can use to adjust time and temperature while cooking and an alarm that reminds you to shake your ingredients after five-, ten- or fifteen-minute intervals. Also included are a non-stick pan and a detachable basket that features a cool-touch handle and a button guard to keep it from accidentally coming loose.
This high-quality large air fryer comes with a 30-day money-back guarantee and a one-year warranty, as well as lifetime support from the manufacturer's customer care team. It boasts rapid-air technology that circulates hot air around your food for a delicious, crispy texture, which can be perfect for anyone looking to enjoy their favorite fried foods without the added calories or mess of deep-frying. If that's not enough, you'll also receive a recipe book containing 50 great air fryer recipes.
Pros
Advanced touchscreen panel
Detachable basket design allows for easy cleanup
Built-in shake reminder
Cons
Doesn't have a reset button
Can be difficult to close
List price: $214.99 - $320.00
Searching for an air fryer that can help you cut down on appliances? Look no further than the Kalorik Large Air Fryer. It combines a countertop toaster oven and an air fryer into one convenient device, and with its powerful Turbo Maxx technology and intuitive digital interface, it's no wonder that it's a popular choice among home chefs.
Unlike traditional air fryers, the inclusion of Turbo Maxx technology allows this appliance to cook meals much faster, making it ideal for busy households. And, with its extra-large, 26-quart capacity and various rack levels, preparing meals for the whole family is a breeze. So whether you want to make a 14-pound turkey, a 12-inch pizza or up to 9 slices of toast, this appliance can get the job done fast and efficiently.
One of the biggest benefits of this large air fryer is its 21 smart presets, which can help you prepare all kinds of meals. With one touch, you can air fry, bake, toast, roast, braise, and more, and because it comes with nine handy accessories, you'll be able to tackle all kinds of meal prep. So, if you're looking for an efficient appliance to help make breakfast, lunch, and dinner easy and hassle-free, make sure you check out this large air fryer.
Pros
Extra-large cooking capacity — great for families
Sleek French door system
Efficient cooking can help save energy
Cons
Attachments can be tricky to use
Interface can be complicated for some
Buying Guide: Large Air Fryers
Air fryers are a great way to make your favorite foods quickly and with less oil. Because they come in a wide range of sizes, though, choosing one that will meet your needs can be difficult. To help you make an informed decision, we've put together this detailed buying guide with all the essential information on how to find a high-quality large air fryer in 2023.
Factors To Consider
Capacity
This is one of the most important things to look at when purchasing an air fryer. Air fryers generally come in a variety of sizes, and it's important to make sure that the model you choose can accommodate the amount of food you expect to prepare in it. When shopping for a large air fryer, look for one that can accommodate at least three to five pounds of food at once; this will allow you to cook larger portions and feed more people.
Basket size
Basket size is another important factor to consider when purchasing a large air fryer. Pay attention to the interior dimensions of the basket, as this will dictate how much food can fit inside. It's recommended to pick a basket that's big enough to accommodate your desired amount of food while still leaving enough space between items so that they can cook evenly. If you have a big family or like to prepare large meals at once, make sure to go for a bigger basket size.
Temperature control
Adjustable temperature control is an essential feature for cooking food evenly and properly in an air fryer. Look for an air fryer that has a wide range of temperature settings (ideally 175 to 400 degrees Fahrenheit), as this will ensure you're able to cook all types of food thoroughly and safely. Additionally, some air fryers may include preset programs that are designed specifically for cooking certain types of food, such as chicken, french fries, and steak.
Timer
Having a timer on your large air fryer is another essential feature, as it allows you to control how long your food is cooked and helps prevent overcooking or burning. Look for an air fryer with a timer that goes up to 60 minutes, as this should be more than enough for most recipes. A timer is a great feature if you want your food to be done at an exact time or don't want to have to constantly monitor its cooking progress.
Digital display
When most popular air fryer models now include touchscreen LCD panels, there's no reason to buy one with an outdated button display. Tactile buttons are convenient in some situations, but they shouldn't be used on kitchen equipment unless absolutely necessary. Why? As far as first impressions go, they aren't that stylish.
Also, grease tends to leak out of small buttons, which can make it harder to clean the outside of your air fryer. If you're wondering if air fryers with touch displays are more expensive, you can rest assured that this feature has little to no effect on price. LCD screens are now common for many brands, so you should be able to find a large air fryer that fits your budget and has one of these intuitive screens.
Features
Many air fryers come with extra features like rotisserie and dehydrator settings, which can be beneficial if you plan on using your air fryer to cook more than just traditional fried foods. Additionally, some models might come with a "Keep Warm" setting, which can be useful when serving meals in batches or keeping food warm before it's served.
Some large air fryers might also come with additional safety features, such as a cool-touch handle to prevent burns and injuries and an auto shut-off function to prevent food from overcooking or burning. Make sure to check whether these features are included in the model you're looking at to stay safe while using your air fryer.
Wattage
An air fryer's wattage refers to its power output, which affects how quickly it can cook food as well as several other factors. Look for models with high wattages, as these tend to be more efficient and provide better results when cooking.
Ease of cleaning
Whenever possible, look for models that are easy to clean and maintain. Some large air fryers come with dishwasher-safe parts, which makes cleanup significantly quicker and easier than having to scrub everything down by hand after each use. You can also find various models that come with removable parts (such as the basket), which you can take out for quick cleaning and then put back together afterward.
Why trust us
Our commitment to the consumer begins with product selection and ends with the last word we write in each article. Each large air fryer is carefully vetted quantitatively through star ratings and number of reviews qualitatively through careful examination of reviews and the features each one has to offer. Leveraging our team of bargain hunters, we're also always sure to keep your budget in mind while we find the best air fryers on the market. Our team of experts is dedicated to accurately depicting the pros and cons of each large air fryer, translating technical product specifications into information you can understand. Our mission is to make sure you get the most bang for your buck…or in this case the best cooking for your coins.
People Also Ask
How much should I spend on a large air fryer?
A large air fryer from a reputable brand can easily cost more than $150. While you might be able to get a discount during a promotion, the average price is usually upwards of $80. Don't assume that a higher price means a better product, though, as some brands sell affordable appliances that are just as good as any expensive air fryer. So, as long as it comes with quality features, a high price is a long-term investment that will make cooking easier for years to come. For busy people who want to be able to enjoy a hearty meal, nothing could be better than a large air fryer.
Are large air fryers faster than ovens at cooking food?
Air fryer manufacturers claim that their products offer faster cooking times than conventional ovens, but is this actually the case? Yes, the majority of foods can be cooked quicker in air fryers, but that doesn't mean that they're a perfect alternative. This is because the way some meals are cooked in an oven is completely different from the way those items are cooked in an air fryer. For example, both may be able to make great fries, but you can't expect to roast a turkey in an air fryer the same way you would in an oven; there will be differences in color and texture.
Should I buy an air fryer with a stainless steel or Teflon-coated basket?
With stainless steel, there are different options when it comes to strength, surface durability and ability to withstand high temperatures and harsh chemicals. Stainless steel is a pretty safe choice for regular use, as the material won't deteriorate after regular cleaning. Most of the time, high-quality stainless steel alloys work better than coated ones, but you'll have to pay more if you want a stainless steel basket.
Teflon, on the other hand, makes kitchen tools and appliances last longer. This coating protects washable items from scratches and abrasions that would otherwise cause a lot of damage. There's a common misconception that Teflon is bad for human health, but most of the time it's perfectly safe to use. Teflon is only dangerous if it gets too hot; non-stick PTFE (polytetrafluoroethylene) coatings start to release dangerous chemicals when they're exposed to very high temperatures, but this is almost never going to happen in an air fryer.
How do I use an air fryer?
The air fryer was made to replace deep frying, which uses a lot of oil and isn't very healthy. You can place raw food in a large air fryer (such as potatoes or even white proteins), spray a little oil on both sides and the air fryer will then cook the food to your desired texture. Most large air fryers don't have a flat tray, instead featuring a layer that can be used for broiling or grilling. All you have to do is set the temperature, and if you want to broil, make sure to preheat it first.
People often bake in air fryers, which takes less time than using ovens or pans. It's also helpful if you're only baking a few things instead of a whole cake or batch of treats. You don't have to worry about burning food when you use a large air fryer to roast chicken, steak or vegetables, and reheating food is a breeze, as it only takes a few minutes.
Should I buy attachments and accessories separately for my large air fryer?
Attachments are often included when purchasing a large air fryer from a top brand, so you shouldn't have to buy basic ones separately. Still, you can buy some extra accessories to get the most out of your air fryer or to have a backup if you need to replace broken parts. In this case, all you have to do is buy the accessory in question from the same manufacturer and you're good to go.
Food is sticking to the basket of my large air fryer. What should I do?
Some air fryer trays and baskets may have a non-stick surface that can wear down over time, which can cause food to stick. To avoid this, you can spread a small amount of oil on the tray or layer aluminum foil between the food and the basket. If this doesn't fix the problem, you might want to get a new tray or basket.
More From Money:
The Best Air Fryers for Your Money
Make Mealtime a Breeze With the Best Air Fryers for a Family of 4