The Best Mini Food Processors for Quick and Easy Ingredient Prep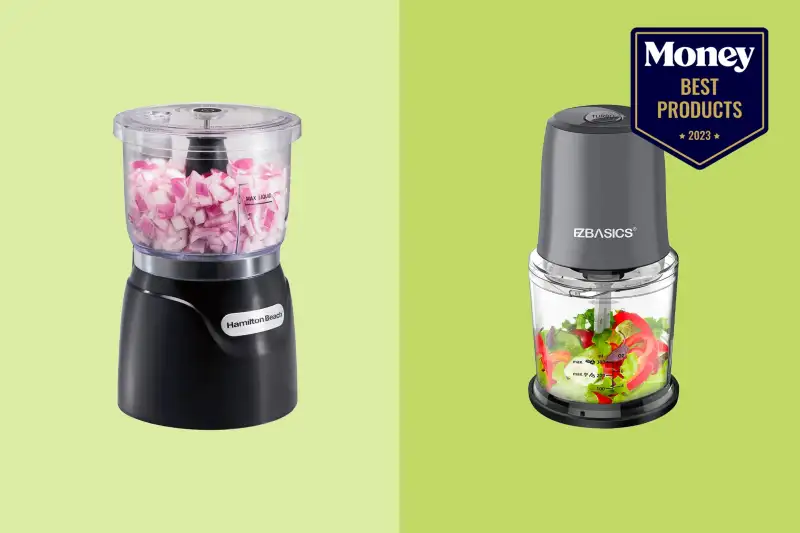 Food processors have quickly become a must-have in almost every kitchen, as they help you save time when slicing, chopping, grating, and even pureeing ingredients. But, despite their convenience, they can be a bit bulky. If you don't have much space in your kitchen, that shouldn't stop you from getting your hands on one of these handy and powerful appliances. Let us introduce you to the mini food processor, ideal for those who want to save time, effort, and space yet still be able to whip up delicious meals.
Even though they boast a compact size, mini food processors can do almost anything their larger counterparts can, just in smaller amounts. These powerful kitchen appliances can do everything from grinding spices and chopping fresh vegetables for salsa to pureeing some tasty baby food for your tot. Sound interesting? Then make sure you check out our curated list of the leading mini food processors of 2023 that can save you time and help you get dinner on the table faster.
Best Overall: Hamilton Beach Mini Food Processor
Most Durable: Cuisinart Mini Food Processor
Unique Design: Proctor Silex Mini Food Processor
Great Value: Mueller Mini Food Processor
Easy to Use: EZBASICS Mini Food Processor
Comparing the Top-rated Mini Food Processors of 2023
List price: $19.99 - $36.00
Whether you want a space-saving appliance or are looking to finally make the switch from manual chopping, the Hamilton Beach Mini Food Processor is a solid choice. This efficient device features a patented stack-and-press design that makes it easy to put together and use, and all you have to do is press down on the lid to start working and release it when you're done. It features stainless steel blades that make cutting through tougher ingredients a breeze, and it boasts a 3-cup capacity that's perfect for daily use and also easy to store.
Additionally, this mini food processor features an oil dispenser on the lid, making it easier to create delicious dressings, dips, and sauces. Its 350-watt motor is powerful enough to handle almost anything you throw its way, from tough foods like onions and nuts to softer things like herbs and homemade baby food. Plus, cleaning it is easy, as all of its parts are dishwasher-safe.
And, because its design is odor-free, you can use it for garlic and herbs without worrying that the whole thing will smell like the last food that was in it. With its patented design and affordable price tag, this mini food processor stands at the top of our list.
Pros
Made using BPA-free materials
Cord wraps under the base
Easy to assemble and use
Cons
Loud while operating
Minces rather than chops
List price: $48.99 - $69.95
The Cuisinart Mini Food Processor is a stunning kitchen accessory that offers the performance and convenience of a full-size food processor. With its sleek, modern design, it can be an attractive addition to both contemporary and traditional kitchens. Its 250-watt motor provides enough power to chop or grind all kinds of ingredients, with its patented reversible stainless steel blade taking care of business in a flash. Plus, its push-button control panel makes it easier than ever to achieve your desired texture. And you can forget about messy cleanup, as both the bowl and lid are dishwasher-safe.
The blade is designed with sharp and blunt edges, making it great for both chopping and grinding ingredients. Thanks to its 24-ounce container that's equipped with a comfortable handle, you can easily take the unit apart and pour your mixture after you're done processing your ingredients. It also comes with a spatula and a booklet containing recipes and usage instructions so that you can get started with your culinary creations right away.
Unlike other mini food processors on the market, this option stands out due to its focus on performance, user convenience, and aesthetic appeal. Its compact design is paired with amazing features, making it an ideal option for anyone with limited counter space who still wants to be able to create delicious meals. Even better, though, is the fact that it's BPA-free, so you won't have to worry while preparing your ingredients. With its power, ease of use, and sleek design, you can create delicious recipes in next to no time while also adding a touch of class to your kitchen!
Pros
Auto-reversing blades for thorough, even chopping
Backed by an 18-month limited warranty
Available in a range of attractive colors
Cons
Plastic parts can feel flimsy
Not for grinding beans
List price: $25.88 - $39.99
The Proctor Silex Mini Food Processor offers a simple and efficient way to chop, puree, and emulsify food. Its stackable design is effortless to assemble, and all you have to do is press the lid down to begin chopping and let it go to stop. With its stainless steel blades, this processor can chop, puree, and emulsify with precise results each and every time you call upon it.
This mini food processor's 350-watt motor features two speeds that can provide the perfect power level for almost every kind of food, including soft fruits, hard veggies, and frozen ingredients. What's more, it has a 30-inch cord that makes it easy to plug in and a convenient cord reel to ensure that it doesn't get in the way.
If you're looking to incorporate liquids into your recipes (for things like sauces and dressings), you're in luck, because this mini food processor includes an oil dispensing lid that you can use to slowly pour oil in to ensure your recipes come out just right. With an extra-long cord, a sleek and stylish design, and a powerful motor, this appliance can be a great addition to any kitchen.
Pros
Sealed bottom prevents leaks
Stackable design for easy storage
Pulse speeds offer precision and control
Cons
Blades could be sharper
Not very durable
List price: $19.98
The Mueller Mini Food Processor can be a perfect kitchen companion, helping you prepare delicious meals with ease. This electric food chopper offers powerful, efficient performance in a compact size that won't take up too much space on your counter. Its 1.5-cup capacity is the ideal size for quick chopping, dicing, grinding, and blending tasks for one.
This mini food processor features a razor-sharp stainless steel S-blade to cut through ingredients quickly and precisely. You can use the one-touch pulse button to control the texture and coarseness of the ingredients being processed, making it great for everything from fruits, nuts, and herbs to meats and vegetables. All you have to do is add your ingredients to get them all set for almost any recipe you're in the mood for.
In addition, all parts of this mini food processor are made from high-quality, food-grade materials that are safe to use. And, because they're dishwasher-friendly, you don't have to worry about scrubbing them by hand after you're done (unless you want to, of course). All in all, this mini food processor can be an incredibly useful appliance for anyone looking to create delicious meals quickly and easily.
Pros
Compact design with a powerful motor
Non-slip feet for increased stability
Parts are food-grade and dishwasher-safe
Cons
Lid could be better
Difficult to lock in place
List price: $31.99 - $33.99
The EZBASICS Mini Food Processor is an ideal appliance for chopping up a variety of ingredients. This powerful machine features a 260-watt motor, and thanks to its two speeds and s-shaped blade, it can help you tackle all kinds of foods. It even boasts a detachable design, making it easy to take apart and clean.
What helps this mini food processor stand out from other options is the fact that it's easy to assemble and offers a high level of safety during use. All it takes is three steps to set it up: first, insert the blade into the bearing, then continue by closing the lid. Finally, set the motor unit on the lid flange and voila, you're good to go. Additionally, this appliance is designed to automatically stop when the motor becomes loose, helping you avoid accidents and injuries.
Because it features a clear container, you can watch your ingredients as they're being processed and stop chopping when they're finally to your liking. For ideal results, cut ingredients into small pieces before processing them to avoid putting too much strain on the appliance and prevent overheating. With its unique design and powerful motor, this mini food processor can help make anyone's culinary activities faster and easier.
Pros
Stainless steel blades for fine chopping
Easy to set up and use
Several color options available
Cons
Not ideal for frozen ingredients
May heat up during use
Buying Guide: Mini Food Processors
If you're in the market for a single kitchen appliance that can squeeze fruits, chop nuts and make dressings and dips, be on the lookout for a mini food processor with the right amount of power and attachments. But it's not always easy to find the right product for your needs, as there are a wide variety of options to choose from. To make things easier, we put together this buyer's guide to help you find the perfect mini food processor in 2023 for your culinary needs.
Factors To Consider
Purpose
Some mini food processors are designed solely to grind and chop ingredients, while others may offer more versatility and be able to tackle tasks like blending, mixing, or even kneading dough for bread. When shopping for one of these appliances, think about what you want to be able to do with it, then pick a model that's equipped to handle those tasks.
Noise level
Noise level is another important factor to consider, especially if you live with other people. Some models might make a gurgling noise while they work, which can be pretty annoying to listen to (especially if you're not the one using the appliance). Because of this, mini food processors with low noise levels are a good choice when you don't want to disturb those around you, making them great for shared living spaces like apartments or dormitories.
Warranty/guarantee
Check what type of warranty or guarantee comes with each option you're considering, just in case something goes wrong after your purchase. This can help protect your investment and give you some peace of mind when it comes to potential mechanical failures or any other issues you might face once using your mini food processor becomes part of your daily routine.
Brand reputation
Do some research before committing to one particular model or manufacturer to ensure you're buying your mini food processor from a trustworthy brand. Reliable brands make sure their products comply with any and all relevant standards, so you can rest assured that you'll be investing in the right product. Reputable brands will also be able to help you should any issues arise after your purchase, so make sure to check out some customer reviews to see whether or not a manufacturer can be trusted.
Accessories and attachments
The level of precision you're able to accomplish with your recipes will be directly related to the accessories a mini food processor offers. You should choose one that provides different blades and discs for different tasks, allowing you to use your mini food processor for a wide range of recipes.
Speed settings
Some mini food processors offer all kinds of options when it comes to controlling them. A compact food processor with a pulse setting is super convenient, as all you have to do is hold it down for as long as you want to use it. It's a good idea to search for models with variable speeds, as different types of processing will bring more value to your appliance. Some models even have a high-speed option that's ideal for chopping through hard ingredients like carrots and potatoes, but it can also provide good results when working with softer produce as well.
Blade type
A mini food processor's versatility is determined by the type of blades it comes equipped with. Look for blades that can be swapped out to tackle a variety of tasks, which include things like slicing, shredding, and spinning. As a bonus, the blades in some models are crafted from stainless steel, which is both corrosion-resistant and easy to maintain. Make sure your mini food processor's blades are sharp and durable enough for any jobs you want to use them for.
Motor power
To ensure you're investing in the right product, the next thing you should check is the power of the motor inside the machine. It should be powerful enough to handle all kinds of tasks, from easy jobs to more demanding ones, including (but certainly not limited to) kneading dense dough, slicing fresh vegetables, and shredding hard cheese. Your ingredients won't be chopped or mixed evenly if the machine isn't strong enough, and what you'll be left with is a motor that might overheat or, even worse, fail entirely.
Cleaning
To give your mini food processor a good cleaning, fill the container with water, add a few drops of dish soap, and turn on the machine. To clean the feed tube, the area around the blades, and the food pusher, though, you might need a special bottle brush. Be extremely careful when handling the blade, as a slip or sudden movement can easily result in a severe cut.
When it comes to cleaning the electrical base of your mini food processor, make sure to never completely submerge it in water. Instead, wipe its exterior with a damp cloth or a sponge to get rid of any gunk and clean up any spills.
Why trust us
Our commitment to the consumer begins with product selection and ends with the last word we write in each article. Each mini food processor is carefully vetted quantitatively through star ratings and number of reviews qualitatively through careful examination of reviews and the features each one has to offer. Leveraging our team of bargain hunters, we're also always sure to keep your budget in mind while we find the best food processors on the market. Our team of experts is dedicated to accurately depicting the pros and cons of each mini food processor, translating technical product specifications into information you can understand. Our mission is to make sure you get the most bang for your buck…or in this case the best processing for your pennies.
People Also Ask
Can I make smoothies in a mini food processor?
You can absolutely make smoothies in most food processors, but the process is a little different than when using a blender. If you're using a mini food processor, don't add all your ingredients at once, as they probably won't mix evenly and may even spill out and make a mess.
If you're using greens as an ingredient, put them in first, then add your choice of frozen fruit as well as some ice to keep your drink cold. After that, add your liquid ingredients, close the lid, and start blending. Make sure that everything is blended properly, although you may need to scrape the bottom to mix things a little more. When you're done, take the blade out and start pouring the drink into your glass. You'll need to be careful with this step as most food processors don't have a pour spout, which can easily lead to spillage. In short, you definitely can make a smoothie in a food processor, but a blender will make the process a lot faster and easier.
Can I use a blender as a food processor?
Although blenders and food processors perform similar functions, they're not usually interchangeable. As a general rule, you should use a blender to make things that you can drink, drizzle or dip, or any other recipes that are made primarily of soft or liquid ingredients. This includes things like soup, smoothies, nut milk, apple sauce, and cocktails. When using a blender, it's a good idea to add in at least one liquid ingredient, as dry ingredients can get stuck in the blades and end up mixing poorly.
Conversely, you should use a food processor to prepare dishes that are usually eaten with a fork or spoon. This means that the ingredients you're using will be solid or almost solid. A food processor is a great choice for breadcrumbs, dough, shredded cheese, as well as chopped, sliced, or diced vegetables, as these don't require you to add any liquid. This makes mini food processors great for preparing cauliflower rice, chutney, and even ground meat. The blades of a food processor turn much slower than the blades of a blender, and they're also shaped differently, offering you more control and better cuts. Food processors may also feature a feeder tube that lets you add as many (or as few) ingredients as you want while also helping to push them toward the blade.
How much does a mini food processor cost?
Food processors are sold at prices both high and low, and the amount you pay will depend on the appliance's capabilities and the accessories it includes. Mini food processors with built-in scales, timers, and heating functions can cost upwards of $200, while a basic machine can be purchased for as low as $20.
If all you want to do is quickly chop food and you don't have a lot of storage space for attachments, you're better off going with a compact, affordable mini food processor that costs around $30. But for those who think they'll be using their mini food processor frequently and/or want to be able to prepare a wide variety of dishes or purees, investing in a more reliable option that costs a bit more can be the better choice. Some food processors can even be used as stand mixers, blenders, or mini-choppers, offering you great value for your money.
How should I store my mini food processor?
You can tuck away extra blades and discs neatly in the large work bowls of some food processors, but keep in mind that this may lead to scratches on the bowl. If the bowl is too small, consider purchasing a Tupperware-style container to store your mini food processor's accessories and various add-ons. Some models even come with their own cases for storing their various blades and discs.
Is a mini food processor worth the investment?
For individuals who cook frequently and have limited counter space, a mini food processor can be a great investment. This multifunctional kitchen appliance allows you to process almost any type of ingredient, which can make meal prep a breeze. Certain models can even help you squeeze fruits, knead dough, mince meat, and whip egg whites. You can recreate store-bought favorites with the help of a high-quality mini food processor, as well as try your own recipes using fresh, whole ingredients without any added preservatives or artificial flavors.