The Best Rolled Ice Cream Makers for Your Money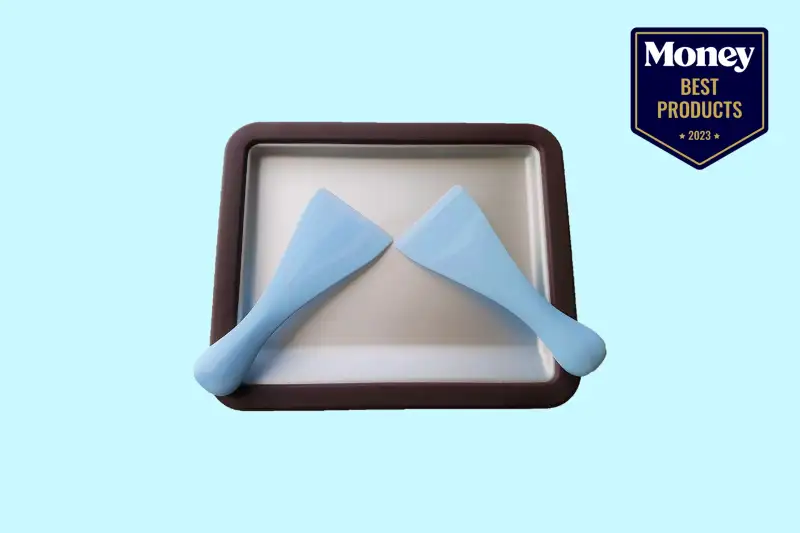 Rolled ice cream is one of the trendiest desserts right now — and for good reason. This frozen treat is fun to make and can feature a range of unique flavors and tasty add-ins. In fact, it's popular on the internet, with tons of home chefs creating and sharing recipes that you can try at home, either by yourself or with loved ones. First, however, you'll need to find a dedicated rolled ice cream maker to help you create delicious desserts.
With so many options on the market, it can be tricky to find the most suitable model for your needs. Well, don't worry because we have your back. In this guide, we'll share our picks for the best rolled ice cream makers of 2023. We selected only reliable models that are easy to use and produce fast and consistent ice cream rolls so that you can make a mouthwatering batch in no time.
Best Overall: Whynter Rolled Ice Cream Maker
Most Compact: Joymech Rolled Ice Cream Maker
Best Accessories: Generic Rolled Ice Cream Maker
Best Warranty: Chef'n Rolled Ice Cream Maker
Most Reliable: Classic Cuisine Rolled Ice Cream Maker
Reviewing the Best Rolled Ice Cream Makers of 2023
List Price: $275.00
Check on Amazon | Check on Walmart
As the best overall product on our list, the Whynter Rolled Ice Cream Maker is a modern appliance for efficiently and conveniently making delicious frozen confections at home. With its stainless steel exterior, powerful built-in compressor freezer and easy-to-use controls, this automatic machine makes it easy to whip up rolled ice cream in less than five minutes. The compressor freezer allows continuous use and quickly freezes your favorite mix to an optimal temperature of 14 degrees Fahrenheit.
This countertop model features four stabilizing suction legs, a metal pan top and two stainless steel spatulas to easily stir ingredients. Its food-safe stainless steel design makes this machine an attractive addition to any kitchen; plus, it's easy to clean. The pan can make up to 0.5 quarts of ice cream at a time. Thanks to the automated quick freezing and durable construction of this top product, you'll be able to enjoy delicious rolled ice cream on demand for years to come.
Pros
Quick and easy to use
Durable metal spatulas for stirring and rolling
Ideal for continuously making ice cream
Cons
May power down to avoid overheating
Takes up a fair amount of space
List Price: $29.99
If you're looking for a compact and portable option, consider the Joymech Rolled Ice Cream Maker. It's 10 x 9 inches, making it effective for preparing single servings of rolled ice cream but convenient to freeze and store. To chill it to an optimal temperature, this tool should be stored in the freezer for at least 12 hours. The pan's interior features a powerful refrigerant to help it cool faster and stay chilled for longer.
Once it's ready to use, pour 5 fluid ounces of mixed ingredients onto the fast-freeze, food-grade stainless steel surface. After five minutes, use the two polypropylene spatulas to stir and roll your delicious ice cream. It can be used three times to make nearly two cups of ice cream for each freeze. This product is made with BPA-free material and is safe for handwashing, so it's straightforward to clean. Additionally, you can purchase it in several different colors, including aquamarine, lavender, sky blue and white.
Pros
Ideal for single servings
Compact size for easy storage
Popular with kids
Cons
Takes a long time to chill
May wobble when rolling
List Price: $38.95
Want to buy an all-in-one kit for making rolled ice cream? Look no further than the Generic Rolled Ice Cream Maker. This option includes everything you need to get started, such as an aluminum rolling plate, two spatulas and six fun-shaped cutters. The 12 x 10-inch rectangular plate should be chilled in the freezer.
Once it's chilled, pour 4 fluid ounces of mixture onto the cooled surface, wait for one to two minutes and roll or cut out the shape of your ice cream. One long freeze should allow you to make several batches; simply wipe it down, re-freeze it for a few minutes while you prepare your next batch of rolled ice cream mix and you're good to go again. This product should be hand-washed to ensure it lasts for as many uses as possible.
Pros
Creates single servings of ice cream quickly
Includes clear instructions
Easily fits in a small freezer
Cons
May not stay cold for very long
Doesn't hold much mixture at once
List Price: $54.99
Check on Amazon | Check on Zola
Next up, we have the Chef'n Rolled Ice Cream Maker, which comes with a limited lifetime warranty, so you can rest assured it will be a worthwhile investment. This pick includes everything you need to make various delicious, homemade frozen treats in minutes, including an ice cream rolling disc pan, two spatulas and a recipe book for creative desserts. Each of the cooking utensils is BPA-free to help protect your health.
Unlike other options, the pan freezes quickly, so you don't need to worry about freezing it upside down. The fast-freeze pan has a diameter of 11 inches and creates one or two servings at a time. This product is easy to clean after use by simply handwashing with soap and warm water; the spatulas are also dishwasher-safe for added convenience.
Pros
Limited lifetime warranty
Easy to use and clean
Detailed recipe book
Cons
Not suitable for making large batches
Circular shape may make rolling difficult
List Price: $49.95
Check on Amazon | Check on Walmart
While some rolled ice cream makers are difficult to keep chilled long enough for optimal results, the Classic Cuisine Rolled Ice Cream Maker is specially designed for reliable use. This versatile kitchen tool features a cold plate with anti-griddle technology in its interior, making it ideal for whipping up frozen treats as well as candy or hardened savory treats. To use it, simply place it in the freezer for 24 hours, add 4 fluid ounces of your mixture onto the tray, let it sit for one or two minutes and then begin to roll up your frozen treat with the two included spatulas.
The materials used in this product's construction are food-grade aluminum and food-safe plastic, so it's safe for you, as well as any kids who want to help out. The tray measures 12 x 9 x 2.25 inches and the spatulas are 8 x 3.5 inches in size, providing plenty of surface area for preparing your ice cream and comfortably mixing or rolling it. Cleaning it is a breeze, too — simply allow the tray to come to room temperature before handwashing it with soap and warm water, then allow it to dry.
Pros
Anti-griddle design for optimal results
Ideal for preparing all sorts of frozen desserts
Convenient to clean and store
Cons
Instructions may not be very helpful
Size is somewhat small
Buying Guide: Rolled Ice Cream Maker
Rolling ice cream is easier than ever with a quality rolled ice cream maker. With so many options available, however, it can be tough to make the right choice. Here's a comprehensive buyer's guide to help you navigate the market and find the ideal rolled ice cream maker for your needs and budget.
Temperature control
An ice cream rolling plate must have good temperature control and heat regulation capabilities. Most plates are made of aluminum or stainless steel to maintain a low temperature, while some also include anti-griddle technology in the pan's interior for more effective cooling. This ensures that your ice cream stays at the desired temperature while rolling, preventing it from getting too hot, which can result in melting or inconsistent texture.
Capacity
The size of the rolled ice cream maker will determine how much ice cream it can make at one time. Look for a machine that can make an adequate amount of ice cream in one batch that's suitable for your needs. If you're planning to make a lot of ice cream at once, look for larger-capacity machines with multiple trays or compartments for quick production. How long the ice cream plate remains cold can also impact how much rolled ice cream you can make within a set period.
Material
Another important factor to consider when selecting a rolled ice cream maker is its material and durability. Look for a product made from strong materials that conduct temperature optimally, such as stainless steel or aluminum, to withstand regular use and stay cool for making rolled ice cream.
Number of accessories
Also, consider how many plates or rollers come with the rolled ice cream maker you're looking at. Each model should come with at least one cooling plate and two spatulas. You may want more than one set of these if you plan to make multiple flavors of ice cream rolls at once or prepare rolled ice cream with friends or family members.
Anti-slip handles
To ensure safety and prevent messes during use, many models come with anti-slip handles, so you don't have to worry about it slipping out of your hands while working with it. Make sure the handle is comfortable and secure to give you better control when using the rolled ice cream maker.
Ease of use
A rolled ice cream maker should be easy to use and maintain — after all, you don't want it sitting in a cupboard gathering dust. Look for products with straightforward instructions and intuitive controls or tools. Determine whether you'll need additional supplies, such as measuring cups or spatulas, before committing to a model.
Cleaning process
Cleaning is one of the most labor-intensive aspects when it comes to using a rolled ice cream maker, so make sure you choose one with a simple cleaning process. Most machines come with detachable parts that can be put in the dishwasher, but some require manual handwashing or wiping down after each use. Be sure to read through the user manual before making your purchase so you know what care requirements to expect for your chosen product.
Size
Before purchasing a rolled ice cream maker, consider its size and weight, especially when deciding where to store it in your kitchen. Think about how much counter space you have available as well as how often you plan on using it before making a purchase. Generally speaking, compact pans are best suited for on-the-go usage in small kitchens while larger appliances are suitable for frequent and efficient ice cream-making sessions at home or even in restaurants.
Safety features
Safety features should always be considered when shopping for an ice cream maker — especially if you're planning to use it with children or others who might not understand how to operate it safely or shut it off if something were to go wrong. This is why simple tray-only products can be ideal for families. Features such as temperature protection and auto-shutoff on larger electric models are all great additions that can provide extra protection against misoperation or malfunction while in use.
Design
The look of a rolled ice cream maker can complement your kitchen décor or clash with it, depending on the style and color you pick out. Before making a purchase, consider whether the product's style will fit in with your existing interior look, whether by blending in with other appliances or adding flair through bright colors or unique patterns.
Cost
The cost of a rolled ice cream maker should reflect its features and performance capabilities. While price shouldn't be the only factor taken into consideration when making your purchase decision, it's important to ensure that you're getting a machine that fits your budget without sacrificing quality or output.
Brand reputation
When choosing an ice cream maker, it's always wise to research the brand behind it before purchasing so you know exactly what kind of product you're getting ahead of time. Look into their customer service team, return policy and warranty options and terms, each of which can play an important role in helping you resolve any issues you may have down the line.
Warranty
Always check what kind of warranty is offered by manufacturers before purchasing any product, as most models come with limited warranties that cover defects but not wear and tear over extended periods of usage. If possible, try to find a rolled ice cream maker that comes with longer warranties that can provide better protection against any malfunctions or breakages over time due to more intensive or frequent use.
Customer reviews and ratings
Lastly, read customer reviews and ratings online for honest opinions from customers who have purchased and tried out the rolled ice cream maker. This is a good way to get an idea of whether or not they're pleased with their experience and if they would recommend the product overall.
People Also Ask
What are the best brands for rolled ice cream makers?
There are many brands of rolled ice cream makers, but each one is different. Some of the most in-demand brands are Whynster, Generic, Classic Cuisine, Chef's and Joymech.
What ingredients do I need to make rolled ice cream?
To make a batch of rolled ice cream, you'll need at least 1 pint of heavy whipping cream, one 14-ounce can of sweetened condensed milk, 1/4 cup granulated sugar, 1 teaspoon vanilla extract (optional) and any flavorings or mix-ins you'd like to add to your mixture (such as nuts or chocolate chips). Depending on what flavor of ice cream you're making, you may also need additional ingredients, such as fruit or syrups.
What are some tips for making perfect rolled ice cream?
There are several useful tips for making perfect rolled ice cream. When it comes to ingredients, make sure to only use high-quality ingredients (such as organic dairy products), allow your ingredients to chill in the fridge before adding them and prep all of your ingredients beforehand so they're ready when you need them. To keep your ice cream from melting, we recommend freezing your ice cream bowl and spatulas for at least an hour before rolling and serving your ice cream.
How does a rolled ice cream maker work?
Most rolled ice cream makers consist of a flat metal pan and spatulas. In smaller models, the pan is designed to be placed in the freezer to reach a cold temperature; in more expensive and premium models, a powerful built-in compressor freezer lowers the pan surface to a specified temperature. Once the pan is properly chilled, you can pour your mixture onto its surface, stir it and let it set for a couple of minutes. As the mixture freezes, you use the spatula to roll or mound the ice cream and then it's ready to serve. You can typically make several batches in one go; simply wipe down the surface and start over, re-chilling it if necessary.
Are there any safety precautions I should take when using a rolled ice cream maker?
Yes, safety precautions should always be taken when using a rolled ice cream maker due to its potential danger if used incorrectly or carelessly. These precautions include following directions carefully when assembling and operating the machine, not directly touching cold surfaces, unplugging machines after use if needed, not overfilling the pan and checking all parts for wear or damage before each use.
Why Trust Us
Our commitment to customers begins with a carefully curated product selection process, ensuring we provide high-quality and reliable options. We meticulously vet each rolled ice cream maker, analyzing quantitative aspects, such as star ratings and review count, and qualitative factors, including review content and product features. Our dedicated team of bargain hunters consistently prioritizes your budget by meticulously scouring the market and identifying the best rolled ice cream makers available without ever compromising on quality or performance. Our panel focuses on presenting the pros and cons of each rolled ice cream maker and converting technical specs into understandable insights. Our mission is to help you get the most bang for your buck…or, in this case, the best rolled ice cream for your hard-earned money.
More Ice Cream Makers
The Best Ice Cream Makers for Your Money
The Best Electric Ice Cream Makers for Your Money