The Best Wrist Braces for Carpal Tunnel for Your Money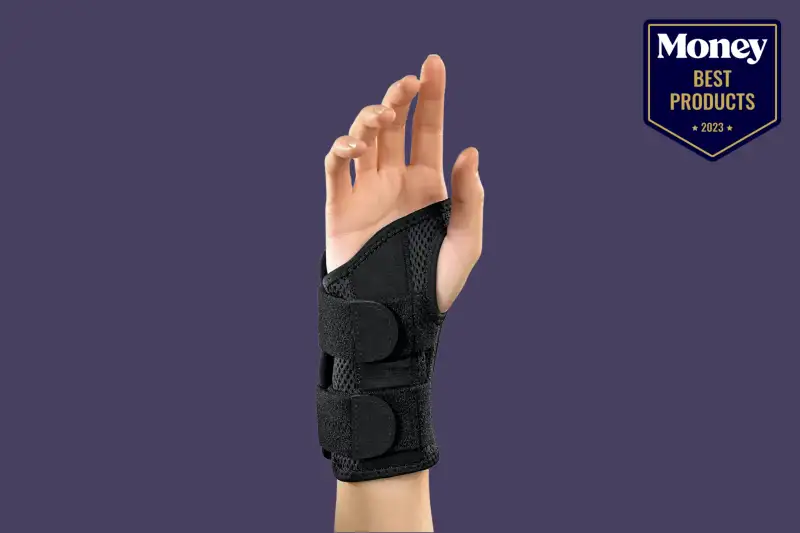 Do you suffer from carpal tunnel syndrome? If so, you know all too well the pain and discomfort that can accompany even the most simple tasks. Fortunately, a high-quality wrist brace can help to alleviate carpal tunnel symptoms and provide your hands and wrists with the support they need.
In this article, we'll review the highest-rated wrist braces for carpal tunnel in 2023. We'll take an in-depth look at each pick and its features, pros and cons. We'll also include some useful buying tips to help you find the perfect brace for your needs. So, if you're ready to wave goodbye to pain and discomfort and say hello to much-needed pain relief, keep reading.
Best Overall: ComfyBrace Wrist Brace for Carpal Tunnel
Most Supportive: FEATOL Carpal Tunnel Wrist Brace
Most Eco-Friendly: Mueller Wrist Brace for Carpal Tunnel Relief
Most Unique Design: Copper Compression Carpal Tunnel Wrist Gloves
Best Value: Dr. Arthritis Carpal Tunnel Wrist Wrap
Reviewing the Most Supportive Carpal Tunnel Wrist Braces of 2023
List Price: $25.97
With its comfortable support and gentle compression, the ComfyBrace Wrist Brace for Carpal Tunnel earned the top spot on our list. It's an excellent solution for those who suffer from carpal tunnel syndrome, arthritis, tendonitis, or post-cast wrist pain. The adjustable, slip-on sleeve features an ambidextrous design, making it suitable for right and left hands.
This brace includes a removable palmar splint and strategically placed straps for maximum support and comfort. The beaded cushion conforms to the shape of your wrist, offering personalized support and soothing relief. The material is highly breathable to prevent sweating, overheating, and discomfort during long-term use.
This product can be washed manually and comes with a lifetime replacement guarantee, allowing you to purchase with confidence and peace of mind that it can be used for as long as you need. With its therapeutic, supportive features, this wrist brace aims to provide fast and effective wrist pain relief. It's comfortable to wear, even for prolonged periods, making it the best overall choice for anyone looking for convenient relief from carpal tunnel symptoms.
Pros
Breathable material prevents overheating
Adjustable straps offer customized compression
Lifetime replacement guarantee ensures long-term use
Cons
May not fit large hands comfortably
May interfere with some activities
List Price: $30.99
The FEATOL Carpal Tunnel Wrist Brace features an adjustable design to keep your wrist secure and well-supported. It's sized to fit small-to-medium-sized hands, and it's also available in larger and smaller size options to help you achieve the right fit for you. This pick has three adjustable hook-and-loop straps, ensuring secure, comfortable support.
Designed to fit your right hand, but also available in left-hand styles, this product can help to alleviate pain caused by a range of wrist injuries and conditions including carpal tunnel syndrome, arthritis, basal thumb arthritis, tendonitis or tendinopathy, sprains, and wrist strain. Thanks to its versatile construction, this brace is a great choice for those who suffer from any of these conditions.
Additionally, this brace is made from high-quality materials that are designed to last for years. Its unisex construction makes it suitable for adults, while the built-in plastic splints offer an extra support layer. If you're looking for a product that strikes a perfect balance between compression and comfort, look no further than this wrist brace for carpal tunnel.
Pros
Available in multiple sizes
Plastic splints offer additional support
Long-lasting materials and velcro closure
Cons
Difficult to put on without assistance
Drying process may take a while
List Price: $12.14
The Mueller Wrist Brace for Carpal Tunnel Relief is a reliable and environmentally friendly option for anyone looking to alleviate pain resulting from carpal tunnel syndrome or arthritis. The soft, lightweight fabric is made from latex-free recycled materials, making it comfortable enough to wear all day and eco-friendly. This pick provides essential support for weak or injured wrists while still offering your thumb and fingers a full range of motion. This means you can still type and use your handheld electronic devices without having to remove the brace.
This carpal tunnel wrist brace is specially designed to fit the right hand but it's also available in a left-handed style. It'll fit most small and medium-sized hands, and it comes in a large-to-extra-large size option as well. With two adjustable straps, this product provides a secure and customizable fit for optimal comfort and support. So, whether you're an athlete looking for extra support or you're recovering from an injury, this wrist brace is a reliable and effective option.
Pros
Convenient slip-on design
Breathable, comfortable, eco-safe materials
Adjustable straps for a customized fit
Cons
Non-ambidextrous design
Not machine washable
List Price: $29.95
Featuring a unique style unlike traditional braces, the Copper Compression Carpal Tunnel Wrist Gloves are designed to offer long-lasting relief and optimal performance for those suffering from chronic pain. The fabric's copper-infused fibers aim to improve blood circulation and oxidation, which can alleviate pain and inflammation caused by a range of conditions including carpal tunnel syndrome, tendonitis, arthritis, and joint stiffness.
Sold in a set of two, the gloves also provide gentle compression for your hands, palms, fingers, and knuckles, while allowing you to retain your range of motion. This can help to keep your muscles active and strong. Thanks to their comfortable materials and durable construction, this product is suitable for daily wear without losing its function over time.
Additionally, if you don't absolutely love these gloves, they come with a 100% money-back guarantee with no questions asked, allowing you to purchase them with confidence. This product is designed for small hands but is also available in sizes ranging from extra-small to extra-large.
Pros
Gentle support and compression
Comfortable and durable enough for everyday wear
Easy to maintain and extend its longevity
Cons
Sizes run a bit small
Tingling may occur if worn while sleeping
List Price: $14.95
The Dr. Arthritis Carpal Tunnel Wrist Wrap is an affordable yet quality choice for those seeking relief from injuries or discomfort. Developed by doctors with first-hand experience in treating wrist conditions, this brace offers superior comfort and non-slip support that's designed to last. Accordingly, it's crafted with a high-quality blend of 65% neoprene and 35% nylon with a copper lining.
This product features an ambidextrous design, making it suitable for both left- and right-hand wear. Thanks to its non-restrictive construction, you can wear it for extra support while engaging in activities such as golf, tennis, bowling, and yoga.
This product also includes a doctor-written handbook to guide you through your condition, available treatment options, and helpful exercises. Plus, the brand offers a money-back guarantee so you can purchase it with peace of mind. Overall, this brace is a reliable, budget-friendly choice that offers superior comfort and a tailored fit to anyone in need of extra wrist support.
Pros
Informative handbook for added value
Reinforced stitching for optimal durability
Lightweight, breathable materials
Cons
Materials may have an odor upon arrival
Only comes in a single size
Buying Guide: Wrist Braces for Carpal Tunnel
Carpal tunnel syndrome can make even the most basic tasks painful and challenging. But a wrist brace can provide you with the additional support you need to help alleviate pain, inflammation, and discomfort.
With so many options to choose from, however, it's not always easy to find the best product for your needs. This buying guide will walk you through the most important factors and features to consider while shopping for a wrist wrap so you can make an informed purchase.
Support
The most important factor to consider when choosing a wrist brace is the level of support it provides. Look for a brace that offers adequate support without being overly restrictive. Many braces are made from stretchable materials like nylon or neoprene that move with you and provide comfortable compression. Some products have features like hook-and-loop straps or built-in splints for added support.
Comfort
Comfort shouldn't be overlooked when selecting a wrist wrap. Choose one that's made of soft but breathable fabric that's gentle on the skin and won't cause irritation or chafing. The brace should fit comfortably on your wrist and hand without slipping off or cutting off your circulation.
Adjustability
Adjustable features go a long way in ensuring customized, comfortable, secure compression. Look for hook-and-loop straps that can be adjusted for a personalized fit that's tailored to your specific needs.
Compression
If you struggle with wrist or hand inflammation, it's important to choose a brace that offers the ideal level of compression. Too much compression can cause discomfort while too little compression might not provide enough relief. The right amount of compression will provide relief from pain and reduce swelling at the same time.
Material
A wrist brace's materials will impact its durability and quality. Look for lightweight and breathable materials such as elastane, neoprene, nylon, or copper-woven fabric that are both soft against the skin and durable enough to withstand long-term use. Also, aim for machine-washable materials so you can keep your brace clean and fresh with ease.
Size
When purchasing a wrist brace, it's crucial to select the proper size. If it fits too loosely, it won't provide adequate support or relief from discomfort; if it's too tight, it can interfere with proper circulation or cause uncomfortable squeezing sensations around your wrist. For an accurate fit, we recommend measuring your hand and comparing the measurements to the manufacturer's size chart to determine which size will work best for you.
Price
Wrist brace prices often vary depending on the product's design, size, quality, and materials. Decide how much you're willing or able to spend on a wrist wrap and adjust your search filters accordingly to help you narrow down the choices. Ideally, the product you choose should fit within your budget and possess all of the features that are important to you without skimping on quality and durability.
Warranty
Choose a product that's backed by a manufacturer's warranty or guarantee to ensure you're covered in case of any defects or issues down the line. Check the product description to find out what the warranty covers and how long the coverage will last.
Brand reputation
Many popular brands have produced medical devices such as wrist braces for years and have solid reputations for offering high-quality products and excellent customer service. Research which brands are recommended by medical professionals and read customer reviews to get insight into which brands have the best reputations.
People Also Ask
What's the purpose of wearing a wrist brace for carpal tunnel?
The primary purpose of wearing a wrist brace for carpal tunnel is to provide support and stabilization. This can help to alleviate pressure on the wrist's median nerve, which is responsible for carpal tunnel syndrome. This stabilizing effect can reduce symptoms such as pain, numbness, and tingling while compression aims to minimize inflammation.
How do I know if I need to wear a wrist brace for carpal tunnel?
If you're experiencing numbness, tingling, or pain in your hands and wrists, you may have carpal tunnel syndrome. Speak with your doctor first, and if they confirm the diagnosis, ask whether a carpal tunnel brace would benefit you.
Are there any side effects associated with wearing wrist braces for carpal tunnel?
Provided you're not allergic to any of the brace's materials, there are generally no serious risks associated with using a carpal tunnel wrist brace. Wearing a brace may cause minor, temporary discomfort, such as mild pain or skin irritation, for some users, but these side effects should resolve quickly once you remove or adjust the brace.
Is it safe to wear a wrist brace for carpal tunnel while sleeping?
Wearing a wrist brace while sleeping can help to keep your wrist stabilized throughout the night. It's important to ensure the brace isn't too tight though, as you don't want it to cut off or interfere with your circulation.
How do copper-infused wrist braces help with carpal tunnel?
While shopping for wrist braces, you'll likely notice that many models feature copper-infused fibers. These products create gentle heat to improve circulation and oxidation. By ensuring the blood in your hands flows properly and is well-oxygenated, copper-infused braces can help to reduce swelling and pain.
When and for how long should I wear a carpal tunnel wrist brace?
This depends on your condition and its severity. Your doctor can best advise you on how long you should keep your brace on based on your individual situation and symptoms. Generally, it's a good idea to wear your wrap during activities that require repetitive use of your hands and wrists, such as typing for extended periods of time. You should also remove or adjust the fit of your brace if you experience any discomfort or numbness.
Why Trust Us
Our commitment to customers begins with a carefully curated product selection process, ensuring we provide high-quality and reliable options. We meticulously vet each wrist brace, analyzing quantitative aspects, such as star ratings and review count, and qualitative factors, including review content and product features. Our dedicated team of bargain hunters consistently prioritizes your budget by meticulously scouring the market and identifying the best wrist braces for carpal tunnel available without ever compromising on quality or performance. Our panel focuses on presenting the pros and cons of each wrist brace and converting technical specs into understandable insights. We aim to ensure comfortable support and effective pain relief with the finest wrist-support accessories.