Save 30% on This Sunrise Alarm Clock That Might Actually Make You Enjoy Mornings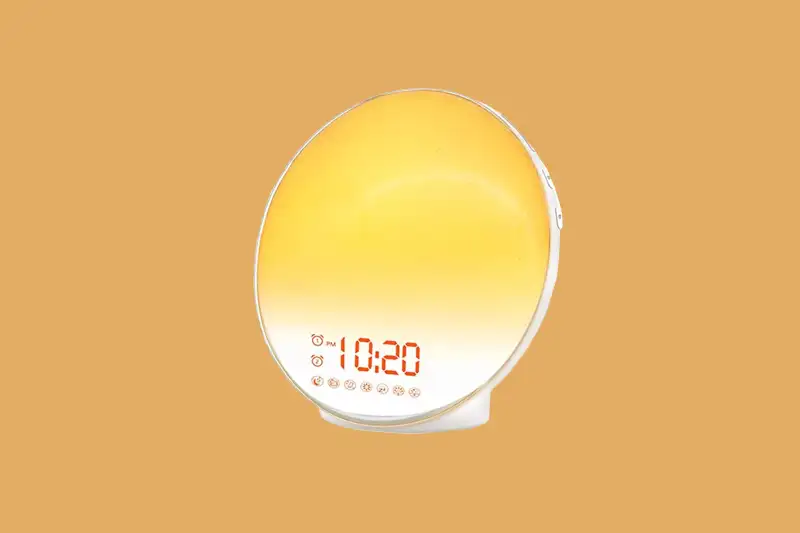 As we transition into the New Year, it's time to take advantage of all the great deals on products that will make 2023 your best year yet. One such product is this amazing alarm clock. Not only does it look sleek and modern, but its features are something to behold. From three light modes to seven color options, this alarm clock has everything you need for the perfect wake-up experience.
This alarm clock is truly one of a kind. The wake-up light feature is designed specifically for heavy sleepers and children. The light will gradually increase from 10% brightness to 100% 30 minutes before the alarm setting time. One shopper says that the "maximum brightness will absolutely light up a whole room," making it easier to wake up in the mornings. If users feel that 30 minutes is too long for them, they can also adjust the process to 20 minutes or 10 minutes. The natural sound of the wake-up light provides a gentle way to start the day.
The dual alarm clock also has a snooze feature which allows an extra nine minutes of sleep if needed. It can be used up to five times. The clock also offers users a choice of seven color light moods and brightness levels that can be adjusted accordingly. Additionally, the FM radio feature allows users to scan stations with a frequency range of 76-108 MHz. It also offers seven natural sounds to choose from as an alarm option including birdsong, ocean waves, streams, and more. These sounds can be adjusted in their volume as well.
The sunrise alarm clock can also be used as a night light or bedside lamp with adjustable brightness levels. This allows users to easily access the lamp during those late nights without having to disturb their partner or wake the children up.
With an overall rating of 4.3 out of 5 stars on Amazon, this sunrise alarm clock has received over 22,000 ratings from satisfied customers who love its "simple and minimal" design. Customers have raved about how easy it is to use and how quickly they were able to set up their own personalized settings. Here's what one happy buyer had to say about it:
"In the short time I have had this product I can honestly say it has changed my morning routine and also the effects on the rest of my day. My sleep is more restful and waking up is so easy. It has really helped my mental health, and I literally cannot stop raving about it to friends and family. If you are considering purchasing a product like this, I highly recommend starting here. There are much more expensive models, but this one is accessible and user-friendly."
Start your mornings right with the sunrise alarm clock
Buy the sunrise alarm clock today and enjoy 32% off on your purchase. It's the best way to wake up in the morning, and for just $40, it's definitely worth the investment.