This Popular Aromatherapy Diffuser Has 45,000 Perfect Reviews (And It's 50% Off)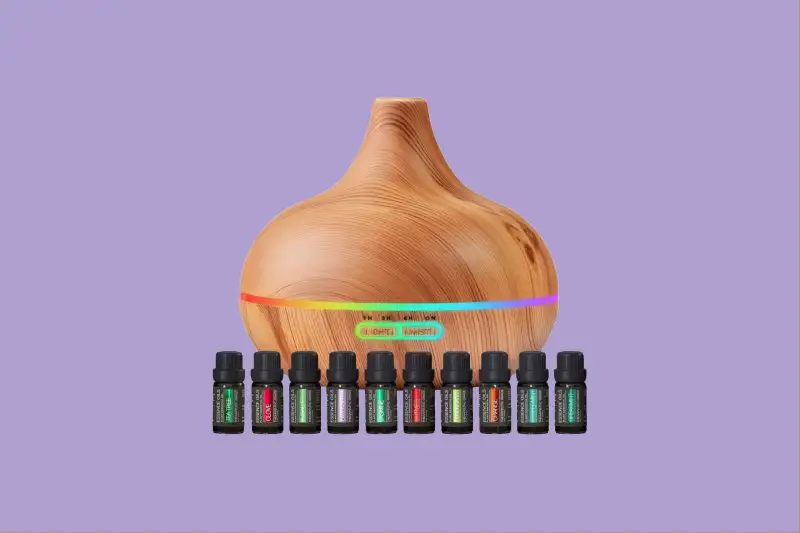 Aromatherapy is quickly becoming one of the most popular ways to relax and unwind in the comfort of your own home. Essential oil diffusers provide a comforting and therapeutic scent to any room, and now you can get one in an all-inclusive set for 50% off.
Experience total wellness with the ultimate aromatherapy diffuser and essential oil set from Pure Daily Care. It includes a state-of-the-art ultrasonic diffuser with seven ambient light modes and four timer settings, as well as 10 therapeutic-grade essential oils from around the world. More than 45,000 shoppers have given five stars to this popular aromatherapy diffuser that will transform your living space. Keep reading to learn more about this amazing offer and why you need to invest in an aromatherapy diffuser asap!
Harness the therapeutic power of plants
This aromatherapy diffuser is the perfect choice for those looking to bring the therapeutic power of plants into their home. The set includes an ultrasonic essence diffuser made of BPA-free plastic with a beautiful printed wood grain design. It features seven ambient light modes and two intensity settings for 14 combinations. It also has four timer settings and an auto-shutoff feature for low water levels. In addition, this set includes 10 therapeutic-grade essential oils that come in amber jars to protect them from sun degradation. All the oils are free of any additives or fillers and use a variety of extraction methods like steam distillation and cold press, depending on the plant harvested.
This aromatherapy set is an excellent choice for anyone wanting to experience the natural health benefits of these essential oils. The easy-to-use features make it a breeze to incorporate into your daily routine, while the large capacity and beautiful design make it a stylish addition to any home or office space. This comprehensive bundle provides everything you need to start enjoying the natural healing qualities of essential oils today.
Relax in your very own spa
Take a few moments to escape the hustle and bustle of your day and relax in your very own spa as you breathe in the calming scent of Lavender essential oil. You can choose from four timer settings to control how long the ultrasonic diffusion runs, while the seven ambient light settings let you customize the mood of your room. Give yourself a well-deserved break and indulge in this ultimate aromatherapy experience for half off today.