What Are the Best Air Fryer Brands?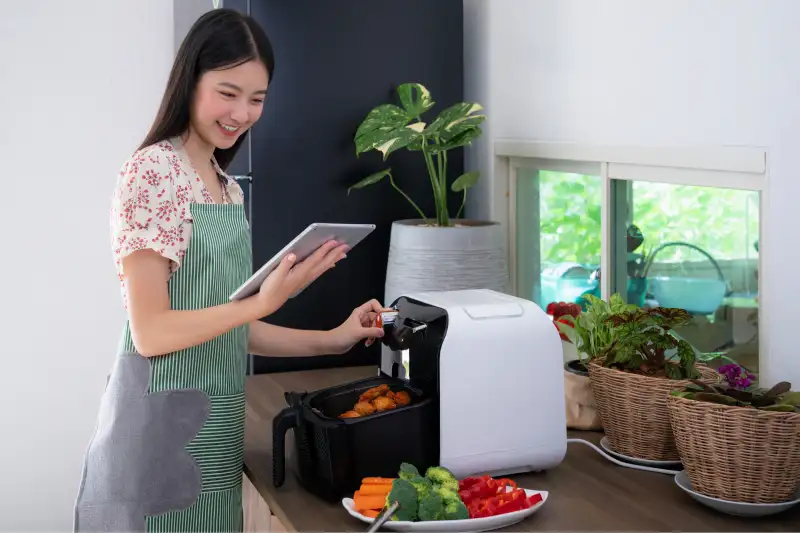 If you're looking for a healthier way to cook your favorite foods, look no further than the air fryer. An air fryer uses hot air and minimal oil to cook food quickly and evenly. This means you get crispy, delicious food without as much of the added fat and calories of traditional frying.
But not all air fryers are created equal. There are a lot of different brands on the market, so it can be hard to figure out which one is ideal for your needs. In this post, we'll give you an overview of the most popular air fryer brands to help you make an informed decision when buying. We'll also cover some of the most common types of air fryers and break down how to evaluate individual models.
Why air fryers?
Air fryers are modern kitchen appliances that provide many benefits compared to traditional cooking methods. With an air fryer, you can cook healthier meals that are low in fat without sacrificing taste or texture. Unlike deep or pan frying, which can add excessive amounts of oil, air frying uses hot air or internal heating to cook your food evenly, achieving a crispy, delicious result at less cost to your health and wallet. This not only helps to reduce calorie intake but also promotes better overall well-being.
In addition to their health benefits, air fryers have user-friendly designs and customizable automatic settings that make them incredibly easy and quick to use. For example, with just a few simple presses on the control panel or remote control (if included), you can customize the cooking process for each dish you prepare in the air fryer. This includes setting time intervals or temperature changes to make cooking simpler.
Types of air fryers
Modern air fryers come in two main varieties: oil-less and electric. An oil-less model uses hot air technology to cook food, while an electric model uses an internal heating element. Both types are easy to use and great for convenient cooking.
Oil-less air fryers use hot air technology for cooking. This appliance requires no oil and can quickly cook various foods, from french fries to chicken wings. The advantage of using an oil-less air fryer is that it produces healthier dishes with fewer calories and fat since no oil is used for cooking.
Electric air fryers use an internal heating element instead of hot air technology to cook food. These models are usually more expensive than oil-less models, but they produce crispy and delicious recipes with little effort, thanks to their advanced features.
Factors to consider when evaluating air fryers
When looking for an air fryer, there are several factors to consider, such as size, capacity, price and features. Air fryers come in various sizes, ranging from small countertop models to larger free-standing units. If your kitchen has limited space, consider a compact model that can easily fit on your countertop or pantry shelf.
Capacity is another important factor when choosing an air fryer model. Some units can hold up to 4 quarts or more of food at once, while others may only hold 1 or 2 quarts. Consider how much food you typically cook at one time and choose a model that meets your needs. Different factors, such as size and capacity, will affect the price of an air fryer model, so it's important to set a budget before shopping around for one. Some models may cost several hundred dollars, while others may be under $100, depending on their features.
When evaluating different air fryer models look for features such as automatic settings like programs or timers that allow you to customize the cooking process for each dish you prepare. Some air fryers may come with accessories such as racks, dividers and skewers that can be useful when preparing meals with your air fryer. Many appliances come with warranties as well to help cover your investment. We'll discuss each of these factors in more detail below.
Automatic settings
In addition to being easy to use, air fryers have various automatic settings that make meal preparation a breeze. These settings include the ability to customize temperature settings depending on the type of food being cooked and timers that automatically shut off once the cooking process is complete, eliminating any guesswork and improving safety, even if the air fryer is left unattended. These features make air fryers a convenient and efficient option for busy individuals looking to prepare healthy meals quickly and easily.
Accessories
Air fryer models often come with various useful accessories that can help you maximize the space within the unit and cook multiple dishes at once while still ensuring even cooking results. Some common accessories include racks, dividers and skewers that can help distribute heat evenly throughout the unit and retain food temperature after cooking. These accessories are particularly helpful for preparing meals efficiently and effectively, so they can be a valuable addition to any air fryer setup.
Warranty
Most air fryer brands offer warranties ranging from one to five years, depending on certain conditions. Make sure to read through any warranty information before purchasing to confirm what it covers. Also, consider coverage that includes manufacturer defects and ensures customer service assistance in case you need additional support troubleshooting any issues.
Popular air fryer brands
When purchasing an air fryer, there are several popular brands on the market, including Philips, T-Fal, Cuisinart and Ninja. These brands offer a range of models suited for various budgets and needs, with options ranging from small countertop units to larger free-standing units designed for family gatherings or entertaining. Each brand has unique features and benefits, so it's worth taking a closer look at them to find the ideal model for your needs.
Philips
Philips is a leading brand in the air fryer market, offering models in different sizes and features. Their air fryers come in mini countertop sizes and large family-size units capable of holding up to 4 quarts or more. Philips air fryers also boast advanced features such as digital temperature control, LCD screens, turbo star technology and quiet operation. These give users greater control over their cooking results while reducing noise levels compared to standard air fryers on the market. Overall, Philips is a great option for a quality air fryer brand.
T-Fal
T-Fal is a versatile brand that offers many different air fryers, including deep fryers that combine air frying technology with traditional deep frying methods to create crispy, delicious meals with less added fat. In addition, their units offer adjustable thermostats, digital timer control panels, non-stick coatings on pans and baskets, removable drip trays and powerful 1700-watt heating elements. These features provide users with complete control over their cooking experience to produce consistently delicious results every time.
Cuisinart
In addition to various sizes, Cuisinart air fryers also come in different styles, such as toaster oven and convection oven models that offer the convenience of multiple cooking functions in addition to air frying. With their sleek and modern designs, Cuisinart models can complement any kitchen decor, making them a functional yet stylish addition to any home.
Ninja
Ninja is known for manufacturing quality kitchen appliances offering several different kinds of air fryers suitable for various user needs. Their models boast many advanced features such as multiple presets, a digital timer control panel, variable heat settings, LCD screens and timers with auto shut-off features to give users full control in the kitchen to create delicious, well-cooked meals.
Conclusion
Air fryers are an increasingly popular kitchen appliance that offers a healthier way to cook your favorite foods. We hope this post has given you a better understanding of the types and features to consider when looking for the perfect air fryer. With all these factors considered, we are sure you'll be able to choose among the best air fryer brands for your needs. Whether you are looking for a compact model for small spaces, a family-sized unit for large gatherings or something in between, the right air fryer brand can make all the difference in achieving tasty, healthy results each time you cook.