The Best Air Fryers for a Family of Four for Your Money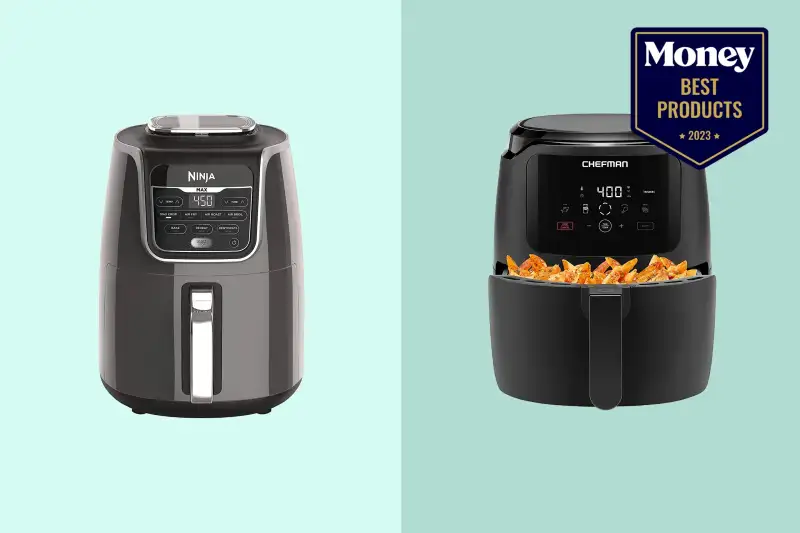 Are mealtimes a struggle in your household? Cooking healthy meals for the whole family can be challenging, especially if you don't want to be stuck in the kitchen all day. An air fryer is a perfect solution for busy families who want to enjoy healthy, delicious meals without breaking the bank, and with the right one, you can make enough food for your family of 4 all at once!
Not only can air fryers cook food faster than conventional ovens, but they also require a fraction of the oil that traditional frying does. You can even use them for baking, grilling, and roasting your favorite foods. But how do you pick the right product from the plethora of options available on the market? We've put together a list of the top-rated air fryers for a family of 4 of 2023 that can make mealtimes healthier and delicious. Without further ado, let's get started.
Best Overall: Pro Breeze Air Fryer Toaster Oven
Best Overall: Chefman Air Fryer for a Family of 4
Innovative Design: Nuwave Air Fryer for a Family of 4
User-friendly: Instant Pot Air Fryer for a Family of 4
Compact: Ninja Air Fryer for a Family of 4
Versatile: Emeril Lagasse Air Fryer for a Family of 4
Here are the Top Air Fryers for a Family of 4 of 2023
The Pro Breeze Air Fryer Toaster Oven revolutionizes healthy cooking, offering a versatile and convenient solution for preparing a wide range of delicious dishes with up to 80% less oil. Powered by innovative Cyclone Technology, this kitchen marvel circulates super hot air around its spacious interior, ensuring fast, flavorful, and health-conscious meals every time.
Elevate your family cooking experience with the Pro Breeze Air Fryer Toaster Oven's impressive features. Boasting a generous 12 quarts capacity and three tiers, it accommodates a variety of foods, from crispy fries to succulent steak. The twelve pre-set cooking modes streamline your culinary adventures, making it an ideal companion for creating meals that please the whole family. With dimensions measuring 14x12x15 inches, this appliance fits comfortably on your countertop without compromising on functionality. This best overall air fryer toaster oven is a game-changing addition to any kitchen. Its advanced features, spacious design, and multitude of accessories ensure that your cooking possibilities are endless.
Pros:
Utilizes Cyclone Technology for healthy and delicious cooking
Large 12 quarts capacity with three tiers and 12 pre-set cooking modes
Comprehensive set of 19 accessories and parts included
Cons:
List price: $74.99 - $99.99
The Chefman Air Fryer for a Family of 4 is a convenient kitchen appliance that can help you make delicious meals with fewer calories. It features four preset cooking modes as well as adjustable time and temperature, giving you complete control over the entire cooking process. You can cook all sorts of meals at temperatures ranging from 200 to 400 degrees Fahrenheit, but no matter what you're making, your food will come out crispy and delicious. To make things even easier, it also includes an LED shake reminder that will help ensure everything is cooked evenly.
Thanks to its sleek, modern design, this air fryer can be an attractive addition to your family's kitchen. Despite its 5-quart capacity, it's pretty compact, so it won't take up too much space on your countertop or in your cabinets. Cleaning this appliance is quick and easy, as its basket is nonstick and all of its parts are dishwasher-safe. Plus, it comes with 10 air fryer liners to prevent messes while cooking.
This air fryer is durable and long-lasting, and it comes complete with an ETL (Electrical Testing Laboratories) certification. It's backed up by the manufacturer for a year, and it comes with a PDF user guide to help you understand how you can use it to make mealtimes easier. With all these features, this air fryer for a family of 4 is our top choice.
Pros
Enough cooking capacity for the whole family
Simple one-touch digital controls
Flat-basket design helps save space
Cons
Handle may feel fragile
Timer can be hard to read
List price: $88.99 - $99.99
If you want to revolutionize the way you cook, get your hands on the Nuwave Air Fryer for a Family of 4. It's a simple, user-friendly kitchen appliance that's sure to make mealtime much more convenient (not to mention tastier). This high-tech air fryer features one-touch digital controls that make it easy to set temperature and time, with its temperature ranging from a minimum of 50 degrees Fahrenheit all the way up to 400 degrees Fahrenheit. Even better, though, is the fact that these controls are in 5-degree increments for increased precision, while its linear thermal technology works to accurately maintain any temperature you set for perfect cooking.
This powerful air fryer for a family of 4 comes with 100 menu presets for air frying, grilling, baking, broiling, and a whole lot more. Plus, you can save up to 50 other recipes on it to make meal prep a breeze. It's a convenient option when it comes to healthy cooking, as it can make crispy, delicious fried foods without the added fats or calories of traditional frying methods. And when it comes to cleaning up, don't worry, because all of its parts are dishwasher-safe.
Another outstanding feature is that this air fryer for a family of 4 allows you to make settings adjustments while it's cooking. It's a breeze to use every step of the way, with its display panel being easy to read regardless of lighting (making it great for midnight snacks). And, as if all these features weren't enough, it also comes with a book containing 40 delicious recipes that have been handcrafted by expert chefs.
Pros
Dozens of menu presets and memory slots
Dishwasher-safe parts for quick cleanup
Easy-to-read display and controls
Cons
Buttons make a loud beeping sound
Can be difficult to remove food
List price: $129.95 - $139.99
The Instant Pot Air Fryer for a Family of 4 can do it all; with its 6-in-1 functionality, you can air fry, roast, bake, broil, dehydrate, and reheat all kinds of food with ease. It boasts a 6-quart cooking capacity, which makes it great for serving up meals the entire family can enjoy.
This air fryer is powered by EvenCrisp technology, which moves air from the top down to make sure your food is cooked evenly and to a perfect golden crisp. You can easily control its settings thanks to the one-touch smart programs for everything from wings to cinnamon buns, but even better is the fact that this air fryer for a family of 4 doesn't take too long to heat up; utilizing its wide temperature range of 95 to 400 degrees Fahrenheit, you can make entire meals in minutes.
The appliance's dishwasher-safe nonstick baskets and trays make cleanup easier than ever, while safety features like overheating protection and an auto shut-off mode can give you peace of mind as you use it. The manufacturer also offers a free iOS and Android app that gives you access to more than 100 awesome air fryer recipes. With its high-tech features and easy-to-use design, this air fryer for a family of 4 can quickly become your go-to for tasty, healthy meals.
Pros
EvenCrisp technology for thorough cooking
Customizable one-touch smart programs
Stylish stainless steel design
Cons
Produces a chemical smell upon initial use
Display isn't backlit
List price: $128.00 - $174.44
The Ninja AF161 Air Fryer for a Family of 4 is the perfect kitchen appliance for anyone who wants to be able to cook using less oil. It boasts Max Crisp technology that allows it to reach a top temperature of 450 degrees Fahrenheit, which can help you cut down on cooking times and get food on the table a whole lot faster.
This air fryer has a 5.5-quart XL capacity that can hold up to three pounds of fries or wings, making it great for families or for preparing large meals. Plus, it offers seven versatile programs that can be used to prepare all kinds of meals, including air fry, air roast, air broil, bake, reheat, max crisp, and dehydrate modes. And, you don't even have to spend hours scrubbing it, as cleaning the ceramic nonstick basket is a breeze; simply toss it in the dishwasher and it'll be good as new.
In addition to all this, this air fryer for a family of 4 also comes with a book of 20 recipes than can help you get started on your air frying journey. So whether you're looking for an easier way to make your favorite fried foods or want something versatile to help you prepare quick meals, you can count on this air fryer; with impressive features, an attractive design, and easy cleaning, this air fryer for a family of 4 can quickly become your household's favorite appliance.
Pros
Max Crisp technology for faster, crispier results
Features seven cooking modes
Accessories are non-stick and dishwasher-safe
Cons
May set off smoke alarms
Doesn't offer modes for cooking specific foods
List price: $129.99 - $250.00
Kick your cooking up a notch with the Emeril Lagasse Air Fryer for a Family of 4. It features five all-over heating elements that are designed to work like a restaurant-quality oven, and with 12 cooking presets to choose from, you can air fry, roast, slow cook and more to easily create delicious, nutritious meals.
This air fryer for a family of 4 cooks food evenly for crispy, tasty results every time. Its digital display makes it easy to control temperatures and other settings, and because it comes with all the bells and whistles, it can be a great addition to any kitchen. These include a crisper tray, a rotisserie spit, a pizza rack, a baking pan, a drip tray, and a cookbook full of Emeril's own recipes.
This air fryer is an excellent choice for any home chef looking to create delicious meals in a flash. Its versatility allows you to make almost anything you can think of, while its robust construction ensures you'll be able to use it for many meals to come. Plus, it can help you enjoy Emeril-level results every time you sit down to eat!
Pros
Features five heating elements for faster cooking
Cyclonic air flow for crispier textures
Offers 12 different cooking functions
Cons
Construction isn't BPA-free
Toasting takes a while
Buying Guide: Air Fryers for a Family of 4
Choosing the right air fryer for your family can be tricky. Different models offer different features, making it tough to find one that will provide your desired results while still being within your budget. This buyer's guide is designed to help you make an informed purchasing decision by providing detailed information on what to consider while shopping for an air fryer for a family of 4 in 2023.
Factors To Consider
Capacity
When shopping for an air fryer for a family of 4, you should take into account the size of the basket and the number of servings it can accommodate. Most models are designed to cook 4 to 6 servings at once, so a family of four shouldn't have a problem finding a suitable option. If you want to be able to cook bigger batches, then a larger air fryer with a greater basket capacity will likely be the ideal choice for you.
Power output
The wattage of an air fryer for a family of 4 should be enough to provide good cooking results. Generally speaking, the more powerful the motor, the faster and more evenly food will cook. For most home uses, a wattage between 1,500 and 2,000 should prove satisfactory.
Ease of use
Ease of use is an important factor when selecting an air fryer for home cooking, as you'll want to ensure the whole family can use it. It's recommended to choose a model that comes with user-friendly controls and features, such as digital timers and preset modes for various types of food. Also, check that the design is intuitive so that it's easy to adjust the temperature, time and any other settings.
Durability
Air fryers for a family of 4 are designed to be long-lasting kitchen appliances, but not all models will stand up to regular use over time. To ensure yours lasts, look for an appliance with a robust construction made out of quality parts.
Versatility
Versatility is another important feature that you should take into account when choosing an air fryer for a family of 4. Look for a model that offers multiple temperature settings, as well as preheat options and preset programs for different types of food, such as meat, fish, or vegetables. This will ensure that you can cook a variety of meals with ease.
Safety
Safety is paramount when it comes to any kitchen appliance, so look for air fryers with features such as auto shutoff, cool-touch exterior surfaces and overheating protection. These will provide peace of mind when using an air fryer to cook meals for your family.
Cleaning and maintenance
Cleaning your air fryer is essential for keeping it in tip-top shape over time. When purchasing an air fryer for a family of 4, you should prioritize models with removable parts (such as baskets and trays) that are easy to take apart and put back together after cleaning. Some models even come with dishwasher-safe components, which makes your job even easier.
Noise level
Air fryers can be quite noisy when operating at full power, so it's important to try to find one that won't cause too much of a disturbance in your home. The decibel rating (dB) on most appliances indicates how loud they are, and you should aim for a decibel rating below 75 dB if possible.
Accessories
Some air fryers for families of 4 come with special accessories like skewers or baskets, which can make them even more versatile. Check what's included with each model before finalizing your purchase to ensure you'll receive everything you need to start cooking without having to make any additional purchases later down the line (unless you want to, of course).
Why trust us
Our commitment to the consumer begins with product selection and ends with the last word we write in each article. Each air fryer for a family of 4 is carefully vetted quantitatively through star ratings and number of reviews qualitatively through careful examination of reviews and the features each one has to offer. Leveraging our team of bargain hunters, we're also always sure to keep your budget in mind while we find the best air fryers on the market. Our team of experts is dedicated to accurately depicting the pros and cons of each air fryer for a family of 4, translating technical product specifications into information you can understand. Our mission is to make sure you get the most bang for your buck…or in this case the best cooking for your coins.
People Also Ask
Should I switch to air-fried food if I'm trying to eat healthier?
There's no doubt that air fryers use a lot less oil than deep fryers and help you cut down on calories, so you can still enjoy your favorite fried food even if you're trying to eat healthier. Some foods, like chicken wings, can even be air-fried without any oil at all. Most of these foods are frozen or already have fat on them, so air-frying them won't change their fat content.
Different air fryers require different amounts of oil to cook fries, roast potatoes and make other crispy foods. According to expert chefs, you only need around one teaspoon to one tablespoon of oil per pound of French fries. So, if you carefully follow the directions, you can make sure your food comes out just the way you like it.
How should I properly clean my air fryer for a family of 4?
If your air fryer has a non-stick basket, cleaning it will be a breeze. You can wash the basket, tray and pan the same way you would any other dishware: simply handwash them with soap and warm water or toss them into the dishwasher. Checking the model's specs before cleaning is always a good idea to ensure you don't end up damaging your appliance. If you want to clean your air fryer's exterior, unplug it first and use a damp cloth to wipe it off and get it squeaky clean.
What's the proper way to use my air fryer for a family of 4?
Because deep frying involves using a lot of oil and is less healthy, air fryers were developed as an alternative cooking method. Raw food, such as potatoes or white meat, can be placed in the air fryer after spritzing oil on both sides using a spray bottle. Then, leave the rest to the air fryer, as it will cook the food to your desired texture. The majority of air fryers for a family of 4 don't have a flat tray, instead featuring a grilling layer that can be used for either broiling or grilling. All you have to do is set the temperature, and if you want to broil, preheat the air fryer beforehand to ensure even cooking.
You can even bake in your air fryer for a family of 4, which can be useful if you're only making a few cookies or a small cake. When you use an air fryer to cook chicken, steak and veggies, you don't have to worry about your food burning, as most come equipped with an auto shut-off feature. It's also easy to reheat meals in an air fryer, as it only takes 3 to 5 minutes.
How much does a quality air fryer for a family of 4 cost?
Air fryers for a family of 4 that are sold by a well-known brand can set you back around $150. While you might be able to get a discount during a sale, the price is usually around $100 on average. Don't assume that a higher price tag means a better product, though, as some brands sell affordable appliances that are just as good as any expensive air fryer. Because air fryers can be pretty expensive, they're a long-term investment that will make cooking easier for years. If you often host gatherings or have a big family to feed, investing in an air fryer for a family of 4 can be the right choice.
Does my air fryer for a family of 4 require any special maintenance?
There generally aren't any special maintenance rules you'll have to follow when caring for an air fryer, but be sure to check the manufacturer's instructions to see if any additional steps will need to be taken with your particular model. It's recommended to clean your air fryer every two to three uses or once per week, depending on how often you use it. Make sure to follow the manufacturer's instructions when cleaning your air fryer, as some models require specific cleaning products or techniques to maintain their performance and extend their lifespan. Most models simply need to be wiped clean after each use with warm soapy water (never submerge them) and they'll be ready to use again!