The Best Air Fryers for Two People for Your Money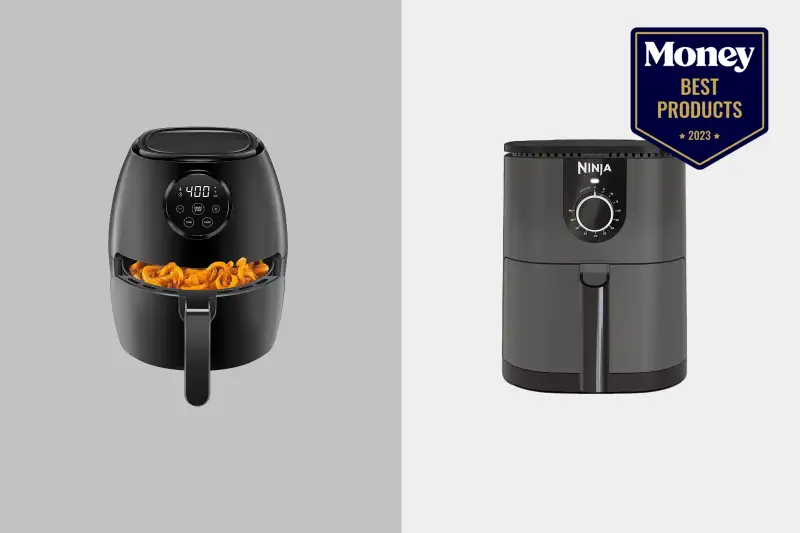 Air fryers are amazing kitchen appliances. They use a fraction of the oil traditional deep fryers use, helping you create tasty, healthy meals perfect for a couple or a small family. They're also fast and efficient, which means you can enjoy all your favorite fried foods without any hassle, mess or those pesky extra calories.
Cooking for two people can be tricky, as most recipes are designed to feed a larger family. Frying is especially difficult, as many air fryers are too large for just two people. That's why we've put together a list of the finest air fryers for two people of 2023 so you can enjoy all your favorite meals without worrying about wasting food. Let's check them out.
Best overall: Cosori Air Fryer for Two People
Most budget-friendly: Elite Gourmet Air Fryer for Two People
Best for healthy cooking: Pro Breeze Air Fryer
Most compact: Ninja AF080 Air Fryer for Two People
Most reliable: Chefman Air Fryer for Two People
Best design: Ultrean Air Fryer for Two People
Comparing the Top Air Fryers for Two People of 2023
List Price: $99.99
Check on Amazon | Check on Walmart
The Cosori Pro Air Fryer for Two People is an innovative kitchen appliance that cooks food quickly and efficiently. It maximizes all the benefits of air frying, packing a lot of power into its five-quart capacity that's perfect for one to four people. With its nine cooking functions (all of which are featured on a tempered glass display), you can cook everything from chicken to veggies, and there's even a mode to keep your food warm. On top of that, this air fryer for two people uses 360-degree rapid heat circulation technology to cook food, making it much healthier than traditional deep frying methods and adding to the variety of dishes you can create.
Its nonstick basket is BPA- and PFOA-free (perfluorooctanoic acid), so you won't have to worry when making your favorite recipes. Another great thing about this air fryer for two people is that it's easy to clean and dishwasher-safe; simply toss its parts into the dishwasher after every use to get them as good as new.
If you're a beginner or looking for some tasty recipes to try in your new air fryer, you don't have to spend extra, as your purchase comes with a cookbook containing 30 recipes created by experienced chefs. As if that wasn't enough, you can also download the VeSync app to get access to more than 100 other delicious recipes. You can also purchase an expansion accessory set and disposable liners (sold separately), which can help you save time and effort while in the kitchen. With all these amazing features, this air fryer for two people stands at the top of our list.
Pros
Nine cooking functions, cookbook and app
Max temperature of 450 degrees Fahrenheit
Shake reminder for ideal cooking results
Cons
May produce a chemical smell
Doesn't cook both sides evenly — requires flipping
List Price: $43.19
Check on Amazon | Check on Walmart
If you're on a budget but don't want to compromise on quality or taste, look no further than the Elite Gourmet Air Fryer for Two People. Not only does it offer an easier way to cook healthy meals, but it does so with minimal noise and maximum reliability thanks to its 1,000-watt power rating. With a non-stick pan and rack that can cook up to 2.1 quarts of food, it's perfect for those who want to be able to prepare meals for themselves and another.
Because this appliance doesn't require a lot of oil for cooking, whatever you make will contain fewer calories while still having the same great flavor and crispy finish. It utilizes a high-power convection fan to cook food at temperatures from 180 to 395 degrees Fahrenheit, and a 30-minute timer will shut it off when it's done cooking, making it easier than ever to serve up tasty meals.
The inclusion of a cool-touch handle is particularly nice, as it helps you safely remove your piping-hot food without burning your hands. The whole thing is also pretty easy to maintain; the exterior can be wiped down with a damp cloth, and you can toss the non-stick pan and removable frying rack into the dishwasher to clean them in a flash. With its compact size, adjustable controls and selection of delicious and healthy recipes, this two-person air fryer can be the perfect addition to any kitchen.
Pros
Six cooking modes for versatile use
Automatically shuts off when finished cooking
Multiple color options available
Cons
Control knobs could be of better quality
Numbers smudge easily
The Pro Breeze Air Fryer for Two People is a game-changer in the world of healthy cooking, offering an impressive 85% reduction in fat content while still delivering delicious and satisfying results. Its innovative cyclone heating technology uses rapid airflow to cook your favorite foods to crispy perfection with minimal to no oil required.
Navigating the cooking process is a breeze, thanks to the user-friendly digital LED display. With the option to choose from seven pre-set cooking modes, you have the flexibility to cook a variety of dishes without the hassle of manual temperature and time adjustments. The independent temperature control and intuitive cooking timers ensure that your meals are cooked to perfection every time.
The convenience of the seven pre-set cooking modes is a standout feature of the Pro Breeze Air Fryer. With options like chicken, chips, fish, steak, shrimp, pork and even cake, you can enjoy a wide array of meals without the need for culinary expertise. Each mode is tailored to deliver optimal results, ensuring a delicious and hassle-free cooking experience. This air fryer's ability to deliver delicious and crispy results with significantly reduced fat content, along with its user-friendly features and advanced safety measures, make it an excellent choice for individuals and two-person households looking to cook healthy meals.
Pros
Impressive 85% reduction in fat content for healthier cooking
User-friendly digital LED display for easy navigation
Seven pre-set cooking modes for versatile meal options
Cons
Must check contents regularly for best results
Could be too small for large meals
List Price: $79.99
Check on Amazon | Check on Walmart
The Ninja AF080 Air Fryer for Two People is the perfect kitchen appliance for preparing delicious, healthy snacks and meals. Featuring a two-quart capacity, it can easily hold up to a pound of French fries or a couple of hot pockets. It'll cook whatever you're in the mood for at a consistent 400 degrees Fahrenheit, making it incredibly easy to use.
This air fryer for two people comes with a timer that will let you know when your food is done. You can set it for up to 60 minutes, helping you cook your favorite meals with just the turn of a dial. The unit also features a nonstick cooking basket and crisper plate, so you won't have to worry about scrubbing away residue when cleaning up.
The great thing about this air fryer is that it can make all kinds of meals with less fat than traditional frying methods, so whether you're in the mood for chicken wings or taquitos, this appliance has got you covered. Don't be fooled by its compact build, because it won't disappoint if you're looking for convenience in the kitchen. With its efficient size and practical design, this air fryer for two people is an excellent choice for anyone looking to reduce their fat intake while still enjoying mouthwatering snacks and meals.
Pros
Programmable timer from 1-60 minutes
Non-stick, easy-to-clean cooking basket and crisper plate
Ideal for smaller kitchens
Cons
Unsupervised operation may result in a burning smell
Temperature isn't adjustable
List Price: $64.89
Check on Amazon | Check on Walmart
Looking for a revolutionary appliance that allows you to enjoy tasty fried food with less fat than traditional frying methods? Then get your hands on the Chefman Air Fryer for Two People. It features an adjustable temperature range from 200 to 400 degrees Fahrenheit and a built-in 60-minute timer, making it easy for users to cook a variety of foods. Its non-stick basket is also dishwasher-safe, making cleanup easier than ever.
This air fryer boasts a sleek, modern exterior that can make it an attractive addition to any kitchen. Its flat basket offers more space than traditional designs, allowing you to cook bigger batches of food in less time. With this appliance in your kitchen, you can do everything from fry chicken to reheat leftovers to bake scrumptious desserts.
This air fryer for two people is cETL-approved (Electrical Testing Laboratories) and built to last, making it one of the more reliable options on the market. Plus, the manufacturer provides hassle-free assurance for one year, so you won't have to worry if you run into any issues. Along with the air fryer itself, you'll receive a PDF user guide, a QuickStart guide and a recipe book to help you get acquainted with your new appliance. Its powerful performance makes it ideal for anyone looking for a reliable way to make delicious, nutritious meals in no time at all.
Pros
Large cooking capacity, compact overall build
Digital touchscreen controls
One-year warranty coverage
Cons
Handle could be better
Loud beeping timer
List Price: $95.99
Check on Amazon | Check on Walmart
The Ultrean Air Fryer for Two People is a multifunctional appliance that's designed to make cooking fried food healthy, quick and easy. Featuring rapid air technology, the fryer circulates hot air to cook food fast and evenly, and because it doesn't require a lot of oil, it can help you enjoy your favorite crispy foods in a healthier way.
In addition to frying, this air fryer for two people can also be used to grill, roast and bake all kinds of food. Its adjustable temperature control ranges from 180 to 400 degrees Fahrenheit and its timer goes up to 30 minutes so that you can set it and forget it. And, thanks to its nonstick pan and removable dishwasher-safe basket, cleaning up after you're done cooking is effortless.
When it comes to aesthetics, this air fryer for two people is modern-looking and features an LCD screen. To help you get started, you'll receive a complimentary recipe book that contains instructions on how to prepare all kinds of delicious meals. Another great thing about this product is that it's UL-certified (Underwriters Laboratories) and comes with a one-year warranty for added peace of mind. Combined with its sleek design, its ease of use makes this air fryer an ideal choice for households of all sizes.
Pros
Efficient hot air circulation for even cooking
Durable, scratch-resistant design
Various colors and styles to choose from
Cons
A bit bulky
Temperature only adjusts in 10-degree increments
Buying Guide: Air Fryers for Two People
Just like any other kitchen appliance, the market for air fryers is flooded with a wide range of options, including various low-quality products. While air fryers are great for simplifying meal prep, you'll have to make sure you get your hands on a product that's worth your money. To help you out, we created this detailed buyer's guide to purchasing a compact air fryer that can prepare two servings at a time.
How to choose an air fryer for two people
Capacity
When shopping for an air fryer for two people, how much food it can cook may be the most important thing to think about. An air fryer's capacity is usually represented in quarts and tells you how much food you can cook in it at once.
One quart is equal to four cups, which is about two chicken wings (if you speak the language of foodies). Most cooks say that one person requires at least one quart of cooking space, so consider using this to decide a capacity that's right for your needs.
Size and design
The size of your air fryer is directly related to how much food it can cook. This is usually listed on the product page and is typically measured in inches. If you aren't sure about size, try to choose an air fryer that doesn't take up too much space on your kitchen counter. If you don't want to keep it out all the time, though, make sure that it can fit in your cabinets.
You won't want an air fryer that stands out like a sore thumb and ruins the look of your kitchen, so choose one that matches the room's color and overall decor. Its power cord should also be long and easy to hide to avoid making your countertop look messy.
Temperature range
The temperature range of an air fryer for two people is important because it determines how high of a temperature the device can reach and maintain. For fried foods, temperatures above 375 degrees Fahrenheit are typically necessary. It's important to make sure that the air fryer you select can reach and maintain a wide range of temperatures so that you can cook all kinds of foods in it.
Cooking presets/programs
Air fryers often come with preset cooking programs, which can make it easier to cook various types of food in them. These preset programs should be suitable for two people; for example, if you're making French fries or chicken wings, the preset program should be sufficient for that specific type of food and a serving size of two.
Material
The material of the air fryer is also important to consider when upgrading your kitchen appliance collection. Stainless steel is a popular choice, as it's resistant to scratches and burn marks and can hold up well over time. Non-stick surfaces are another popular choice as they offer easy clean-up but may not last as long as stainless steel surfaces. Be sure to check which type of materials an air fryer includes before purchasing it.
Digital display
A digital display is a convenient feature on many air fryers, which allows you to check the temperature, time and other settings at a glance while you're cooking. This is especially helpful when making fried foods, as you can monitor their cooking progress without opening the appliance up and letting heat escape from the device.
Cleanup and maintenance
Cleaning and maintaining your air fryer should be fairly easy if you choose one with a removable basket/pan that's dishwasher safe. A non-stick crisper basket and removable parts make it easy to clean up after you're done cooking as you won't have to scrub and scrape bits of food off the surfaces of your air fryer.
Durability
Durability is another important factor when choosing an air fryer for two people, as a well-made device will last longer than a cheaply made one. Look for an air fryer that features quality materials like stainless steel, which will hold up well over long periods of use. Additionally, check any available customer reviews before purchasing so that you have a good idea of its durability.
Noise level
You won't want a noisy air fryer if you plan to use it when guests are over or if you want to be able to watch TV while it works. So, you should consider how loud your air fryer will be while cooking, as this can be disruptive in some households or small spaces (like apartments or dorm rooms). Noise levels are measured in decibels, and this number is usually mentioned in the product description. Lower-wattage devices generally make less noise than higher-wattage ones, so be sure to check this detail before purchasing if noise levels are a concern for you.
People Also Ask
Will I save on energy by using an air fryer?
Absolutely, as air fryers are much smaller than regular ovens and can sit on your kitchen counter. They're usually only between two to eight quarts in size, and less space means that less energy is required to heat them. Additionally, smart convection technology ensures that the heat reaches all parts of your food so that it cooks evenly. All of this means that air fryers can save you about 30 minutes of cooking time on average, and because less time cooking means that the appliance isn't turned on as long, you'll be able to conserve energy by using one.
How do I use my air fryer for two people?
There are a few things you should do when using your air fryer to achieve the perfect texture and crispness (after you've read the manual, of course). First, preheat it to your desired temperature, just like you would an oven. Second, make sure you insert your food correctly so that it has plenty of space around it; avoid putting too much in the basket, as this can lead to uneven cooking. If you're going to be using oil, only use a few drops, as it tends to make food soggy. Plus, there's not really a point in cooking with an air fryer if you're going to use a lot of oil.
Once you've set the time and temperature, let your food cook and make sure to shake the basket often to ensure even crisping. After you're done cooking, follow your air fryer's recommended cleaning instructions, whether that means tossing its parts in the dishwasher or scrubbing them by hand.
Can I cook meals in an air fryer for two people?
You can cook almost anything in an air fryer that you would normally cook in an oven or a traditional deep fryer. A good rule of thumb is that if you can bake, grill or fry it, you can also cook it in your air fryer. Some foods cook even better in an air fryer than in an oven, such as pre-frozen foods (like chicken nuggets), roasted or grilled vegetables, potatoes (including French fries), fish and various types of meat (like sausages, bacon or chicken). Some models also have a feature that lets you bake and toast food, making them a lot like regular ovens as well as toaster ovens.
How do I clean my air fryer for two people?
It's easy to clean an air fryer if it comes with a non-stick basket. You can wash the basket, tray and pan the same way you would wash any other dishware: by hand with soap and warm water or by tossing them in the dishwasher. Before you go ahead and clean your air fryer, though, it's always a good idea to check the manual for any special instructions just to be safe. If you want to clean the outside of your appliance, make sure it's unplugged and simply wipe it down with a damp cloth.
Is air-fried food really healthier than fried food?
One of the great things about air fryers is that they use a lot less oil than traditional deep fryers, and some foods (like chicken wings) can be air-fried without any oil at all. Most of these foods are frozen, so air-frying them won't affect their fat content. Air fryers vary in how much oil they require to cook fries, roast potatoes and other crispy favorites, and instructions can call for anywhere from one teaspoon to one tablespoon of oil per pound of food. If you follow the instructions carefully, you'll be able to cook all kinds of healthier, delicious meals in your air fryer for two people.
Why Trust Us
Our commitment to the consumer begins with product selection and ends with the last word we write in each article. Each air fryer for two people is carefully vetted quantitatively through star ratings and number of reviews qualitatively through careful examination of reviews and the features each one has to offer. Leveraging our team of bargain hunters, we're also always sure to keep your budget in mind while we find the best air fryers on the market. Our team of experts is dedicated to accurately depicting the pros and cons of each air fryer for two people, translating technical product specifications into information you can understand. Our mission is to make sure you get the most bang for your buck…or in this case the best cooking for your coins.