The Best Anti-Snoring Devices for Your Money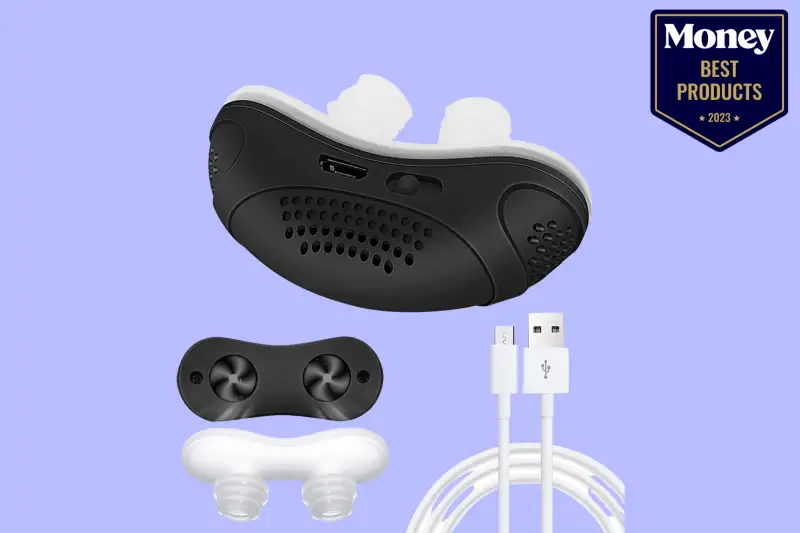 Does your partner's loud snoring keep you awake at night? Or maybe you're the snorer and are looking for something that'll help you keep the noise down so your partner won't have to sleep on the couch. Fortunately, anti-snoring devices can help. From nasal clips to smart devices, these snore-stoppers are designed to help you and your partner get a restful night's sleep.
In this guide, we'll be reviewing the top anti-snoring devices of 2023. We'll discuss each option's features, pros and cons, and we'll also share our expert buying advice so you'll have all the information you need to find the right anti-snore device for your needs. So, if you're ready to end your snoring woes, keep reading.
Best Overall: Qbcntu Magnetic Anti-Snoring Nose Clips
Best Technology: Topffy Electric Anti-Snoring Device
Best Materials: Masterplug Magnetic Anti-Snoring Devices
Most Convenient: TUHIMO Electric Snore-Stopping Device
Comparing the Highest-Rated Anti-Snoring Devices in 2023
List Price: $8.99
The Qbcntu Magnetic Anti-Snoring Nose Clips earned the top spot on our list with their user-friendly design, portability and reusability. For fast easy relief from snoring, place both sides of the clip completely in the nostrils. Unlike many snore-stopping products, each clip can be washed and reused repeatedly. These devices are compact and come with a convenient plastic case for easy, hygienic transport and storage when it's not in use.
Made from soft, BPA-free, medical-grade silicone material, these anti-snoring devices come in a budget-friendly pack of six, offering excellent value for your money. Not only can they reduce snoring, but they can also help to alleviate other snoring-related issues such as poor breathing and mouth dryness. Featuring an innovative design, the magnets keep the nasal passage open, which can minimize snoring and improve breathing for better sleep quality overall. These are the best overall anti-snoring devices thanks to their ease of use, affordable price and included storage cases.
Pros
Safe, toxin-free materials
Easy to use and clean
Travel-friendly storage cases included
Cons
May be uncomfortable for some
Can be easy to lose because of size
List Price: $21.98
The Topffy Electric Anti-Snoring Device features dual vortex air supply technology to expand the airways, reduce snoring and improve breathing. It's rechargeable and reusable, and it comes complete with a USB charging cord and a protective cover to keep it dust- and dirt-free. It has a runtime of up to eight hours on a single charge, and the included cover is made from safe, hypoallergenic silicone material.
This anti-snoring device is very user-friendly — simply place it in your nose and switch it on at bedtime for a quiet, peaceful night's rest. Thanks to its compact size and lightweight design, this product is ideal for frequent travelers looking for an easy way to limit snoring while on the go. Caring for the device is also simple, as you need only wash the silicone plugs with soapy water and dry them after each use.
Pros
Comes with charging and storage accessories
Features advanced technology
Designed with portability in mind
Cons
May take time to adjust to the device
May be smaller than expected
List Price: $12.99
The Masterplug Magnetic Anti-Snoring Devices offer a safe alternative to medications and surgeries with their high-quality, toxin-free materials. These nose clips are made from soft, BPA-free silicone and are hypoallergenic, making this pick a solid choice for those who have sensitive skin or allergies. The flexible design makes them comfortable and suitable for all nostril sizes.
This product comes in a pack of six so you'll have extras in case you lose or misplace one (or more). Each of the six included devices comes with its own protective case, which can be used to keep the clip dust- and dirt-free and store it when it's not used. The case also makes the device easy to travel with — simply toss it into your luggage or travel bag and go about your day. Wash the clip with soap and water after each use, and it'll be ready for when you need it next.
Pros
High-quality, hypoallergenic materials
Six devices and storage cases included
Comfortable design for all nostril sizes
Cons
Requires cleaning before initial use
May not be as effective for severe snoring
List Price: $23.66
The TUHIMO Electric Snore-Stopping Device offers a convenient way to reduce snoring, as well as issues stemming from snoring and poor sleep quality such as dry mouth and difficulty breathing. It operates quietly and has a compact design, making it non-disruptive and ideal for travel. This pick also comes with a USB cable, allowing you to easily charge it using a portable battery pack, wall adapter, laptop or other USB-compatible devices.
This product has an ergonomic design for comfortable wear and utilizes dual vortex air supply technology to widen the airways, reduce congestion and minimize snoring for improved sleep quality. It offers single-touch operation so you only need to flip a switch to turn it on or off. Thanks to its convenient design, this device is a solid choice for anyone looking for a simple, hassle-free snoring solution.
Pros
Doesn't make noise
Enlarges the airways for easier breathing
Comes with a charging cable
Cons
Can take a while to charge
May have a shorter-than-average runtime
Finding Your Next Anti-Snoring Devices: A Buyer's Guide
As you're shopping for an anti-snoring device, there are several key product features to keep in mind. This detailed buyer's guide will walk you through the most important factors to consider to help you make an informed purchase.
Comfort
Comfort is key when choosing a snore-stopping device. Look for one made of soft materials that won't cause irritation or discomfort. The product should have an ergonomic design to fit comfortably and securely in your nose or mouth.
Safety
Verify that your chosen snore-prevention device is safe to use, including for sensitive skin. Look for options that are free of toxins, BPA and chemicals. Also, make sure the device won't block or impede your airways.
Adjustability
Mouths and noses come in many shapes and sizes, so it's important to find an anti-snore device with adjustable features. Look for a device that can be modified or shaped to fit your specific needs for a secure, comfortable fit.
Ease of use
Bedtime is a time to relax, unwind and transition into sleep, so the last thing you want is a device that's complicated to use or hard to put on and take off. Find a product that's user-friendly and doesn't require a lot of maintenance, so you can get relief from your snoring easily and enjoy a peaceful night's rest faster.
Cost
Most over-the-counter snore-stopping devices on the market range from under $10 to over $25, depending on the model, design and materials used. Decide how much you're willing or able to spend on one (or a set of several), and look for options that fall within your budget without skimping on quality and durability.
Durability
You want your anti-snoring device to last as long as possible before needing to be replaced, so look for one made of high-quality materials designed to withstand long-term use and regular wear and tear. Also, aim for a product that can be washed and reused multiple times to save money in the long run.
Noise level
The whole purpose of anti-snore devices is to reduce noise at bedtime, so you certainly don't want one that makes a lot of noise. Look for a product that offers silent or low-noise operation so you can sleep in peace and use it freely without worrying about disturbing yourself or your partner.
Cleanliness and hygiene
Since this type of product is meant to be worn in the mouth or nose on a regular basis, cleanliness and hygiene are essential factors to consider. Look for an option that's easy to wash and maintain. Some of the best choices come with protective cases to keep them free of dirt and dust. If you opt for a model with electronic components, ensure the parts that come into contact with your mouth or nose are removable for thorough, hassle-free cleaning.
Effectiveness
Since the main purpose of an anti-snoring device is to reduce or stop snoring, it's important to find one that accomplishes this goal. Read through customer reviews to get some insight into how effective the product is.
People Also Ask
Are there different kinds of anti-snoring devices?
Yes, these products come in a variety of styles. Some of the most popular options include nasal strips, nose clips, mouthpieces, mandibular advancement devices (MADs), tongue-stabilizing devices (TSDs) and continuous positive airway pressure (CPAP) machines.
Do I need a prescription to use a snore-stopping device?
While you'll need a prescription for MADs, TSDs and CPAP machines, you can use most other anti-snore devices without a prescription. We recommend speaking with your doctor before using these products, however, as there may be potential risks associated with their use — especially if you have health conditions.
What risks are associated with snore-prevention devices?
This depends on the particular device. Most don't pose any risks, whereas some may cause unpleasant side effects such as headaches, discomfort, jaw pain, skin irritation and excessive salivation.
How much does an anti-snoring device cost?
Snore-stopping device costs vary greatly depending on the type of product, its materials and its quality. Prices range from $5 for nasal strips and nose clips to $500+ for CPAP machines.
Will an anti-snore device work for all types of snoring?
Generally, non-prescription snore-prevention devices are only suitable for mild-to-moderate snoring, whereas those requiring a prescription — such as MADs, TSDs and CPAP machines — are typically used to treat severe snoring.
Why Trust Us
Our commitment to customers begins with a carefully curated product selection process, ensuring we provide high-quality and reliable options. We meticulously vet each snore-stopping device, analyzing quantitative aspects, such as star ratings and review count, and qualitative factors, including review content and product features. Our dedicated team of bargain hunters consistently prioritizes your budget by meticulously scouring the market and identifying the finest anti-snoring devices available without ever compromising on quality or performance. Our panel focuses on presenting the pros and cons of each snore-prevention device and converting technical specs into understandable insights. We aim to ensure restful, disturbance-free sleep with top-rated products that can help reduce or stop snoring altogether.