The Best Arthritis Creams for Your Money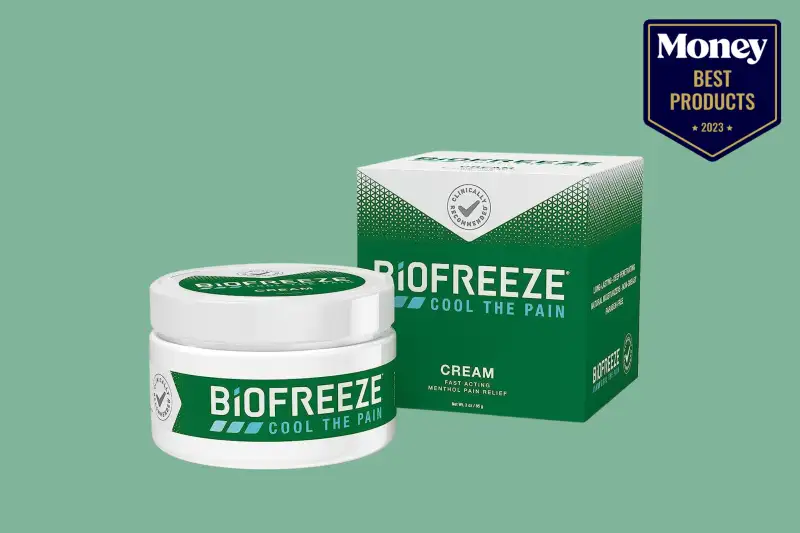 Arthritis is a painful and often debilitating condition. It can make even the simplest daily activities — such as typing, holding a fork, and walking — difficult and sometimes impossible. While there's no cure for arthritis, there are a variety of products available that are designed to help alleviate the pain and discomfort that accompanies the condition. One of the most popular options for managing these symptoms is topical arthritis cream.
In this article, we'll review the highest-rated arthritis creams of 2023, discussing each product's ingredients, side effects, and benefits. We'll also share some buying tips to help you find the ideal option for your needs. From fast-acting relief to long-term solutions, we've got you covered. Read on to learn more about these products and how they can help you manage your symptoms.
Best Overall: Australian Dream Arthritis Pain Relief Cream
Most Convenient: JointFlex Joint Pain Relief Cream
Most Effective: Bengay Ultra-Strength Arthritis Cream
Fastest Results: Biofreeze Arthritis Pain Relieving Cream
Most Moisturizing: Aspercreme Maximum Strength Arthritis Cream
Comparing the Most Effective Arthritis Creams of 2023
List Price: $24.99
The Australian Dream Arthritis Pain Relief Cream takes our top spot thanks to its odor-free, non-greasy formula and easy application. A great choice for those dealing with muscle and joint pain, this topical cream provides powerful and effective alleviation of arthritis symptoms without any unpleasant or strong scents. Its lightweight formula is easy to apply and doesn't leave a greasy or sticky residue on your skin.
With histamine dihydrochloride as its active ingredient, this ointment offers temporary relief from minor aches and pains associated with arthritis. It's packaged in a 4-ounce container with a secure but easy-to-twist lid to keep the product contained and maintain its potency. The container also has a wide opening for easy access and smooth application.
The cream is formulated without capsaicin so you don't have to worry about it burning or irritating your skin. It's made in the USA and doesn't contain any non-steroidal anti-inflammatory drugs (NSAIDs). The cream goes on smoothly and absorbs quickly, making the application process a breeze and allowing you to quickly experience its soothing effects. This product stands out thanks to its high-quality ingredients and reliable results, making it a solid choice for anyone looking for fast, easy, and effective symptom reduction.
Pros
Available in multiple sizes
No greasy residue
No NSAIDs or capsaicin
Cons
May irritate sensitive skin
May not be as effective for severe pain
List Price: $18.83
With camphor as its active ingredient, the JointFlex Joint Pain Relief Cream aims to provide fast-acting and long-lasting relief from arthritis and other joint-related discomforts, whether you're at home or traveling. This pick comes conveniently packaged in a squeezable 4-ounce tube, making it easy to toss into your bag or briefcase for easy, on-the-go symptom alleviation. Clinically proven to provide long-term alleviation of osteoarthritis pain, it's specially formulated to penetrate the pain source, offering powerful relief.
This product doesn't require a prescription and can quickly relieve pain in your knees, back, shoulders, hips, wrists, elbows, and hands. Unlike many comparable products, this cream contains glucosamine and chondroitin to cushion and support your joints. It applies smoothly without stickiness or greasiness and penetrates quickly to deliver fast-acting pain relief.
This ointment has a subtle, pleasant scent that won't leave you feeling self-conscious or bothered by strong odors. This cream also doesn't stain your clothes or leave residue on your skin. With fast-acting relief and a unique skin delivery system that ensures optimal results, this product will surely provide powerful relief with every use.
Pros
Portable, travel-friendly packaging
Formula doesn't stain clothes or leave residue
Clinically proven to offer targeted pain relief
Cons
Some users may not care for the scent
Frequent reapplication may be required
List Price: $7.37
With its intensive formula, the Bengay Ultra-Strength Arthritis Cream is a reliable and effective choice for alleviating minor aches and pains. This ointment contains more pain-easing ingredients than any other product from the brand. The three active ingredients — camphor, menthol, and methyl salicylate — work together to provide deep, penetrating pain relief.
This joint pain relief cream can be applied topically up to four times a day directly to the source of your discomfort for simple, straightforward use. It's non-greasy, so it won't leave behind residue or stain your clothes. It comes packaged in a convenient tube, meaning you can easily slip it into your pocket and take it with you wherever you go for reliable relief.
This physician-recommended, over-the-counter arthritis ointment is produced by one of the most trusted manufacturers of topical analgesic products, and it's available in 2-ounce and 4-ounce sizes for your convenience. If you're looking for a cream that'll ease your discomfort quickly and effectively, then this product is definitely worth considering.
Pros
Contains three active ingredients
Comes in portable packaging for convenience
Applies smoothly and works quickly
Cons
Can't be applied more than four times daily
Has a strong smell
List Price: $11.92
The Biofreeze Arthritis Pain Relieving Cream features a unique, fast-acting menthol formula that penetrates to soothe sore muscles and joints and ease minor aches and pains. This active ingredient quickly alleviates pain while offering a soothing, cooling sensation. Plus, the product contains natural moisturizers for easy application and skin hydration.
This clinically recommended ointment comes in a 3-ounce, TSA-approved jar, making it easy to take along on your travels for on-the-go pain relief. With a trustworthy, cruelty-free formula, it's made with USP-grade menthol, doesn't contain any NSAIDs, and isn't tested on animals. The non-greasy consistency ensures it won't leave an oily residue or stain your clothes.
For added user-friendliness, the container has a convenient flip-open lid and a wide-mouth design for easy access and application. The product can be applied up to four times daily by simply rubbing a thin film over the pain source. If you're looking for an effective and quick way to manage your symptoms at home or on the go, this arthritis cream is an excellent choice.
Pros
Convenient, travel-ready packaging
Flip-open lid for easy application
No animal testing or NSAIDs
Cons
Only comes in one size
Wears off after a couple of hours
List Price: $17.99
The Aspercreme Maximum Strength Arthritis Cream is a great option for those looking for an easy way to manage joint pain and discomfort that won't dry out the skin. With its maximum-strength formula and aloe infusion, it works fast to soothe aches and pains while leaving skin soft and moisturized. It's also odor-free so you can wear it discretely without worrying about any overpowering smells.
This cream is easy to apply and absorbs quickly into the skin to alleviate painful, swollen joints and sore muscles. Plus, thanks to its non-greasy formula, you don't have to worry about it staining clothing or fabrics or leaving behind a sticky residue. This product comes in a 5-ounce tube that's still easy to take with you but offers plenty of ointment for long-term use, making it a great investment.
Featuring trolamine salicylate as its primary ingredient, this arthritis cream is renowned for its strong analgesic and anti-inflammatory properties, making it ideal for reducing swelling and redness. It's available in smaller sizes if you're looking for a more travel-friendly option, and it has a fragrance-free formula so you can use it anytime, anywhere.
Pros
Soothing aloe hydrates the skin
Non-greasy and odor-free formula
Smooth application and quick absorption
Cons
May not be suitable for those allergic to aspirin
Squeezing the tube may be difficult
Buying Guide: Arthritis Creams
Arthritis cream is a great way to help manage the pain and inflammation accompanying the condition. With so many different varieties and formulas available on the market though, it can be difficult to find the best one for your needs. This buying guide will walk you through the most important factors to consider while shopping so you can make an informed purchase and benefit from effective, fast-acting relief from arthritis symptoms.
Ingredients
An arthritis ointment's ingredients will determine how safe and effective it is. It's important to look for a product that contains natural ingredients such as menthol, aloe, and camphor. These have anti-inflammatory properties that can provide relief from joint pain and stiffness associated with arthritis. Also, be sure to check the product description to determine whether the cream has been clinically tested and proven to be effective for soothing arthritis pain.
Type
Arthritis creams come in several forms including lotions, gels, and ointments. Lotions are lighter and offer easier application. Gels are more concentrated and offer excellent coverage. Ointments are dense and have the longest-lasting effects but may leave an oily residue on the skin depending on their formulation. When selecting an arthritis cream, consider which type will work best with your daily routine.
Scent
Some arthritis creams have odors that can linger or be overpowering. If you're sensitive to smells or want a cream you can wear discreetly, look for options that are either odor-free or have a light, pleasant fragrance. You can also read customer reviews for detailed descriptions of the product's scent from users.
Application
It's important to find an arthritis cream that's easy to apply and provides enough coverage for adequate pain relief. Look for options that spread easily and absorb quickly. You may also want to consider how often each one can be applied daily and how long-lasting each application is.
Price
Prices often vary depending on the cream's size, quality, and ingredients, but a higher price tag doesn't necessarily mean a better product. With your budget in mind, look for products that are affordable and have good ratings but don't sacrifice quality. Since arthritis ointment comes in different quantities, it may also be helpful to break down the price by ounce for a more accurate comparison.
Brand reputation
Aim to buy products from brands with a good track record for producing safe, effective, and high-quality products. Look up customer reviews and research the company before purchasing to ensure you're getting a reliable product that'll effectively alleviate your symptoms. It's also a great idea to check if doctors or other medical professionals recommend the cream or if it has won any relevant awards.
Reviews
It's always wise to read reviews written by buyers who have used the product before making a purchase. Reviews can give you great insight into what real users think of the product and whether they believe it's effective and worth the money.
Consistency
When shopping for arthritis cream, it's important to ensure it won't leave an oily residue on your skin or stain your clothing. Aim for creams that are lightweight, go on smoothly, and absorb quickly after application. Verify that the product description or packaging specifies that the cream has a non-greasy formula.
Fast-acting relief
When looking for an arthritis cream, consider one that provides fast-acting relief from pain and stiffness associated with arthritis so you can start feeling better sooner rather than later. Check reviews to see how long users typically take to start noticing results with different products.
Packaging
Look for creams packaged in containers that are easy to use and keep them protected against air, light, and moisture which can damage their potency over time. Opt for a product with packaging features that can make the application more hygienic and easier, especially if you experience wrist or hand pain. Flip-open lids, wide openings, squeezable tubes, or pump-style tops are popular elements of arthritis cream packaging.
Allergens
Before using any new product, including an arthritis cream, ensure it doesn't contain any substances or ingredients you're allergic to. The last thing you want is to use a pain-relief product that may cause adverse effects and more pain or discomfort.
People Also Ask
What ingredients do arthritis creams contain?
Arthritis creams typically contain ingredients that provide pain relief and reduce inflammation. Some of the most common natural ingredients found in these products include menthol, capsaicin, camphor, aloe, olive oil, arnica, rosemary, and other herbs. Some creams may also contain synthetic ingredients such as NSAIDs.
How quickly does arthritis cream work?
How quickly an arthritis ointment works depends on its active ingredients and formula. Generally, most creams take effect within 20 minutes of application, but some may take longer to kick in.
Can I use arthritis cream for other types of joint pain?
In some cases, an arthritis ointment may be beneficial for treating other types of joint or muscle pain. Always check with your physician or healthcare provider first before using an arthritis cream to manage other conditions.
Are arthritis creams easy to use on the go?
Yes, many arthritis ointments are formulated and packaged with portability and travel-friendliness in mind. Look for options that come in compact tubes or jars that'll easily fit in your pocket, briefcase, or travel bag. Also, aim for ointments that have a subtle scent or are odorless so you won't feel self-conscious around others.
Are there any side effects of using arthritis cream?
Generally, there's a very low risk of side effects associated with using topical arthritis creams provided you're not allergic to any of the product's ingredients, you don't have sensitive skin and you use the product properly. Some users may experience skin irritation or sensitization at the application site if they apply the cream too frequently or too heavily. Additionally, if your chosen product contains active ingredients such as NSAIDs or capsaicin, you should watch for rashes, redness, or allergic reactions in case an ingredient doesn't agree with your particular body chemistry.
Why Trust Us
Our commitment to customers begins with a carefully curated product selection process, ensuring we provide high-quality and reliable options. We meticulously vet each arthritis cream, analyzing quantitative aspects, such as star ratings and review count, and qualitative factors, including review content and product features. Our dedicated team of bargain hunters consistently prioritizes your budget by meticulously scouring the market and identifying the best arthritis creams available without ever compromising on quality or performance. Our panel focuses on presenting the pros and cons of each arthritis cream and converting technical specs into understandable insights. We aim to ensure reliable pain and symptom relief with the most effective, high-quality topical analgesics.