The Best Bike Racks for Your Money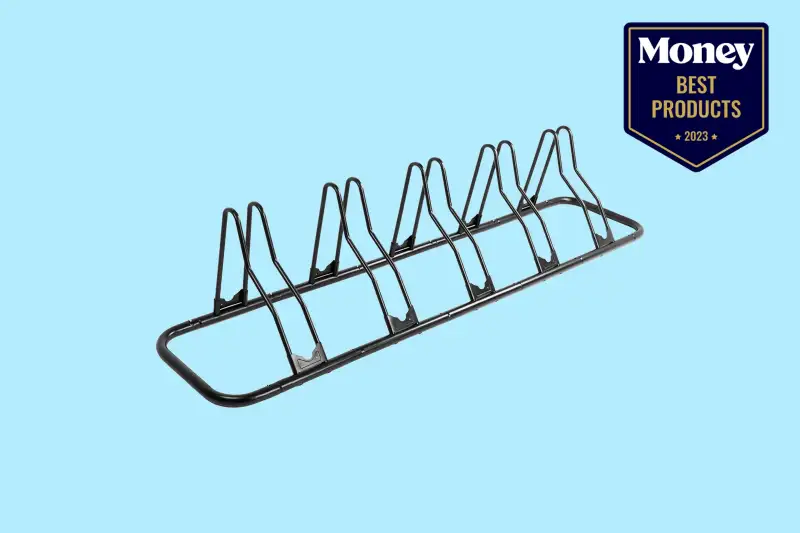 As an avid cyclist, finding a reliable bike storage method is crucial for keeping your bike safe and in top-notch condition. Bike racks provide the perfect solution, offering safety and protection in the garage, basement, or patio. When choosing one, there are several factors to carefully consider, such as the size of your bike, the style, and whether it will fit in the space available.
In this article, we'll provide an overview of the most popular bike racks of 2023, discussing their advantages and drawbacks. We'll also provide an in-depth buying guide that outlines essential factors to keep in mind while shopping for a bike rack. So, whether you're a daily commuter, weekend warrior, or cycling enthusiast, you'll find the perfect bike stand to keep your ride safe and secure.
Comparing the Finest Bike Racks of 2023
List Price: $74.99
The StoreYourBoard Swivel Bike Wall Rack can redefine how you store and organize your bicycles. Sold in a pack of one, two, or four, this innovative wall rack has been specially designed to offer a user-friendly blend of space optimization and reliability. As such, it has become an essential addition to any cycling enthusiast's storage space. Crafted with meticulous attention to detail and convenience in mind, this bike rack has a functional swivel design.
The swivel mechanism allows you to effortlessly pivot your bikes against the wall when they're not in use. That way, you can save valuable floor space for other activities or equipment. This is a game-changer, especially in compact environments where space efficiency is paramount. Plus, this bike rack has been engineered to provide the utmost security and protection for your bicycles. The rack is equipped with padded arms that cradle your bikes gently yet securely. This bike rack is designed with user-friendliness in mind, making it our top choice.
Pros
Space-saving swivel design
Secure and protective option
Easy and hassle-free installation process
Cons
Weight limitation for safe and reliable usage
Drilling may be required for installation
List Price: $99.99
The StoreYourBoard Bike Rack offers a high-capacity and versatile solution for organizing your bike collection. With the ability to hold up to five bikes and support a total weight of 300 pounds, this bike rack is designed to accommodate a variety of bike types, including road, mountain, and kid bikes. The adjustable spacing ensures that your bikes can be stored with just the right amount of room between them, preventing scratches and damage.
One of the standout features of this bike rack is its customized storage capabilities. The rack features 45 mounting slots that allow you to adjust the spacing between bikes according to your needs. The attachment positions can be easily adjusted using the quick pull and 3D pin locking system. This flexibility is especially useful if you have bikes with oversized handlebars or unique dimensions. You can simply move the attachment to create the perfect fit for each bike.
Pros:
High-capacity storage for up to five bikes and 300 pounds
Adjustable spacing with 45 mounting slots for customized storage
Durable industrial-grade steel construction
Cons:
Pilot hole should be larger than recommended
List Price: $79.95
The RAD Cycle Mighty Rack Two Bike Floor Stand is constructed from heavy-duty tubular steel, making it one of the sturdiest bike racks on the market. Its protective powder-coated finish ensures your bikes stay safe and secure for years, even in harsh conditions. This model can hold two bicycles in either the same or alternate directions. The rack design also allows for flexibility with different bike sizes, suitable for standard road or mountain bikes with up to 27-inch wheels.
With a maximum weight capacity of 130 pounds, this pick can effortlessly accommodate bulkier bikes and the wear and tear of everyday use. This bike rack is also remarkably user-friendly, eliminating the need for clamps, brackets, or lifting; simply roll your bike in and walk away.
Pros
Robust construction with a long-lasting, durable finish
Securely stores two bikes with up to 27-inch wheels
Easy installation and versatile mounting options
Sturdy construction supports up to 130 pounds
Cons
Lacks locking mechanism for added security
Does not support bike wheels over 27 inches
List Price: $79.00
The CyclingDeal Bicycle Parking Rack Stand is an excellent choice for those who need a convenient and secure way to store multiple bicycles. This model can store up to five bikes at a time, with each holder linked together to provide increased stability and support. This unique linking system makes this rack heavier and more stable than single bike stands. The front and back plate system prevents the wheel support from getting wider at the top for improved security. It features two holding plates with tire grooves that are at an optimized angle to ensure the vertical stabilization of each bike.
Crafted from quality steel with a powder-coated black finish, this sturdy rack is designed specifically for indoor use. This option is perfect for mountain bikes and wheel sizes ranging from 12-inch to 20-inch children's bikes, 20-inch to 24-inch BMX bikes, 26-inch to 29-inch MTB, and 700c road bikes with a maximum tire width of 2.5 inches. With its ability to secure a range of bikes of different sizes and quality features to optimize their stability, this bike rack is the ideal storage solution to conveniently hold multiple bicycles and keep them in excellent condition.
Pros
Robust steel construction ensures durability
Versatile storage for multiple bikes of varying sizes
Optimized wheel-holder design provides maximum vertical stability
Powder-coated black finish for enhanced durability
Cons
Not suitable for bikes with tires over 2.5 inches
Not suitable for use in outdoor environments
List Price: $79.95
The Bike Nook Bicycle Stand boasts a compact, user-friendly design, making it the ideal solution for bike storage in tight spaces. This pick features a patented push-in design, making it much simpler to store bikes upright than traditional hanging racks. The unique design allows you to simply steer the bike into the rack, causing the front holder to tilt as the bike is pushed in. This convenient design makes it perfect for stowing away heavier bikes such as downhill, mountain, and beach bikes. Its singular handstand position frees up 3.5 feet of floor space, so you won't have to worry about bike storage taking up too much room. The bike's upright position also prevents bikes from causing damage to walls, ceilings, and vehicles.
The versatile rack can hold bikes with 18-inch wheels or larger and offers an adjustable height for convenient repairs or accessory installations. It also offers easy assembly, requiring no tools or expertise which adds to its user-friendly design. The bike rack is also completely portable, perfect for taking along on camping trips or to any other biking adventures. The innovative design, easy-to-use features, and space-saving functionality make this bike rack ideal for cyclists with limited storage space or those looking for reliable, portable bike protection.
Pros
Sturdy construction fits 18-inch wheels or larger
User-friendly design for quick and easy storage
Adjustable height for easy repairs or installations
Portable design for camping or traveling
Cons
Doesn't have a locking mechanism
Doesn't have space to store accessories
List Price: $59.99
The BIKEHAND Bicycle Parking Rack is an excellent choice for the convenient indoor or outdoor storage of mountain or road bikes. Constructed from top-tier heat-treated steel, this solid rack stand has a powder-coated finish, ensuring lasting durability under daily use and harsh weather conditions. Its patented design features a push system, providing a hassle-free alternative to traditional racks that require you to lift your bike into place. The front holder tilts as you push the bike for a smooth and user-friendly experience. It's compatible with most bikes, including kids' bikes, 26 to 29-inch mountain bikes, and 650c to 700c road bikes.
Unlike other bike stands with limited contact points, this bike rack features three tire contact points, ensuring a secure and stable grip. This design greatly minimizes the risk of bike falls or damages compared to traditional bike stand systems. The bike holder securely grips the front or rear wheel for increased stability, preventing any movement once in place. The stand base adds another layer of stability to keep the bike secure even when subjected to bumps or jostling. With a single pull of a knob, the rack collapses into a flat shape for convenient storage and easy transport. This bike rack's top-quality materials, innovative design, and secure multi-point grip make it a standout choice if you're in the market for a bike storage product.
Pros
Solid steel construction for long-lasting durability
Sturdy three-point contact design securely grips bikes
Stand base prevents movement even if bumped
Quickly collapses for easy storage or transport
Cons
Single bike storage capacity
Assembly is required
List Price: $69.99
The Ultrawall Bike Storage Rack is a heavy-duty option for safely storing bicycles in your home or garage. Durability and scratch resistance are key features of this bike storage rack. It is made with powder-coated steel for extended life against rusting, chipping, and cracking. There is also a rubber-coated sleeve for added scratch protection. This wall mount can accommodate up to six bikes depending on their size and supports an impressive weight capacity of up to 300 pounds. The safety hook design ensures bikes stay safe and secure, avoiding accidental dislodging or tipping caused by movement or additional weight.
For added flexibility in your storage space, you can customize the spacing of the rack to fit your needs using the 48-inch long steel rail space attachments. Installation of this model is easy since it comes with heavy-duty mounting hardware that works with all types of walls, including wood studs, drywall, brick, and concrete. This durable and sturdy wall-mounted bike rack offers a convenient and optimal way to maximize space and keep your bikes in pristine condition.
Pros
Customizable design with spacer attachments

Powder-coated steel resists rust, chipping, and cracking

Durable rubber-coated sleeve shields against scratches

Sturdy mounting hardware for various walls included
Cons
Not suitable for taller bikes

Additional spacers may be required
Buying Guide: Bike Racks
If you're a cycling enthusiast or depend on your bike for transportation, you want to make sure that you keep your bike safe and secure when it's not in use. One of the most convenient and practical ways to do so is by investing in a bike rack. With so many bike stands on the market, however, it can be difficult to determine which one is the best for your needs.
That's why we've created this comprehensive bike rack buying guide. Our research focuses on essential features to help you find the ideal bike storage solution for your home or travel needs. With this guide, you'll be equipped with everything you need to know to make an informed buying decision.
Size and capacity
Bike racks come in various sizes and capacities, ranging from small and compact to large and robust. Identify the size and capacity that meets your needs. If you plan on storing several bikes, you will want to opt for a larger model with a high weight capacity that can accommodate multiple bikes. Some bike stands even come with the option of expanding the capacity should you need to store more bikes later.
Type
There are several types of stands available on the market today. Freestanding bike racks are typically the most affordable option but are less stable than wall-mounted or ceiling-mounted stands. Hitch-mounted racks are great for those planning to take their bikes on the go frequently, as they offer the most secure way of transporting multiple bikes simultaneously.
Installation requirements
Installing a bike rack depends on its type. Wall-mounted bike racks offer easy installation without tools, while freestanding bike storage solutions need some assembly and might require extra hardware or tools. When considering ease of installation, also consider where you'll place the stand and what kind of surface it will have to attach to ensure a secure fit.
Durability
Durability is key for bike rack stands. Opt for one made from sturdy metal or aluminum with rubberized feet or wall protectors for stability and scratch prevention during transport or installation. Many models also have protective coatings to ensure longevity from regular wear and tear and outdoor elements.
Weight capacity
Bike racks typically have a maximum weight capacity that must be within the limit for the product to function correctly and safely. Before purchasing an item, read the manufacturer's specifications to determine if it can support the weight of your bike safely.
Weatherproof construction
If you plan to store your bikes outdoors, choose a bike rack designed to withstand elements like sun, rain, and snow. Ideally, it should be constructed from weather-resistant materials such as powder-coated metals or rustproof stainless steel components. This will ensure the bike stand can still be used even after prolonged exposure to harsh weather conditions.
Security features
Some bike racks include security features such as locking mechanisms, built-in combination lock slots, and security cables designed to deter theft when leaving your bicycle unattended. These are a must-have if you're investing in a portable or outdoor bike stand.
Warranty
Bike stands often include a manufacturer warranty to cover potential issues or defects. Be sure to look for warranty details before purchasing, as it offers peace of mind and support should anything go wrong within the warranty period.
People Also Ask
How easy is it to install a bike rack?
The installation process for a bike rack varies depending on the type of rack. Most standard bike racks are easy to install and have detailed instructions and hardware needed for straightforward installation.
How many bikes can a rack hold?
The storage capacity of a bike rack depends on the stand type and rating. Some models may hold up to six bikes, while others may only support one or two bikes at a time.
How much weight can a bike rack support?
The weight a bike rack can hold varies depending on the model but typically ranges from 40-100 pounds. Some heavy-duty models may be equipped to hold several hundred pounds of weight. It's essential to check the manufacturer's recommendations before loading a bike stand to ensure it can safely support it.
How secure is a bike once placed in a bike rack?
Bike rack stands are generally very secure and feature a strong frame, wheel-stabilizing mechanisms, and hook systems to keep bikes in place. Many bike racks offer additional features, such as built-in locks for extra security.
Are bike racks adjustable?
Yes, many bike racks are adjustable so that they can accommodate various sizes and types of bikes. Adjustable racks typically have adjustable arms or sliding clamps so that they can be easily modified to fit different frames or wheel sizes.
Are bike racks made for outdoor use?
While not all bike racks are suitable for outdoor use, many models are designed to withstand exposure to elements like rain and wind without damage. It's always best to check the specifications of each product to confirm it's ideal for outdoor use before buying.
What is required to maintain a bike rack?
Most bike racks require minimal maintenance depending on usage frequency and whether they are used indoors or outdoors. In general, it's important to inspect all components regularly and keep them clean, tightened, lubricated, and rust-free to ensure the maximum life expectancy of your bike rack stand.
Why Trust Us
Our commitment to the consumer begins with product selection and ends with the last word we write in each article. Each bike rack is carefully vetted quantitatively through star ratings and the number of reviews qualitatively through careful examination of reviews and the features each one has to offer. Leveraging our team of bargain hunters, we're also always sure to keep your budget in mind while we find the best bike racks on the market. Our team of experts is dedicated to accurately depicting the pros and cons of each product, translating technical product specifications into information you can understand. We aim to offer unbeatable value on your biking journey by providing high-quality cycling gear, ensuring a remarkable riding experience with top-rated equipment.