The Best Blood Pressure Monitors for Your Money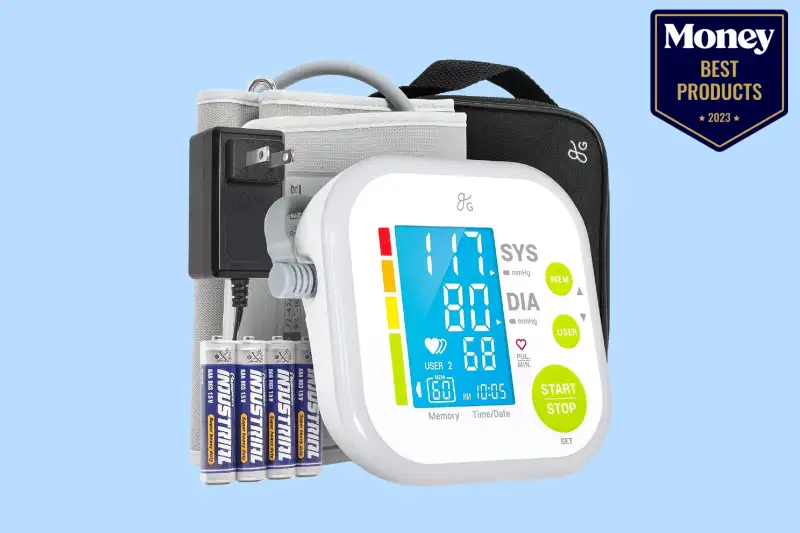 Keeping a close eye on your blood pressure can go a long way in preventing, mitigating, and reversing various health conditions, including hypertension. But visiting your doctor every time you want to check your blood pressure isn't realistic. Fortunately, there's an easy solution to this problem: at-home blood pressure monitors. Available in a range of sizes and styles, these helpful devices allow you to check and track your blood pressure whenever you want without having to leave your home.
In this article, we'll take a close look at the leading at-home blood pressure monitors of 2023, examining each option's pros, cons, and features. We'll also share our expert buying advice so you'll have all the information you need to make an informed decision and find the right blood pressure monitor for your needs. So, let's get started.
Best Overall: Vauki JPD-HA101 Home Blood Pressure Monitor
Most Convenient: KONQUEST KBP-2704A Blood Pressure Monitor
Best for Travel: Greater Goods Blood Pressure Monitor
Best for Ease of Use: Omron BP5100 Blood Pressure Monitor for Home
Best Wrist Option: Care Touch Blood Pressure Monitor
Comparing the Finest Blood Pressure Monitors of 2023
List Price: $32.90
The Vauki JPD-HA101 Home Blood Pressure Monitor earned its spot at the top of our list thanks to its easy-to-read display and user-friendly interface. The high-definition, backlit LCD screen measures 5.5 inches and offers a crisp, digital display for viewing your results, even in low-light conditions. To use the device, you need only secure the armband in the proper place and push a single button.
This monitor allows you to record results for up to two users, storing 100 readings for each. When it's not in use, it turns off automatically to save battery power and comes with a case for easy transport and storage. Its lightweight construction makes it easy to take along on the go. The adjustable cuff can be extended from 8 to 17 inches for a comfortable, customized fit. In addition to blood pressure, this device also measures and displays your heart rate, as well as the date and time.
Pros
Delivers fast results
Includes batteries and a storage case
Ideal for two users
Cons
May go through batteries quickly
May not fit some users
List Price: $39.95
The KONQUEST KBP-2704A Blood Pressure Monitor features intuitive buttons for convenient use whenever you need to check your pulse and blood pressure. It comes complete with everything you need, including an illustrated user manual, four AA batteries, and a case for portability and storage. The cuff is a single size that extends from 8.5 to 16.5 inches, so it's designed to fit most users.
The large LCD screen clearly displays blood pressure results and pulse rate and can detect and alert you of heartbeat irregularities. The color-coded key to its right allows you to see what range your blood pressure falls into at a glance. The three buttons at the bottom of the monitor allow you to quickly adjust its settings and functions. This device can also store information for up to two users, recording up to 60 readings for each.
Pros
Capable of detecting irregular heartbeats
Single-touch operation for convenient use
Easy-to-read LCD display and color-coded key
Cons
May not fit all users
May pinch slightly on inflation
List Price: $45.88
Thanks to its compact size and lightweight design, the Greater Goods Blood Pressure Monitor is ideal to use on the go, making it a solid choice for anyone who wants to monitor their health while traveling. This model has a convenient case to keep it clean and protected during transport and storage. The backlit white-and-blue display offers excellent visibility and contrast so you can view your results with ease, even in the dark.
This monitor is compatible with multiple power sources, as it comes with a wall adapter and four AAA batteries. Lined with plush fabric, the cuff inflates quickly for optimal comfort and accuracy. The device can store a maximum of 60 readings each for up to two users.
Pros
Comes with an adapter and batteries
Includes a travel and storage case
Inflates quickly for improved accuracy and comfort
Cons
Isn't Bluetooth compatible
May be difficult to put the cuff on
List Price: $43.00
The Omron BP5100 Blood Pressure Monitor for Home is a great choice for those who prefer a basic, straightforward design. It features a one-button operation for fast, easy use, and it can store up to 14 readings for a single user. The large screen provides a clear digital display to conveniently view your blood pressure and heart rate.
This device has an irregular heartbeat detector and will alert you of any abnormalities. The cuff is designed to fit most users with an upper arm circumference between 9 and 17 inches. The monitor is FDA-registered and backed by a two-year manufacturer's warranty so you can rest assured that your investment is protected against defects and possible issues down the line.
Pros
Features a simple one-touch operation
Displays results clearly
Measures pulse rate and irregular heartbeats
Cons
Doesn't store data for multiple users
Stores fewer readings than other models
List Price: $39.99
Designed to be worn on the wrist, the Care Touch Blood Pressure Monitor is a great pick for those with sensitive upper arms or difficulty finding arm cuffs that fit well. Its design can also be helpful for users who experience difficulty when attempting to put on an arm cuff without assistance. You can easily place this model on your own wrist and, thanks to its convenient design, it only takes the touch of a button and less than a minute to get a reading.
The wrist cuff is designed to fit users with a wrist circumference of 5.5 to 8.5 inches. The large, backlit display is also clearly visible to easily read results. The memory function stores the last 60 readings taken so you can share your results with your healthcare provider or chart patterns and fluctuations over time.
Pros
Easy and comfortable to put on
User-friendly design and backlit display
Storage case included
Cons
Only one wrist cuff size
Small and easy to misplace
Buying Guide: Blood Pressure Monitors for Home Use
As you're shopping for a blood pressure monitor for at-home use, there are some important product features to consider. This buyer's guide will walk you through these factors to help you find the best option for your needs.
Accuracy
As with any medical device, it's crucial to choose a blood pressure monitor that delivers precise, accurate results, as inaccurate results can give you a false perception of your health status. Look for options that feature advanced technology, as these tend to offer better reliability. It can also be helpful to check customer reviews to gain insight into how accurate the product is.
Display
Being able to clearly view your results is essential. Opt for a monitor that has a large digital display. Ideally, the display should be backlit so you can see your results at night or in low-light conditions.
Durability
Choose a blood pressure monitor that's designed to last a long time before needing to be replaced. It should be durably constructed from high-quality materials. Customer reviews can give helpful insight into how long a particular product will last.
Type
Blood pressure monitors come in different styles. Some require wearing a cuff around your upper arm, whereas others can be worn on the wrist. If you have sensitive upper arms or find it difficult to put an arm cuff on without assistance, you may want to opt for a wrist monitor. Wrist monitors tend to be more user-friendly, however, they may not be as precise as arm models. If you're unsure if one would suit your needs, we recommend consulting your doctor.
Cuff size
To get the most accurate results, it's crucial to ensure the monitor's arm cuff fits properly. Most models feature a one-size-fits-most cuff, which may not work well for users with small or large upper arms. Look for a model that offers different cuff sizes for the best possible fit. If you have large upper arms, there are monitors available that have extended cuff sizes.
User-friendliness
Stress can elevate your blood pressure so you'll want to choose a monitor with an easy-to-use design. Look for a monitor that has intuitive controls. Some of the best options feature a single-button operation for hassle-free, straightforward use.
Memory function
Most blood pressure monitors feature a memory function, allowing them to store your previous readings. This can be helpful if you want to track changes in your blood pressure over time. Devices can typically store the data of anywhere from 10 to 100 readings.
Number of users
Before choosing a blood pressure monitor, consider how many people will use it. If you'll be sharing the monitor with another user, opt for a model that allows you to create multiple user profiles for convenience.
People Also Ask
What do the two numbers in a blood pressure reading mean?
Blood pressure results consist of two numbers separated by a slash. The first number is your systolic blood pressure, which measures your arterial pressure as your heart pumps blood. The second number is your diastolic pressure, which measures your arterial pressure between heartbeats.
Is it normal for my blood pressure readings to be inconsistent?
Minor fluctuations in blood pressure are normal and should be expected. However, if you check your blood pressure multiple times in a short period and the results are drastically inconsistent, there may be something wrong with your monitor.
My blood pressure monitor isn't working. What should I do?
If your device has a rechargeable battery, check that it's charged. If it takes replaceable batteries, try swapping the existing ones with new ones. If after these steps your monitor still isn't working properly, check the product's manual for troubleshooting tips. If all else fails, reach out to the manufacturer for assistance. If your monitor is under warranty coverage, you may be able to get a replacement or refund.
What are the benefits of using a blood pressure monitor at home?
A blood pressure monitor makes it easy to check your blood pressure from the comfort of your own home. This is especially beneficial for people who suffer from hypertension or hypotension, as it can help you determine whether certain lifestyle changes, activities, medications, therapies, or dietary changes are helping to improve your condition. These monitors are also great for people with inaccurate or higher-than-usual blood pressure readings during medical appointments, colloquially known as "white coat hypertension."
When should I check my blood pressure?
The best times to check your blood pressure are when you wake up (before eating or drinking anything) and again at night. It's a good idea to take multiple readings each time you check it to ensure accuracy. We also recommend recording your readings in a notebook, making it easier to track changes in your blood pressure over time.
Why Trust Us
Our commitment to customers begins with a carefully curated product selection process, ensuring we provide high-quality and reliable options. We meticulously vet each blood pressure monitor, analyzing quantitative aspects, such as star ratings and review count, and qualitative factors, including review content and product features. Our dedicated team of bargain hunters consistently prioritizes your budget by meticulously scouring the market and identifying the best blood pressure monitors available without ever compromising on quality or performance. Our panel focuses on presenting the pros and cons of each blood pressure monitor and converting technical specs into understandable insights. We aim to ensure accurate and convenient blood pressure readings with top-rated biofeedback devices.