The Best Camping Hammocks for Your Money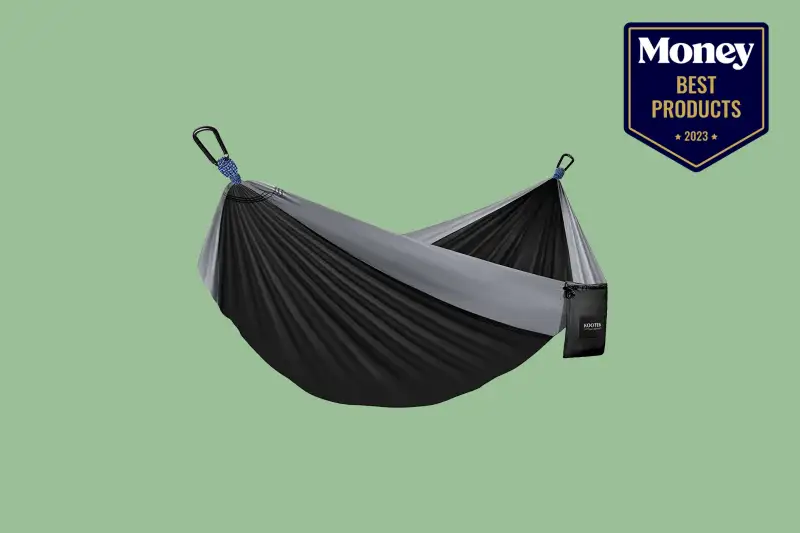 A camping hammock is a comfortable and relaxing place to rest after a long day of hiking or exploring. Whether you're looking to relax during your downtime or need a sturdy place to sleep while exploring the backcountry, a reliable hammock is an essential addition to your campsite.
In this article, we'll take a look at some of the highest-rated camping hammocks available in 2023 to help you choose the ideal one for outdoor activities. We'll discuss the pros and cons of each hammock and walk you through everything you need to know to make an informed purchase. So, whether you're a seasoned camper or just getting started, this guide will help you find the perfect camping hammock for your outdoor adventures.
Comparing the Leading Camping Hammocks of 2023
List Price: $39.40 - $47.95
The Wise Owl Outfitters Camping Hammock is our top pick for its quality features and compact portability. This option comes in single and double sizes to comfortably accommodate one or two people and features a lightweight and compact design that makes it easy to pack and carry. The single size measures 9 feet long by 4.5 feet wide, while the double size measures 10 feet long by 6.5 feet wide. Crafted from soft yet strong parachute nylon and triple interlocking stitching, it can hold up to 400 or 500 pounds, depending on the size you choose.
This camping hammock is also incredibly easy to set up thanks to the included 9-foot-long tree straps, carabiners, and five separate loops for adjusting to the perfect height. The carabiners and tree-friendly hammock straps provide extra strength and security, so you can trust the quality and reliability. It only weighs 1.5 pounds and folds to the size of an eggplant, so you can easily throw it in your backpack and take it along while exploring. Its quality construction, ease of setup, and compact carrying features make this camping hammock the best overall choice on our list.
Pros
Comfortable and breathable material
Compact and lightweight to carry
Easy to set up and adjust
Stylish two-toned design
Cons
May need additional straps
May fray slightly at borders
List Price: $13.99 - $24.99
Shopping for a camping hammock on a budget? This affordably priced product from Kootek is a great outdoor accessory, whether you're camping or simply relaxing in your backyard. The hammock is made from high-quality 210T parachute nylon material with triple-interlocking stitching for maximum durability and comfort. The double hammock has an unfolded size of 120 x 78 inches to fit two adults comfortably. It's also very easy to carry as it only weighs 2.2 pounds and folds into a compact size for storage in the included bag.
Setting up this camping hammock is a breeze and doesn't require any knots or special tools for assembly. It features tree-friendly straps and carabiners with 19 separate loops on each strap, allowing you to easily adjust them to whatever level of comfort you desire. Available in 15 colors, this pick is easy to clean and dries quickly to keep it looking new after each use. Whether lounging on a camping trip or at home, this hammock is a cost-effective option for anyone who enjoys spending time outside in comfort.
Pros
Strong and durable fabric
Comfortable and roomy
Many loops for adjustability
Easily fits in the storage bag
Cons
Cocoon-like wrap felt restricting for some users
Carabiners add some weight when backpacking
List Price: $39.97
The Legit Camping Hammock is the perfect relaxing and sleeping solution for anyone who loves backpacking in the great outdoors. This product bundles several items, including the hammock, carabiners, straps, and tree guard protectors into one compact stuff sack attached to the hammock, making it easy to take with you. The high-quality reinforced triple stitching and durable nylon make it sturdy enough to withstand almost any weather condition, so it's an excellent choice while hiking in even the most rugged terrain. Plus, the material boasts a 210 thread count for added softness so you can relax comfortably even in the wilderness.
Measuring 120 inches long by 72 inches wide, this double hammock is designed to comfortably accommodate two people, so you can share your camping experiences with a friend or loved one. It has a straightforward setup, taking mere minutes even for first-time users. It's also lightweight and compact, weighing only 2 pounds. This option comes in 10 colors and has a capacity of 500 pounds. As an added bonus, the manufacturer offers a lifetime warranty, so you can rest assured this camping hammock is a worthwhile investment.
Pros
High-quality materials and construction
All components are attached to the hammock
Lightweight and compact for easy transport
Lifetime warranty included
Cons
Repacking everything can be difficult
Instructions could be clearer
List Price: $37.99
The Gold Armour Camping Hammock is an excellent option for those looking for a spacious double hammock. Measuring 125 inches in length and 79 inches in width, it easily fits two people with room to spare. It's incredibly lightweight, constructed with premium quality 210T nylon fabric and triple interlocking stitching to ensure reliable, long-lasting durability. The spacious size and soft material offer unbeatable comfort and support for up to 500 pounds.
Setting up the hammock takes a matter of seconds with absolutely no hassle. It comes with two heavy-duty D-shaped steel carabiners and two tree straps that each measure 10 feet long by 1 inch wide and feature 16 attachment loops. The straps are designed to hold up to 500 pounds each and have no-stretch, heavy-duty triple-stitched seams for added strength. Available in 26 colors total, the two-tone design also adds a stylish twist, making it look as visually appealing as it is functional.
Pros
Very sturdy to fit two people comfortably
Easy and quick setup with everything included
High weight capacity of 500 pounds
Wide range of color options
Cons
Heavy carabiners compared to other hammocks
Bulky if backpacking and carrying supplies
List Price: $29.97
While many hammocks come in basic shades or two-tone designs, the Bear Butt Hammock offers quality and style for any hiking or backpacking trek thanks to its range of fun patterns. It comes in a total of 14 unique styles, making it a fun addition to any outdoor gear. The hammock is 10 feet long and 6 feet wide, constructed with soft, enhanced nylon and high-quality stitching for extra durability and comfort. It's incredibly roomy and has a weight capacity of 500 pounds, allowing two people to fit inside comfortably.
The complete set includes everything you need inside a compact travel bag, making it a portable product for spur-of-the-moment trips. The setup is quick and easy, even without help. It packs away just as quickly thanks to its convenient folding design. For those backpacking trips where every pound counts, you'll appreciate that this lightweight camping hammock only weighs 1.5 pounds, allowing you to pack it without worrying about weight. Thanks to its various style choices, ease of setup, durability, and portability, this hammock makes the perfect addition to any outdoor gear.
Pros
Quality materials used for long-term heavy use
Triple stitching ensures strength and durability
Spacious enough to accommodate two people
Lightweight carabiners and ropes for easy hanging
Cons
May not be suitable for smaller individuals
May be challenging to adjust rope with knots
Buying Guide: Camping Hammocks
Camping is undoubtedly one of the best activities you can do outdoors. Whether you want to disconnect from the world, enjoy a peaceful moment in nature, or simply spend quality time with your family, camping is the perfect way to achieve it all. But to truly enjoy your camping experience, you'll need the right gear — and that includes a quality camping hammock.
Camping hammocks can be found in various sizes, colors, and weights, so you'll want to make sure you're choosing one that matches your camping style and comfort level. In this buying guide, we'll cover the key features to consider as you search for the right hammock for your outdoor activities.
Weight
Weight is an important factor to consider when looking for a camping hammock. Look for one lightweight yet durable enough to withstand outdoor conditions. Many manufacturers offer hammocks that are designed with lightweight materials and come with carabiner clips but also feature reinforced stitching and thicker fabrics that can handle outdoor use. In addition, look for a hammock that will fit seamlessly into your backpack and be compact enough to be carried easily.
Material
The material used for the hammock should be durable and able to stand up to outdoor wear and tear. Most camping hammocks are made from nylon or polyester fabric that features double or triple-reinforced stitching on the seams. Nylon is a good choice because it's lightweight, water-resistant, and durable. Polyester is also popular for its strength and durability, but it tends to be heavier than nylon and takes longer to dry if exposed to moisture.
Capacity
When choosing a camping hammock, you must consider the capacity, which will vary based on the number of people it's designed for. For single-person hammocks, look for one rated up to 300 pounds and around 8 feet long. For two-person hammocks, look for a capacity between 400 and 500 pounds and 10-12 feet long.
Comfort
A good camping hammock should have ample space and be comfortable enough to sleep in without being too cramped or tight. Some models come with padded straps, while others are designed with breathable fabric that won't stick to your skin or make your back sweat.
Ease of setup
Look for a hammock that's easy to set up quickly and efficiently. Most modern camping hammocks feature quick-release buckles, carabiners, straps, or other accessories for easy setup. Ensure you know how to properly use all components before taking your hammock out in the wilderness.
Size
When considering size, pay attention not just to the overall size of the hammock as well as if it fits into your backpack easily once folded up. A bigger size may make it more comfortable, but you don't want to invest in something that won't fit in your pack.
Rainfly and bug protection
If you plan to camp in potentially wet or windy conditions, ensure your hammock has a good rainfly or cover. Rainflys are typically made with waterproof material like polyester taffeta, which provides extra protection from gusts of wind and rain while also providing ventilation and breathability beneath the fabric. If you also want extra protection from bugs, look for options with mesh netting or similar bug protection features.
Price
When shopping for a camping hammock, compare prices across different brands and models to find one that fits your budget. Make sure you consider all of the features mentioned above before making your purchase to ensure you get the best value for your money.
Warranty
Finally, check to see if the manufacturer offers any kind of warranty in case of any defects or issues with the product. This can provide peace of mind before investing in expensive outdoor gear like a camping hammock, as some manufacturers will provide repairs or replacements under warranty without additional costs.
People Also Ask
What is the best material for a durable camping hammock?
The best hammock fabric is nylon or parachute-grade nylon. These materials are lightweight and breathable to provide durability and tear resistance. They also won't absorb moisture. With proper care, your camping hammock should last multiple seasons without any issues.
What size should I get for my camping hammock?
The size of your camping hammock will depend on your individual needs. If you plan on lounging or sleeping alone, a single-person camping hammock will likely be adequate for most people. If you plan on sharing your hammock with someone else or want more room for yourself, you may opt for a double-person camping hammock that can accommodate two people comfortably.
How much weight can a camping hammock hold?
The maximum weight varies between different models, but 300 to 500 pounds is standard among most brands. It's essential to make sure that you purchase one that can handle your combined weight plus any gear you plan to sleep with.
How do I hang a camping hammock between trees?
The best way to hang a camping hammock between two trees is by using two straps or ropes that can be securely tied to each tree trunk. These should be tied at approximately waist height or higher as this will help ensure secure anchoring points. This also will secure enough space between each tree so that the material doesn't rub against the ground while in use.
Do I need special accessories for my camping hammock?
Accessories such as rain tarps, bug nets, pillows, and insulation pads can help make your camping experience more enjoyable and comfortable. These accessories are typically sold separately from camping hammocks and can be purchased from most retailers.
How do I store and transport my camping hammock?
Most camping hammocks come with a carrying bag, making them easy to store and transport. If your model does not have a bag included, simply fold up your hammock into a manageable package, ensuring all straps are secure. Then, store it in any convenient location, such as a backpack or duffle bag until you're ready to use it again.
Why Trust Us
Our commitment to the consumer begins with product selection and ends with the last word we write in each article. Each camping hammock is carefully vetted quantitatively through star ratings and the number of reviews qualitatively through careful examination of reviews and the features each one has to offer. Leveraging our team of bargain hunters, we're also always sure to keep your budget in mind while we find the best camping hammocks on the market. Our team of experts is dedicated to accurately depicting the pros and cons of each camping hammock, translating technical product specifications into information you can understand. Our mission is to make sure you get the most bang for your buck…or, in this case, the best outdoor experience for your buck.