The Best Citrus Juicers for Your Money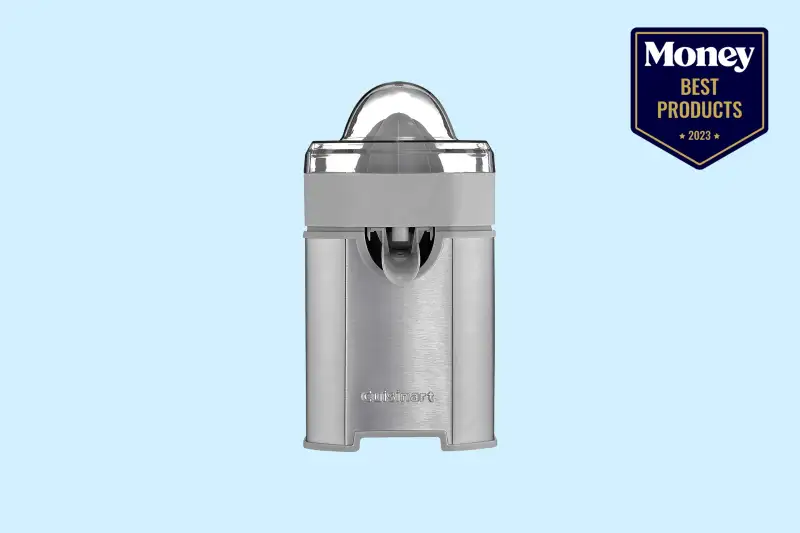 Are you looking for a way to add more vitamins and nutrients to your diet or include delicious, tangy flavors in your cooking? Then you should start squeezing citrus fruits to enjoy their juice at and in your meals. They are some of the most nutrient-rich fruits available out there and can provide you with a whole host of health benefits. Plus, there's nothing better than freshly squeezed orange juice in the morning or ice-cold lemonade on a hot day. The good news is there's a kitchen appliance to help you prepare them. A citrus juicer can help you effectively juice limes, lemons, oranges, and other citrus fruits. With so many models available on the market, however, it can be tricky to find the right option for your needs.
Well, don't worry — in this article, we'll be sharing our top picks for the most effective citrus juicers of 2023. From manual juicers to electric models, we've got what you need to take your cooking and beverage game to the next level. We also put together a detailed buying guide on everything you need to know about citrus juicers to help you make an informed purchase. So read on to find the juicer that's right for you!
Best Overall: Zulay Citrus Juicer
Most Stylish: OTOTO Citrus Juicer
Most Powerful: Eurolux Citrus Juicer
Most Convenient: Black+Decker Citrus Juicer
Largest Capacity: Luukmonde Citrus Juicer
Best Features: Cuisinart Citrus Juicer
Comparing the Highest-Rated Citrus Juicers of 2023
List Price: $21.99
As the best overall product on the list due to its ease of use and low price, the Zulay Citrus Juicer is the ideal kitchen tool for anyone who wants to make fresh-squeezed juice from lemons, limes, and other citrus fruits. Its simple-to-use design is ideal for both professional chefs and everyday home cooks. Requiring manual operation, you can squeeze halved fruit for maximum yield anywhere — no outlets or batteries needed. Plus, the patented design features two built-in seed and pulp features for optimal results. The ergonomic handle is easy on the hands so you can prepare small and large amounts of juice alike in comfort. This citrus juicer is made with sturdy industrial aluminum that is both reliable and long-lasting. It's also protected by a special coating to prevent it from rusting or corroding over time.
Cleaning this squeezer is convenient and straightforward, too! It can be placed in the dishwasher for a quick and thorough cleaning or hand-washed with warm soapy water in just a few seconds. Finally, its small handheld design makes it super easy to store in a drawer, making this product ideal for travel and kitchens without much counter space. Overall, this affordable citrus juicer is the top kitchen tool for getting maximum juice out of your fruits with minimal effort and space, which makes it stand out from all the other options available.
Pros
No outlet or batteries required
Very easy to clean and store
Bright and cheerful design
Cons
May be challenging to use with small hands
Doesn't offer automatic operation
Get ready to add a dash of zest to your kitchen with the OTOTO Citrus Juicer, also known as Octo! This handy dandy multi-fruit juicer from the award-winning OTOTO Studio is designed to bring joy and functionality to your citrus juicing experience. Octo, with its adorable octopus design, is a versatile manual juicer that can extract every last drop of juice from oranges, lemons, limes, and more. Its ergonomic design makes it a breeze to hold and use, allowing you to effortlessly twist and juice your favorite fruits. No more struggling with cumbersome juicers!
What sets Octo apart is its combination of functionality and charm. Unlike ordinary citrus reamers, this BPA-free and dishwasher-safe juicer adds a delightful touch of kitsch to your kitchen. Its vibrant colors and whimsical design make it a conversation starter and a delightful addition to your countertop. But Octo isn't just practical—it's also a nifty little treat for your loved ones. Looking for funny kitchen gadgets to surprise someone? Octo is the perfect quirky gift that adds a sprinkle of happiness to their day. This best overall juicer is a unique and thoughtful present that will make citrus juicing a fun and enjoyable activity.
Pros
Versatile and efficient juicing of various citrus fruits
Ergonomic design for easy handling and twisting
Adorable and vibrant octopus design adds a touch of whimsy
Cons
Unique design may not be for everyone
List Price: $64.99
Next up on our list, we have the Eurolux Citrus Juicer which offers all the benefits of powerful juicing technology without the need for a bulky, loud machine. It has a 120-watt motor that ensures quiet yet efficient juice extraction, delivering the same power as 160-watt juicers while being more energy-efficient and long-lasting. This pick also provides hassle-free convenience and comfortable use with its one-touch operation and soft-grip rubber handle. The auto-on/off function allows you to quickly turn it on and off without needing to fumble with any buttons or switches. Once it's on, simply press the handle down to start and release pressure to stop.
Plus, you don't have to worry about any unsavory residues in your juice because this juicer features an integrated filter that captures seeds and pulp. This gives you twice as much pure and healthy juice every time! With its one-size-fits-all juicing cone, this electric citrus juicer can easily accommodate different fruit shapes and sizes while preventing messy squeezing. Its spout also means there's no limit to this juicer's capacity, so you can make as many glasses of juice as you want. This model is made out of high-quality stainless steel that offers both durability and aesthetics — making it perfect for any kitchen style.
Pros
Spring-loaded handle for comfortable use
Detachable parts for easy cleaning
Adjustable spout to pour/collect the juice
Cons
Might have a bad smell when it arrives
May not work well with small fruits
List Price: $24.05
Designed to be very convenient to use, clean, and store, the Black + Decker Citrus Juicer is an excellent and efficient kitchen appliance for making fresh, delicious juice from any citrus fruit. Its auto-reversing, one-size-fits-all juicing cones make sure that you get maximum extraction from your fruits, while the adjustable pulp control with pulp basket makes it easy to separate and remove the excess pulp from the juice. Offering a high 32-ounce capacity and built-in measurements, the clear-view juice container allows you to measure your juice yield accurately with no need for any additional tools. The drip-free pour spout also locks and unlocks to help prevent mess and accidental spills. The simple, one-touch operation makes juicing quick and easy — no need to worry about complicated buttons or settings for different types of fruit. What's more, the ergonomic handle makes it easy to lift and carry. All its components are dishwasher safe, making cleanup convenient and quick. The juicer also takes up minimal counter space, so you don't need to worry about having to find additional room in your kitchen to use it. Plus, if anything breaks or you're not completely satisfied with the product, you can take advantage of the money return offer.
Pros
Smaller footprint and lightweight design
Manual and automatic operation
No mess when juicing
Cons
Strainer pieces are difficult to clean
Motor is not very strong
List Price: $39.99
Boasting an impressive 40-ounce capacity, the Luukmonde Citrus Juicer is an attractive and effective appliance that's ideal for large households. It features a unique design with a more powerful motor, professionally designed gear, and a large stable base to minimize noise and wobbling while in use. The large jug is transparent and includes measure markings so you can easily track how much juice you're making. Plus, this model comes complete with a protective cover to keep dust away from its components when not in use. The juicer's operation is incredibly simple thanks to its detachable parts. We also appreciate that it comes with two cones of different sizes, making it ideal for lemons, oranges, grapefruits, and other citrus fruits. As an important bonus, this product is compliant with FDA regulations and doesn't contain any BPA in its construction. This ensures that the product makes healthy juice that's safe to consume. This option also comes with a 100% money-back guarantee for one year, so you can rest assured your investment will be protected in the event of defective parts or performance issues.
Pros
Easy to clean and maintain
Stable base and large-capacity pitcher
Quiet operation of 70 decibels
Cons
Gripper tabs on the bottom are small
Motor may require pausing to prevent overheating
List Price: $29.95
Packed with plenty of features to help you get maximum juice yield more easily, the Cuisinart Citrus Juicer is a reliable appliance that can handle small limes or large grapefruits with ease. The adjustable reamer with three pulp control settings allows you to choose the amount of pulp you want in your juice, so you can customize it to your tastes and preferences. Thanks to its Final-Spin feature, the auto-reversing universal juicer cone ensures that you get more juice more efficiently. This product also features an extra-long snap-up spout that can accommodate a wider range of cups and glasses while preventing drips and spills.
Cleanup is easy since all parts are dishwasher safe, and cord storage allows for convenient storage of the unit when it isn't in use. This compact electric citrus juicer looks great, too; the sleek and stylish brushed stainless steel exterior adds a modern touch to your kitchen. It's also BPA-free and comes with a limited three-year warranty so you can be sure of its quality and promptly address any issues that may arise.
Pros
Easy to use, assemble and disassemble
Lightweight and easy to handle
Auto-reverse feature for maximum extraction
Cons
Spout may not accommodate tall glasses
Pulp catcher is somewhat small
Buying Guide: Citrus Juicers
Choosing the ideal citrus juicer for your needs is important as you don't want to invest in a product that you won't get much use out of. There are many different types of juicers available on the market, each with its own benefits and drawbacks, so it's important to consider several factors before deciding which one to purchase. Below, we've broken down all of the key product features you should consider when buying a citrus juicer, so you can make an informed decision.
Speed of juicing
The speed of juicing is an important factor in selecting a citrus juicer, as it impacts how efficiently you can make juice. Look for a juicer that has a powerful motor and high-speed settings to quickly extract juice from citrus fruits. Additionally, consider models with features such as a speed adjustment switch or pressure-activated system that allows you to adjust the speed of juicing to get the perfect consistency for your needs.
Ease of cleaning
It's important to find a juicer that's easy to clean and maintain. Look for models with removable parts, so that you can quickly take apart and reassemble the juicer for cleaning. Additionally, consider models that have components with a dishwasher-safe design, or options that come with an array of accessories such as a brush to help with cleaning small parts.
Durability
When it comes to finding the ideal citrus juicer, durability is one of the most important factors to evaluate. Look for models that are constructed out of high-quality materials to ensure they last you a long time and withstand daily use. Stainless steel or BPA-free plastic are both reliable options. Additionally, consider juicers with anti-wear surfaces such as non-stick or protective coatings, which can help protect against wear and tear, rust, and other damage.
Type of citrus
Different types of citrus fruits have different sizes and hardness levels, so make sure you choose a juicer that can handle whatever type of citrus fruit you like to juice. Look for models that have adjustable settings that allow you to adjust the size and hardness levels for specific types of fruits, so you can get the best extraction from each type.
Extractor design
The type of extractor design used by the juicer will determine how effective it is at extracting juice from your fruits. Consider models with centrifugal force technology which uses fine mesh filter baskets to separate any unwanted pulp, seeds, or other particulates from the juice itself. Additionally, look for models with dual-stage extracting systems that squeeze out more juice compared to other single-stage systems while also producing less foam and waste in the end.
Capacity
Depending on how much you juice each day and your family size, you may need a larger capacity model than others. Consider models with large collection bowls or containers so you can process larger batches at once without needing to empty them every few minutes. Some citrus juicers don't feature a container, instead opting for a spout design so you can juice directly into a bowl or glass in the size of your choice.
Price
Finding the best-priced option doesn't necessarily mean skimping on quality or features; instead, look for models that offer great features at reasonable prices without sacrificing quality materials or user-friendly design. Consider whether additional accessories such as brushes or strainers are included in the price tag before making your decision — these often add up quickly but may be necessary for optimal performance from your juicer over time!
Noise level
Depending on where you plan to use it most — whether it's in an open kitchen area or a smaller, shared space like an office — consider noise output when choosing the ideal citrus juicer for your needs. If it's important to you, select a model specifically designed for low noise output during operation, as this ensures maximum comfort during usage while also helping preserve your hearing in the long run!
Warranty
It's always important to check what kind of warranty comes with any potential purchase before making your final decision — especially when it comes to kitchen appliances like juicers! We recommend opting for a product that comes with at least a one-year warranty in case something were to go wrong down the line. After all, no one wants their investment going down the drain if it breaks unexpectedly!
Motor power
The wattage rating of your motor is also an important factor when it comes to efficiency. When considering motor power, note that the more watts your motor has available, the more power it will have available for juicing large citrus fruits or preparing bigger batches of juice! For optimal results, aim for motors of at least 100 watts.
Safety features
Remember, safety first! Look into whether each model has any safety features built in. For example, an automatic shutoff feature prevents overheating by automatically turning the juicer after extended usage periods. This can help prevent injuries both minor (burns) and major (electrocution) from occurring should parts become worn out over time due to continued usage!
User-friendliness
How easy is your potential purchase going to be to use? At first, glance read through product descriptions and reviews to determine how easy each model is to assemble, use, operate, and clean afterward. These factors all play into how happy you'll be during longer juicing sessions since taking too long to complete these steps may lead to fatigue and a lack of desire to use your citrus juicer again.
Design
When it comes down to aesthetics it's important to consider how attractive and well-crafted in looks and feel each model is, especially if you want a citrus juicer that suits your kitchen's style. Not only does this add an extra layer of style but plays an important role in usability since attractive designs can influence how much you look forward to using your appliance. Look into materials used and available colors when making your decision. Remember there isn't one "right" answer here because individual tastes play an important role!
People Also Ask
How much juice can I expect from a single juicing session?
The amount of juice you can expect to get from a single juicing session will vary depending on the type and quantity of fruit used, as well as the efficiency of the juicer itself. Generally speaking, one should expect to get around 1-3 ounces of juice per lemon or orange.
Are citrus juicers noisy?
Not usually, no. But, note that noise levels will vary depending on the model and brand. So while most citrus juicers are relatively quiet when in operation, making them suitable for home use, some may be louder depending on their motor's power and overall design.
Is a citrus juicer easy to clean and maintain?
Most citrus juicers are designed with convenience and ease of use in mind and should be relatively easy to clean and maintain. Many models come with dishwasher-safe components and a range of accessories such as brushes and bottle cleaners, which can prove useful when deep cleaning is needed.
What safety features are included with a citrus juicer?
Most citrus juicers come with a range of safety features such as shock protection systems, non-slip rubber feet, and lockable lids that prevent accidental spills or splashes when operating the machine. Some models also come with covers or guards to prevent hands from coming into contact with the cones while cleaning or adjusting settings on the machine.
How much does a high-end citrus juicer cost?
High-end citrus juicers can range in price from around $50 for a basic model up to $200 or more for a top-of-the-line model with advanced features.
Is it easy to assemble and use a citrus juicer?
Yes, most citrus juicers are relatively easy to assemble and use. They also usually come with straightforward instructions on how to assemble and use them efficiently.
Do citrus juicers have an option for manual or electric operation?
Yes, some models offer both manual and electric operation, while others only offer electric or manual operation. Generally speaking, electric models tend to be more powerful and efficient than manual ones, but manual models are usually easier to operate, less expensive, and more compact.
How can I get the most juice with my citrus juicer?
The most efficient way to get maximum yield from your citrus fruits is to pre-cut them into pieces that fit easily in or on the appliance's juicing parts. Also, using a slower speed setting on your juicer will help ensure that you get all the available juice out of your fruit without having too much pulp or pith left behind. Some models may even come with special features to extract every last bit of juice.
Why Trust Us
Our commitment to the consumer begins with product selection and ends with the last word we write in each article. Each citrus juicer is carefully vetted quantitatively through star ratings and a number of reviews qualitatively through careful examination of reviews and the features each one has to offer. Leveraging our team of bargain hunters, we're also always sure to keep your budget in mind while we find the best citrus juicers on the market. Our team of experts is dedicated to accurately depicting the pros and cons of each citrus juicer, translating technical product specifications into information you can understand. Our goal is to ensure you get the most out of your investment…or in this case the best juice that money can buy.