The Best Cold Press Juicers for Your Money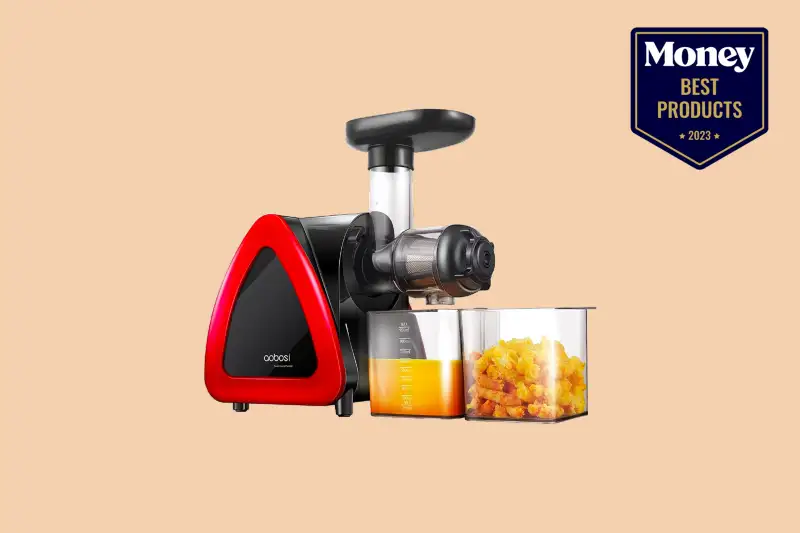 Juicing is a great way to add more vitamins and nutrients to your diet, but not all juicers are created equal. High-speed juicers can heat your fruits and veggies, destroying some of the key health benefits you're looking for. That's why cold press juicers are the way to go! They extract juice slowly and at a lower temperature, preserving all the nutritional goodness in your produce.
In this article, we'll review some of the finest cold press juicers of 2023 and help you find the ideal option for your needs. Whether you're shopping on a budget or looking for a high-end model, we've got you covered. So, let's get started and find your new favorite cold press juicer for a healthier you!
Best Overall: Jocuu Slow Cold Press Juicer
Quietest Operation: AMZCHEF Slow Cold Press Juicer
Most Compact: DASH Compact Cold Press Juicer
Most Powerful Motor: Omega Cold Press Juicer
Most Durable: Aobosi Slow Masticating Juicer
The Highest-Rated Cold Press Juicers of 2023 Reviewed in Detail
List Price: $149.99
In the top spot on our list, the Jocuu Slow Cold Press Juicer is the best option for anyone who wants to enjoy fresh, nutritious juice every day. With two speed settings, it effectively extracts juice for maximum yield while preserving all the essential vitamins and minerals in the process. The automatic shut-off feature stops the appliance after every 20 minutes of operation to extend the life of the juicer and help protect the motor from overloading. This juicer runs at an incredibly low noise level, making it a great option for households with children, pets, or elderly relatives. The small feeder chute also adds an extra layer of safety.
The one-touch assembly design and reverse function of this juicer make taking it apart quick and easy. The BPA-free, high-quality food-grade materials used to construct the detachable parts are durable and should be hand-washed. This product even comes with a cleaning brush, making washing hard-to-reach areas more convenient. Additionally, this cold press juicer comes with an impressive warranty, offering four years of coverage for the motor while the accessories are covered for three years. On top of that, you'll get lifetime customer support and technical service. With its low noise level, safe design, and excellent warranty, this juicer bags the award for the best overall product for making nutrient-packed juice.
Pros
Auto shut-off feature prevents overloading
Available in seven colors
Small feeder chute for safety
Efficient even at low noise levels
Cons
Cleaning brush and parts aren't dishwasher safe
Not ideal for hard produce
List Price: $149.99
Producing less than 60 decibels of noise, the AMZCHEF Slow Cold Press Juicer is a quiet yet powerful appliance ideal for anyone who wants to enjoy fresh, healthy juice at home or on the go. This juicer is designed with two speed modes: 50-60 RPM for soft produce and 100-110 RPM for hard produce. Its slow masticating design delivers a high juice yield while preserving nutrients and reducing oxidation. Its user-friendly LED display panel makes it easy to select the optimal speed for your ingredients.
This appliance is made with high-quality food-grade material, and all its parts are dishwasher safe, making washing its parts after use a hassle-free experience. Cleaning is made simpler thanks to its one-button assembly design and the included cleaning brush. You can also enjoy fresh juice on the go as this product comes with a 500ml travel bottle. This model comes in five colors as well, so you can match it to your kitchen's decor. The versatility, very quiet operation, anti-oxidation technology, and accessories of this cold press juicer make it an excellent option for any household.
Pros
Two speeds and a reverse option
Low-speed extraction with no foam
Travel juice bottle for convenience
Very quiet operation to prevent disturbances
Cons
Small cone filter is difficult to clean
Produce must be pre-cut into small pieces
List Price: $95.67
Looking for a juicer that won't take up too much counter space and is easy to store? The DASH Compact Cold Press Juicer is the ideal product for anyone looking to make fresh, homemade juice but doesn't have a large kitchen. Unlike other models, it features a compact, vertical design and doesn't require a large base to deliver a high juice yield. The powerful 130-watt motor slowly extracts the maximum nutrients, vitamins, and flavor from a variety of fruits, vegetables, leafy greens, nuts, and wheatgrass while separating the pulp for an ideal texture. Plus, the included frozen attachment allows you to make delicious sorbets and frozen treats to enjoy during hot weather. This pick also comes with a pulp measuring cup, cleaning brush, and recipe guide, making it easy to get started right away.
Another advantage of its slow masticating design is that the motor operates fairly quietly. The LED display panel allows you to select between its two speed modes (50-60 RPM for soft fruits and 100-110 RPM for hard fruits), providing added convenience and ease of use. With its 1-inch chute, prepping for juicing is fairly quick but may require some chopping to prep ingredients. This model has a 35-inch cord so it's easy to use with almost any outlet. With all components made from premium materials for longevity and durability and a two-year warranty, you can trust that this cold press juicer serve you well for years to come.
Pros
Ideal for small kitchens and RVs
Minimal pulp and waste produced
Easy to assemble and disassemble
Suitable for making frozen desserts and cocktails
Cons
Limited juicing capacity due to small size
Components are hand-wash only
List Price: $369.95
For a super powerful option that can not only handle soft and hard produce, but all sorts of ingredients, consider the Omega Cold Press Juicer. Its powerful yet quiet gear-reduction 200-watt motor and advanced triple-stage masticating technology make it the equivalent of having a two-horsepower motor in your kitchen. And it's not just for juicing! With the ability to make nut butter, pasta, coffee, spices, baby food, frozen desserts, and dairy-free milk alternatives, this juicer is a multi-functional kitchen appliance.
The slow 80 RPM operation helps minimize heat buildup and maximize the extraction of healthy enzymes, while the automatic pulp ejection system ensures that your juicing process is continuous and uninterrupted. The extra-large feed tray and built-in handle make it easy to use, and the adjustable end cap pressure settings allow you to get the maximum juice output with minimal effort. Whether you're a seasoned juicer or just starting, this machine can help make your life easier and healthier.
Pros
Ideal for a range of cooking tasks
Adjustable end cap for better extraction
High torque motor for efficient juicing
Reverse button to prevent clogging
Cons
Not as effective on softer fruits/veggies
Fine mesh strainer clogs easily
List Price: $119.99
Want to invest in a juicer that's well-constructed and covered by a good warranty? The Aobosi Slow Masticating Juicer is a fantastic option to prepare delicious, nutrient-rich juice for years to come. This powerful and efficient machine is designed to extract juice from a wide variety of soft and hard fruits and vegetables, preserving natural taste and nutrients while extracting up to 20% more. And, with its 80-RPM auger speed, you don't have to worry about heat buildup or oxidation in your juice. All of its parts are made with food-grade anti-oxidation materials, so they're durable, long-lasting, and even dishwasher-safe. This product also comes with a three-year warranty in case anything goes wrong down the line.
This slow juicer is also incredibly safe and easy to use. It features an intelligent protection chip and operates quietly at just under 60 decibels, so you won't have to worry about disturbing your household. The small-mouth design helps prevent injuries during use, while the safety lock design allows for easy assembly and disassembly in minutes. Plus, this product comes with a cleaning brush for deeper cleaning of its components. With its durable construction, quiet operation, high juice yield, and safety features, this cold press juicer is perfect for anyone looking to make an affordable long-term investment to enjoy healthy, homemade juice.
Pros
Durable, dishwasher-safe materials
Reliable construction and a three-year warranty
Intelligent protection chip ensures safe operation
Highly effective at juicing leafy greens
Cons
Ingredients should be cut into small pieces
Gray model may not be as durable
Buying Guide: Cold Press Juicer
Making the right choice when it comes to cold press juicers can be overwhelming with so many options available on the market. But don't worry! This detailed buying guide will make it easy for you to choose the ideal model for your needs. It covers all the information you need to know about the features and specifications of cold press juicers so you can thoroughly assess your options and ensure that you get the best deal for your money.
Capacity
While shopping for a cold press juicer, it's important to consider your juicing needs and lifestyle. With a range of sizes and capacities available, you should be able to find a model that suits the size of your household and available kitchen space. Whether you're looking for a machine that can prepare large batches of juice for the whole family or you prefer single-serving options to go with your breakfast or lunch, there's a cold press juicer out there for you.
Juice yield
When it comes to juicing, it's all about getting the most out of your fruits and veggies. And that's exactly what a cold press juicer is designed to do — extract the maximum juice — but some appliances are better at it than others. If you want to maximize your returns, look for cold press juicers that are rated for higher yields. These models will give you more juice from the same amount of produce, so you can enjoy more nutritious and delicious juice without having to buy as many ingredients.
Power
Cold press juicers come in a range of wattages, from under 200 watts to over 500 watts. To determine your ideal power requirements, consider the performance you're looking for. It's important to note that higher wattage generally means faster processing and higher yields, so if speed and efficiency are important to you, consider going for a higher wattage model. Lower-wattage appliances, on the other hand, are typically more energy efficient and affordable.
Ease of assembly and use
No one wants to spend hours struggling with their juicer when they could be sipping on fresh, delicious juice. So, choose a model that makes the process simple and stress-free for a more enjoyable juicing experience. Look for cold press juicers that have a seamless assembly process with parts that fit snugly together. You'll also want to ensure its controls are simple to understand and use. This ease of use should extend to attaching and detaching parts for cleaning or replacement as well.
Noise level
If you're someone who values peace and quiet in your kitchen or lives with light sleepers, then noise level is an important factor to consider when buying a cold press juicer. Some models can generate quite a bit of noise during operation, so it's worth taking a closer look at the product specifications to see if it meets your requirements. Opt for a cold press juicer that promises a quieter operation of 60 decibels or less, with additional features such as sound-absorbing materials or built-in shock absorbers.
Variety of attachments and accessories
When searching for a cold press juicer, consider options with various attachments and accessories. These can include additional blades, strainers, and other components to make nut milk, nut butter, smoothies, and other specialty juices. Upgrade from a basic juicer to one that offers versatility and the ability to unleash your inner chef.
Cleaning time
Quick and easy cleaning helps save time when you're preparing to use and store your cold press juicer. Some products are designed with dishwasher-safe parts for hassle-free cleaning, while others may require manual cleaning which can take additional time based on the complexity of the machine's components and disassembly.
Warranty
As with any major purchase, it's important to check what kind of warranty comes with your cold press juicer in case something goes wrong down the line. Check the fine print on different models to determine what kind of coverage is offered in terms of parts and repairs should something malfunction or break after purchase.
Construction quality
Choosing a high-quality cold press juicer certainly goes a long way. Look for models made with durable stainless steel and BPA-free plastic, and ensure the seals are made from strong silicone or similar materials. By investing in a well-constructed cold press juicer, you'll be able to enjoy nutrient-packed juice with less hassle and a longer lifespan.
Color and design
While aesthetics may be a minor factor in the grand scheme of things, it's still important to have a juicer that looks good in your kitchen. Opt for a cold press juicer that fits both your needs and your kitchen decor by also considering color and design. A variety of styles are available for all types of cold press machines, so pick one that complements your kitchen's look.
People Also Ask
How does a cold press juicer work?
A cold press juicer works by grinding fruits and vegetables with a slow-rotating auger. The pressure generated by the auger helps extract the juice from produce without generating heat that can damage the nutrients. The juice is then filtered through a mesh strainer to separate it from the pulp, leaving you with smooth, healthy juice.
Is a cold press juicer better than a regular juicer?
A cold press juicer is considered better than a regular juicer because it generates less heat and oxidation during the juicing process. This results in higher-quality juice that is richer in nutrients, enzymes, and flavor compared to regular centrifugal juicers. Cold press juicers are also more efficient at juicing leafy greens, producing more juice and less waste.
What fruits and vegetables can be juiced in a cold press juicer?
A cold press juicer can juice a wide range of fruits and vegetables including carrots, apples, beets, ginger, kale, spinach, celery, and many more. Some cold press juicers are also capable of juicing soft fruits like berries, and even nuts and seeds. It's important to note, however, that some produce with low water content, like bananas or avocados, may not be suitable for cold press juicers as they could clog the machine.
Are cold press juicers easy to clean?
Cold press juicers can be easy to clean, but the ease of cleaning depends on the specific product and its design. Many models come with detachable parts that can be easily washed by hand or in a dishwasher. Some appliances also have self-cleaning functions that can help simplify the cleaning process. It's important to clean the machine immediately after use to prevent the buildup of dried pulp, which can be difficult to remove and affect the performance of the juicer over time.
How long does a cold press juicer take to make juice?
The time it takes to make juice in a cold press juicer depends on the size of the batch and the type of fruit, vegetable, or nut being juiced. On average, it takes between five to 10 minutes to make a glass of juice using a cold press juicer. This time can be longer for larger batches or when juicing harder produce like carrots or beet. The slower speed of a cold press juicer also contributes to the longer time it takes to make juice, but it ensures that the juice is of higher quality and nutrient content compared to that produced by regular juicers.
What special features offered do the best cold press juicers have?
The best cold press juicers come with a range of special features, including adjustable pressure control, reverse function, and quiet operation. Some models also come with multiple filters for different types of produce, such as a coarse filter for juicing fibrous vegetables and a fine filter for juicing softer fruits. Some high-end models also feature automatic pulp ejection, automatic shut-off, and touch controls for ease of use. These special features can help make juicing faster, easier, and more efficient, while also ensuring the highest quality results.
Are there any health benefits to using a cold press juicer?
Yes, there are several health benefits to using a cold press juicer. Since cold press juicers preserve more nutrients, vitamins, and enzymes in the juice they produce, it's richer in fiber and antioxidants, which can help support a healthy immune system and reduce the risk of chronic diseases. Regular consumption of fresh juice can also help support weight loss, improve digestion and promote healthy skin, hair, and overall well-being.
How much noise does a cold press juicer make while running?
On average, a cold press juicer operates at around 60 to 70 decibels, which is similar to the noise produced by a standard conversation. The noise produced by a cold press juicer can vary depending on the specific model and its design. Some cold press juicers operate at a lower decibel level, making them ideal for early morning juicing or for those who don't want to disturb others in the household. High-end models may come with quiet operation technology, making them virtually silent while in use.
Does a cold press juicer work on nuts and seeds?
Yes, some cold press juicers are capable of juicing nuts and seeds but this depends on the specific model and its design. Some cold press juicers come with a nut milk strainer or a nut butter attachment that can help process nuts. It's recommended to check the manufacturer's specifications before purchasing a cold press juicer to ensure it can accommodate your juicing needs.
Why Trust Us
Our commitment to the consumer begins with product selection and ends with the last word we write in each article. Each cold press juicer is carefully vetted quantitatively through star ratings and a number of reviews qualitatively through careful examination of reviews and the features each one has to offer. Leveraging our team of bargain hunters, we're also always sure to keep your budget in mind while we find the best cold press juicers on the market. Our team of experts is dedicated to accurately depicting the pros and cons of each cold press juicer, translating technical product specifications into information you can understand. Our goal is to ensure you get the most out of your investment…or in this case the best juice that money can buy.