The Best Compression Socks for Men for Your Money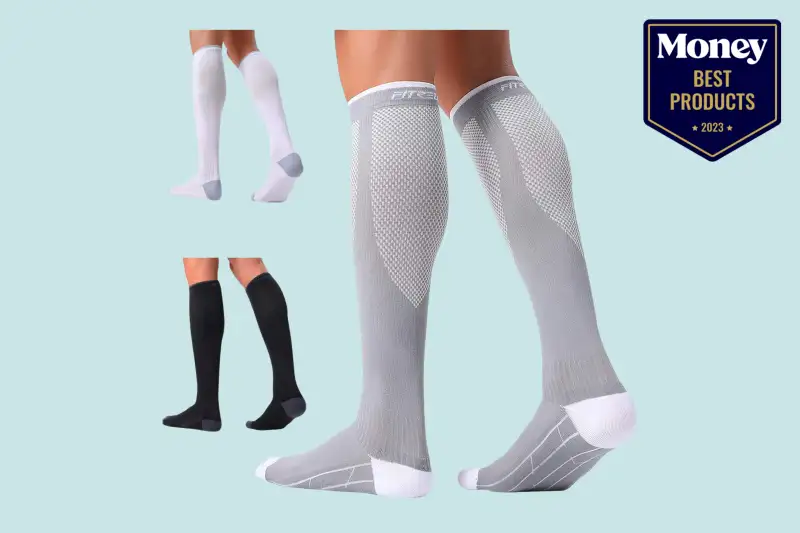 Despite common practice, compression socks aren't exclusive to athletes. These specially designed socks offer exceptional comfort and provide a performance-enhancing tightness that significantly improves circulation in your legs and feet. By increasing blood flow, these socks effectively reduce muscle soreness and fatigue, allowing you to stay on your feet longer and recover faster.
In this buying guide, we'll explore and evaluate the finest compression socks for men in 2023. We'll take a close look at our hand-picked selections and break down each product's pros and cons to help you find the right pair. We'll also provide helpful information on choosing the ideal men's compression socks for your needs and budget. By the end of this article, you'll be able to make an informed purchase. So, let's dive in and get you on your way to enjoying improved comfort and circulation.
Best Overall: Sooverki Graduated Copper Compression Socks for Men
Most Stretchy: CHARMKING Compression Socks
Most Stylish: Bluemaple Copper Compression Socks
Best Value: Hi Clasmix Compression Socks
Most Comfortable: FITRELL Compression Socks
Comparing the Leading Compression Socks for Men of 2023
List Price: $20.16 - $20.99
Featuring eight premium pairs for a great price, the Sooverki Graduated Copper Compression Socks for Men claim the top spot on our list. These socks combine high-quality materials with an innovative design to provide superior support and comfort all day. Crafted with unique copper fibers, they provide 15-20 mmHg of compression, improving circulation by mildly squeezing and warming your feet and calves to enhance blood flow through the legs. This helps speed muscle recovery by relieving fatigue, soreness, and cramping so you can get back on your feet faster after long days or challenging workouts. These socks can also benefit people with varicose veins and increased fluid retention as the graduated compression offers sufficient support to relieve pain and discomfort.
With their moisture-wicking, breathable fabric that eliminates odors, these socks provide excellent comfort for extended wear. Each bundle comes in a range of color combinations from all black to neutrals to neon pink and green, providing you with various styles to choose from based on your preferences. Whether worn while running, cycling, or simply aiming to alleviate leg fatigue throughout the day, this pick is ideal for anyone seeking improved circulation, enhanced performance, and expedited recovery. The combination of their exceptional copper fiber design, large quantity, and wide variety of colors make these men's compression socks the best overall product available on the market.
Pros
Unique copper fibers improve blood circulation
Graduated compression efficiently relieves pain and fatigue
Breathable fabric for comfort and odor reduction
Cons
May feel too warm in humid climates
May take time to adjust to compression
List Price: $20.99 - $21.99
Easy to put on and take off, the CHARMKING Compression Socks are an exceptionally comfortable choice for individuals who spend extended periods on their feet. Made from 85% nylon and 15% spandex, these socks combine flexibility and durability for a soft and snug fit. The 360-degree stretch design ensures maximum comfort, accommodating individuals with long legs or wide calves. This option also offers exceptional moisture control to keep your feet dry, fresh, and free of odors. This breathability regulates temperature, even during prolonged wear. The no-slip cuff keeps the socks securely in place, eliminating the need to readjust them throughout the day.
Featuring a high-quality design, these men's compression socks provide 15-20 mmHg compression. This level of graduated compression enhances speed, reflexes, and energy efficiency by improving blood circulation and reducing muscle fatigue. The socks also use strategically placed targeted compression zones to better support your feet and legs. This product comes with eight pairs of compression socks and comes in a wide array of color combinations and sizes to choose from. Whether you're an athlete, a hardworking healthcare professional, or simply want to ensure better circulation and mobility while traveling, these stretchy and supportive compression socks for men are a great, well-fitting option.
Pros
Provides graduated compression for improved circulation
Improves athletic performance and endurance
Stretches and breathes for maximum comfort
Cons
May lack warmth in colder climates
May be too thick for some footwear
List Price: $20.55
The Bluemaple Copper Compression Socks are the ideal choice for anyone looking to improve their circulation and reduce fatigue while expressing their unique style. Sold in a pack of six, these socks are available in 40 assorted colors and styles, ranging from prints catered to healthcare professionals to soothing shades of green to simple neutrals. While they're the most stylish option, these men's compression socks don't compromise comfort or quality. They provide a comfortable fit, with a wide top band that adds extra flexibility and prevents rolling to ensure they stay in place. Made from nylon and polyester, their fabric is breathable and moisture-wicking, so your feet remain temperature regulated regardless of the environment.
This pick provides graduated compression of 10-30 mmHg to target areas that need more or less compression, making it an effective solution for individuals experiencing issues with poor circulation and muscle fatigue. With the power of copper-embedded fibers, they help alleviate discomfort, reduce soreness, and enhance the overall health of your legs and feet. This beneficial compression can also reduce the likelihood of injuries, ensuring a well-rounded solution for those seeking to limit pain and discomfort. Whether you're an athlete pushing your body to the limit or a professional looking for everyday support during long days on your feet, these men's compression socks are an eye-catching and effective choice to elevate your comfort and enhance your performance while complementing your personal style.
Pros
Comes in 40 patterns and colors
Compresses feet, ankles, and calves at different pressures
Features copper fibers for added relief
Cons
Measurements are essential for choosing the right size
Toe seam may be uncomfortable for some users
List Price: $17.97
With six pairs available at a budget-friendly price, the Hi Clasmix Compression Socks provide reliable durability and exceptional comfort, offering great value for your money. These socks offer reliable support and are simple to put on and take off thanks to the included instructions. Plus, they're soft, durable, and easy to clean, ensuring long-term performance even with regular wear and tear. With a high graduated compression of 20-30 mmHg, these socks enhance oxygen delivery to promote muscle and joint recovery. Complemented by copper-infused material, their innovative design improves blood circulation, reducing fatigue and increasing endurance for prolonged periods of activity or standing. This makes them ideal for alleviating pain and discomfort caused by varicose veins, cramping, and muscle soreness.
Thanks to a moisture-wicking and mesh-ventilated construction, these breathable socks maintain warmth in cold weather and provide cooling relief in hotter temperatures, ensuring optimal comfort for your feet. The copper helps keep them odor-free as well. The compressed arch design offers enhanced stability and support. As an added bonus, this product comes with a free e-book and guide on frequently asked questions. Between their effective and comfortable design and the additional instructions and resources, these men's compression socks deliver quality performance at an affordable price.
Pros
Easy to put on for better accessibility
Secure fit for exercise and travel
Suitable for individuals with large calves
Cons
May not feel warm enough in cold weather
May need to contact customer service for e-book
List Price: $15.99 - $17.99
The FITRELL Compression Socks offer superior quality and comfort thanks to their unique fabric blend and thoughtful design. Made from 72% polyamide, 18% polyester, and 10% spandex, these materials allow the socks to stretch comfortably while providing a full range of motion and support. It also has a moisture-wicking effect, ensuring a dry and comfortable fit all day. For additional comfort, these socks feature a mesh design around the calf area, which allows air to flow freely and prevent overheating. The sewn seamless toe minimizes friction between your toes and shoes, while the thick and soft cushions in the soles efficiently absorb shocks and help prevent overuse injuries.
These men's compression socks feature 20-30 mmHg graduated compression to enhance circulation, making them helpful for preventing blood clots, relieving fatigue, and reducing swelling. They use five zones of graduated compression to effectively boost venous flow, protect the plantar fascia and support the Achilles tendon. This product has an extensive size range for calf sizes from 9 to 16 inches. It includes three pairs available in a variety of colors, so you can choose a set based on your style. Plus, this pick comes with a lifetime service guarantee so that you can purchase with confidence. With their comfortable fit and breathable design, these compression socks for men are ideal for any lifestyle.
Pros
Excellent temperature regulation enables year-round wear
Five zones of graduated compression
Seamless and cushioned design for all-day comfort
Cons
Must be washed gently to maintain quality
Requires proper sizing for optimal effectiveness
Buying Guide: Men's Compression Socks
Compression socks offer additional support to the feet and calves, making them particularly beneficial for men who spend long hours on their feet. By wearing these socks, individuals can improve their circulation and alleviate discomfort associated with prolonged standing or intensive activity. Considering their important benefits and the wide variety of compression socks available on the market, selecting the right pair can be challenging.
That's why we put together this comprehensive buying guide. We thoroughly assessed several factors, such as fabric, fit, compression level, and more. With this information, you'll be better equipped to select the ideal men's compression socks for your lifestyle and requirements. Whether you're shopping for a pair for running, recovery, or daily wear, we've got you covered.
Fit
Compression socks fit snugly around your legs and feet to provide maximum support, so it's essential to find a sock that fits your calves and feet as perfectly as possible. The sock's fit should be secure but not too tight, as this impacts how much compression you get from the sock and how well it stays on throughout the day. Before choosing your sock size, it's crucial to measure your feet and ankles. Keep in mind that different brands may have variations in sizing, so obtaining accurate measurements and comparing them to each manufacturer's sizing chart is essential. Consider the varying lengths of socks, which can range from just below the knee to mid-calf or even shorter.
Fabric
When choosing a pair of compression socks for men, the fabric is one of the most important factors. Look for a durable material that is soft and comfortable while also offering enough support. Some commonly used materials in compression socks include nylon, polyester, lycra, and spandex. These materials are chosen for their stretchability, durability, and breathability, making them ideal for providing sufficient compression and a comfortable fit while withstanding wear and tear.
Compression level
In addition to fit and fabric, it's also essential to consider the compression level of the socks. Generally, compression ranging from 15-30 mmHg will provide the most effective support without causing too much pressure on your legs and feet. Some socks even feature graduated compression technology, with higher levels of compression at the ankle and lower levels at the calf, to provide optimal support for each area.
Comfort
Given the snugness of compression socks and their versatility, comfort is paramount. Look for socks with padding in key areas, such as around the ankle and arch of the foot, to ensure maximum comfort. You may also want to consider options with extra cushioning in areas such as around the heel and toe area to help reduce the impact on your feet during workouts or while running.
Design
When selecting compression socks, it's worth considering their design. While functionality is typically the focus, there are also numerous stylish options to choose from. This allows you to find something appropriate for various occasions, whether for work or activewear. Look for colors, patterns, and designs that complement your wardrobe.
Durability
When assessing durability, it's crucial to examine the sock's construction and materials before buying. Opt for a sock with reinforced stitching and high-quality materials like nylon or spandex to ensure longevity through multiple wears and washes.
Breathability
Finding compression socks with excellent airflow is crucial to prevent overheating. Look for materials like nylon or spandex that effectively wick away moisture while promoting air circulation. This not only keeps your feet cool and dry but also ensures optimal comfort and freshness throughout the day. Some socks are designed with mesh ventilation or have other special features for improving breathability.
Reinforced toes and heels
Reinforced toes and heels provide added durability, shielding against blisters and everyday wear and tear resulting from extended use. Reinforced seams also enhance the sock's structure, offering increased support and strength during intensive activities or when standing or sitting on hard surfaces.
Cost
Finally, it's important to consider your budget to get the most value out of your purchase. Men's compression socks are available at various prices, so it's fairly easy to find an affordable option without sacrificing quality or features. Note that some products may vary slightly in price based on which color or size you select. The number of pairs included with each set may also impact the price and overall value.
People Also Ask
What's the difference between compression socks and regular socks?
Compression socks have specific features such as targeted pressure zones that help reduce fatigue throughout the legs and feet by encouraging healthy circulation. Regular everyday cotton and wool or synthetic fiber blends don't offer these benefits as they are designed primarily to keep your feet warm and absorb sweat from regular activities.
What benefits do compression socks provide men?
Compression socks have a range of benefits, from improving comfort to health. They can help reduce aches and pains from standing and exercising, improve circulation, aid in the recovery of muscle soreness and fatigue, decrease swelling of the lower extremities, and help prevent blood clots.
What types of materials are best for compression socks?
Synthetic materials such as nylon or spandex are ideal materials for compression socks. These materials provide a perfect balance of flexibility, breathability, and durability while effectively wicking away moisture. Some brands may use merino wool or bamboo rayon which are natural materials that some users may find more comfortable to wear than synthetics.
Are there any negative side effects to using compression socks?
Commonly reported side effects of wearing compression socks include discomfort or itching and potential blood flow restriction if the socks are too tight. Ensuring the proper fit and comfort of the socks is important to avoid possible side effects.
Are there different levels of compression available for men's compression socks?
Yes, men's compression socks typically come in three different levels of compression: mild (10-15 mmHg), moderate (15-20 mmHg), and firm (20-30 mmHg). Depending on the activity you will be engaging in or the ideal level of support for your medical condition or health needs, you may benefit more from one level over another. A doctor or health professional can advise the level most appropriate for you.
Why Trust Us
Our commitment to the consumer begins with a carefully curated product selection process, ensuring we provide high-quality and reliable options. We meticulously vet each pair of compression socks for men, analyzing quantitative aspects, such as star ratings and review count, and qualitative factors, including review content and product features. Our dedicated team of bargain hunters prioritizes your budget by meticulously scouring the market and identifying the best men's compression socks available without compromising quality or performance. Our panel of experts focuses on presenting the pros and cons of each brand, converting technical specs into understandable insights. Our mission is to ensure you get the best bang for your buck…or, in this case, the best compression for your buck.