The Best Compression Socks for Women for Your Money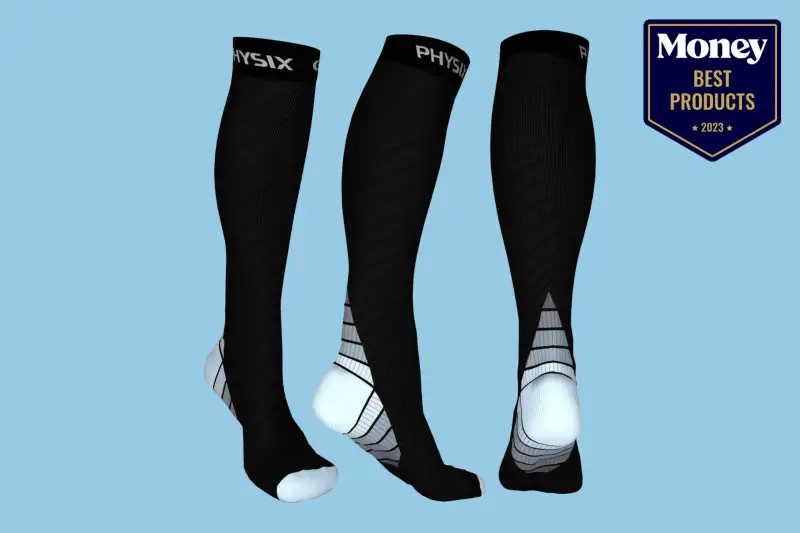 Are you looking for a way to make your legs feel more comfortable and less achy? Compression socks are a fantastic solution. These specially designed socks reduce swelling in the feet and ankles, improve blood circulation and reduce fatigue in the feet and ankles. They can also reduce the risk of and alleviate symptoms of varicose veins and deep vein thrombosis.
If these socks sound like something you could benefit from, we're here to help. In this article, we'll take a close look at the finest compression socks for women of 2023 to help you discover the ideal pair for your specific needs. We'll also share a detailed buying guide to help you evaluate the features that matter most to you and make an informed purchase. Whether you need something for athletic pursuits or everyday use, there's a pair for you.
Best Overall: Physix Gear Compression Socks
Best Cushioning: SB SOX Compression Socks
Best Flexibility: CHARMKING Compression Socks
Most Affordable: FuelMeFoot Copper Compression Socks
Best Value: Hi Clasmix Medical Compression Socks
Reviewing the Top Compression Socks for Women of 2023 in Detail
List Price: $19.19 - $22.64
The Physix Gear Compression Socks take our Best Overall category due to their exceptional blend of quality comfort, effective compression, and gorgeous style. Featuring a stretchy, breathable fabric blend of 70% nylon and 30% spandex, these socks will remain comfortable for all-day wear regardless of the temperature. They also have stay-put cuffs to keep them securely in place without causing excessive tightness. Crafted with double-stitched seams, these socks are constructed for long-term use. They deliver a graduated compression range of 20 to 30 mmHg, promoting improved circulation and muscle recovery throughout the heels, feet, and calves.
Suitable for any activity, these women's compression socks provide exceptional shock absorption to minimize fatigue and swelling of the lower legs. With moisture-wicking properties, they dry quickly to keep your feet sweat-free and comfortable, even during extended wear or intense workouts. This product comes in a single pair but is available in 13 colors and patterns, including eye-catching gradients and pretty floral designs, so you can choose one based on your personal style. All in all, these compression socks for women have earned the top spot on our list for their exceptional support, comfortable fit, and stylish designs.
Pros
Exceptional shock absorption to reduce fatigue
Moisture-wicking fabric keeps feet dry and comfortable
Stay-put cuffs eliminate the need for readjustments
Various designs to suit any style or activity
Cons
May take time to adjust to compression
Must be hand-washed
List Price: $14.95 - $19.95
If you're looking for a pair of compression socks for women that prioritize comfort, this option from SB SOX features plenty of cushioning to keep your feet feeling great all day. These socks feature soft yet durable cushioning that offers an extra layer of protection for all-day comfort, making them the ideal choice for long-lasting wear. The reinforced heel and toe padding adds extra support for walking or running, preventing blisters and reducing plantar fasciitis. These compression socks have a graduated compression level of 20-30 mmHg, improving blood circulation and alleviating the discomfort of standing or sitting for extended periods.
Made with moisture-wicking fabric, this pick offers excellent breathability, effectively preventing discomfort from sweat and skin irritation. Their lightweight, slim design ensures a snug fit without adding bulk, making them suitable for any type of shoe. With 24 vibrant colors and unique patterns to choose from, you'll have plenty of options to express your unique style. With their premium construction and high compression level, these women's compression socks will become an indispensable part of your wardrobe, offering reliable comfort and support during busy, active days.
Pros
Heel-and-toe padding provides extra comfort and durability
Targeted compression from ankle up
Slim design doesn't add extra bulk
No-slip cuff for a secure fit
Cons
May feel too tight for large calves
May need several days to adjust
List Price: $15.99
The CHARMKING Compression Socks offer the ideal balance of flexibility and support. Featuring a gentle compression design and 360-degree stretch, these socks provide a form-fitting and supportive feel without being overly constrictive. Made from a high-quality blend of 85% nylon and 15% spandex, they offer enhanced flexibility and freedom of movement so they're suitable for various activities, especially exercise. This stretchy fabric makes these socks easy to put on and take off. The material is also breathable for optimal temperature regulation, keeping your feet cool and dry even during intense activities.
With a compression pressure of 15-20 mmHg, these socks effectively enhance circulation and oxygen flow, promoting better performance and preventing fatigue. This improved blood flow aids in quick muscle recovery, minimizing the risk of post-workout soreness and injuries. With 30 color combinations available, you can easily find options to match your personal style. Sold in packs of three, these compression socks offer great value for anyone looking to improve circulation and reduce muscle fatigue. Whether you're working on your feet all day, exercising, or running errands, these socks provide the ideal combination of compression and comfort to keep you going.
Pros
Form-fitting and flexible comfort for all-day wear
High-quality fabric blend is durable and breathable
360-degree stretch for freedom of movement
Extensive range of colors and patterns
Cons
May loosen periodically and require readjustment
Dries slower than regular socks
List Price: $14.99 - $15.82
The FuelMeFoot Copper Compression Socks are an affordable option for individuals seeking relief from swelling and discomfort while shopping on a budget. With three pairs for about $15, this set is available for a great price without compromising quality or comfort. These socks provide gentle compression of 15-20 mmHg, offering warmth and stimulation to effectively alleviate symptoms associated with fluid retention and varicose veins. This support relieves pain and enhances circulation to help you stay energized and comfortable on your feet throughout the day. This product also features a reinforced heel and toe to prevent blisters and provide comfortable cushioning.
Designed for those who spend long hours sitting or standing, such as professionals in the workplace or frequent travelers, these compression socks balance practicality with style. Each set is conveniently packaged and comes in 31 color options, allowing you to select an assortment that complements your taste and lifestyle. These socks are also easy to care for as they're machine-washable and air-dry quickly. Due to their wide selection of fashionable designs and budget-friendly prices, these women's compression socks are a great pick.
Pros
Each set comes with three pairs
Durable and stretchy nylon construction
Machine-washable for convenient cleaning
Comfortable and breathable for extended wear
Cons
Unsuitable for individuals with copper allergies
Some users had difficulty putting them on
List Price: $19.75 -
If you want to invest in a large set, the Hi Clasmix Medical Compression Socks offer the best value as this product comes with several top-notch, medical-grade compression socks. Depending on which of the 23 style combinations you choose, you'll receive three, five, or six pairs. Crafted from a fabric blend of 85% nylon, 10% polyester, and 5% copper fiber, these socks relieve discomfort and pain while still stretchy enough to maintain mobility. They feature reinforced and cushioned heel and toe support for optimal comfort. With 20-30 mmHg of graduated compression, they reduce fatigue and swelling by providing a squeezing action and stimulating oxygen delivery to the muscles. They can also aid joint and muscle recovery and help prevent blood clots after surgery.
Besides being stretchy, the fabric is breathable and moisture-wicking, allowing you to maintain an optimal temperature and effectively dissipate sweat from the skin. Whether you're running or working on your feet all day, this ensures you stay cool and comfortable while the form-fitting design keeps your joints stable. Between their quality comfort, high compression, and various quantities for an affordable price, these women's compression socks will give you the most value for your money.
Pros
Available in sets of three, five, and six
Wide array of vibrant colors
Breathable material for all-day wear
Copper-infused fabric is anti-microbial
Cons
May require readjusting throughout the day
Must use size chart for best fit
Buying Guide: Women's Compression Socks
Compression socks are an excellent accessory for every woman, especially if you spend a lot of time on your feet. They boost circulation, lower the chances of varicose veins developing, soothe tired muscles, and reduce swelling in your feet and ankles. With benefits like these, it's essential to find quality women's compression socks that suit your needs and lifestyle.
That's where this detailed buyer's guide comes in. Below, we'll outline the key features of compression socks available in today's market to help you find the ideal pair. From material to breathability to style, we'll cover the information you need to make a successful purchase.
Comfort
When selecting compression socks, comfort should be at the top of your priorities. Look for socks with soft and flexible materials such as nylon, polyester, or spandex that won't pinch your toes or heels when worn. Ensure the socks fit snugly but not too tight so you don't feel uncomfortable during your activities. You also want to look for features such as cushioning around the ankle area or ribbed cuffs which will help keep the socks in place while providing extra comfort and shock absorption. Avoid socks with rough edges or seams that could cause irritation.
Material
The materials used to make compression socks should be high quality to provide optimal support and comfort. In addition to being comfortable, materials such as nylon, polyester, and spandex are more durable and tend to last longer than cheaper materials. They typically offer better stretch and breathability than wool or cotton. If you want a thicker or natural fabric, look for socks with merino wool or bamboo fibers. Additionally, keep an eye out for reinforced toe and heel sections, which provide extra durability and reduce the need for frequent replacements.
Breathability
Proper breathability is key to preventing excessive sweating and overheating to keep your feet cool and comfortable regardless of the temperature of your environment. Seek out moisture-wicking fabric that ensures dryness and comfort for your feet.
Pressure level
The pressure level of compression socks is another essential factor to consider. Higher pressure levels are better suited for more strenuous activities, while lower pressure levels are ideal for everyday use or light activities. The pressure exerted on your calves and legs by compression socks increases with higher mmHg ratings (typically ranging from 10 mmHg to 30 mmHg). If you need moderate relief, opt for a lower mmHg rating of 10-20 mmHg. If you require more compression, consider a higher rating of 20-30 mmHg.
Fit
Compression socks should provide a snug fit without being excessively tight or uncomfortable. The key principle to remember is that they should feel like a second skin. Avoid choosing a pair that's too tight as it can impede blood flow and cause skin irritation, but don't opt for one that's too loose as it won't offer much benefit to your joints or muscles. It's crucial to refer to sizing charts and measure your feet and legs before buying to ensure you find the perfect fit.
Style
Compression socks are available in various styles, including crew length or knee-high, and patterns like stripes, polka dots, or solid colors. Seek out a pair that aligns with your personal style while ensuring they provide the necessary support for your individual requirements.
Price
Consider the price as a significant aspect when selecting compression socks. Determine your budget before making a purchase. You don't have to spend a fortune if you can find a high-quality pair that fits your needs and falls within an affordable price range.
People Also Ask
What are the benefits of wearing women's compression socks?
Women's compression socks offer many health benefits, including improved circulation, faster muscle recovery, enhanced athletic performance, increased energy levels, and reduced discomfort from conditions like varicose veins or shin splints. They can also help reduce leg and foot swelling, alleviate plantar fasciitis and manage fluid retention.
What type of fabric is best for women's compression socks?
The best type of fabric for women's compression socks is a soft, breathable material specifically designed to be flexible and comfortable while providing targeted compression. It should also be moisture-wicking. Popular options include nylon, polyester, and spandex.
How tight should women's compression socks feel?
Proper fit is vital when it comes to compression socks. They should provide a snug yet comfortable feel on your legs and feet. Avoid overly tight socks that may lead to discomfort and hamper blood circulation. Generally, the pressure should provide a gentle, embracing sensation around the lower leg, ankle, and foot region.
How often should I wear compression socks?
It's advised to wear compression socks whenever you anticipate being on your feet for an extended period, such as working long shifts or when engaging in intense physical activity like running or weight lifting. It's also recommended to wear them on long flights to reduce the chance of blood clots.
How do I wash and care for compression socks?
When washing compression socks, it's recommended that you hand wash them in cold water with a mild detergent and air dry them flat to extend their longevity. Avoid using fabric softeners as these can damage the fabric over time and reduce the effectiveness of the compression. Additionally, it's best to avoid drying them in direct sunlight as this can also cause damage to the material.
How long do compression socks usually last?
Compression socks can typically last anywhere from six months to one year, depending on how frequently you wear them and how well they are cared for. Properly caring for your compression socks includes washing them regularly and using a detergent formulated for delicates or athletic wear. Additionally, it's best to lay them flat when not in use to help preserve their shape and lifespan.
Are there fashion compression socks available for women?
In today's market, you'll find many stylish options that combine the benefits of medical-grade compression socks with fashionable prints and a wide array of vibrant colors. With these trendy choices, you can look great while enjoying the numerous advantages of compression socks.
Why Trust Us
Our commitment to the consumer begins with a carefully curated product selection process, ensuring we provide high-quality and reliable options. We meticulously vet each pair of women's compression socks, analyzing quantitative aspects, such as star ratings and review count, and qualitative factors, including review content and product features. Our dedicated team of bargain hunters prioritizes your budget by meticulously scouring the market and identifying the best compression socks for women available without compromising quality or performance. Our panel of experts focuses on presenting the pros and cons of each pair of women's compression socks and converting technical specs into understandable insights. Our mission is to ensure you get the best bang for your buck…or, in this case, the best compression for your buck.