The Best Cordless Hand Mixers for Your Money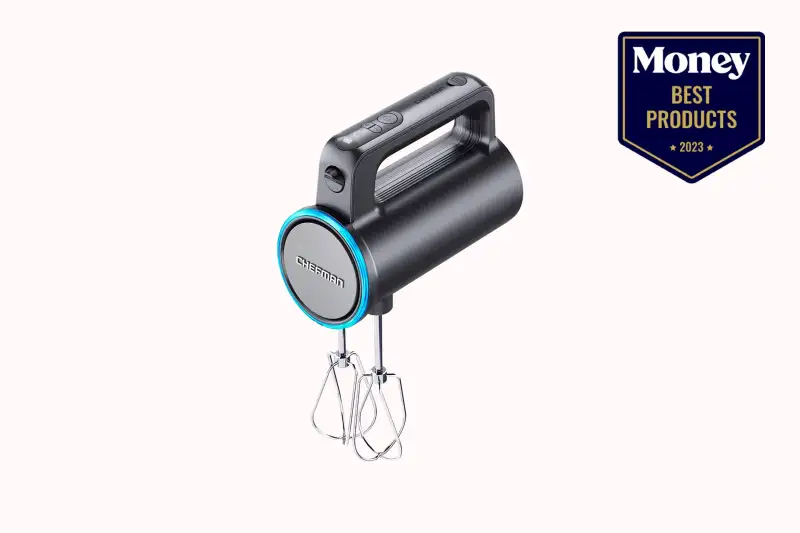 There's one thing we can all agree on: no matter how great your recipe is, it's important to have the right tools for the job at hand. For those of us who like to bake but don't have the space for a stand mixer, the good news is that there are plenty of great cordless hand mixers that can help make baking easier and more enjoyable. Designed to be much more convenient than an electric mixer, cordless hand mixers are a must for anyone who wants to bake on a whim — or a budget. To help you find one, we've lined up the best cordless hand mixers of 2023 below.
Best Overall: KitchenAid Cordless Hand Mixer
Best LED Display: Cuisinart Cordless Hand Mixer
Most Adjustable: Chefman Cordless Hand Mixer
Best Charging Options: VOVGUU Cordless Hand Mixer
Comparing the Best Cordless Hand Mixers of 2023
List Price: $84.99
Check on Amazon | Check on Walmart
Whether you're a professional baker or a passionate amateur, the KitchenAid Cordless Hand Mixer can make your baking routine much more efficient. It features seven speed settings so you can mix everything from cream cheese frosting to cookie dough without stopping to change gears, and its soft-start feature slowly increases the mixer speed to prevent unfortunate splatters and messes.
This cordless hand mixer comes with a battery light indicator, conveniently reminding you when it's time to recharge. It can tackle smaller tasks with a 10-minute quick charge, and because it's designed to stand on its own, this mixer is incredibly easy to store and won't take up too much counter space. All for under $100, its sleek design, intuitive settings and exceptional battery life are why this cordless hand mixer stands at the top of our list.
Pros
Seven speed settings for increased versatility
Battery indicator light and long battery life
Beaters are dishwasher-safe for easy cleaning
Cons
Only included attachments are beaters
Not very powerful
List Price: $79.95
Check on Amazon | Check on Walmart
If you're tired of dealing with tangled, unruly cables and appreciate convenient, user-friendly features, the Cuisinart Cordless Hand Mixer might be the solution for you. This pick features an LED display that you can use to adjust its beating speed, which is especially useful for making delicate mixtures like sugar-based frosting or whipped cream. It also charges fairly quickly, requiring just two hours for a full battery. This mixer boasts a 20-minute runtime so that you can tackle culinary challenges without having to worry about overheating, giving you the freedom to bake to your heart's content without being tied down by a cord.
Equipped with a powerful motor, this cordless hand mixer comes with two beaters that are great for mixing, beating and whipping ingredients together with maximum efficiency. Not only that, but its five variable speeds offer you complete control over how much air gets mixed into your batter or dough, ensuring you can create the perfect delicious baked goods. This model from Cuisinart also boasts a sleek appearance, so it'll look great in any kitchen.
Pros
Multiple speed settings for various ingredient textures
Bright LED display panel for convenient control
Two rechargeable lithium-ion batteries deliver long runtime
Cons
Must hand-wash the beaters
Can't use it while charging
List Price: $79.99
Check on Amazon | Check on Walmart
The Chefman Cordless Hand Mixer is a powerful and efficient kitchen tool that can help you tackle various tasks. With seven adjustable speeds and up to 25 minutes of cord-free blending power per charge, this electric handheld mixer is the perfect way to take your baking and cooking to the next level. It offers an automatic slow start, which helps to reduce batter splatters in the kitchen, keeping things cleaner and more organized.
This kitchen mixer is perfect for a range of baking needs, from simple whip-ups to thick cookie dough. It's powerful enough to handle anything you need it to do. The convenient color-changing LED light ring on this handheld mixer lets you know the charge level at a glance, so you never have to worry about running out of power while mixing something up. The time saved by not having to watch over it is a distinct advantage of this device.
Pros
Powerful, adjustable speeds for versatile use
LED light ring for monitoring battery level
Long runtime for continuous use
Cons
Doesn't support USB-C charging
May feel heavy after extended use
List Price: $64.99
Check on Amazon | Check on AliExpress
Besides being the most affordable option on our list, the VOVGUU Cordless Hand Mixer is an ideal solution for busy bakers looking to reduce the amount of time spent in the kitchen. The rechargeable 6000mAh battery ensures up to 60 minutes of running time on a full charge, which is impressive on its own as it ensures long-lasting use. The Type-C charging port ensures versatile compatibility with most charging cables.
The seven speeds with digital display offer plenty of options for stirring, mixing, and whipping favorite recipes. At each speed, the digital display provides clear information about the speed selected. This helps reduce the mess that can often come from starting off too fast and having ingredients splatter everywhere, keeping your kitchen tidier and reducing the time and energy you have to spend on cleanup after baking.
Pros
Very long runtime of 60 minutes
Digital display makes adjusting the speed simple
Affordably priced for its high-quality design
Cons
Not ideal for thicker batters
Charging port is somewhat inconveniently located
Buying Guide: Cordless Hand Mixer
Although cordless hand mixers don't have the same power as traditional stand mixers, they're super portable and come in handy for quick mixing and whipping tasks. If you're unfamiliar with these devices, they help to maximize your counter space and are easy to use while still offering you results comparable to a stand mixer.
Finding the right cordless hand mixer for your needs can quickly become a daunting task, though, as the market is flooded with tons of different options. To help you find a high-quality appliance that fits your budget and meets your needs, we've curated this detailed buying guide with everything you need to know while shopping.
Benefits of a cordless hand mixer
Budget-friendly
Compared to stand mixers (which can be rather expensive), cordless hand mixers are cost-effective kitchen gadgets. You can do almost anything with a cordless hand mixer, from whipping to mixing, without spending too much money.
Portable
A cordless hand mixer is much lighter than a stand mixer. Most home chefs find it easy to pull theirs from the cupboard and use it without straining their arms or wrists. You can even bring your cordless hand mixer with you to a friend's place and spend the day making tasty treats, as these devices are easy to pack up and take on the go.
Easy to store
Cordless hand mixers take up less space than traditional stand mixers, and you can easily stash them in your kitchen cabinet. If your kitchen doesn't have enough counter space to accommodate a stand mixer, a cordless hand mixer can be ideal.
Flexibility
While stand mixers often only work with the bowl(s) that come with them, cordless hand mixers are flexible enough to be used with almost any bowl or container. This means you won't have to transfer your ingredients from one bowl to another just to mix them up.
Simple to clean
Most cordless hand mixers feature dishwasher-safe attachments and accessories, so cleaning them is a breeze.
How to choose the right cordless hand mixer for you
Handle
You'll want to select a model with a handle that's comfortable to grip since you'll be holding the mixer while it works. The top hand mixers are ergonomically built to perfectly fit your hand, and a non-slip grip is particularly useful for offering you more control over the mixer. A silicone or hard rubber handle, for example, offers a good grip thanks to the anti-slip properties of each respective material. Make sure to also choose a device that doesn't have a bulky handle, as this can make it difficult to lift your mixer, especially for extended periods.
Weight
Along with the handle, you should consider the weight of your cordless hand mixer. Why? Because you won't want a bulky device that's difficult to pull out of the cupboard or hold while you're mixing. Be careful, though, because a mixer that's too light can be difficult to manage at high speeds. Two pounds is usually the standard weight for a mixer, although you'll want to take your own strength into consideration.
Controls
Some cordless hand mixers feature LED displays that allow you to easily manage and control their speed. You need to be careful while using a hand mixer with complicated settings, as you may unintentionally pick a high speed when you instead mean to select a lower one. If you don't set the right speed, your ingredients may not mix well or splatter, leaving you with a big mess.
Speed options
Cordless hand mixers are available with different speed settings to handle various baking tasks. You should try to find an option with at least three speeds to carry out routine tasks. You can also find some models with up to 10 speed levels, allowing you to mix things up according to your needs. A cordless hand mixer with more than three speed settings allows you to mix different ingredients more precisely without leaving any lumps.
You can easily mix dry ingredients without creating a mess by starting at a low speed, as a slow start helps prevent splatters. Additionally, most cordless hand mixers have a power output of about 150 watts for mixing softer ingredients, but if you go for a mixer with a power output of 200 watts, you can blend thicker, coarser ingredients in a snap.
Hand mixer attachments
If you're a professional baker or simply find yourself using a hand mixer often, it's smart to buy one that's compatible with multiple attachments. This will allow you to use your hand mixer for more than simply beating ingredients together.
Usually, a mixer comes with three attachments: a dough hook, a beater and a wiper. It's better to opt for stainless steel attachments, as these are sturdier and will hold up longer during the beating and mixing process. The only downside to using metal attachments is that they can scratch your mixing bowls or pots. To avoid this, opt for attachments that feature a protective silicone coating.
Pulse or boost
Pulse or boost functions give you even more control over your cordless hand mixer's speed. With a pulse mode, you can utilize brief speed bursts to mix ingredients thoroughly and without making a mess. This is handy for difficult-to-mix items, but you shouldn't let a singular boost last longer than 20 to 30 seconds, as it can cause the mixer to overheat.
Stability notch
When you're making a recipe with numerous steps, pulling sticky beaters out of the bowl can be a pain. Fortunately, you can avoid this by opting for a cordless hand mixer with a stability notch underneath its motor. This notch makes it possible to leave the mixer resting on the edge of the bowl without having to worry about it falling in.
Tips to increase the output of a cordless hand mixer
Try working in batches
If the thought of preparing dozens of cookies or treats is overwhelming, use your cordless hand mixer to make small batches of dough or batter.
Use scraping beaters for maximum efficiency
Scraping beaters help you scrape off the sides of the bowl, resulting in more thoroughly mixed batter. Such beaters have a specific coating to facilitate smooth scraping and help save time.
Don't use unnecessary force to remove the beaters from your mixer
It should be easy to remove accessories from your cordless hand mixer, so don't worry about struggling with them. Simply find and hit the eject button, and the attachment will quickly pop out.
People Also Ask
Is a cordless hand mixer capable of handling a thick dough recipe, like a chocolate chip cookie batter?
Some cordless hand mixers can easily handle thick cookie batter. When it's time to add the flour, you can start mixing with a whisk and then use a hand mixer once you've combined your ingredients. Some models may not be suitable for thick batters, though, so we recommend reading customer reviews to gain a better understanding of a mixer's versatility.
Which material should I opt for when purchasing hand mixer accessories?
Stainless steel attachments are rust-resistant and can deliver years of use. Some beaters are chrome-plated to add durability, but this coating can flake off after regular use. To avoid damage and extend the longevity of your attachments, always read the manual before putting any cordless hand mixer attachments in the dishwasher.
How should I clean my cordless hand mixer?
Detach and clean the beaters or accessories individually. You can easily wash dishwasher-safe attachments by placing them in the top rack of the dishwasher. If the attachments aren't dishwasher-safe, you can rinse them with warm water, wash them off with soap and then dry them with a towel.
How much should you pay for a hand mixer?
The cost of a hand mixer will vary, but you can usually find them for between $20 and $100. This may seem like a wide range, but this includes corded and cordless hand mixers, with cordless models typically being more expensive.
How long does a hand mixer last?
With proper care and maintenance, the average hand mixer will last you around five years. Higher-quality mixers, however, usually last longer, so you can use them for upwards of a decade before you'll need a replacement. While such mixers are often more expensive, purchasing one can actually help you save money in the long run.
Why Trust Us
Our commitment to customers begins with a carefully curated product selection process, ensuring we provide high-quality and reliable options. We meticulously vet each cordless hand mixer, analyzing quantitative aspects, such as star ratings and review count, and qualitative factors, including review content and product features. Our dedicated team of bargain hunters consistently prioritizes your budget by meticulously scouring the market and identifying the best cordless hand mixers available without ever compromising on quality or performance. Our panel focuses on presenting the pros and cons of each cordless hand mixer and converting technical specs into understandable insights. Our mission is to make sure you get the most bang for your buck…or, in this case, the most dough for your dime.
More Mixing and Blending Options:
The Best Portable Blenders for Your Money