The Best Cuisinart Hand Mixer for Your Money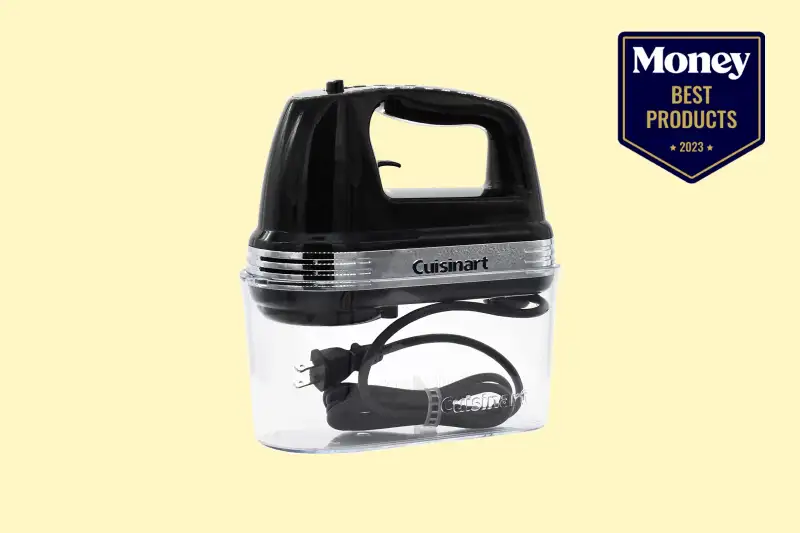 While every hand mixer we review has one or two standout features, we're yet to find one mixer that truly has it all. The Cuisinart Hand Mixer does, however, come pretty close to ticking all the boxes, as it combines many of the top features every hand mixer should have into one compact design.
Here, we'll give you a rundown on what we love about the Cuisinart hand mixer, its standout features, and what to consider before you hit the checkout. If you're looking to make baking just a bit more convenient for yourself, make sure you stick around until the end of this article.
Things we love
Includes a snap-on storage case
Comes with five attachments
Includes a recipe book and spatula
Compatible with any mixing bowl
Attachments are dishwasher-safe
Rotatable power cord
Things we miss
Multiple color options
Low-noise operation
Cuisinart Hand Mixer: What we love
The Cuisinart hand mixer is a kitchen powerhouse. There's a lot to love about this gadget, from its LED display to its handy storage case. While it doesn't have the hands-free, bulk-mixing capacity of a stand mixer, this handheld appliance can certainly hold its own.
General gripes when it comes to hand mixers include their inability to stand upright without eventually falling over, their remarkable tendency for splattering and attachments that never seem to end up in the same drawer.
Cuisinart's hand mixer, though, makes all these drawbacks a thing of the past. This handheld unit can rest securely on its back so that you don't have to lie it flat when it's not being used, helping to keep your workspace organized and clean.
It also comes with a storage case to hold all your accessories. The beater clips onto the top of the case, while the cord tucks neatly inside for the perfect all-in-one storage solution for your mixer. You'll save a lot of time looking for missing pieces when you can simply pull out this all-encompassing container and start baking whenever you want.
One more feature we love is this hand mixer's slow-speed start. Its speed range is great: you can achieve a slow, mess-free start before turning the turbo speed up as needed for thick, even cookie batters and well-aerated egg whites or whipped cream.
To really appreciate this function, new users may want to read the manual, as many complain that the unit's slow speed is way too fast. There is, however, a little trick to it.
When you switch the mixer on, it will kick off with a fast spin before slowing down to the low-speed setting you've chosen. If you already have the beater resting in your ingredients, this initial burst of power can cause a messy splatter or puff, which is why it's important to switch it on outside of the bowl. Once the low speed has kicked in, introduce the beater to your ingredients for mess-free mixing.
Our favorite bonus feature has to be the mixer's LED speed display, for no other reason than it makes hand-mixing feel a little more high-tech.
Cuisinart Hand Mixer: Design
The Cuisinart hand mixer is only available in classic white, brushed chrome, and black color options, and although it doesn't have a non-slip handle, its ergonomic shape provides a secure, comfortable grip for increased control.
The mixer's speed settings are located near the front of the handle and can easily be controlled while holding it. Once you've switched the mixer on, there are + and – buttons to shift its speed either up or down, and the current speed setting from 1 (low) to 9 (high) will light up on the mini LED screen.
To remove the beaters, simply press the eject button that's located toward the bottom of the handle.
The back of the mixer is flat enough to balance in an upright position, while the front is rounded and features air vents to prevent overheating.
While stand mixers are only compatible with their accompanying bowl, the Cuisinart hand mixer is compatible with any bowl you own. This means you won't have to clean the same bowl over and over to mix different ingredients, making the entire baking process a lot more convenient.
This handheld mixer hardly requires any setup and doesn't take up much storage space. It's incredibly easy to use, and it can help you flawlessly execute a wide range of culinary tasks.
Cuisinart Hand Mixer: Features
Weight
With a weight of almost four pounds, this mixer is slightly heavier than other designs. Its high power does, however, get things done faster, which means you won't have to hold it for as long as lighter, lower-powered mixers.
Speed
This mixer has nine speed settings, and it features an On/Off button with separate buttons for speed control. Make sure to always start mixing on a low speed; you can slowly increase its speed as the mixer incorporates wet and dry ingredients together or as liquids start to thicken.
Low-speed mixing should be used for thicker batters and when using the dough hooks for kneading. Medium speeds are ideal for cake batters, while high speeds are best for aeration, including whipping egg whites and cream.
Attachments
This hand mixer comes with all the attachments you'll need for whisking, mixing, and kneading: you'll receive two beaters, one whisk and two spiral dough hooks.
The regular beaters are used to beat cake, cheesecake, frosting, waffle, pancake, and cookie batters. They're ideal for creaming butter and sugar and fluffing mashed potatoes, and you can also use them when mixing eggs for an omelet, as you won't want to incorporate too much air.
We love the practicality of the beater design. Older-style beaters have a center post surrounded by a beater cage, and this center post is where batter tends to get stuck and build up. These kinds of beaters usually need to be scraped out, and they can be a hassle to clean. The beaters of this Cuisinart hand mixer feature no such center post, though, making it less likely that your batter will get stuck around the fixtures. Even if batter does get into the middle, these beaters are a lot easier to clean.
The spiral dough hooks can be used for bread or pizza dough that requires kneading. We recommend sticking to smaller quantities when using your hand mixer for kneading, as larger recipes and very thick dough are better tackled in a stand mixer or by hand.
The whisk attachment is an essential accessory to incorporate tiny air bubbles into egg whites and cream. Its balloon shape and thin metal cage design are specifically made to maximize aeration. While you could use the metal beaters to whip cream or egg whites, the whisk is more effective at dispersing plenty of small air pockets without knocking out any air in the process. The mixing speed will also influence the size of the air pockets; as soon as the mixture starts to thicken at a low speed, switch to a higher speed for ideal results.
Cord
The cord is approximately 24 inches long, and its attachment point can swivel both right and left. This makes it easy to work comfortably without the cord getting in the way, no matter if you're right-handed or left-handed, and it also allows you to place the mixer upright on the counter.
Extras
This hand mixer comes with a spatula so that you can scrape batter off of the beaters or the sides of the bowl, as well as a recipe booklet and an instruction manual. We love this bonus touch, and we're sure that you will, too.
Things to consider
While this hand mixer is nearly perfect, it lost a few points in our book because its attachments are chrome-plated stainless steel. They work just as well as stainless steel attachments, and while there have been few recorded complaints about their quality, we can't help but compare them to other brands that offer entirely stainless steel attachments that come with no risk of peeling or chipping.
Another downside to this model is the noise factor. This mixer gets pretty loud at higher speeds, so forget about trying to have a conversation while using it.
For such a handy kitchen appliance, we also would have liked to be able to choose from a wider range of colors.
Who the Cuisinart nine-speed hand mixer is recommended for
This hand mixer is a great choice for home cooks and home bakeries alike. With its excellent power and all-inclusive accessory set, you can mix or whip up almost anything at the drop of a hat. From morning waffles and souffle to frosting, cheesecake, peanut butter brownies, and kitchen sink cookies, this Cuisinart hand mixer can help you get the job done.
If you need to make large batches of bread or pizza dough, though, a stand mixer is recommended. Stand mixers feature more power and larger dough hooks, which allows them to execute the optimal kneading action by pushing the dough downwards or against the sides of the bowl for gluten development and air incorporation. For kneading small batches of dough, though, a handheld unit should suffice.
If you have young children helping you out in the kitchen, make sure to always supervise them, as this model's slightly heavier weight and extra power make it difficult for small hands to control.
Why trust us
Although our kitchen researchers come from professional catering, baking, and restaurant backgrounds, they love cooking at home too. They know exactly what to look for whether cooking for a large party or dinner for two. Every one of our guides undergoes a rigorous process of research, fact-checking, and editing to ensure you get the most accurate and up-to-date product information for smart purchase decisions.