The Best Cuisinart Stand Mixer for Your Money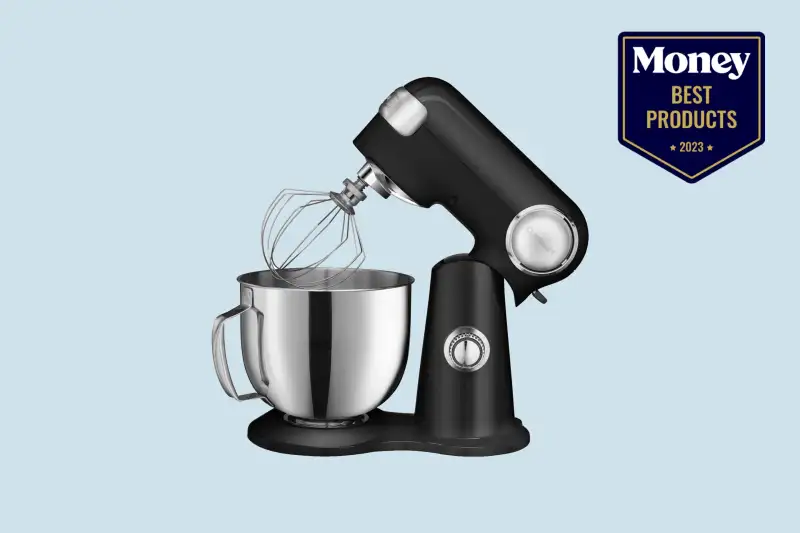 If you're anything like us, you'll have a hard time staying out of the kitchen once you add the Cuisinart Stand Mixer to your countertop. We can't help dreaming about what we're going to make next, as the options are pretty much endless. Not only is this kitchen assistant attractive (yes, it's absolutely stylish), but its functionality goes far beyond your everyday stand mixer's ability to mix, whip, and knead. Let's get into what we love about this model and some other things you'll want to consider before deciding on whether or not you should add this handy appliance to your kitchen.
What we love
Powerful 500-watt motor
Planetary mixing motion
Secure tilt-head design
Stainless steel bowl with side handle
Includes a splash guard
Dishwasher-safe mixing accessories
Comes with a recipe book
What we miss
More mixing bowls
Flex edge beater
Cuisinart Stand Mixer: What we love
There's a lot to love when it comes to this 12-speed Cuisinart stand mixer, but its top feature is without a doubt its versatility.
Its design is versatile so that it can match almost any kitchen style, from modern chic or farmhouse to contemporary or retro looks. More than that, it can be any cook or baker's best friend since it goes far beyond simply whipping, mixing and kneading. Additional attachments can be purchased that include accessories for pasta making, spiralizing vegetables, ice cream making and grinding meat, so with this one gadget in your kitchen, you'll be ready to prepare pretty much anything!
Cuisinart Stand Mixer: Design
There are two reasons why this mixer should stay on the countertop instead of being stored in a cupboard. First, it really is a beauty: this Cuisinart stand mixer is available in silver, onyx, periwinkle blue, ruby red, white linen and robin's egg, allowing you to choose a style that matches your kitchen and your personality.
Second, it's heavy. With its 500-watt motor and large mixing bowl, there isn't really a way to get around its almost 18-pound weight. Keeping it stationed on your kitchen counter just makes life a little easier, rather than having to haul it out of a cupboard every time you want to use it.
This mixer has a tilt-head design that allows you to tilt its head up so that you can easily swap attachments without having to remove the entire bowl, which also has the effect of making the bowl much easier to set up and remove.
The stainless steel bowl fits perfectly in the bottom groove, ensuring it stays in place while mixing. This does, however, mean that the machine is only compatible with this specific bowl design. The bowl also features a large side handle that makes interacting with it much more convenient, especially when it's filled with batter.
This mixer's speed settings are in the form of a large, easy-to-access dial on the side of the machine. So even if you have wet or sticky fingers, this dial is a breeze to use.
This unit includes a splash guard with a pouring spout to help prevent splattering. Once your ingredients are in the bowl, simply place the splash guard over the top and switch on the machine. You can also use the spout to conveniently add ingredients while the motor is running.
A remarkable design feature of this mixer is that its additional accessories (for things like pasta making, meat grinding and spiralizing) all attach to the front of the machine, which leaves you with plenty of space to work and doesn't require a separate setup or power outlet.
Cuisinart Stand Mixer: Features
While there are a host of features to rave about, let's start with the most important things you'll require as a baker.
Mixing motion
One of the Cuisinart stand mixer's top features is its planetary mixing motion. Planetary mixing motion refers to the way the head rotates with the spinning action of the beater, ensuring more thorough mixing as the beater moves around the edges of the bowl. Additionally, a planetary mixing motion results in better, more consistent creaming of ingredients (such as softened butter and sugar) that won't leave behind an oily layer.
Speed and power
This mixer's 500-watt motor has 12 mixing speeds, with its slower speeds designed for stirring, folding and kneading.
Medium-density batters (such as cake batters and cheesecake filling) run the risk of being over-mixed or under-mixed at speeds that are either too high or too low, which is where this mixer's middle speed settings come in handy.
Batters that are overmixed will be gluey and dense, while undermixed batters will contain clumps of flour and may not rise well due to poor ingredient distribution. The middle speed settings are also the ideal option for creaming sugar with butter or egg yolks.
The fastest speeds are most effective for incorporating high-density air pockets into egg whites and cream for a light, fluffy texture. Higher speeds allow for smaller air bubbles to be created, which offers better consistency and firmness.
Attachments
The Cuisinart stand mixer comes with a paddle/flat beater, a whisk and a C-shaped dough hook, all of which are dishwasher-friendly. Using the correct attachment (as well as speed setting) can make a big difference; it can help you achieve the right level of aeration and prevent too much friction, which can cause mixtures to split, dry out or collapse.
Balloon whisk
We love this mixer's large, hollow balloon whisk. This is your go-to attachment for whipping egg whites for meringues, chiffon cake, angel food cake or making whipped cream. Do not use the balloon whisk for heavy batters.
Flat beater or paddle
Rather than incorporating small, high-density pockets of air, the flat beater is suited for stirring and mixing ingredients. This includes anything from brownie batters and cupcakes to waffles, meatloaf, mashed potatoes and fritter batters. It's also the attachment to use if you want to mix nuts, chocolate chips or dried fruit into cookie or cake batters. Stiff dough (such as bread or pizza dough) will require the use of the dough hook.
Dough hook
The Cuisinart stand mixer comes with a large C-shaped dough hook. It creates a kneading action for bread and other yeast doughs by pushing it from side to side against the edge of the bowl. Its motor features enough power to thoroughly knead dough, which can save you a lot of time and effort. Do not use the paddle or whisk for kneading heavy dough, as this will damage the machine or cause it to overheat.
Bowl
This mixer comes with one 5.5-quart (5.2-liter) polished stainless steel mixing bowl. As mentioned previously, its large side handle makes maneuvering the bowl much easier, and it can accommodate enough batter or dough for up to 10 dozen cookies, four loaves of bread or six cups of cream.
Because the bowl fits precisely into the machine's base, you won't be able to use other bowls with this mixer. Although the machine does only come with one bowl, you can order an extra bowl as an add-on.
We appreciate the bowl's stainless steel design, as this material is preferred over glass for optimal results when whipping egg whites and cream. Stainless steel is also highly durable, dishwasher-safe and doesn't show wear and tear as easily.
Things to consider
While we love almost everything about this stand mixer, it does have one tiny shortcoming.
The planetary mixing motion should achieve two things with its double rotation. First, it should ensure optimal ingredient distribution throughout the batter. Second, it should prevent the batter or ingredients from sticking to the sides of the bowl as it moves around the edges.
Another way to achieve the latter is by using a flex-edge beater. This attachment looks just like a paddle, except that one of its edges is covered with a silicone guard that lightly scrapes the sides of the bowl as it rotates. Unfortunately, this mixer neither eliminates side batter build-up with its planetary motion nor does it include a flex-edge beater. Depending on what you're making, you'll likely have to stop the mixer every now and then and manually scrape the edges of the bowl to ensure even mixing.
Having said that, the planetary mixing motion's build-up is still less than what you'd experience from a machine that doesn't have this feature at all.
Who the Cuisinart 12-speed mixer is recommended for
This mixer can be a winner for every cook and baker, from the casual recipe experimenter to the home bakery business owner. Its larger size may seem to make it less than ideal for small kitchens, but the fact that it can replace a pasta roller, a spiralizer, a hand mixer, a meat grinder, an ice cream maker and a pasta extruder could actually help you save on space.
If you're purchasing this mixer and intend to expand its functionality beyond simply mixing, whipping and kneading, check the cost of its attachments first and determine whether this is something you can work into your budget; attachments alone can set you back anywhere from $50 to $180 depending on their function.
While this is an amazing mixer to have, it might be a bit much for a first-time baker who just wants to practice the basics and doesn't intend to make use of its accessories for things like pasta making and meat grinding.
If you have young children who like to help you in the kitchen, always supervise them around this stand mixer. Its large bowl might be too much for small hands to maneuver, especially when it's filled with batter. Its splash guard is, however, handy for preventing little fingers from exploring inside the bowl while it's mixing.
Why trust us
As part of our commitment to make your money go further, we aim to offer the most accurate and up-to-date product information so you can shop with confidence. Every guide undergoes a rigorous process of research, expert insights, fact-checking and careful editing. The truth is, we follow our own advice. This assures us that you can count on it too. Our kitchen experts have a background in catering, restaurants and home cooking which means they know exactly what will suit your needs, no matter what your cooking style is.