The Best Dorm Mattress Toppers for Your Money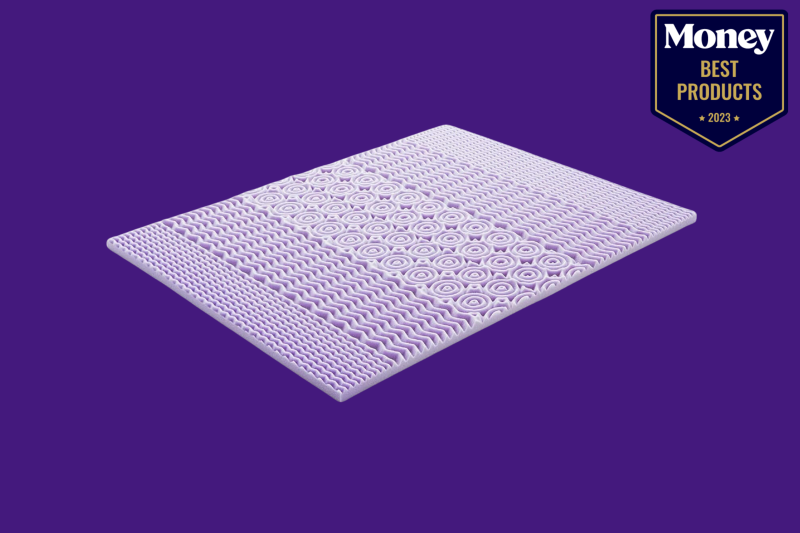 Getting plenty of restful sleep is essential to maintaining a healthy lifestyle and acing your classes. However, getting a good night's rest on an uncomfortable, lumpy dorm mattress is easier said than done. If your mattress is past its prime but you don't want to purchase a new one, you may want to consider investing in a dorm mattress topper. This bedding accessory is designed to prolong your mattress' life and make it more comfortable to sleep on.
In this article, we'll examine the top-rated dorm mattress toppers of 2023, delving into each product's pros, cons and features. We'll also share our expert buying advice to help you make an informed purchase. So, if you're ready to say goodbye to tossing and turning and hello to a peaceful night's sleep, keep reading to discover how you can benefit from a quality dorm mattress topper.
Best Overall: ELEMUSE Dorm Mattress Topper
Best Minimalist Pick: Linenspa Gel-Infused Dorm Mattress Topper
Best Design: LUCID Dorm Mattress Topper
Best Value: BEDSURE Dorm Mattress Topper
Best Pressure Relief: RECCI Dorm Mattress Topper
Reviewing the Most Popular Dorm Mattress Toppers of 2023
List Price: $175.99
The ELEMUSE Dorm Mattress Topper is the best overall option on our list with its skin-friendly materials and temperature-regulating properties. The surface is made from hypoallergenic bamboo rayon material, and the filling is made from down alternative fibers, making this product a solid choice for those with allergies or sensitive skin. This topper also features a cooling gel infusion to prevent overheating and keep you cool and comfortable while you sleep.
This product is 4 inches thick and features a dual-layered construction. The pillow top is removable as well as machine washable and dryable for convenient cleaning. It ships compressed in a single box, making it easy to unpack and set up. This dorm mattress topper is designed to fit mattresses with a depth of 8 to 21 inches. Plus, it's available in eight color and style choices.
Pros
Comes in five additional sizes
Promotes air circulation and temperature regulation
Relieves pressure points with supportive design
Cons
May have an initial odor
Takes several days to fully expand
List Price: $42.99
The Linenspa Gel-Infused Dorm Mattress Topper is ideal for those looking for an affordable product with a basic design. Available in 2-inch and 3-inch profiles, this option is made from a single layer of memory foam material that hugs your curves for optimal comfort. The cooling gel infusion regulates temperature and distributes heat to ensure you stay cool throughout the night.
This topper is available in eight size selections ranging from twin XL to California king. It's CertiPUR-certified so you can rest easy knowing it's made from safe, top-quality materials. This pick is available with or without a cover, which can keep it clean and extend its longevity. It's also backed by a three-year manufacturer's warranty, allowing you to resolve any potential issues quickly and smoothly.
Pros
Affordable price point
Cooling gel memory foam ensures comfort
CertiPUR-certified for quality and safety
Cons
May be too soft for stomach sleepers
May have a chemical odor upon arrival
List Price: $44.99
The LUCID Dorm Mattress Topper features an innovative, five-zone construction for maximum comfort and support. Each of the five sections has a different raised pattern to target and relieve specific pressure points throughout the body. The foam material is soft and offers excellent ventilation and responsiveness. It's also infused with lavender-scented cooling gel for a calming, comfortable sleep experience.
This CertiPUR-certified topper can be purchased on its own or with a cover, and it's backed by a three-year warranty so you can buy with confidence. It ships in convenient packaging, making it easy to carry, unpack and set up on move-in day. It's available in 2-inch or 3-inch thicknesses as well as seven size options, ranging from twin XL to California king.
Pros
Infused with relaxing lavender essential oils
Promotes air circulation and ventilation
Has a five-zone construction for optimal support
Cons
May be too warm for hot sleepers
Can't be machine washed
List Price: $60.99
Featuring a unique padded design, the BEDSURE Dorm Mattress Topper offers ergonomic comfort and high-quality construction at a reasonable price. Unlike foam toppers, this option has three quilted zones to improve relaxation and evenly disperse the body's pressure. Thanks to its deep pockets, it can accommodate mattresses with a maximum profile of 21 inches. The elastic around the edges ensures a secure, snug fit so you don't have to worry about the topper shifting or coming off while asleep.
The cover is made from soft microfiber material that's gentle on the skin and doesn't make noise so you can sleep undisturbed. One of the best things about this dorm mattress topper is how easy it is to maintain. It's machine washable and dryable for hassle-free care. Choose from navy blue, black, white and gray color options as well as eight sizes to find one that suits your style and needs.
Pros
Three-zone design delivers maximum comfort
Machine washable and dryer-safe for easy cleaning
Breathable, soft materials
Cons
Thinner than comparable products
Long expansion time
List Price: $95.99
Available in 2- and 3-inch thicknesses, the RECCI Dorm Mattress Topper is made entirely from premium memory foam material to provide maximum support and pressure relief. It contours to your unique shape and minimizes pressure on the shoulders, back, hip, neck and head. The adjustable corner straps ensure a secure fit, and the cover is removable and washable for easy cleaning.
The bottom of the topper is fitted with skid-resistant grips to prevent it from shifting. The viscose material is not only breathable but also hypoallergenic, making this product ideal for hot sleepers and allergy sufferers. Plus, it's CertiPUR-certified so you can rest assured that it's free from harmful chemicals including mercury, heavy metals, lead and formaldehyde.
Pros
Removable cover is easy to clean
Free from dangerous chemicals
Memory foam construction conforms to the body
Cons
Time-consuming to put on and take off
Expansion requires two to three days
Dorm Mattress Topper Buying Guide
When shopping for a dorm mattress topper, there are several features and factors to remember to ensure you pick the right one for your needs and sleep preferences. This buyer's guide will walk you through the most important considerations so you can make an informed choice.
Materials
Choose a topper made from high-quality materials for optimal comfort. The most common materials used in the construction of mattress toppers include memory foam, polyfoam, latex and down feathers. Memory foam is ideal for promoting proper spinal alignment and absorbing motion. Polyfoam is ultra-responsive and typically less expensive than memory foam options. Latex is known for its durability and temperature-regulating properties. Lastly, down feathers are great for adding plush cushioning to an overly firm mattress.
Thickness
Decide how thick you want your mattress topper to be. Generally, these products measure between 1 and 4 inches thick. The thicker the topper, the more support and cushioning it will add.
Size
It's important to make sure your mattress topper is the same size as your mattress. Standard dorm mattresses are typically twin XL, however, some colleges use twin or other sizes. Before making a purchase, measure your mattress to ensure the product you choose will fit properly.
Preferred sleep position
Consider the position(s) you favor while sleeping to help you determine which dorm mattress topper will best suit your needs. Generally, stomach and back sleepers require more support while side sleepers benefit most from additional padding.
Price
Decide how much you're willing and able to spend on a topper for your dorm mattress. As you're shopping, it can be helpful to set your search filters to only show you options within your budget. Ideally, the product you choose should be affordable without sacrificing quality or durability. It's always worthwhile to make a good investment in quality sleep accessories and bedding as they often directly impact your health and energy levels.
Firmness level
When deciding on your topper's firmness level, you'll want to factor your mattress' firmness level and your body type into your choice. If your mattress is thick and firm, a thin, plushy topper can make it more comfortable. If your mattress is on the thin side, a thick topper will make it more supportive. Generally, if you weigh more than 230 pounds, a firm topper is ideal for comfort and proper posture; if you weigh less than 130 pounds, a softer topper can provide excellent pressure point relief. Users who fall between these two ranges should aim for a product with mid-level firmness.
Warranty
Opt for a product that's backed by a manufacturer's warranty to ensure you're covered if you should experience issues with your topper down the line. Ideally, the warranty should offer at least six months of coverage against defects and premature wear. If you can find an option that comes with coverage that lasts as long as you'll be living in a dorm, that's even better.
Pressure relief
A high-quality mattress topper should offer excellent pressure point relief by evenly distributing your body weight. This is especially important for preventing and alleviating shoulder and hip pain for side sleepers.
Cooling properties
If you tend to get warm at night, choose a mattress topper that has temperature-regulating properties to prevent you from overheating. Look for open-cell constructions for enhanced breathability and cooling gel infusions for temperature control.
Allergies and sensitivities
Some topper materials, such as latex and down feathers, are more likely to trigger unwanted reactions than others. If you have allergies, respiratory conditions or sensitive skin, you may want to avoid toppers made from these materials.
People Also Ask
How can a dorm mattress topper make my bed more comfortable?
A dorm mattress topper can enhance your bed's comfort by changing its firmness level. Depending on your needs and product choice, a topper can either add cushioning to a too-firm mattress or increase the firmness of a too-soft mattress.
How much does a dorm mattress topper cost?
A dorm mattress topper's price is determined by its materials, thickness and quality. Generally, most products cost between $40 and $200.
What are the benefits of using a dorm mattress topper?
In addition to making your mattress more comfortable, a dorm mattress topper can improve your sleep quality and prevent aches and pains by supporting pressure points — all while saving you money in the long run. Most college students are on a tight budget, and while some toppers may not be cheap, they're far less expensive than buying a new mattress.
What's the difference between a mattress pad and a mattress topper?
While the two have some overlapping similarities, there are significant differences between them. A mattress pad can add padding to a mattress, but its primary function is usually to shield the mattress from spills and stains. A mattress topper, on the other hand, is designed specifically to alter a mattress' firmness level and make it more comfortable to sleep on. Also, toppers don't offer much in the way of stain prevention or damage protection.
How large is a dorm mattress topper?
Dorm mattress toppers are the same size as dorm mattresses. The standard mattress size for most dorm mattresses is a twin XL, which measures 80 inches long and 39 inches wide.
Why Trust Us
Our commitment to customers begins with a carefully curated product selection process, ensuring we provide high-quality and reliable options. We meticulously vet each dorm mattress topper, analyzing quantitative aspects, such as star ratings and review count, and qualitative factors, including review content and product features. Our dedicated team of bargain hunters consistently prioritizes your budget by meticulously scouring the market and identifying the best dorm mattress toppers available without ever compromising on quality or performance. Our panel focuses on presenting the pros and cons of each dorm mattress topper and converting technical specs into understandable insights. We aim to ensure maximum comfort and improved sleep quality with top-rated bedding accessories.