The Best Drivers for High Handicappers for Your Money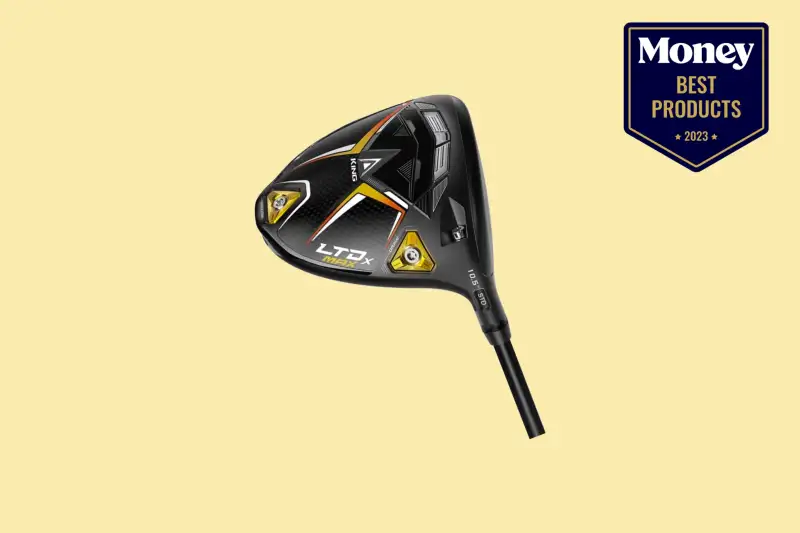 If you're a high handicapper, there's always room to improve your golf score. Practicing and taking lessons can help, but having the right equipment is crucial for taking your game to the next level. Investing in a high-quality driver can be a game changer, boosting the distance on your shots while enhancing accuracy and consistency to ultimately result in lower scores.
To help you find the perfect driver for your game, we've thoroughly researched and reviewed the best drivers for high handicappers in 2023. This buying guide covers the aspects that make a driver ideal for high handicappers, including essential factors to consider while shopping and bonus features that can enhance your gameplay. Whether you're a beginner searching for something simple or an experienced golfer seeking to maximize your performance, you're certain to discover the right driver for your needs and budget on this list.
Best Overall: Callaway Golf 2023 Paradym X Driver
Most Forgiving: TaylorMade Stealth Driver
Best for Improving Distance: Cobra Golf LTDX Max Driver
Best for Straight Shots: Cleveland Launcher XL Lite Driver
Comparing the Best Drivers for High Handicappers of 2023
List Price: $599.99
Check on Amazon | Check on Walmart
The Callaway Golf 2023 Paradym X Driver is our top choice due to its ability to deliver on accuracy, distance and forgiveness. This golf driver features a graphite-reinforced 460cc clubhead, ensuring top performance and advanced forgiveness for improved shot control and increased accuracy and distance. It also creates a larger sweet spot and increased perimeter weighting, ensuring maximum forgiveness on off-center hits. The larger, deeper face profile boosts ball speed and range, while the Ascent 40G shaft offers a mid-high launch angle for maximum energy transfer. Adjustable loft settings cater to golfers of all skill levels, ensuring optimal ball flight trajectory.
The lightweight construction of this driver allows for a greater range of movement, helping high-handicap golfers fine-tune power, speed and direction. The sleek black and navy blue design makes this pick a neutral yet stylish choice, too. Ideal for lowering handicaps, it offers cutting-edge technology and adjustable settings for accurate shot control and consistent performance, so this golf driver is a reliable choice for players aiming to enhance their skills and achieve superior results on the course.
Pros
Sleek design with durable construction
Enhanced accuracy and distance
Adjustable loft settings for maximum control
Larger sweet spot and increased forgiveness
Cons
Adjustment period needed for optimal performance
Higher cost compared to other golf drivers
List Price: $399.99
Check on Amazon | Check on Walmart
The TaylorMade Stealth Driver excels in forgiveness and accuracy due to its distinctive shape and design. Boasting one of the manufacturer's most adaptable Speed Pocket designs, it maximizes ball speeds and provides extra forgiveness for lower-face strikes. The innovative 60X Carbon Twist Face, encased by a polyurethane cover with nanotexture technology, ensures optimal launch and spin for maximum distance in any playing condition. The lightweight construction of this feature enables more weight allocation to the club head's low and deep areas, raising the moment of inertia (MOI) by 15%.
The aerodynamic properties of this golf driver are also top-notch, thanks to the inertia generator that helps to add additional swing speed. Its advanced face design and innovative performance technologies make this an excellent option for high handicappers. Optimized for maximum forgiveness, this product is ideal for golfers seeking to enhance their game and achieve better accuracy. With a superior blend of power, precision, heightened launch and spin control, you'll be able to hit the ball farther than ever before.
Pros
Increased forgiveness to improve accuracy
Lightweight and adjustable for custom fitting
Impressive 10-15 yard increase on average drives
Great feel when hitting the sweet spot
Cons
May require time to find optimal settings
May not suit swing speeds over 100mph
List Price: $294.15
Check on Amazon | Check on Walmart
The Cobra Golf LTDX Max Driver delivers exceptional distance through its cutting-edge design and advanced technology. This pick is constructed with Pwr-Cor technology, a multi-material weighting system consisting of steel, titanium and aluminum. This positioning of the component materials provides a low spin with faster ball speed, creating more distance for the golfer. The driver also incorporates the manufacturer's innovative Highly Optimized Technology (HOT) with 15 HOT zones across the face, amplifying the smash factor and ball speed. The CNC-milled Infinity Face design not only wraps around the club's leading edge but also extends the zone of maximum ball speed, ensuring consistently high performance. It also offers a traditional topline for better visual alignment, allowing players to position themselves accurately for each swing.
This golf driver for high handicappers also features adjustable weights, including heavy 10-gram and lightweight 3-gram components, which can be easily placed in the back or heel sections of the club. This enables golfers to adjust shots for neutral or draw-biased trajectories, providing customization for individual preferences and playing styles. With its advanced construction and personalization options, this driver significantly improves distance, making it an outstanding choice for high handicappers looking to boost their game by hitting longer shots on the course.
Pros
Impressive 10+ yard gain over average drivers
Durable construction with high-quality materials
Customizable setup for draw or neutral angles
Forgiving and consistent for all skill levels
Cons
Angle and weight adjustments may be required
Adjustment tool not included
List Price: $241.21
Check on Amazon | Check on Walmart
The Cleveland Launcher XL Lite Driver is catered to hitting straight shots due to its lightweight design. Combined with an ultra-light shaft, its bonded hosel without the weighted adjustability sleeve makes this option 12 grams lighter than the adjustable model for a faster swing. Ideal for high handicappers looking to increase their distance and precision, this driver makes it easier to swing faster with the bonus of increased distance. The XL head design offers optimal forgiveness, a maximum MOI of 5,100g-cm2, and a high launch due to its low-and-deep weighting. With an 8-gram weight tucked in the grip's end, you get better balance and control without extra effort.
There's also a custom configuration that's an inch shorter without counterbalancing, making it excellent for golfers wanting top-level control off the tee. With two alternating flex zones to optimize energy transfer for increased distance, the rebound frame offers alternating flexible and rigid zones that enhance ball speed and distance for each shot. With its remarkable forgiveness, lightweight construction and efficient energy transfer, this driver for high handicappers delivers unparalleled balance and control for exceptionally straight shots.
Pros
High-quality construction and craftsmanship
Lightweight design for maximum clubhead speed
Enhanced distance and improvement in accuracy
Senior flex shaft optimizes ball speed and trajectory
Cons
Some users disliked the senior flex shaft
No adjustable settings
Buying Guide: Drivers for High Handicappers
The golf driver is one of the most important clubs in your bag, especially if you're a high handicapper. It sets the tone for each hole and can significantly impact your game. But with so many drivers on the market today, choosing one to match your playing style and budget can be challenging.
That's where this buyer's guide comes in. To help you evaluate the features and benefits of a good driver, we compiled the key factors worth considering so you can find the perfect driver to help bring your handicap down. Read on to find the right golf driver to boost your performance on the course.
Loft angle
The driver's loft angle determines how well it can launch the ball. A higher loft angle will help you hit a higher shot with more backspin, while a lower loft angle will launch the ball lower with less spin. Loft angles typically range from nine to 12.5 degrees. Consider what angle works best with your swing and choose accordingly.
Shaft length
You want a shaft length that fits your size and swing type. Shorter shafts work better for players with slower swing speeds, while longer shafts are ideal for players with faster swing speeds. Think about what length feels most comfortable to help maximize your performance on the course.
Club head design
The club head design can significantly affect performance. Ensure the head is visually appealing and designed to maximize ball flight. Look for features such as optimized aerodynamics, multi-material construction and an enhanced center of gravity. These features contribute to increased distance and accuracy off the tee.
Adjustability
Many golf drivers today come with adjustable features like weights, lie angles and hosel settings that allow you to customize the club to fit your unique swing and hitting style. Make sure to look for drivers with several adjustability options so that you can find one that suits your game perfectly for the best results.
Build
A driver's build quality is vital for longevity and consistent performance. Search for drivers constructed with premium materials designed to endure numerous rounds without exhibiting premature wear or damage. Also, look for manufacturers who offer warranties on their products so you know you're investing in something reliable.
Ball speed and distance
Every golfer desires increased speed and distance off the tee, so selecting a driver capable of improving these aspects of your game is crucial. Seek features such as enhanced aerodynamics, lightweight build and increased forgiveness, which can significantly elevate ball speed and distance without compromising accuracy or impact sensation.
Center of gravity
The center of gravity's position significantly influences forgiveness and ideal ball flight traits, so keep this in mind when choosing a driver. Opt for clubs with a well-optimized center of gravity that enhances your driving distance without compromising accuracy or forgiveness for off-center shots.
Offset or draw bias
Drivers featuring offset or draw bias counteract slices off the tee, enabling players to adjust their aim (left or right) based on individual needs. If you struggle with accurate aim, consider drivers with this attribute to resolve issues to quickly regain your golfing momentum.
Cost
Make sure to choose a golf driver that fits your budget, balancing its cost with the frequency of use and potential game improvement. Consider how much you're willing to spend and keep in mind that higher-quality drivers often have higher price tags but may deliver better performance.
People Also Ask
What features should golf drivers for high handicappers have?
Golf drivers designed for high handicappers should have features that increase forgiveness and accuracy, such as a larger club head, a low center of gravity, an adjustable weight system, a low backspin rate and an aerodynamic design. These features help make it easier for players to hit the ball further and straighter.
Does club loft play a role in determining the right driver for a high handicapper?
Yes, the loft of a club is crucial in determining the right driver for a high handicapper as this feature can impact your shots. Higher lofts result in more lofted shots that travel higher in the air, making straight shots easier to achieve. Lower lofts also offer greater distance while maintaining sufficient shot height.
What's the ideal club head size for a high handicapper?
A larger club head size for high handicappers is ideal as it offers greater forgiveness on off-center hits compared to what skilled players typically use. A 460cc or larger club head suits most high handicappers, providing optimal forgiveness while maintaining distance for shots hit in the sweet spot.
Are there any specific shafts that are best suited for high handicappers?
Usually, high handicappers should opt for regular or stiff flex shafts, as their slower swing speeds contribute to more consistent shots. Being lighter and offering a better feel than steel shafts, graphite shafts are often preferred for enhanced accuracy and control upon contact with the ball.
What kind of weighting should I look for in a golf driver for a high handicapper?
Weighting is crucial when selecting a driver, as it influences ball response upon impact and shot trajectory generated by the club head design. Drivers featuring adjustable center-of-gravity weights, commonly known as movable weights, are ideal for high handicappers. These adjustable weights enable players to customize their clubs according to their unique requirements by altering the weight distribution within the club head.
Why Trust Us
Our commitment to customers begins with a carefully curated product selection process, ensuring we provide high-quality and reliable options. We meticulously vet each driver for high handicappers, analyzing quantitative aspects, such as star ratings and review count, and qualitative factors, including review content and product features. Our dedicated team of bargain hunters consistently prioritizes your budget by meticulously scouring the market and identifying the best products available without ever compromising on quality or performance. Our panel focuses on presenting the pros and cons of each driver for high handicappers and converting technical specs into understandable insights. We aim to offer unbeatable value on purchases by providing high-quality products, ensuring a remarkable experience with top-rated golf equipment.