The Best Golf Bags for Your Money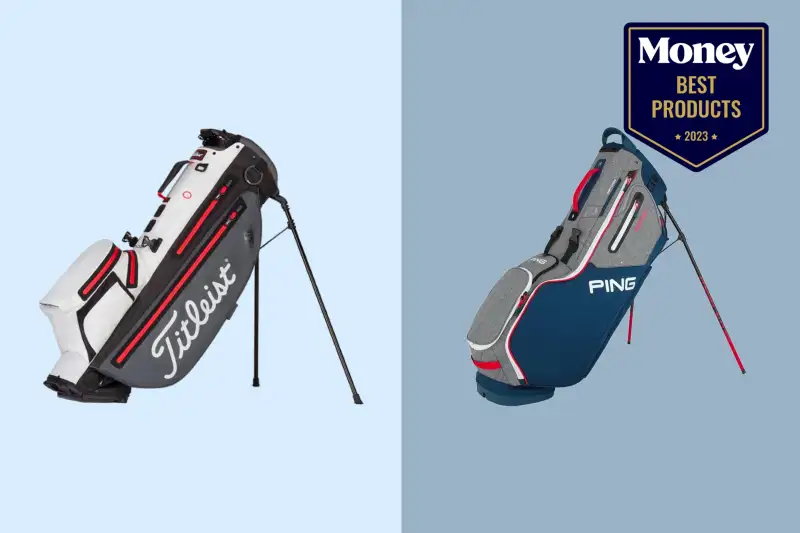 Golfing is a favorite pastime for many and having the right tools on hand makes a big difference in your game. There's no question that the most important piece of golf equipment is your golf bag. Your golf bag can ensure you have all your essentials at hand, help you stay organized and make life easier on the green.
In this article, we'll cover the best golf bags of 2023 and what features make them stand out from the rest. We'll discuss the different types of bags available, what makes them great and the must-have features you should look for when making your purchase. With the help of this guide, you're sure to find the perfect partner for your golfing journey.
Best Overall: Frogger Golf Bag
Best Overall Runner-Up: Glove It Ladies Golf Bag
Editor's Pick: Titleist Players 4 Plus StaDry Golf Bag
Most Cart-Friendly: Sun Mountain Mens 4.5LS 14-Way Stand Bag
Most Compact and Lightweight: Sunday Golf Loma Golf Bag
Best Value: Zero Friction Red Golf Stand Bag
Best Durability: PING New Hoofer 14-Way Stand Golf Bag
Reviewing the Best Golf Bags of 2023 in Detail
List Price: $229.99
Check on Amazon | Check on Walmart
Experience golfing like never before with the Frogger Golf Bag — a remarkable blend of innovation, style and functionality. The golf bag boasts an ultra-lightweight design, defying its feature-rich nature by weighing under five pounds. Its ingenious adjustable shoulder straps ensure optimal weight distribution, allowing you to traverse the course with utmost comfort throughout the day. With Frogger's golf bag, you'll have all your equipment right at your fingertips. Its thoughtful design includes seven spacious pockets that effortlessly accommodate your gear, a five-way club management system for organized accessibility and two magnetic Latch-it receivers that redefine convenience, enabling swift attachment and detachment of accessories whenever needed.
Not just a practical choice, the Frogger Golf Bag allows you to express your unique style on the green with a variety of captivating color and print combinations. It's built to last, backed by Frogger's unwavering guarantee, ensuring you have a permanent golf partner by your side. Crafted to withstand the rigors of the game, this golf bag is the best overall option on our list.
Pros
Convenient yet durable lightweight design
Ample storage with seven spacious pockets
Quick-access magnetic Latch-it receivers
Reliable purchase thanks to its lifetime guarantee
Cons
Zippers may wear out over time
Some users might want more pockets
List Price: $224.95
Check on Amazon | Check on Walmart
Golfing sophistication meets practicality in the Glove It Ladies Golf Bag, designed especially for women who seek both functionality and fashion on the course. Crafted with meticulous attention to detail and imported top-quality materials, this 14-way golf club bag redefines how you approach your game.
With a touch of style and a dash of lightweight convenience, this option is a remarkable companion for female golfers. Its super-light design at 5.2 pounds is complemented by three lift-assist handles, ensuring effortless maneuverability around the course and making it a perfect choice for women seeking travel-ready golf bags.
This pick is also designed with versatility and ample storage in mind. Offering 14 golf club dividers, nine easy-access pockets, a zip-off golf ball pocket, a thermal-lined cooler pocket, a soft-lined valuables pocket, an umbrella sleeve, an integrated putter well and a rain hood, it's a masterclass in functionally and one of the best options on our list.
Pros
Stylish 14-way bag with custom signature prints
Lift-assist handles for easy mobility
Ample pockets and dividers for maximum organization
Very convenient and lightweight design
Cons
Not very durable in the rain
Zippers can occasionally get stuck
List Price: $335.00
Check on Amazon | Check on Walmart
Earning a top spot for its exceptional design, waterproof features and impressive storage capacity, the Titleist Players 4 Plus StaDry Golf Bag stands out from most of the competition. The bag features a lightweight, low-profile four-way top cuff with full-length dividers, offering excellent organization and effortless access to clubs. Its StaDry waterproof construction shields your golf equipment from rain and moisture, while seam-sealed zippers protect against the elements. An expandable apparel pocket also allows you to be prepared for any weather, as you can accommodate extra layers of clothing to stay prepared for temperature drops or unexpected rain.
The new premium double strap design makes this golf bag easy to carry, with adjustable straps and contoured padding for a comfortable fit. This design also provides better weight distribution and improved comfort during long rounds. The high-grade aluminum legs and advanced hinged bottom provide superior stability on all kinds of terrain, making it easy to concentrate on your game, not the ground you're playing on. This golf bag also features two external pockets designed for carrying water bottles or other beverages. This golf bag has a modern and stylish design that seamlessly combines aesthetics with practicality. Its lightweight design, waterproof construction and stable support on any terrain make it a perfect companion to keep your game on point.
Pros
High-quality materials for long-lasting use
Stylish and professional-looking appearance
Spacious storage for various accessories and equipment
Comfortable straps for easy transport
Cons
Slightly pricier than other options
Not as pocket-organized as some golfers prefer
List Price: $200.00
Check on Amazon | Check on Walmart
The Sun Mountain Mens 4.5LS 14-Way Stand Bag is the perfect choice for golfers who want a highly functional golf bag that's also cart-friendly. This versatile golf bag is designed for use with both electric and manual carts, easily integrating with its innovative cart strap pass-through feature. The leg-lock system provides maximum stability on the course by securely attaching the bag during transport while also preventing unwanted movement. With the strategically placed strap pass-through behind the large apparel pocket, essential items like gloves and extra layers can be accessed quickly. These cart-friendly features contribute to a stress-free golfing experience, allowing players to concentrate fully on their game.
This golf bag has a 14-way divider system, so each club has its dedicated space, reducing the risk of club damage and ensuring organization. It comes equipped with nine additional pockets, including a hydration pouch, multiple accessory sections and water-resistant, velour-lined valuables storage. With its meticulous design for cart adaptability, ample storage and easy access to essentials, this bag elevates the overall golfing experience, allowing players to enjoy more time on the course and less time preparing for it.
Pros
High-quality, lightweight design
Compatible with motorized and pushcarts
Balanced stand system on uneven terrain
Ample pockets for additional accessories
Cons
Lacks customization options
Lacks waterproof features
List Price: $129.99
Check on Amazon | Check on Walmart
Whether you're running through an executive course or just practicing at the range, the Sunday Golf Loma Golf Bag is the perfect companion for golfers seeking an ultra-lightweight, compact and user-friendly option. At just 31 inches in height and a weight of only 2.2 pounds, this golf stand bag is a fantastic alternative to lugging around a heavy golf bag. It fits snugly into any trunk and with a divider for easy organization, it can hold up to seven clubs of your choice. This pick even comes with both a carrying handle and a wide shoulder strap for ultimate comfort during transport.
This golf bag also includes a valuables pocket lined with velour on the inside to keep wallets, phones, keys and other items secure. It also offers a spacious pocket for golf balls and accessories and sewn-on loops on the side to hold tees and pencils. An integrated cooler pouch fits two cans or one bottle and keeps your drinks cold during play. This golf bag is perfect for all your short courses, putting or practicing at the driving range. Thanks to this golf bag's lightweight and compact design, carrying your essential golf equipment has never been easier.
Pros
Ultra-lightweight and compact for easy transport
Reinforced stitching to prevent wear and tear
Velour-lined pocket to keep valuables secure
Spacious pocket for golf accessories
Cons
Not suitable for heavy loads
Not suitable for long courses
List Price: $199.99
Check on Amazon | Check on Walmart
The Zero Friction Red Golf Stand Bag is a superb option for golfers seeking a lightweight golf bag on a budget. This bag boasts a durable construction and reinforced bottom stitching to prevent wear and tear. It has an eight-way full-length bottom of bag dividers that help to keep clubs organized and prevent shafts from crossing. Not only is it efficiently designed, but it also weighs fewer than 5.5 pounds, making it very lightweight. This product comes equipped with adjustable shoulder straps that can be adapted to suit any comfort level, as well as an additional hip pad that provides extra cushioning.
This golf bag has nine zipper pockets for optimal storage, including an apparel compartment, a lined valuables pocket and an insulated water bottle pocket. The bag is also equipped with essential accessory holders such as a glove and towel holder, scorecard and pen holders and an umbrella holder. Bonus accessories are also offered with this bag, including a 40-inch golf towel and a universal-fit men's left-hand golf glove. With its ample storage capacity and bonus accessories, this golf stand bag offers outstanding value at an affordable price.
Pros
Affordable price with quality construction
Spacious storage for clubs and accessories
Bonus accessories included for additional value
Lightweight design allows for easy carrying
Cons
Not as durable as higher-end bags
No rain hood or stand included
List Price: $329.98
Check on Amazon | Check on DICK'S Sporting Goods
The Ping Hoofer 14-Way Stand Golf Bag boasts a meticulous design for maximum durability and longevity. Its lightweight design complements the needs of golfers who prefer to carry their bags on the course, while its sturdy construction ensures resistance to wear and tear over time. At a mere five pounds, this bag is both lightweight and easily portable. A padded top cuff ensures comfortable transportation on the course, and the ergonomically designed double shoulder strap evenly distributes weight across your shoulders. You can also customize the fit with the adjustable straps to secure it comfortably against your body and prevent lower back strain.
Featuring a 14-way top with full-length dividers, this golf bag offers ample space to keep them organized and prevent clanking during transport. Its 11 pockets provide storage for golf essentials, including a velour-lined valuables pocket and an insulated cooler pocket for beverages. The top cuff pocket ensures scorecards and tees are easily accessible, while a removable rain hood provides protection from the elements. This golf bag is an all-inclusive solution for golfers seeking long-lasting organization. Its thoughtful construction, ergonomic design and ample storage options make it an outstanding choice for long-term use.
Pros
Durable and high-quality construction
Lightweight design for easy maneuverability
Organized 14-way individual dividers for clubs
Comfortable double-shoulder strap for easy transport
Cons
Some club sizes may not fit comfortably
Limited color options
Buying Guide: Golf Bags
Whether you're an avid golfer or just starting out, a quality golf bag should be at the top of your shopping list. Your golf bag keeps your clubs organized, safe and protected from harsh weather conditions. But with so many bags on the market, selecting the perfect golf bag can be a daunting task for both beginners and seasoned golfers.
That's why we've put together this buying guide. In this guide, we'll cover the important details, such as material, size and weight, so you know exactly what to look for when buying a golf bag. With this comprehensive guide, you'll be ready to hit the links with confidence.
Type of material
Golf bags are typically constructed from leather, nylon, polyester or vinyl materials. Leather is generally considered the most durable and will last many years with proper care. However, it can be heavier than other materials and is sometimes more expensive. Nylon and polyester are lighter than leather and more affordable but may not be as durable. Vinyl is less expensive but not as long-lasting as the other materials, so it may be best suited for occasional golfers.
Weight
Depending on the material used and the size of the golf bag, most weigh between two and seven pounds. Heavier bags tend to offer added features such as pockets and compartments, while lighter bags are often smaller in size and have fewer dividers. Consider how much you're willing to carry and how light or heavy you'd like your bag to be when deciding what weight is best for you. Also, be sure the bag is ergonomically designed with comfortable straps that make it easy to carry and handle.
Durability
When picking a golf bag, durability is a key factor to consider, especially if you'll be using it often or in harsh conditions like rain or snow. Look for double stitching, cushioned sides, water-resistant zippers, sturdy straps or reinforced base panels made from heavy-duty materials. These make the bag more resistant to wear and tear, even with regular use or exposure to the elements.
Number of dividers
Golf bags usually have a certain number of dividers to keep golf clubs organized and separate from each other. This number can range from three or four dividers, all the way up to 11 or 12, depending on the size and type of the bag. If you plan to store multiple sets of clubs in one bag, consider one with more than four dividers to ensure proper organization.
Weather resistance
Opt for durability and weather protection features when searching for a golf bag. Examples include waterproof coatings, moisture-wicking fabrics, watertight zippers, rubberized base pads and adjustable rain hoods or covers that shield gear from rain or snow. These safeguards prevent damage from harsh weather conditions, allowing you to focus on the game rather than worrying about potential equipment risks during a downpour or snowstorm.
Comfort
Choosing the right golf bag is critical for a comfortable and fatigue-free round. Seek out comfortable straps that distribute weight evenly across your back or shoulders. Make sure to find straps with cushioning or padding that can be adjusted for the ideal length to enhance comfort, especially during long walks.
Compartments
Many golf bags offer compartments specifically designed to store items such as wallets, sunglasses, keys, phones and more. Larger pockets will likely provide enough space for extra apparel such as gloves, hats and rain jackets, so you don't have to leave them behind due to lack of space.
Stand system
Look for a golf bag with a strong stand system that will keep your bag upright off the ground, whether standing still or walking between shots. The legs should be able to swing out easily while supporting the weight of the bag, so look for wide-leg bases for additional stability.
Zippers and closures
High-quality closures, including zippers, ensure secure closure when protecting cargo inside the golf bag from dust or debris. Look into zippers with rustproof finishes and durable cords that don't get stuck easily when opening and closing them multiple times a day. Other closures like snaps should also hold up against everyday wear and tear without breaking apart after extended use periods in any weather condition. Look into lining material like felt, which helps protect items stored inside from scratches caused by potentially sharp surfaces within a pocket or compartment like keys or tees.
Price
Price is always a consideration. When it comes to golf bags, prices can vary depending on brand reputation, size, style and accessories. To ensure quality while staying within a budget, consider what features are most important to you and look for a bag that offers as many of those as possible within your price range.
People Also Ask
Which golf bag is best for me?
The best type of golf bag for your needs depends on the number of clubs and features you need. A lightweight stand bag or carry bag might be more suitable if you're only carrying a few clubs. For more clubs, mid-size or tour bags with a stand are recommended. If you use a cart, then cart-friendly bags are an ideal choice.
What size golf bag should I get?
The golf bag size required relies on the number of clubs and accessories intended to be carried. Generally, a mid-size golf bag is perfect if you carry 10-14 clubs, including woods and irons, while 14+ clubs demand a tour-sized bag or larger.
Can all my golf clubs fit in one bag?
Selecting the right golf bag is crucial to ensure that all your clubs and related gear, such as balls, tees and accessories, fit together. This can vary based on the type of golf clubs you own (irons, woods, putter) and the type of golf bag you require (stand or cart bag). Having ample slots for each club and additional storage will help. Remember, golf clubs can differ in size, so check the dimensions to ensure a proper fit.
Which option is better when choosing between a stand bag and a cart bag?
Your choice of golf bag should hinge on its intended use and your personal preferences. If carrying your clubs is your preferred method, a stand bag offers convenience with its integrated stand, allowing your bag to easily prop up while you take shots. On the other hand, for those who prefer riding a cart, a cart bag is the way to go. With more storage options than a stand bag, you can keep everything you need within easy reach while you make your way to each hole.
What other accessories should I consider when buying a golf bag?
When purchasing a new golf bag, it's wise to also consider additional accessories such as club head covers or dividers for organizing your clubs in the bag, insulated pockets for keeping food or drinks cold during play, cart straps for attaching your bag to a cart and rain hoods for added protection from inclement weather conditions.
What's the best way to clean a golf bag?
To maintain the optimal condition of your golf bag, clean it regularly according to these guidelines or the manufacturer's instructions. Begin by wiping it down with a damp cloth to remove surface dirt and then use mild soap for stubborn stains or hard-to-reach debris. After cleaning, air dry it thoroughly before storing it inside or outside. Replace any damaged zippers or straps to ensure the structure is protected while carrying heavier loads on and off the course.
Why Trust Us
Our commitment to the consumer begins with product selection and ends with the last word we write in each article. Each golf bag is carefully vetted quantitatively through star ratings and the number of reviews qualitatively through careful examination of reviews and the features each one has to offer. Leveraging our team of bargain hunters, we're always sure to keep your budget in mind while finding the best golf bags on the market. Our team of experts is dedicated to accurately depicting the pros and cons of each golf bag, translating technical product specifications into information you can understand. We aim to offer unbeatable value on your golfing outings by providing high-quality golf bags, ensuring a remarkable golfing experience with top-rated golf equipment.