The Best Golf Grips for Your Money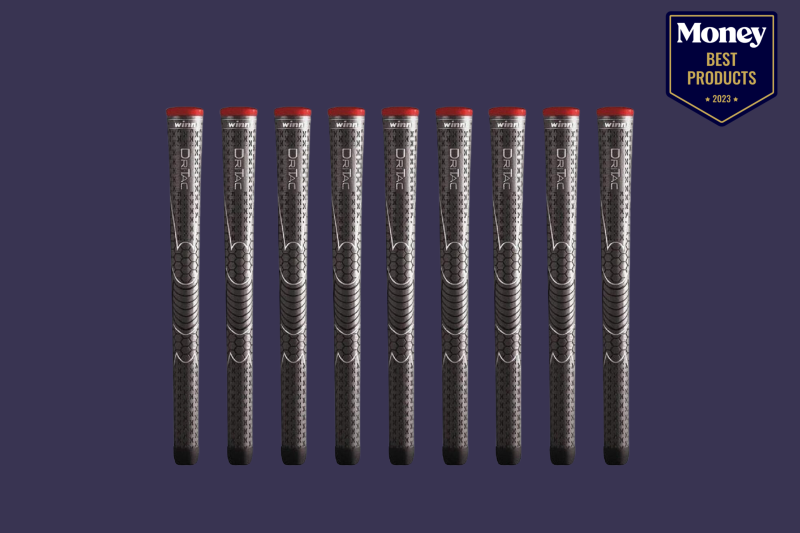 If you want to improve your golf skills, it's essential to have the right equipment — and that includes a high-quality golf grip. A good grip on your golf club can go a long way in keeping you comfortable and preventing hand strain while you play, resulting in a secure grasp, better control and more accurate swings. These products come in a range of designs and sizes, which can make it difficult to figure out which one is ideal for your needs and playing style.
To help you find a good fit, we've rounded up the top golf grips of 2023. We'll examine each option in detail and share some buying advice to guide you through the shopping process and help you make an informed purchase. Keep reading to learn more about how golf grips can take your game to the next level.
Best Overall: SAPLIZE CL03 Hybrid Golf Grips
Best Traction: CHAMPKEY Traction-X Golf Grips
Most Weather Resistant: Geoleap ACE-C Golf Grips Set
Most Sizes: Winn Dri-Tac Golf Grip Bundle
Best Materials: KINGRASP Multi Compound Golf Grips
Comparing the Finest Golf Grips of 2023
List Price: $39.99 - $46.99
First up on our list is the set of SAPLIZE CL03 Hybrid Golf Grips, which earned the top spot thanks to its ergonomic design and useful accessories. These grips boast a tapered construction, which minimizes hand fatigue and strain while maximizing strike power. This set comes in upgraded and deluxe varieties and includes 13 grips as well as a choice of installation tape or a solvent kit.
These golf grips are made from rubber material and are designed to provide excellent slip resistance and enhanced stability, even under various weather conditions. They come in mid- and standard-sized options and six color selections. This product is backed by a 30-day returnless refund policy in case you're unsatisfied so you can purchase with peace of mind.
Pros
Ergonomic, tapered design and slip-resistant construction
Thiry-day returnless refund policy
Two sizes and six colors are available
Cons
Dye may smudge
Initial rubbery odor
List Price: $29.99
Our runner-up, the CHAMPKEY Traction-X Golf Grips, utilize advanced technology and three different micro-textures on the front and back of each grip to provide superior traction. As a result, this pick offers exceptional control and comfort. There are 13 golf grips included in this set along with 15 strips of tape. This product is available in standard, mid-sized and oversized selections to suit most clubs and preferences.
These grips are made from the manufacturer's exclusive rubber material, which provides precise ball feedback and a comfortable feel. They feature a tapered construction, which reduces hand pressure and tension and allows for greater swing flexibility. The white and black details have a classic look, and the set is also available in red and blue shades if you prefer to add a pop of color to your clubs.
Pros
Hand alignment markings for optimal grip
Proprietary rubber construction to enhance performance
Three colors and three sizes are available
Cons
Installation can be difficult
Poor water resistance
List Price: $37.99 - $44.99
If you're looking for a product that'll hold up well in all weather conditions, consider the Geoleap ACE-C Golf Grips Set. These grips are made with a unique hybrid material and feature a surface texture that's scientifically designed to wick away moisture. This allows for a secure grip and exceptional stability, rain or shine.
The tapered design reduces tension in the hands and allows for more powerful swings, while the micro-texture on the grips' surface provides plenty of traction and slip resistance. Their rubber and cotton thread materials further enhance their swing power and anti-slip properties. Like the first two options on our list, there are 13 grips included in this product — enough for a full set of clubs.
Pros
Excellent traction and slip resistance
Moisture-wicking rubber construction
Ten color options and two sizes are available
Cons
No accessories included
Strong rubber odor
List Price: $74.50 - $82.63
Unlike some products that are only offered in standard- and mid-sized choices, the Winn Dri-Tac Golf Grip Bundle also comes in jumbo, junior and undersized varieties, making it easy to find the right fit for your clubs. This pick comes with detailed instructions to walk you through the installation process, and it's available in seven vibrant color selections for a customized look.
These golf grips are made from an innovative polymer material that offers padded comfort and exceptional moisture and slip resistance. Their ultra-tacky, textured surface ensures a firm grasp no matter the weather. They're designed to minimize hand strain and tension while enhancing distance, accuracy and control.
Pros
Detailed installation instructions included
Suitable for all-weather use
Seven color and five size choices
Cons
No grip tape or solvent included
Only comes with nine grips
List Price: $9.99
The upper parts of the KINGRASP Multi Compound Golf Grips are made from natural rubber and cotton thread materials, offering superior comfort, wear resistance and slip resistance. The lower sections of the grips are made from high-feedback, textured rubber for an easy grasp, even under inclement weather conditions.
The textured pattern offers excellent ventilation, traction and comfort for better, more powerful swings; it also contributes to their impact resistance and shock absorption. These golf grips are available in six colors and two sizes to suit your needs. Thanks to the manufacturer's 30-day, risk-free guarantee, you can purchase this product with the peace of mind that you'll receive exceptional post-sale customer service.
Pros
Excellent weather resistance
Tape strips included
Ventilated, shock-absorbent design
Cons
Only comes with two grips
Must purchase solvent separately
Golf Grip Buying Guide
Choosing the right golf grips for your clubs isn't always easy. With so many options on the market, it can be hard to know which features and qualities to look for. To make the process easier, the following buyer's guide will give you an overview of the essential factors to evaluate before making a purchase.
Comfort
Comfort is one of the most crucial factors to consider when looking for golf grips. The model you choose should fit comfortably in your hand without causing any irritation or strain. Generally, thinner grips are better for those with smaller hands, while thicker grips are better for those with larger hands.
Durability
Golf grips should be able to withstand repeated use over time, but some materials are more durable than others. Look for a product made with rubber material that has a strong weave pattern as well as other additives to increase the grip's overall durability and ergonomics.
Size
Make sure the grips you choose are suitably sized for your comfort and your golf clubs. They should be large enough to fit comfortably in your hand but not so large that they hinder your swing speed or control. If you have smaller hands, opt for a standard- or mid-sized grip; if you have larger hands, aim for a model that comes in extended sizes.
Tackiness
Grips with greater tackiness offer a secure, non-slip hold during your swing. Opt for rubber materials that are softer and more elastic, as they tend to provide more friction and traction on the club during use. Some golf grips also feature unique patterned designs to enhance their tackiness.
Cushioning
If you need extra shock absorption during your swing, opt for grips with padding such as foam material. These grips will help to reduce vibration and fatigue while improving overall feel and feedback while golfing.
Weather resistance
Consider the kind of climate you play in most often. If you live in an area with humid conditions or high temperatures, opt for a weather-resistant material that won't break down in wet conditions and won't become too slippery during play.
Installation
If you're installing the new grips yourself, choose an option that's easy to work with and requires less time and effort to attach properly to your clubs. Some golf grips require special adhesives to stay attached while others just require a bit of pressure or tape. It's also good to choose a set that comes with clear installation instructions. Be sure to research this process ahead of time before committing to any particular product.
Weight
The weight of a golf grip is also important when deciding which one is right for you, as heavier grips can make clubs feel off-balance during play. If you prefer more control and feedback during your swing, opt for lighter grips; if you want maximum stability from your clubs, choose heavier grips instead.
Technology
Technological advancements in golf club grips can lead to improved performance on the green, as they offer features such as improved shock absorption, increased tackiness and lighter weights than traditional designs. Consider modern designs with proprietary or innovative constructions if you're looking to get more out of each shot and take your game up a notch.
Price
Determine your budget ahead of time and keep it in mind when looking at different kinds of golf grips. While pricier models may offer some exciting features that appeal to higher-level players, there are some great value options out there that don't skimp on quality or performance.
Golf Grips FAQs
Are there different types of golf grips?
Yes, golf grips come in different styles. Some of the most popular options include rubber, cord, hybrid and wrap grips. These are all designed to provide enhanced comfort and performance.
How will I know which golf grip is right for me?
To decide which golf grip is right for you, it's important to consider several factors such as your hand size, grip strength, overall feel of the club and the type of golf you play. Comfort should be the highest priority when selecting a golf grip.
How often should I replace my golf grips?
Golf grips should be replaced every couple of years or whenever they become worn or damaged. The length of a golf grip's service life will depend on how often it's cleaned and used and how well it's stored.
What are the best materials for golf grips?
The best golf grips are typically made from either rubber or synthetic materials such as polyurethane or polypropylene thermoplastic elastomers (TPEs). These materials are designed to withstand adverse weather conditions while still providing plenty of comfort and control for any player's swing style.
What's the difference between ribbed and non-ribbed golf grips?
A ribbed golf grip has raised sections along its length that provide added traction and stability while a non-ribbed grip has a uniform surface that is smoother to the touch. Both types have their own advantages and disadvantages and should be chosen based on personal preference and the types of weather conditions they may be exposed to during use.
What are the advantages of using oversized golf grips?
Oversized golf grips can help improve comfort by providing extra room between the club handle and the golfer's hands. On the other hand, undersized grips can help increase control by providing better leverage when gripping the club shaft.
Why Trust Us
Our commitment to customers begins with a carefully curated product selection process, ensuring we provide high-quality and reliable options. We meticulously vet each golf grip, analyzing quantitative aspects, such as star ratings and review count, and qualitative factors, including review content and product features. Our dedicated team of bargain hunters consistently prioritizes your budget by meticulously scouring the market and identifying the best golf grips available without ever compromising on quality or performance. Our panel focuses on presenting the pros and cons of each golf grip and converting technical specs into understandable insights. We aim to ensure remarkable gameplay and performance on the course with top-rated golfing equipment.