The Best Golf Travel Bags for Your Money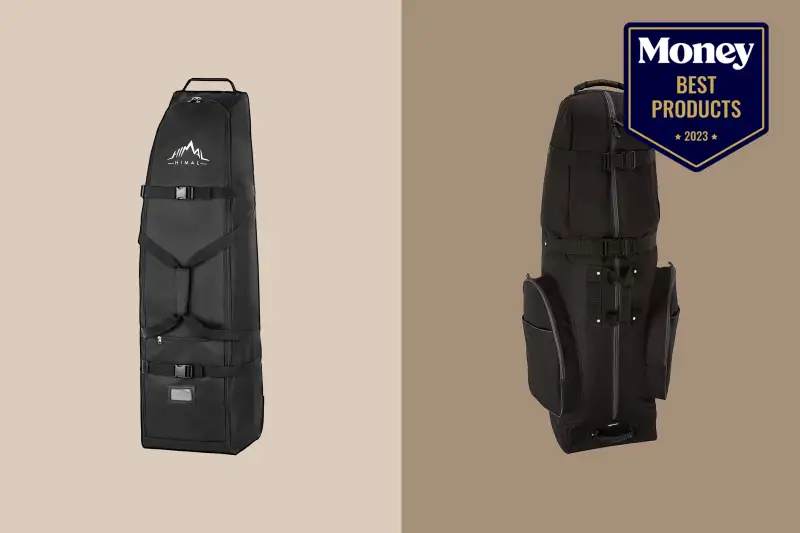 On the golf course, where precision meets passion, your clubs are not mere tools but the most crucial pieces of equipment in your golfing arsenal. Each one enables a slightly different kind of swing, converting your power and skill into low scores on the greens. But when it comes to traveling with your golf clubs and accessories, the challenge arises — how can you ensure their safety during the journey? That's where a golf travel bag comes in.
With their sturdy construction, ample padding, and user-friendly design, golf travel bags can offer peace of mind and convenience, keeping your equipment safely organized while on the go. With a range of options available on the market, finding the ideal one for you can be difficult. So, to assist you in buying the right one for your needs, we reviewed the finest golf travel bags of 2023. Our detailed buyer's guide also covers everything you need to know to make an informed purchase.
Best Overall: Himal Outdoors Soft-Sided Golf Travel Bag
Most Reliable: Amazon Basics Soft-Sided Golf Travel Bag
Best Set: CaddyDaddy Golf Constrictor 2 Travel Bag
Most Colors: OutdoorMaster Padded Golf Travel Bag
Most Affordable: Athletico Padded Golf Travel Bag
Reviewing the Most Popular Golf Travel Bags of 2023
List Price: $229.99
The Frogger Ultra Lightweight Golf Bag is the epitome of convenience, style, and functionality for the modern golfer. Designed with the needs of today's avid golfers in mind, this bag seamlessly blends innovation and elegance. By doing so, it enhances golfing experiences for everyone who uses it. Plus, at the core of this golf bag's appeal is its remarkable lightweight design.
Weighing significantly less than traditional golf bags, this golf bag ensures that you can carry your clubs across the course with ease. So, say goodbye to fatigue and hello to a more enjoyable round of golf with this bag. Its thoughtful design does not only include its weight. Instead, it's also incredibly well-organized with the help of multiple pockets. Together, they provide ample storage space for your clubs, golf balls, apparel, and accessories. Thanks to its well-balanced construction, this is the top choice on our list.
Pros
Exceptionally lightweight design

Offers plenty of storage options

Ease of maneuverability

Sleek and stylish
Cons
List Price: $229.99
This Frogger Golf Travel Bag is a masterfully crafted fusion of innovation, style, and practicality. Designed to make your golfing experience seamless and stylish, this travel bag is a true testament to Frogger's commitment to excellence. Experience unparalleled convenience with the Frogger Golf Travel Bag's ultra-lightweight design, weighing in at under 5 pounds. The inclusion of adjustable shoulder straps ensures an optimal weight balance, allowing you to enjoy comfortable, all-day carrying while you focus on your game.
No need to compromise on your golf equipment, this travel bag offers a solution that keeps everything in one place. Featuring seven spacious pockets, a five-way club management system, and two magnetic Latch-it receivers, this bag offers effortless storage and accessibility, making it a must-have companion for your golfing adventures. Make a statement on the course with multiple unique color and print combinations of the Frogger Golf Hybrid Bag. Designed to cater to both men and women, this bag redefines style and functionality for golfers of all genders.
Pros:
Ultra lightweight design for effortless travel
Ample storage with spacious pockets and club management
Stylish color and print options for a personalized touch
Cons:
No integrated wheels for rolling
List Price: $249.95
Embark on your golfing adventures with the Glove It Golf Travel Bag, a perfect blend of functionality and style that caters to the discerning needs of female golfers. Crafted from high-quality materials and boasting expert design, this 14-way golf club bag is an embodiment of excellence and custom elegance.
Experience a harmonious blend of style and practicality with the Glove It Golf Travel Bag. Not just a visual delight, these super-light golf cart bags feature three lift-assist handles that make course mobility a breeze. Designed with the modern woman in mind, they stand as ideal travel golf bags, effortlessly accompanying you wherever your game takes you.
Unparalleled convenience meets accessibility with this golf cart bag. Sporting 14 golf club dividers, nine easy-access pockets, a zip-off golf ball pocket, thermal-lined cooler pocket, soft-lined valuables pocket, umbrella sleeve, integrated putter well, and a rain hood, this pick has everything you need at your fingertips.
Pros:
Functional and fashionable 14-way golf club bag
Super-lightweight with lift-assist handles for easy mobility
Multiple pockets and dividers for convenient storage
Cons:
List Price: $69.99
Thanks to its premium, durable design and convenient quality-of-life features, the Himal Outdoors Soft-Sided Golf Travel Bag takes the best design spot on the list. This bag is made of heavy-duty 600D polyester oxford with a waterproof coating so it's tough enough to keep your clubs safe during travel. It offers a universal size of 13 x 15 x 30 inches, providing plenty of room for your golf clubs, shoes, balls, tees, and anything else you need to pack. The advanced smooth zipper design and fixed buckle offer reliable access to the compartments, while the quality wheels make the entire trip much more comfortable and convenient.
This golf travel bag has soft cushioning and a sturdy rubber frame to protect your golf equipment. The interior strap helps keep everything securely in place while traveling. The fixed carrying handles make it easy to lug around in airports or train stations. This pick also includes an extra easy-to-access pocket for essentials like your keys or wallet and a business card holder. With its durable construction, spacious design, and convenient features for securing and transporting your clubs, this golf travel bag grabs the best design option on our list.
Pros
Compact enough to fit in a trunk
Quality, waterproof material delivers incredible durability
Lightweight and easy to transport
Cons
Not ideal for heavy golf clubs
Padding may develop holes over time
List Price: $59.99
The Amazon Basics Soft-Sided Golf Travel Bag is an excellent choice for anyone who wants to reliably transport their golf clubs conveniently and safely. Boasting measurements of 13 x 15 x 50 inches, this product is the ideal size for carrying all your golfing essentials. It's made of durable nylon fabric designed to handle the wear and tear of regular use. Reinforced stress points and heavy-duty curb rails ensure your clubs are well protected, while its well-placed riveted handles make it easy to carry. Additionally, the inline-skate-style wheels make for a smooth-rolling experience through airports or other busy spaces.
For added security and protection, the bag's compression straps securely keep your clubs in place, while its heavily padded top section ensures that your club heads are safely cushioned. If you're bringing extra gear, there are multiple zippered compartments to store items like balls or shoes. Durable construction and thoughtful features make this golf travel bag an ideal storage option for anyone who wants to play golf while on the go.
Pros
Durable and sturdy construction
Wheels make it easy to maneuver
Excellent padding for reliable protection
Cons
Bag doesn't stand when loaded with clubs
Construction may be a little heavy
List Price: $122.95
The CaddyDaddy Golf Constrictor 2 Travel Bag is the perfect combination of high-quality material, protection, and portability thanks to its included accessory. This product comes with a North Pole club protector that is adjustable up to 52 inches long to provide added protection for various golf clubs inside the bag. The bag itself is constructed from 1800D polyester that's three times thicker than the leading material for golf travel bags. For extra security, there are also internal and external cinch traps to keep clubs from moving.
In addition to its large size of 13 x 15 x 50 inches, the two oversized pockets allow for additional storage of golf accessories such as shoes, tees, balls, and other items. The bag also features riveted handles, made from rubber and nylon padding, for easy and comfortable carrying. The inline skate wheels also add to this pick's convenience. So, whether you're a pro on tour or an avid golfer who loves to travel, this golf bag is the perfect travel companion for keeping your clubs and equipment safe.
Pros
Durable construction with extra-thick material
Lockable main compartment and two external pockets
Included telescoping club head protector
Cons
Back straps aren't very strong
Zipper may break after some use
List Price: $79.99
If you want a golf travel bag that's stylish and stands out from all the others at baggage claim, this option from OutdoorMaster is an excellent choice for protecting your golf clubs during transportation. Available in four colors, including coffee, black and gray, black and blue, looks as great as it works. Made from 900D Oxford material, this bag is wear-resistant and waterproof, featuring two cushioned layers for added protection for your gold clubs. It's equipped with optimized in-line skate wheels and a high-quality rubber base for easier portability. It also comes with a dedicated shoe bag to keep your golf shoes in nice condition.
At 14 x 15 x 54.3 inches, its length and roomy design make it ideal for a full set of clubs, while two fixing straps provide extra security and stability. The bag also offers a few different carrying options. It's equipped with a shoulder strap and multiple handles. With its foldable structure and bullet-like shape, it's easy to store and transport. Additionally, it features a U-shaped zipper system with a wide opening, ensuring convenient access for opening and closing. These quality features make it a stylish travel bag for any golfer who needs to take their clubs and equipment on the go.
Pros
Easy to put golf clubs in
Stylish and quality materials enhance its longevity
Tough wheels for smooth rolling
Cons
Handles could be of better quality
Side pockets may develop holes over time
List Price: $49.99
If you're shopping on a budget, the Athletico Padded Golf Travel Bag is an affordable pick that offers a unique combination of protection and convenience for traveling golfers. With 5mm thick padding throughout, it's designed to keep your expensive clubs safe and secure while traveling. For those concerned about durability, this bag is built to last. Its 600D polyester exterior features a vinyl base to shield it from scuffs or abrasions. With a size of 12 x 14 x 53 inches, this option offers plenty of space to hold your clubs and other equipment.
This golf travel bag also comes with several practical features that add to its convenience. Neoprene-padded, velcro-locking handles make it easy to carry through busy airports while an adjustable, padded shoulder strap provides extra comfort. It's backed by a one-year warranty, so you can be sure you'll get your money's worth out of this useful piece of golf gear. Its combination of protection and convenience for a low price of under $50 makes this travel bag a must-have for anyone who wants to keep their gear safe without sacrificing comfort or ease of use.
Pros
Perfect for occasional or short trips
Lightweight makes it easy to carry
Comfortable shoulder strap for carrying clubs
Cons
Doesn't have wheels
May be quality issues with seams
Finding Your Next Golf Travel Bag: A Buyer's Guide
Embarking on a golfing adventure is a thrilling pursuit, a chance to conquer pristine fairways in far-flung destinations. But before you tee off into the sunset, there's one essential companion you must acquire: a golf travel bag. This tool can help you safely protect your beloved clubs and equipment while navigating airports or buses to arrive at your destination with peace of mind.
The realm of golf travel bags is as vast as the greens themselves, however, with a dizzying array of options available to choose from. Our comprehensive buying guide is here to help you navigate the market, ensuring your investment is an informed one. Below, we cover some of the most essential factors to consider when choosing the right golf travel bag for your needs.
Size and weight
When choosing a golf travel bag, consider the size, weight, and bulk of the bag. Make sure it will fit all your clubs and other equipment comfortably and securely but still be light enough for easy transport. If necessary, ensure it's small enough to fit in an overhead bin on an airplane
Material and durability
When choosing a golf travel bag, it's important to prioritize the durability and strength of the material. Look for a bag made from strong and resilient materials, such as polyester or ballistic nylon.
These materials strike a balance between lightweight design and robust construction, ensuring that your clubs are adequately protected from impacts and rough handling during travel. By opting for a bag made from tough material, you can have peace of mind knowing that it will withstand the rigors of travel to keep your golf equipment safe.
Padding and protection
Make sure that the bag you select has ample padding to protect your clubs from any bumps and jostles during travel. Good quality padding can help reduce wear and tear on your equipment over time and prevent damage.
Compartments and storage
When selecting a golf travel bag, it's important to choose one with plenty of compartments for storing accessories and other equipment such as golf balls, tees, towels, and apparel. Having dedicated compartments for each item allows for efficient organization, ensuring everything has its own place.
This not only keeps your items neatly organized but also enables easy and quick access to what you need without having to rummage through a single, large space. A golf travel bag with multiple compartments promotes convenience to enhance your overall golfing experience when packing and traveling.
Straps and handles
When selecting a golf travel bag, it's crucial to prioritize opting for one with security straps. These straps help keep your clubs securely in place during transit, preventing them from shifting or getting damaged.
Additionally, look for a bag with comfortable handles that make it easier to carry your equipment from one location to another. If you have a heavier set of clubs, consider choosing one with additional straps or wheels to make transporting it even easier. These features contribute to a more convenient and secure golf travel experience.
Water resistance
When selecting a travel bag, it's crucial to look for one that's water resistant. Opting for a water-resistant bag ensures that it can withstand adverse weather conditions or accidental spills without harming your valuable equipment. Whether you're navigating through rainy streets or dealing with unexpected leaks during transit, a water-resistant golf travel bag offers peace of mind, safeguarding your belongings from potential water damage.
Lockable zippers
When choosing a golf travel bag, it's essential to consider the presence of a lockable zipper. This feature is vital in keeping your clubs safe and secure during transit. By having a zipper that you can lock, you can prevent unauthorized access and potential theft of your equipment. This adds an extra layer of protection and security, giving you peace of mind while traveling with your valuable golf clubs.
Extra features
Additionally, look for any extra features that may be useful depending on where you're traveling and how long you'll be away from home. For instance, some bags offer additional pockets or extra carry handles, which may be beneficial for shorter trips.
People Also Ask
How much does a golf travel bag cost on average?
The cost of a golf travel bag can vary significantly depending on the features you want and the brand you choose. Generally, you can expect to find quality golf travel bags under $100. But higher-end bags with more features can range from $100 to $300 or more.
Are all golf travel bags durable enough to protect my clubs?
Most golf travel bags are designed to be durable and protective enough for your clubs and other gear while traveling. Look for features like reinforced construction and padding to ensure your gear is secure and safe from any bumps that might occur during transport.
What size and weight should I look for in a golf travel bag?
Size is an important factor to consider when choosing a golf travel bag. Generally, look for one that can fit all your golf clubs plus additional accessories such as balls, tees, towels, and clothing. As far as weight is concerned, try to find one that is lightweight enough so that it doesn't become too cumbersome when carrying it around from place to place.
Do most golf travel bags have compartments or other internal storage areas?
Yes, many golf travel bags come with convenient compartments or other internal storage areas that make organizing your clubs and golfing accessories easier and can help protect them from any potential damage while traveling.
How long do most golf travel bags last before they need replacing?
The lifespan of a good quality golf travel bag depends on factors such as the quality of material used in construction and how often it's used or exposed to wear and tear. In general, they tend to last quite some time if taken care of properly. Most golfers find that their golf travel bags last at least three to four years before needing replacement or repair work.
Why Trust Us
Our commitment to the consumer begins with product selection and ends with the last word we write in each article. Each golf travel bag is carefully vetted quantitatively through star ratings and the number of reviews qualitatively through careful examination of reviews and the features each one has to offer. Leveraging our team of bargain hunters, we're also always sure to keep your budget in mind while we find the best golf travel bags on the market. Our team of experts is dedicated to accurately depicting the pros and cons of each golf travel bag, translating technical product specifications into information you can understand. We aim to offer unbeatable value on golf equipment purchases by providing high-quality products, ensuring a remarkable experience to improve your performance on the course.