The Best Golf Umbrellas for Your Money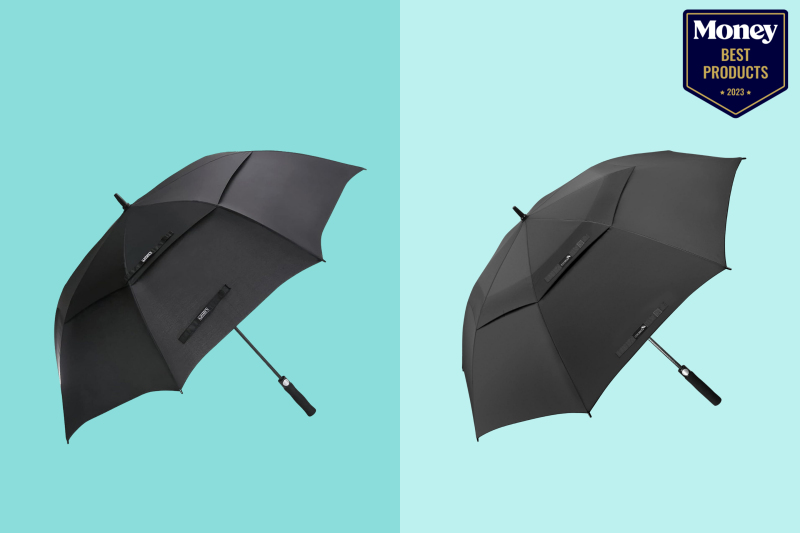 Without proper protection, harsh weather can quickly ruin a day on the golf course. That's why it's essential to have a high-quality golf umbrella on hand when playing. These products are designed to shield you and your belongings from unexpected rain and strong ultraviolet (UV) rays so you can enjoy a pleasant golfing experience, even under unpleasant conditions.
In this guide, we'll examine the finest golf umbrellas of 2023 and discuss their features, pros and cons. From materials and size to design and weather resistance, we'll take you through all the factors you should evaluate as you're shopping for this golfing accessory so you can find the right option for your needs and budget. Read on to learn more about how a golf umbrella can protect you and your gear from rain, wind and solar rays.
Best Overall: EEZ-Y Windproof Golf Umbrella
Best UV Protection: MRTLLOA Oversize Golf Umbrella
Best Color Variety: G4Free Automatic Open Golf Umbrella
Best Durability: ACEIken UB001 Golf Umbrella
Most Convenient: ZOMAKE Oversized Golf Umbrella
Comparing the Top Golf Umbrellas of 2023
List Price: $37.96
Our first pick, the EEZ-Y Windproof Golf Umbrella, earned its place at the top of our list thanks to its portability and lightweight construction. It has a foldable design that allows you to reduce its size from 58 to 23 inches for space-efficient carrying and storage. This pick also has a low weight of 1.2 pounds, further adding to its portability.
This golf umbrella opens automatically with just the push of a button. It has a metal shaft and eight ribs made from lightweight yet durable fiberglass material. The handle is ergonomically designed and slip-resistant to ensure a comfortable, secure grip while on the course. This product is available in nine different colors, and its double-canopy construction offers excellent wind resistance.
Pros
Auto-open button for single-handed operation
Foldable for maximum portability
Anti-slip ergonomic handle ensures comfortable, reliable use
Cons
No auto-close feature
Handle could be longer
List Price: $22.99 - $44.99
Next up on our list is the MRTLLOA Oversize Golf Umbrella, which has an impressive 50+ ultraviolet protection factor (UPF) to block out 99.95% of the sun's rays. It has a straight handle with an ergonomic, rubberized grip for a comfortable and secure hold. The double-canopy construction offers excellent ventilation and minimizes the chances of strong winds turning the umbrella inside out.
The canopy is made from fast-drying, 210T pongee material, and the ribs and tips are made from premium fiberglass that's sturdy yet lightweight. This golf umbrella is available in four size options ranging from 54 to 72 inches, and it's backed by a one-year manufacturer's warranty so you can purchase confidently. It opens automatically and comes in 18 different colors.
Pros
Durable rust- and bend-resistant ribs
Dual-canopy construction enhances wind resistance
Available in four sizes and 18 colors
Cons
Fabric may be thinner than expected
Spoke caps may fall off over time
List Price: $21.99 - $28.99
If you're looking for a high-quality product that comes in tons of stylish color options, consider the G4Free Automatic Open Golf Umbrella. With 21 different colors and two-tone styles to choose from, finding one to suit your taste and match your golf gear will be easy. The dual-canopy is made from top-tier, 210T pongee material, making it lightweight as well as water- and UV-resistant. Plus, this umbrella is backed by a one-year warranty for peace of mind.
The automatic-open button allows you to open this golf umbrella quickly, easily and with one hand for optimal convenience. This product comes with a protective sleeve that's fitted with a shoulder strap for convenient carrying and storage when it's not in use. It comes in four size choices ranging from 47 to 68 inches to offer various levels of coverage depending on your needs.
Pros
One-year warranty coverage
Single-handed operation with automatic-open feature
Available in 21 color options
Cons
Handle could be more comfortable
Strong winds may cause ribs to bend
List Price: $23.99 - $34.99
The ACEIken UB001 Golf Umbrella stands out from comparable products thanks to its ultra-durable construction and materials. The shaft is made from a combination of stainless steel, metal alloy, fiberglass and resin while the handle is made of ethylene vinyl acetate (EVA). This construction ensures the umbrella can withstand exposure to heavy rain, strong winds and UV rays without bending, breaking or losing its shape.
This golf umbrella opens automatically and quickly with just the touch of a button, offering prompt protection during sudden downpours. Made from 210T pongee fabric, the dual canopy is completely waterproof and offers plenty of ventilation while the design prevents it from turning inside-out. This model is available in 58, 62 and 68 inches as well as 10 colors, so you can find one that suits your needs and style.
Pros
Quick-drying, waterproof canopy
Ergonomic EVA handle grip
Returnless replacement guarantee
Cons
Fewer size choices than our other options
Heavier than comparable products
List Price: $26.00
Designed to fit in most golf club carts and bags with ease, the ZOMAKE Oversized Golf Umbrella boasts a user-friendly construction. It has an auto-open button, allowing you to pop the umbrella open with one hand and the simple touch of a button for quick, reliable protection from rain, UV rays and wind. The ergonomic, oversized handle is easy to grip thanks to its cushioned, slip-resistant EVA material.
Sold in a range of sizes, it comes in 51, 54, 62 and 68 inches, the smallest of which offers plenty of coverage for up to two people. The shaft is made from fiberglass material, making it ultra-resistant to bending and corrosion. There are 21 colorful styles to choose from including two-tone designs. The golf umbrella features eight reinforced ribs and a double-canopy construction for optimal wind resistance, and it comes with a one-year warranty.
Pros
Ergonomic, easy-grip handle
Corrosion- and water-resistant construction
Protective cover included
Cons
Auto-open button may get stuck occasionally
No auto-close feature
Golf Umbrella Buying Guide
With so many golf umbrellas available on the market, finding the right option isn't always easy. The following buying guide will walk you through the most important factors to consider while you're shopping so you can make an informed and successful purchase.
Portability
A golf umbrella should be lightweight and easy to bring along with you on the course. Look for one that's not too bulky and fits easily in your bag. Some of the best models come with carabiners, allowing you to attach them to your cart or bag with ease.
Weight
Choose a golf umbrella that has a fiberglass frame, as these tend to weigh less than those with metal frames. Overall, your umbrella shouldn't weigh more than two pounds to ensure it'll be easy to transport and carry.
Wind resistance
Golf courses can get windy, so it's essential to choose an umbrella that'll be able to withstand windy conditions. Look for options with strong frames and canopies that won't bend or turn inside-out when strong winds blow. In general, double-canopy golf umbrellas with vented designs are highly wind-resistant.
Durability
A golf umbrella should be durably constructed and built to last. Opt for a model with a sturdy handle, shaft, ribs and joints. It should also be waterproof and UV-resistant to ensure it'll hold up well to regular use and exposure to the outdoor elements over time. Read through customer reviews to get an idea of how long different models last.
Size
Golf umbrellas come in several size selections. The larger the umbrella, the more coverage it'll offer. Keep in mind that larger options also tend to be a bit heavier than smaller ones. The three most popular sizes are 54-inch, 62-inch and 68-inch options. For reference, 54-inch models usually weigh around 1.35 pounds and offer adequate coverage for one adult and one child; 62-inch products weigh about 1.55 pounds and can accommodate two adults; and a 68-inch model weighs approximately 1.62 pounds and will cover two adults and two children. Consider how much coverage you want before choosing a size.
Materials
Some construction materials are more durable and weather-resistant than others. For optimal protection against rain, wind and UV rays, we recommend choosing a golf umbrella made from pongee material with a UPF 50+ rating. Fiberglass and lightweight metals also provide reliable durability.
Auto-open feature
For optimal convenience, look for a golf umbrella that has an auto-open feature. The best models can be opened in seconds by simply pushing a button. This can come in handy if it starts raining suddenly and you need fast protection.
Warranty coverage
It's always a good idea to opt for a golf umbrella that's backed by a manufacturer's warranty. This will give you peace of mind and ensure that your purchase is protected in case of any defects or post-sale issues you may experience down the line.
Brand reputation
Before making a purchase, research the manufacturer of your chosen model to ensure it has a long-standing record of offering high-quality golf umbrellas and excellent post-sale support. Reading customer reviews is a great way to get insight into a brand's reputation.
Common Golf Umbrella Questions
How does a golf umbrella differ from a regular umbrella?
Golf umbrellas are usually between 15% and 30% larger than the average umbrella, offering extra coverage for golfers and their bags. The rib length of a regular umbrella is 21 to 25 inches, whereas a golf umbrella's rib length is between 26 and 34 inches. Additionally, golf umbrellas typically have a straight handle, making them easier to carry in golf bags.
How much does a golf umbrella cost?
Golf umbrellas vary in price depending on their materials, design and features. Generally, most options cost between $20 and $40, however, higher-end models can cost as much as $60 to $100.
Are there different types of golf umbrellas?
Yes, golf umbrellas come in several styles. Some of the most common types include straight, two-fold, three-fold, single-canopy, double-canopy, auto-open, manual-open, round and square-shaped options. Additionally, some are transparent, while others are opaque.
What are golf umbrellas most commonly made out of?
Several different materials are used in the construction of golf umbrellas. Some of the most popular materials include pongee, nylon, polyester and PVC.
Can I have my golf umbrella customized?
Yes, many manufacturers offer customizable products, allowing you to personalize the umbrella with the colors, logos or designs of your preference. This is a great way to support your favorite team or organization, show off your personal style or give a one-of-a-kind gift to the golf enthusiast in your life.
Can a non-golfer use a golf umbrella?
Absolutely. In fact, many non-golfers opt for golf umbrellas for rain and UV protection because of the additional coverage and weather resistance they offer.
Why Trust Us
Our commitment to customers begins with a carefully curated product selection process, ensuring we provide high-quality and reliable options. We meticulously vet each golf umbrella, analyzing quantitative aspects, such as star ratings and review count, and qualitative factors, including review content and product features. Our dedicated team of bargain hunters consistently prioritizes your budget by meticulously scouring the market and identifying the best golf umbrellas available without ever compromising on quality or performance. Our panel focuses on presenting the pros and cons of each window golf umbrella and converting technical specs into understandable insights. We aim to ensure remarkable gameplay with top-rated golf equipment.