The Best Grill Brushes for Your Money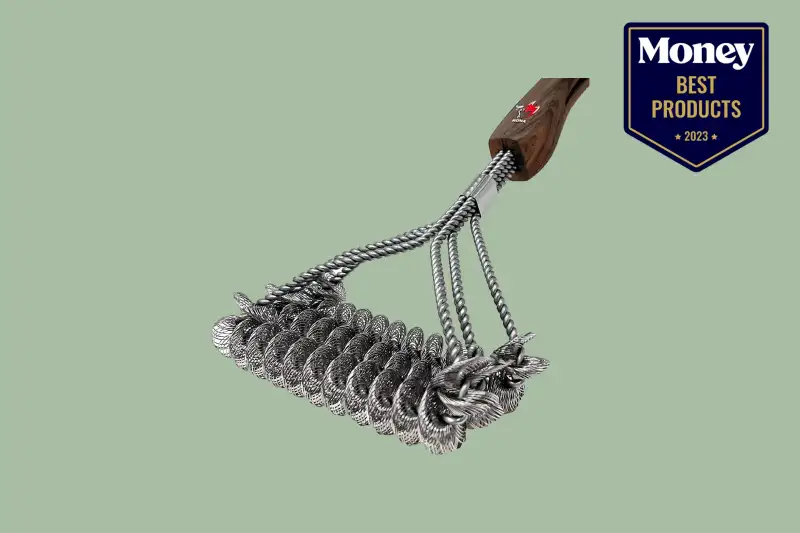 Cleaning your grill is an essential part of outdoor grilling safety, but it's often overlooked. Regular upkeep with the proper cleaning tools enhances your grill's efficiency and ensures safer, more enjoyable cookouts. With the right grill brush, you'll be able to easily scrape away any stuck-on debris and ensure your burger patties and other dishes won't end up tasting like last week's dinner.
Given the many options available, choosing the perfect grill brush can be challenging. To make your decision easier, we've compiled a list of the highest-rated grill brushes of 2023, highlighting their features and analyzing their pros and cons. We also put together a detailed buying guide that outlines the essential factors to consider when shopping for a quality grill brush. So, keep reading to find the ideal grill brush to maintain your grill's pristine condition and peak performance as if it were brand new.
Best Overall: GrillArt Bristle Free Grill Brush and Scraper
Most Affordable: Cuisinart CCB-5014 BBQ Grill Cleaning Brush and Scraper
Most Premium: Kona Safe/Clean Grill Brush
Most Versatile: Alpha Grillers Grill Brush and Scraper
Most Durable: Outset QB47 Rosewood Collection Oversized Grill Brush
Reviewing the Top Grill Brushes of 2023 in Detail
List Price: $13.99
Unleash the power of the Grillman Grill Brush, your ultimate tool for achieving a pristine grill every time you cook. Measuring a generous 18 inches, this extra-long grill cleaning brush ensures no grilling surface is left untouched. The easy-to-grip handle, fortified with double-anchored woven braces, provides unparalleled strength, making light work of the toughest cleaning challenges.
Worry no more about scratches or marks on your grill. The Grillman Grill Brush is designed to leave your grill looking brand new, regardless of its material. Whether you have porcelain grill grates, stainless steel grill grates, or cast iron, this non-scratching brush is your go-to companion.
Engineered with perfection in mind, the Grillman Grill Brush features an extra-sharp scraper with grate grooves. As you preheat your grill, simply brush the grate and utilize the scraper's corner notches to eliminate any lingering residue. This best overall brush accommodates all types of grill grates, ensuring a thorough clean-up.
Pros:
18-inch length for thorough cleaning
Nonscratching design suitable for various grill materials
Extra-sharp scraper with grate grooves for residue removal
Rust-free stainless-steel bristles ensure durability
Cons:
May require some effort on tougher spots
List Price: $29.99
The GrillArt Bristle Free Grill Brush and Scraper takes our best design award for its performance, safety, and durability. This brush is made with high-quality stainless steel that is free of any hazardous chemicals, making it safer to use than traditional wire brushes. Ideal for gas, charcoal, smoker, porcelain, and infrared grills, its flexible yet sturdy triple helix construction can easily reach and scrub more corners than most grill brushes. Additionally, the wide scraper allows you to clean more in less time. The bristle-free head is designed to remove stubborn residue from any size grill grate without scratching or damaging the surface, while its angled design helps you reach into hard-to-reach spots to remove caked-on food and grease.
This grill brush also features an ergonomic handle for optimal comfort and control. The handle is 18 inches long, so even large grills will not be challenging when using this brush. It's also made of tough plastic to prevent it from bending or snapping. This product comes with a 100% money-back lifetime guarantee, so you can rest assured that your purchase is protected. With its long-lasting, premium-quality construction and user-friendly design, you can trust that you're getting the best-designed grill cleaning brush available on the market.
Pros
Bristle-free, durable stainless steel construction
Safe to use on any grill surface
Extra-long handle for ease of use
Cons
Pricier than traditional brushes
Large brush not ideal for smaller grills
List Price: $14.99
Shopping for a grill brush on a budget? The Cuisinart CCB-5014 BBQ Grill Cleaning Brush and Scraper is an affordable yet efficient tool for deep-cleaning grill grates. Made of high-quality stainless steel, this pick is durable and long-lasting. The grill brush wires are securely bound into three rows of aluminum coils set at opposite angles to effectively break up tough residue on the grill grates. A stainless steel scraper at the end of the brush provides added power to help remove tough debris from the grates. At 16.5 inches in length, this premium option is appropriately sized for use with just about any grill. The uniquely angled handle of this tool ensures that you can reach over the grill to clean any hard-to-reach nooks and crannies.
The handle has a smooth stainless steel design, making it durable and comfortable to hold. While this grill brush was designed to withstand tough scrubbing, it can also be easily cleaned by rinsing it under water and using a sponge if needed. Even better, you can safely pop it in the dishwasher for a faster, more thorough cleaning. This product also features a convenient hanging hook for easy storage and access when you're grilling. Besides its budget-friendly price, the durable construction and easy-to-clean design of this grill brush make it a practical addition to any grilling toolkit.
Pros
Durable stainless steel construction
Angled handle for easy access to grates
Unique brush pattern for optimal cleaning
Cons
Bristles may be too stiff for some
Not suitable for wide grates
List Price: $49.99
The Kona Safe/Clean Grill Brush is a premium, modern alternative to traditional bristle grill brushes. With a patented structure featuring three rows of coils, it has 125% more rigidity than conventional brushes. This innovative design ensures a food debris-free grill and eliminates the risk of ingesting hazardous bristles. The 4-inch wide head provides maximum coverage with each stroke, so you can clean your grill more efficiently. Constructed from 100% stainless steel, it's also durable and long-lasting. Its rust-resistant composition lasts up to five times longer than conventional brushes without the worry of bristles wearing down or falling apart.
The handle is comfortable to use, featuring a textured surface for better grip and control. Its length of 18 inches is designed for optimal convenience and safety, allowing you to work at the ideal angle while keeping your hands further away from the heat. Plus, this product comes with a five-year manufacturer's warranty, so you can be sure it's built to last. With its premium, efficient design and excellent durability, this grill brush is the ideal choice for anyone who wants a reliable, long-lasting grill tool to keep their grill in pristine condition for years to come.
Pros
Textured, comfortable handle for better grip
Rust-resistant, stainless steel construction
Innovative design allows for efficient cleaning
Cons
Wire coils wear out with frequent use
Not ideal for rough-textured grates
List Price: $16.99
If you're looking for an option that works well on all surfaces, the Alpha Grillers Grill Brush and Scraper is a must-have addition to your grilling toolkit. Its sturdy stainless steel bristles work wonders to deep clean porcelain or ceramic grill grates, providing superior cleaning power while preventing scratches or damage on the surface. The rust-proof durability and flexibility of the bristles ensure that it works wonders on other types of grill grates as well, including stainless steel and cast iron. Its heavy-duty design with thick bristles delivers superior cleaning power while the scraper on the opposite end helps remove stubborn, stuck-on food and grease.
With three times the surface area of a traditional grill brush, you can quickly and safely clean your grill in less time. This grill brush and scraper also provides exceptional control with its 18-inch long design, keeping your hands safely away from the heat while allowing you full control to clean even those hard-to-reach areas. This versatile grill brush is designed to provide optimal cleaning power while ensuring that your expensive smooth or rough grates are left unscathed, making this an excellent tool for keeping your grill in top-notch condition all season long.
Pros
Rust-proof stainless steel bristles for long-lasting use
Safe for all types of grates
Thick bristles to deep clean grooves
Cons
Bristles may be too stiff for some
Not dishwasher safe (hand-wash only)
List Price: $16.99
The Outset QB47 Rosewood Collection Oversized Grill Brush is built strong, so it's perfect for heavy usage and tough buildup. With a weight of 64 ounces and dimensions measuring 65 x 35 x 4 inches, this grill brush provides powerful cleaning ability yet is still easy and comfortable to handle. The brass bristles are rust-proof, durable, and capable of deep cleaning without risking damage to your grill's surfaces. Plus, they're gentle enough to use on even ceramic or porcelain grates.
The ergonomically designed handle provides exceptional comfort when gripping the brush, ensuring it won't slip or slide out of your hands while cleaning those hard-to-reach areas. The rosewood finish beautifully contrasts with the brass bristles, offering a touch of classy style. Not only does the brush do a great job at keeping your grill spotless, but the copper hanging loop also makes it a unique display piece when hung. This large-sized, heavy-duty brush is designed to make short work of the dirtiest grills, freeing them from grime and residue quickly and without hassle.
Pros
Oversized, heavy-duty construction for large grills
Ergonomic handle provides exceptional comfort
Rosewood finish contrasts beautifully with brass bristles
Cons
Copper loop may not fit every grill
No scraper included
Buying Guide: Grill Brushes
For barbeque enthusiasts, one of the key components to a delicious meal is a well-seasoned and properly maintained grill. Without regular cleaning, your grill can become dirty and add an unpleasant taste and texture to your food. Even worse, it can become a breeding ground for bacteria or create a fire hazard.
The right cleaning tool can extend the life of your grill and decrease the amount of effort and time required to maintain it. In this comprehensive buying guide, we've outlined the key features to consider when selecting a grill brush. With this information, you'll be able to find the right grill brush for your needs and budget.
Bristle type
The type of bristle material used is a critical factor in choosing the right grill brush. Natural bristles are made of animal hair and provide excellent cleaning power, but they can be more susceptible to heat damage. Brass or stainless steel bristles are durable and can withstand higher temperatures, but may cause damage to softer metal grates depending on their construction. Nylon bristles are good for general cleaning and won't scratch delicate surfaces. Some grill brushes don't feature wire bristles but instead use wire coils, usually made from metal.
Size
Grill brushes come in all shapes and sizes, so it's important to choose one that fits your specific grilling needs and preferences. Larger brushes tend to work better on larger grills, while smaller brushes are more convenient and easier to use on smaller grills or portable grills. To ensure your brush is the right size for your grill, measure the width and length of the head and scraper (if included) before making a purchase.
Handle
A comfortable handle is essential for easy maneuvering when cleaning your grill grate. Look for ergonomic handles with comfortable grips or long-handled options that keep your hand away from heat sources. Some brushes come with angled handles which can be useful when trying to get into tight spots or scrubbing certain sections of your cooking surface without having to move the brush too much from its original position. The angle of the handle can also reduce wrist strain while cleaning since you won't have to keep adjusting your grip throughout the process.
Durability
How well a brush stands up against heat and tough scrubbing largely depends on its material composition. Stainless steel and other metal brushes with thicker bristles tend to be more durable than natural or plastic brushes with thinner bristles. The grill brush should be able to withstand high temperatures as well as any chemicals used in the cleaning process. Make sure to look for ones made with materials that won't wear out quickly or become brittle over time.
Ease of use
Ease of use is an important factor to consider when selecting a grill brush. Look for a brush that glides easily over the cooking surface and has an angled handle so you can target your scrubbing area. Brushes with flexible bristles are also helpful when trying to reach into hard-to-clean corners and crevices. Scrapers are useful for tackling stubborn food residue and grease as well.
Flexibility of bristles
Flexible bristles can help you reach hard-to-clean nooks and crannies on your grill grate. Look for brushes with flexible bristles that won't break down under significant pressure so you can get into those tough spots without worry.
Bristle density
A higher bristle density means that there are more bristles per square inch which will help to thoroughly scrub away stuck-on food particles. Some brushes come with different levels of bristle densities or varying numbers of rows, so look for ones that offer an optimal design for your grill.
Rust resistance
Whichever grill brush material you opt for, ensure it's able to resist rust over time when exposed to moisture and other elements. Brush heads made out of metal are usually resistant to rust but you should always double-check prior to purchase to ensure your grill brush can last for long-term use.
People Also Ask
What is the best type of grill brush?
The best grill brush to buy depends on the type of grill you own and how often you use it. High-heat stainless steel and ceramic grills require different types of brushes than charcoal and cast iron grills. Ultimately, look for a brush that is designed for your type of grill and features sturdy bristles, a comfortable handle, and good build quality.
What are some of the advantages of using a good quality brush for grilling?
One of the biggest benefits of having a good quality brush is that it can effectively remove stubborn burnt-on residue without damaging your cooking surface in any way. It should provide even coverage when brushing away excess debris so that your food will always cook evenly with less chance of flare-ups due to excess fat dripping onto the flame below your cooking surface. Additionally, using a durable, quality brush is ideal for safety, since you don't want the bristles to break and leave behind any bits of metal after you're done scrubbing the cooking surface.
How long do grill brushes last?
The lifespan of a good quality brush depends on how often it's used and how well it's maintained. Generally, they can last anywhere from six months to a few years depending on usage. Properly storing and cleaning your brush after each use will help extend its life and maintain its performance over time.
How often should I replace my grill brush?
It's recommended to replace your grill brush every few months, or when the bristles start to break or wear down significantly. When in doubt, it's best to err on the side of caution and replace your brush earlier rather than later if you notice any signs of wear or damage.
Are there any special care instructions for a new grill brush?
Yes, there are some key tips to keep in mind when caring for your new grill brush. To clean it, use hot water and mild soap if needed, but avoid soaking the bristles as this can cause them to weaken. Always store your grill brush in a dry location when not in use and inspect it regularly for signs of damage. Finally, replace your brush every few months or when the bristles start to break down.
Are there any safety considerations for using a grill brush?
Yes, whenever using a grill brush be sure to wear safety glasses or goggles to protect your eyes from any debris that may be kicked up during scrubbing. It's also a good idea to use an oven mitt or heat-resistant glove when handling hot surfaces. Lastly, never leave your grill unattended while it's in use as this could result in potential accidents or fires!
Why Trust Us
Our commitment to the consumer begins with product selection and ends with the last word we write in each article. Each grill brush is carefully vetted quantitatively through star ratings and the number of reviews qualitatively through careful examination of reviews and the features each one has to offer. Leveraging our team of bargain hunters, we're also always sure to keep your budget in mind while we find the best grill brushes on the market. Our team of experts is dedicated to accurately depicting the pros and cons of each grill brush, translating technical product specifications into information you can understand. Our mission is to share top-of-the-line grilling products worth your money, ensuring a remarkable outdoor cooking experience that won't break the bank.