The Best Grip Strengtheners for Your Money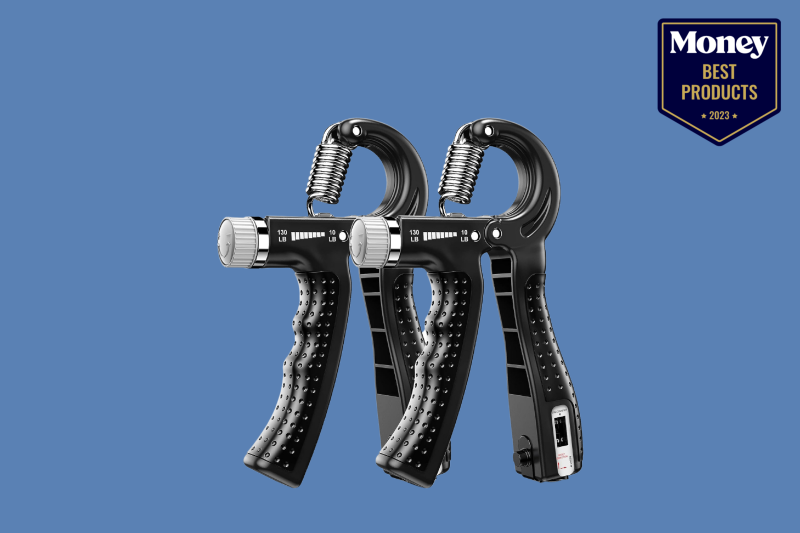 Whether you're a rock climber training for a harder route, a musician fine-tuning your instrument play, or simply want to combat wrist pain, improving your grip strength can help you use your hands more effectively. One of the most effective ways to train it is with a grip strengthener. These tools are compact, affordable, and convenient to use, making them simple yet important additions to your fitness kit.
In this article, we've reviewed the best grip strengtheners of 2023, breaking down their pros, cons, and unique benefits. Each of these top-rated tools is designed to cater to a variety of needs, providing a practical and effective way to enhance overall grip strength regardless of your current strength level. To help you find the ideal option for you and make a successful purchase, we've also put together a detailed buyer's guide that covers everything you need to know about buying a grip strengthener.
Best Overall: NIYIKOW Grip Strength Trainer
Most Adjustable: KDG Hand Grip Strengthener, 2 Pack
Best Design: PROHANDS Gripmaster Hand Exerciser
Best Value: BOOMIBOO Hand Grip Strengthener, 2 Pack
Best Resistance Levels: Heavy Grips Hand Grippers Set
Comparing the Best Grip Strengtheners for 2023
List Price: $8.99
If you're looking to increase your forearm and wrist strength with a high-quality tool, consider the NIYIKOW Grip Strength Trainer, which is the best overall option on our list. While some people might think a heavy-duty grip strengthener is only for fitness enthusiasts, this tool can be used by anybody to build or regain strength. It's especially useful for individuals who have had a hand or wrist injury and are on the road to recovery. This pick is also suitable for all hand sizes. For maximum versatility, it's adjustable and features an impressive intensity range, allowing for customized training. Simply turn the dial to change the resistance from 22 to 132 pounds.
To ensure your comfort, this grip strengthener features a non-slip rubber grip so that it won't slide out of your palm during use. It's made from heavy-duty plastic and high-strength metal alloy for long-term intensive use. It even comes with a lifetime warranty to ensure you get the best value out of your investment. Additionally, this option is compact and portable, so you can conveniently slip it into your bag and squeeze in a quick grip strength training session anytime, anywhere. For under $10, this grip strengthener is affordable, versatile, and durable, making it the top product on the market.
Pros
Lightweight and durable construction
Adjustable grip tension
Available in several colors
Cons
Can be difficult to gauge the resistance level
May leave residue on hands at first
List Price: $16.99
The KDG Hand Grip Strengthener, 2 Pack is the most adjustable option, which means it's a great one-time investment for your grip strength training needs. This pick offers an impressive resistance range of 10 to 130 pounds, making it suitable for users of all strength levels. So, whether you're a seasoned athlete or a beginner, this grip strengthener allows you to customize your workouts according to your needs. Suitable for many hand, wrist, and finger exercises, it not only helps in building muscle but can be used to recover from injuries.
This grip strengthener is also super comfortable and easy to use over extended periods. Its ergonomic design ensures a secure grip, making your training sessions safe and effective. It even features a digital display to record your total number of grips and track your progress. For your convenience, this total can be easily reset as needed. Made with high-quality materials, including a heavy-duty stainless steel spring, this pick is built to last. It also comes in five different colors to suit your preferences. For added value, this product comes in a pack of two, so you can keep one at home and use the other on the go.
Pros
Adjustable resistance for versatile use
Display tracks the number of reps completed
Two training tools included for great value
Cons
Rep counter can be difficult to reset
Product may bend at maximum resistance
List Price: $17.95
While most grip strengtheners feature a coiled design with one spring, the PROHANDS Gripmaster Hand Exerciser has a unique design that's ideal for developing the iron-fisted grip you've always desired. This pick is a professional-grade, spring-loaded, finger-piston system designed to isolate and exercise each finger. It comes in five tension options, ranging from 1.5 pounds to 9 pounds, to suit your specific training needs. This pick is also available in five colors and sets of varying quantities.
Made from ABS plastic, stainless steel springs, and Santoprene rubber, the Gripmaster is designed to last, even with intensive use. The bottom grip is also non-slip for stable use. As a bonus, this product is compact enough to fit snugly in your pocket, so you can carry your personal grip strength training tool around to use anytime, anywhere. Whether you're recovering from a finger, wrist, or hand injury or simply looking for a way to put those idle moments at work to better use, this option is your ticket to stronger hands and forearms.
Pros
Allows you to exercise each finger individually
Offers tendon-strengthening benefits
Features a heavy-duty, comfortable design
Cons
Can cause over-exertion if used improperly
May not suit all finger lengths
List Price: $5.99
Get the most bang for your buck with the BOOMIBOO Hand Grip Strengthener, 2 Pack. This product includes two grip-strengthening tools for under $10, making it a budget-friendly option to increase your wrist, forearm, and finger strength. Made with sturdy ABS plastic and rust-resistant stainless steel, this pick is built to withstand regular use. The handles also feature an ergonomic grip with finger spaces and are coated in soft foam for comfortable and non-slip use, protecting your hand from excessive strain.
If you're dealing with conditions such as arthritis, carpal tunnel syndrome, tendonitis, rheumatoid arthritis, or tennis elbow, this strengthener, used with the approval of your doctor or physical therapist, can be effectively used for injury rehabilitation. It provides 20 pounds of tension, offering a good amount of resistance. This pick is also compact enough to fit in your pocket, handbag, or gym bag, so you can carry it anywhere you need.
Pros
Durable construction won't rust
Moderate resistance for frequent use
Soft, comfortable, and ergonomic grip
Cons
Resistance may be too low for some
Foam pads may wear out over time
List Price: $31.47
If you're on a quest to effectively develop your grip strength and grow your forearm muscles, the Heavy Grips Hand Grippers Set is a game-changer. Primarily designed for athletes, this pick comes with three grip strengtheners, each of which offers a different resistance level: 100, 150, and 200 pounds, Between these weights, you'll have all the stages of your grip-strengthening journey covered, whether you're doing hand, wrist or forearm exercises.
These hand grippers have a compact design to comfortably accommodate most hand sizes and can be used on the go while away from home. Featuring high-quality aluminum handles with knurling, these tools also have a non-slip grip to ensure safety and comfort during use. This high-quality material is also durable for long-lasting use. It's also worth mentioning that these hand grippers don't just build strength, they also improve dexterity. So whether you're a climber craving that extra bit of grip or a lifter seeking to develop a better grip on barbells, these grip strengtheners are a stellar, heavy-duty choice.
Pros
High resistance levels deliver impressive results
Knurling on handles for a non-slip grip
Heavy-duty metal construction is durable
Cons
May squeak after intensive use
May not be comfortable for small hands
Buying Guide: Grip Strengtheners
In our everyday lives, we often underestimate the importance of grip strength. From opening a jar to carrying heavy items, a strong grip is vital. Especially for athletes and fitness enthusiasts, grip strength is paramount. This is where grip strengtheners come in handy. Available in different shapes and designs, these devices are designed to improve the strength of your hands, wrists, and forearms. However, with so many options on the market, how do you find the best grip strengthener? Let's delve into the specifics to help you make the right choice.
Handle comfort
The first factor to consider when buying a grip strengthener is handle comfort. Since the primary use of this product is to grip it, it's crucial that it feels comfortable in your hand. A grip strengthener with an ergonomic design can prevent wrist strain and reduce the chance of developing blisters or calluses on your hands. Look for devices with padded or rubberized handles that offer a soft yet firm grip. Remember, the handle comfort directly influences your training routine and outcomes, so it's essential to choose one that's comfortable to use.
Resistance levels
Resistance levels are a critical feature that differentiates various grip strengtheners. Some models offer a fixed resistance level, while others allow you to adjust the resistance. Adjustable grip strengtheners are generally a better option as they provide versatility and allow you to incrementally increase the difficulty as your strength improves. The resistance offered by grip strengtheners can range from light (around 1.5 pounds) to very heavy (over 100 pounds). If you're a beginner to grip strengthening, you might want to start with lower resistance and gradually work your way up.
Material quality
The material quality of your grip strengthener will greatly influence its durability and longevity. Metal grip strengtheners are usually more durable than plastic ones, but they can be more expensive. High-quality plastic is also a good choice if it's sturdy and well-made. It's important to check the quality of the springs, too, as they are critical to the functionality of the device. Springs made from stainless steel are usually a good sign of a durable and long-lasting grip strengthener.
Portability
Grip strengtheners are typically small devices, but some are more portable than others. If you often travel or want to use your grip strengthener at different locations, size, and weight will be a consideration. Smaller, lightweight models can easily fit into a bag or a suitcase, making them ideal for on-the-go workouts. Remember, a compact grip strengthener doesn't necessarily mean it's less effective; ultimately, it's all about design efficiency.
Price
Price should also be a consideration when you're shopping for a grip strengthener. Basic models with a single resistance level can be quite affordable, while adjustable models with additional features will generally be more expensive. Bear in mind, however, that a higher price doesn't always guarantee better quality. It's crucial to balance affordability with other factors like handle comfort, material quality, and resistance levels.
Brand reputation
Finally, consider the brand's reputation before making a purchase. Brands with a positive reputation often provide high-quality products and good customer service. Check out customer reviews and ratings to get a sense of the product's performance and the brand's reliability. This can be a great way to avoid sub-par grip strengtheners and ensure you get the best value for your money.
People Also Ask
What is a grip strengthener?
A grip strengthener is a hand-held device designed to strengthen the muscles in your hands, fingers, wrist, and forearms. It typically consists of a pair of handles connected by a coiled spring which provides resistance.
How do I use a grip strengthener?
To use a grip strengthener, hold it in one hand, placing your fingers on one handle and your thumb on the other. Squeeze the handles together as far as you can, then slowly release them. Repeat this process for a number of repetitions.
Can I adjust the resistance of a grip strengthener?
Many grip strengtheners come with adjustable resistance. This is usually done by twisting a knob or dial on the device to increase or decrease the tension of the spring.
How often should I use a grip strengthener?
The frequency of use can vary depending on your fitness level and goals. A common recommendation is to use it for two to three sets of 10-15 repetitions, two to three times each week. However, it's always a good idea to consult with a fitness or healthcare professional to establish a routine that suits your individual needs and won't excessively strain your joints.
How do I maintain and clean my grip strengthener?
You can wipe the grip strengthener clean with a damp cloth after each use. If it has metal parts, it may be a good idea to occasionally apply a small amount of oil to prevent rust. Always let the device dry completely before storing it.
What should I do if my grip strengthener becomes loose or unstable?
If your grip strengthener becomes loose or unstable, it might be due to wear and tear or a faulty part. Check if all parts are tightly secured and not damaged. If the problem persists, you may need to contact the manufacturer or your supplier for a replacement or repair.
Can using a grip strengthener help with carpal tunnel syndrome?
While a grip strengthener can strengthen your hand and wrist muscles, it's important to note that overuse or improper use could potentially exacerbate carpal tunnel syndrome. If you have this condition, consult with a healthcare professional before starting any new exercise regimen.
Is it normal for my hands to feel sore after using a grip strengthener?
Some soreness in your hands and forearms is normal, especially when you first start using a grip strengthener or if you've increased the resistance. This should diminish as your muscles get stronger. However, if the soreness persists or is severe, you should stop using the device and consult a healthcare professional.
Why Trust Us
Our commitment to customers begins with a carefully curated product selection process, ensuring we provide high-quality and reliable options. We meticulously vet all of the suggested grip strengtheners, analyzing quantitative aspects, such as star ratings and review count, and qualitative factors, including review content and product features. Our dedicated team of bargain hunters consistently prioritizes your budget by meticulously scouring the market and identifying the best grip strengtheners available without compromising on quality or performance. Our panel focuses on presenting the pros and cons of each product and converting technical specs into understandable insights. We aim to ensure maximum wellness by helping you navigate all the grip strengthener options on the market.