The Best Hamilton Beach Hand Mixer for Your Money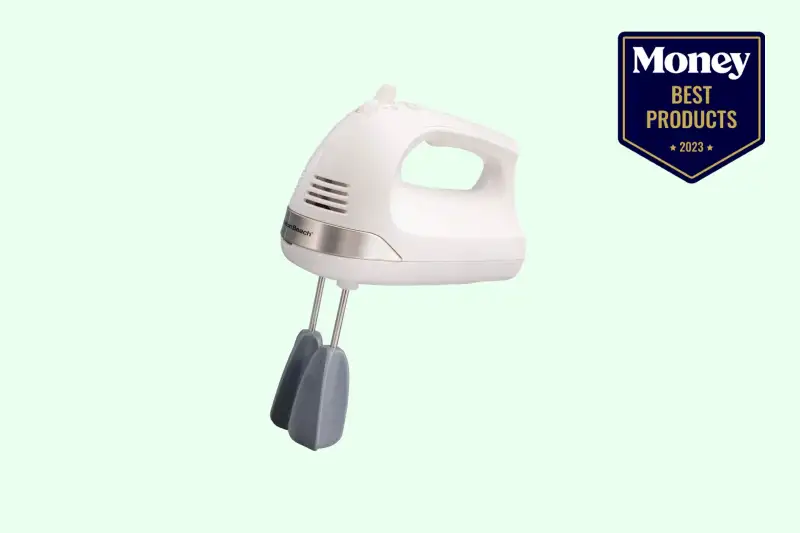 If you're on the hunt for a kitchen appliance that marries unique design and high-quality functionality, you might be forgiven for overlooking the Hamilton Beach Hand Mixer. But don't judge a book by its cover, because this plain Jane kitchen accessory can add a whole lot to your baking repertoire. In this article, we'll give you a rundown of our favorite features and functions it has, as well as other aspects to consider before getting your hands on this handy hand mixer (sorry, we had to). So what are you waiting for? Let's check out this appliance together.
Things we love
Includes a snap-on storage case
Comes with seven attachments
Compatible with any mixing bowl
Attachments are dishwasher-safe
Convenient bowl-rest design
Long power cord
Things we miss
True low-speed mixing
Multiple color options
Hamilton Beach Hand Mixer: What we love
One of our favorite things about the Hamilton Beach hand mixer is that it has great power, especially for such a small, handheld device.
For those who don't have the space or budget for a bulky, expensive stand mixer, this handheld mixer can be a remarkable alternative. It's extremely easy to set up, clean and pack away, and it hardly takes up any counter or storage space. When it comes to general baking tasks, this gadget can give any stand mixer a run for its money, but if you're looking to knead heavy dough or bulk mixes, you'll probably have to break out the big boy.
Hamilton Beach has solved two annoying hand mixer dilemmas with this appliance's innovative design. It cleverly integrated a bowl rest feature on the bottom of the mixer so that you can rest it against the side of the bowl when it's not in use, which means no more dripping batter all over the counter or losing precious workspace to a hand mixer that keeps toppling over.
Beater attachments are a lot like socks: they're an everyday necessity that's easy to lose track of. This mixer comes with a storage case that clips onto the bottom, though, which keeps the mixer and its accessories together so that nothing goes missing or gets misplaced.
Hamilton Beach Hand Mixer: Design
The Hamilton Beach hand mixer is only available in a classic white design. Although it doesn't feature a non-slip handle, its ergonomic shape provides a secure, comfortable grip for complete control.
Its speed settings can be adjusted by flicking the small lever on top either forward or back. By pressing it down, you'll be able to easily eject the beaters or whisk, and just behind the speed control is a turbo boost button for when you need a quick burst of additional power.
While the back of the mixer is relatively square (with the bowl-rest ridge located on the bottom), the front is rounded and features air vents to avoid overheating.
Its compact size makes it a breeze to work with and easy to store. The plastic storage container is incredibly handy for keeping the power cord tucked away and all the accessories in one spot. If you're short on space, you can simply detach the container from the mixer and keep it in a drawer instead.
Like all hand mixers, this one from Hamilton Beach can be used with any bowl you have at home. This means you can measure your ingredients into different bowls and simply move from one bowl to the next, changing attachments as you go, allowing you to get your baking done in a flash.
Stand mixers, on the other hand, are only compatible with their accompanying bowl, which requires you to clean the bowl after every use if you want to mix more than one batter/mixture per baking session.
One design feature we specifically love about the Hamilton Beach hand mixer is its extra set of easy-clean beaters. These have a solid plastic structure that prevents batter build-up between the beaters, offering better mixing and effortless cleaning. Speaking of cleaning, all of the attachments are dishwasher-safe.
Hamilton Beach Hand Mixer: Features
Weight
With a weight of just under three pounds, this hand mixer is slightly heavier than other designs. Since its high power provides faster results, though, the marginally heavier weight is hardly noticeable, and it also allows you to maintain better control.
Speed
This mixer features six speed settings, and switching from zero to the first setting will turn it on. Always start mixing on a low speed; you can slowly increase the speed as the batter incorporates wet and dry ingredients together or as liquids start to thicken.
Low-speed mixing is ideal for thicker batters and when using the dough hooks for kneading. Medium speeds should be used for cake batters, while high speeds are best for aeration, including whipping egg whites and cream.
Attachments
Unlike other mixers that only include two or three attachments, Hamilton Beach gives you a total of seven: you'll receive two regular beaters, two easy-clean beaters, one whisk and two S-shaped/spiral dough hooks with your purchase.
Regular beaters are used to beat cake batters, cheesecake, frosting, waffle, pancake and cookie batters. They're also ideal for creaming butter and sugar and fluffing mashed potatoes. When mixing eggs for an omelet, you can use the standard beaters since you don't want to incorporate too much air.
The easy-clean beaters are ideal for sticky cookie or cake batters and mixing chocolate chips and nuts into dough.
The spiral dough hooks can be used for bread or pizza dough that requires kneading. We recommend sticking to smaller recipes and dough that isn't too stiff when using your hand mixer for kneading; larger recipes and very thick dough should be tackled with a stand mixer or by hand.
The whisk attachment is a much-needed accessory used to incorporate tiny air bubbles into egg whites and cream. The balloon shape and thin metal cage design are specifically made to maximize aeration, and while you could use the metal beaters to whip cream or egg whites, the whisk is more effective at dispersing small air pockets without knocking out any air in the process. Speed will also influence the size of the air pockets; as soon as the mixture starts to thicken at a low speed, switch to a higher speed for optimal results.
Cord
This hand mixer's cord is around 36 inches long. This makes it easy to maneuver between the power outlet and your work area without having to rearrange your entire kitchen.
Things to consider
Although the Hamilton Beach hand mixer is a powerful, compact device that can be set up in seconds for all kinds of uses, there are a few things to consider before making your purchase.
While we love a machine with good power, we also value keeping all of our ingredients inside the bowl. Even on the lowest setting, this six-speed mixer is pretty fast, which will likely result in flour, cocoa powder or liquid cream making its way across the counter or onto the floor. You can solve this problem, though, by using a very deep bowl or covering the top with a dishcloth for the first one to two minutes of mixing. This won't be much of a problem if you're mainly using this hand mixer for boxed cake batters, but fair warning: even its low speed isn't all that low.
The storage container is a feature we've been wanting for years, but the overall fit is pretty tight. Once your accessories are inside and you've clipped the mixer on top, be prepared to wrestle it off anytime you want to use it. Like many other home chefs, you'll probably find that it's easier to simply store the attachments in the container without securing the mixer on top.
Who the Hamilton Beach six-speed mixer is recommended for
Whether you just need to occasionally whip up cream or you bake weekly for your family, this is a great multipurpose hand mixer to have. It's not quite top-of-the-line, but it's not entry-level either: it's a wonderful middle ground for new and seasoned bakers alike, and it can make a wonderful gift for tweens and teens who want to develop their culinary skills. It's great for everything from cupcake frosting and cake batters to souffle and salad dressing, and it's a breeze to use and store.
While this mixer is powerful, it's not the optimal choice for home bakers who need to mix batters in large quantities. Additionally, if most of what you're doing involves dense, sticky dough (like bread, donut and pizza dough), you'll struggle to maximize gluten development with the restricted motion of the thin dough hooks.
For home bakeries, we recommend the Hamilton Beach hand mixer as a backup for quick recipes and small orders; a stand mixer is much better for large-capacity mixing since it offers a sturdy, hands-free setup and bigger attachments for even mixing. Stand mixers also make for faster mixing, but they can, however, be a lot of work to set up and clean for small-scale tasks — which is where a hand mixer, like this one from Hamilton Beach, streamlines your workflow and helps you save space.
Why trust us
Since our kitchen researchers come from professional catering and baking backgrounds, they know a thing or two about the right equipment for the job. Our guides undergo a thorough research process followed by fact-checking and editing. This means you get advice from the experts combined with the most accurate and up-to-date product information.