The Best Mini Fridge for Dorms for Your Money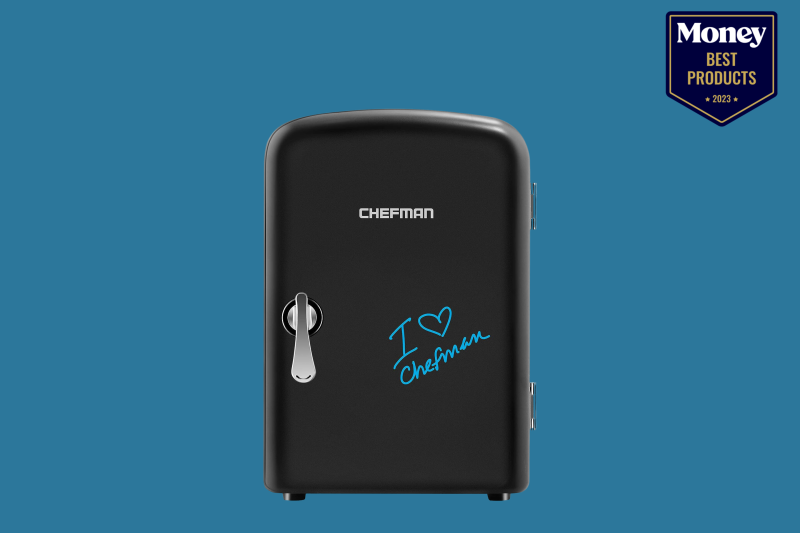 When you go off to college, it's essential to have all the right supplies — and that includes a mini refrigerator. After all, it's hard to keep your late-night snacks and study fuel cold without one! These compact appliances come in a wide range of colors, sizes and styles. With so many options to choose from, it can be challenging to find the right one for your needs. To make the choice a bit easier, we've rounded up the highest-rated mini fridges for dorms in 2023.
In this buying guide, you'll find all the information you need to make a wise purchase. We'll examine the pros and cons of each product as well as important features such as shelving, design and temperature adjustability. We'll also share some buying tips to help you determine which product best suits your needs and budget.
Best Overall: Chefman Mini Fridge for Dorm
Most Spacious: Upstreman BR321 Mini Fridge for Dorm
Best Materials: Midea WHS-87LSS1 Mini Fridge for Dorm
Most Energy Efficient: Walsh Mini Fridge for Dorm
Best Features: BLACK+DECKER BCRK25V Mini Fridge for Dorm
Reviewing the Finest Dorm Mini Fridges of 2023
List Price: $39.99
The Chefman Mini Fridge for Dorm earned its spot at the top of our list with its compact, space-saving design. A truly miniature option, it has a 4-liter capacity and is small enough to fit on your desk yet large enough to house six 12-ounce beverage cans. It comes with a standard wall adapter and a 12-volt vehicle adapter so you can take it with you on road trips or to tailgate parties.
This mini fridge for dorm can also be used to keep food warm with temperature capabilities ranging from 44 to 140 degrees Fahrenheit. The removable shelf makes it easy to customize the interior storage space to accommodate items and containers of various sizes. It also has a sleek, attractive design and is available in black, white, pink and blue color selections to match your style and space.
Pros
Designed with portability in mind
Comes in four stylish colors
Includes two types of power adapters
Cons
Doesn't have a freezer
May operate noisily
List Price: $199.97
The Upstreman BR321 Mini Fridge for Dorm is a solid choice for anyone looking for an appliance with a small footprint yet still offers plenty of storage space. It has a 3.2 cubic-foot capacity, which includes a 2.9 cubic-foot refrigerator section and a 0.3 cubic-foot freezer compartment. The thermostat features five different settings, allowing you to tailor the temperature to your needs and budget.
This mini fridge for dorm boasts an energy-efficient design as well as a low 38-decibel noise level for quiet operation. The crisper drawer keeps your fruits and vegetables fresh, while the removable shelves make it easy to customize the space to fit your favorite snacks and beverages. The leveling legs are adjustable for optimal stability, even on uneven surfaces. The glossy finish makes this product a stylish addition to any dorm or small space. Choose from black, white and stainless steel style options.
Pros
Low-noise operation won't disrupt sleep
Adjustable legs for stability
Five temperature settings and large drawers
Cons
No interior light
Limited color choices
List Price: $189.00
Made from a combination of stainless steel, iron and heavy-duty plastic materials, the Midea WHS-87LSS1 Mini Fridge for Dorm is built with durability in mind. The door hinges are reversible, allowing you to install the door on either side. The inside of the door features a bottle frame for keeping your beverages and condiments secure so they won't fall out when you open or close the door.
The adjustable feet create stability, even on uneven or rough surfaces while the removable shelves facilitate easy cleaning and allow you to tailor the unit's storage space to your needs. This mini fridge for dorm has a 2.4 cubic-foot capacity, making it large enough to house a wide array of items yet small enough not to take up too much space in your room.
Pros
Doesn't make much noise
Comes in four size selections
Has a sturdy construction for long-lasting use
Cons
Can't be used for frozen food storage
Only comes in two colors
List Price: $199.99
Designed with energy efficiency in mind, the Walsh Mini Fridge for Dorm uses R600a refrigerant and a high-efficiency, low-energy compressor to keep your food cool and your electric bills low. The temperature is adjustable with a range of 32 to 47 degrees Fahrenheit for the fridge compartment and 27 to 37 degrees Fahrenheit for the freezer compartment.
The fridge and freezer have 1.45 and 0.18 cubic-foot capacities, respectively, for a total capacity of 1.7 cubic feet, offering plenty of storage space for snacks and beverages. It's also available in a larger size as well as black and stainless steel finishes to suit your style and space. Thanks to its compact design, modest footprint and low weight of 29.9 pounds, this mini fridge for dorms can also be used in an office, apartment or garage.
Pros
Energy-efficient design and construction
Adjustable fridge and freezer temperatures
Interior light for viewing contents in the dark
Cons
Door is easy to scratch
No warming feature
List Price: $260.99
The BLACK+DECKER BCRK25V Mini Fridge for Dorm boasts several convenient features, including a freezer compartment, removable shelves, a reversible door and an adjustable thermostat. The freezer is just the right size to house frozen dinners or ice pops, while the removable shelves make cleaning a breeze. The reversible door can be installed on either side for customized convenience, and the thermostat allows you to easily alter the appliance's temperature.
This mini fridge for dorms offers 2.51 cubic feet of storage space, plus 0.86 cubic feet of door storage, so it won't take up much space but can hold your essential food and drinks. The leveling feet offer excellent stability on any surface. With a low noise level of 45 decibels, you don't have to worry about this product keeping you awake or disturbing your roommate. The fridge is covered by a one-year warranty for labor and parts as well as a two-year warranty for compressor replacement.
Pros
Ice tray included
Recessed handle for easy opening
Low noise levels won't disrupt sleep
Cons
The exterior can be dented easily
Long freezing time
Buying Guide: Mini Fridge for Dorm
While you're shopping for a mini fridge for dorm rooms, there are a few essential factors to keep in mind. This buying guide will give you an overview of each of these considerations to help you make the best possible purchase for your needs.
Capacity
When it comes to choosing a mini fridge for your dorm room, capacity is an essential factor to think about. Consider the size and number of items you plan to store in the refrigerator. The product should be large enough to accommodate all your snacks and beverages without being excessively large.
Price
When looking for a dorm mini fridge, consider your budget. While some models may have additional features, make sure to weigh them against how much you're willing to spend. Look for options that are affordable, functional and have all the features you need.
Size
Dorms are known for having limited space, so it's crucial to make sure your dorm mini fridge will fit well in your room without taking up too much space. We recommend measuring your appliance's designated space and searching for models that'll fit comfortably while still providing ample storage for all your items.
Defrosting feature
Depending on where you live and what type of food you plan on storing in your mini fridge for dorms, having a defrosting feature may be an important factor to consider. Automatic defrosting models keep frost from forming on the coils and ensure consistently cool temperatures inside the appliance.
Temperature control
It's important to be able to adjust a mini refrigerator's temperature to suit your preferences. Opt for a model that allows you full control over how cold or warm its contents will be at any given time.
Noise level
A mini fridge for dorms can be disruptive if it's too loud, so make sure to look for one with a low decibel rating; this is especially important if you have a roommate. While some models tend to produce more noise during operation than others, there are many options available that offer low-noise operation. Aim for one that has a noise level between 30 and 47 decibels.
Organization
Many models come equipped with handy shelves and bins that allow you to maximize their storage space and convenience while keeping contents organized. Look for an appliance that has adjustable shelves so you can customize the space to accommodate your items and storage needs.
Energy efficiency
An energy-efficient mini fridge for dorms can save you money over time by limiting electricity consumption costs. Look for models with ENERGY STAR certification labels, as they tend to use less power than other products.
Lock
If you don't want your roommate helping themself to your snacks, then look for a dorm mini refrigerator that has a built-in lock. This will give you peace of mind and prevent unauthorized access to your fridge and its contents.
Freezer compartment
A freezer compartment can come in handy if you plan on storing frozen items such as ice cream bars, ice pops or just ice itself. Not all mini fridge for dorms have a freezer compartment, so if this feature is important to you, be sure to check the product description to confirm your chosen model has one.
Lighting
For optimal convenience, look for a mini fridge for dorms that features an interior light that turns on and off automatically when you open and close the door. This will make it easier to spot what you want, even in dark or low-light conditions.
Warranty
Before investing in a dorm mini fridge, make sure the model you choose is backed by a manufacturer's warranty. A good warranty policy will cover any potential problems you may face down the line and provide the reassurance that your new appliance is protected from unforeseen defects or malfunctions.
Mini Fridge for Dorm FAQs
How much energy does a dorm mini fridge use?
This depends on the product's size and whether it's energy-efficient. Generally, most dorm mini fridges use between 70 and 100 watts of energy.
What's the ideal size for a dorm fridge?
The ideal mini fridge size for a dorm is around 2 to 4 cubic feet. This size provides plenty of space to store snacks and drinks while still taking up minimal space in the room.
How quickly does a dorm mini fridge cool items?
Cooling time depends on several factors, including the type of food/drink being stored, the room's ambient temperature and the appliance's temperature setting. Generally, most models will cool their contents within a few hours.
Does a dorm mini fridge need to be plugged in at all times?
Yes, to keep your food and beverages chilled, your dorm fridge must be plugged in at all times. However, if you plan to be away for an extended period, you can unplug the appliance to conserve energy. (Just make sure there aren't any perishables in the fridge before you unplug it.)
Do dorm mini fridges have any additional features?
Yes, some models offer additional features such as adjustable thermostats, interior lights, freezer compartments, reversible doors and crisper drawers for prolonging the life of fresh produce.
How do I clean my dorm mini fridge?
Before cleaning, remove all items from your appliance and unplug it for safety. Wash any removable parts, such as bins and shelves, in a sink with soap and water. Use a damp cloth and a soapy water solution to wipe down the fridge's interior and exterior. Dry all components with a soft towel and return the parts where they belong. Once everything is completely dry and reassembled, you can put your items back in the fridge and plug the appliance back in.
Why Trust Us
Our commitment to customers begins with a carefully curated product selection process, ensuring we provide high-quality and reliable options. We meticulously vet each dorm mini fridge, analyzing quantitative aspects, such as star ratings and review count, and qualitative factors, including review content and product features. Our dedicated team of bargain hunters consistently prioritizes your budget by meticulously scouring the market and identifying the best miniature refrigerators for dorms available without ever compromising on quality or performance. Our panel focuses on presenting the pros and cons of each dorm mini fridge and converting technical specs into understandable insights. We aim to provide you with convenient and efficient food storage while at college with top-rated cooling appliances.