The Best Outdoor Electric Grills for Your Money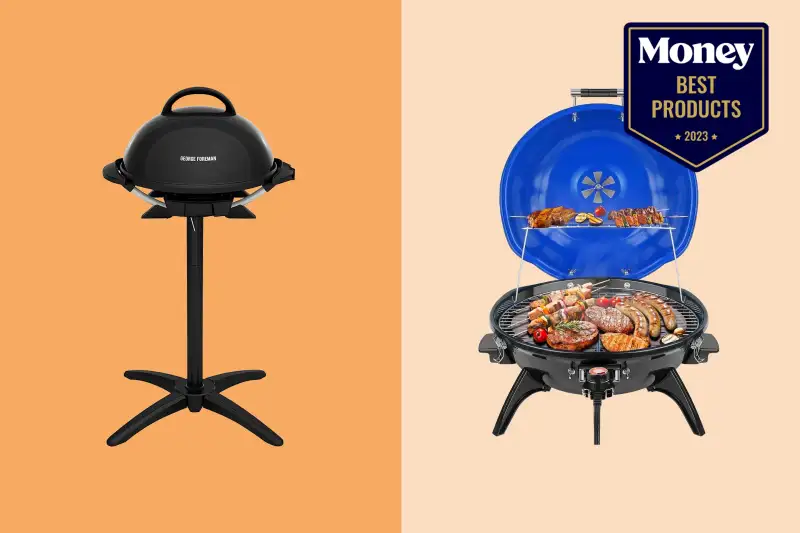 If you're looking for a versatile and convenient way to cook delicious meals outdoors, you should consider investing in an electric grill. These grills provide a unique combination of convenience and flavor that you won't find with gas or charcoal grills. Plus, they're perfect for apartment buildings or homes with smaller outdoor spaces since you don't have to worry about bulky tanks or dangerous flames.
In this article, we'll take a close look at the best electric grills in 2023, focusing on aspects like temperature regulation, user-friendliness, durability and more. We'll also provide a comprehensive buying guide that breaks down the features to consider when selecting an electric grill so that you can find the ideal match for your space and cooking style. So, whether you're a serious barbeque enthusiast or just looking for an easy way to enjoy grilling with family and friends, you're sure to find an electric grill to provide you with the great flavor and convenience that makes outdoor cooking enjoyable.
Best Overall: George Foreman Outdoor Electric Grill
Most Convenient: Char-Broil Patio Bistro TRU-Infrared Electric Grill
Most Portable: Cuisinart CEG-980 Outdoor Electric Grill
Most Budget-Friendly: Techwood Outdoor Electric BBQ Grill
Most Versatile: Ninja OG751 Woodfire Pro Outdoor Grill & Smoker
Reviewing the Best Outdoor Electric Grills of 2023 in Detail
List Price: $119.99
Check on Amazon | Check on Sears
With its outstanding temperature control, portability and durability, the George Foreman Outdoor Electric Grill earns our top spot for its exceptional performance. This highly rated option boasts a generous 15-serving capacity and features the signature George Tough Nonstick Coating, eliminating the need for butter or oil. This promotes healthier cooking and prevents food from sticking to the cooking surface. Plus, it features a removable grill plate for easy cleanup. Its patented fat-removing slope effectively removes up to 42% of fat, letting you savor your favorite dishes without excessive grease.
This compact, apartment-friendly electric grill eliminates the need for charcoal or propane, preventing flare-ups and ensuring a clean cooking experience in smaller spaces. The versatile design features a removable stand, so you can set it up for outdoor patio grilling and indoor countertop cooking. The adjustable temperature control offers five heat settings, ensuring optimal cooking for all your favorite foods. As the finest choice for healthy, safe and efficient outdoor cooking, this grill earns the best overall category for versatility and user-friendliness.
Pros
Versatile cooking for indoor and outdoor spaces
Quick heating without charcoal or fuel odors
Space-saving design ideal for small outdoor areas
Adjustable temperature control for precision cooking
Cons
Cooking time may vary
Cord length can be limiting
List Price: $249.99
Check on Amazon | Check on Walmart
The Char-Broil Patio Bistro TRU-Infrared Electric Grill is the perfect choice for those seeking the convenience and flavor of evenly cooked grilled food without the mess and complexity of charcoal or propane grills. It features a user-friendly integrated control knob for easy temperature adjustment. The durable, porcelain-coated grate resists rust and is easy to clean, ensuring your grill's longevity and minimal maintenance. This innovative pick incorporates advanced tru-infrared technology to effectively eliminate hot and cold spots on the grilling surface for optimal cooking. The removable warming rack allows for indirect cooking or keeping food warm, so meals are ready to serve when needed. By preventing flare-ups and ensuring even heat distribution, this option cooks juicier, tastier food, outperforming traditional grills in taste and functionality.
This electric grill also features an eye-catching contemporary design to enhance the appearance of any outdoor space. The vibrant red top accentuates its graphite body while providing a striking contrast that enhances its appearance. This stylish and efficient electric grill combines contemporary style with exceptional performance, making it ideal for grilling burgers, steaks, chicken, seafood, veggies or any other delicious dish outdoors.
Pros
Durable construction for long-term use
Modern design in red and graphite
Tru-infrared technology for even heat distribution
Easy-to-use temperature control for precise cooking
Cons
Slower preheating time compared to gas grills
Infrared technology may require a learning curve
List Price: $199.99
Check on Amazon | Check on Home Depot
The Cuisinart CEG-980 Outdoor Electric Grill offers excellent performance and easy portability. Specifically designed for outdoor use, this lightweight grill is ideal for camping adventures and tailgating events. Weighing a mere 17 pounds, it features a briefcase-style handle for convenient transport. This product also comes with an adjustable telescoping stand for quick and hassle-free height customization. It doesn't require assembly, making it ready to use straight out of the box. At the heart of the grill is a powerful 1,500-watt, 5,120 BTU burner that provides consistent heat distribution across its entire surface.
This powerful, compact electric grill is ideal for family meals, featuring a 145-square-inch cooking surface capable of grilling eight burgers or steaks, six to 10 chicken breasts and up to 4 pounds of fish. Featuring a removable grease pan for easy cleanup, you can enjoy your tasty grilled favorites without the mess. The porcelain-enameled grill grate also ensures that food doesn't stick while it cooks and makes clean-up easy. This electric grill provides an exceptional way to quickly cook delicious grilled food at an outdoor gathering, transforming any occasion into a memorable culinary experience.
Pros
Powerful burner for even heat distribution
Compact design with customizable height
Non-stick porcelain grill grate for easy cleaning
Removable grease pan for convenient maintenance
Cons
Reduced smokey flavor in food
Less effective for indirect cooking
List Price: $99.98
Check on Amazon | Check on Walmart
Shopping for a grill on a budget? The Techwood Outdoor Electric BBQ Grill is an affordable choice for barbeque fans seeking a high-quality and easy-to-use cooking tool. At under $100, this 1600-watt electric grill rivals the performance of larger charcoal and gas grills, offering a high-quality grilling experience with the convenience of electric power. This makes it ideal for apartments, balconies and outdoor spaces. The double-layer design of this grill ensures rapid heating, so you can start grilling your favorite foods quickly while maintaining even heat distribution for well-cooked results. With adjustable temperature controls, it's easy to find the optimal heat setting for any dish. The spacious cooking surface accommodates multiple items simultaneously while the unique air-flow system keeps food juicy and fork-tender on the inside.
This easy-to-use electric grill boasts a removable stand for convenient portability and a cool-touch handle to prevent burns. Its double-layer non-stick coating simplifies the removal of food residue, making cleanup hassle-free. This budget-friendly electric grill is an ideal choice for outdoor grilling enthusiasts seeking quality and convenience. With its powerful heating element and quality features, it's sure to deliver delicious meals every time without breaking the bank.
Pros
Spacious cooking surface
Adjustable temperature controls
Double-layer non-stick coating for easy cleaning
Removable stand for portability
Cons
May not reach gas grill temperatures
May lack an authentic smoky flavor
List Price: $399.99
Check on Amazon | Check on Walmart
The Ninja OG751 Woodfire Pro Outdoor Grill & Smoker combines the convenience of a propane grill with the flavor of woodfire barbecuing for a truly delicious cooking experience. With seven functions in one, it allows smoking, broiling, roasting, air frying, grilling, baking and dehydrating — all with that signature wood-fired taste. Powered by electricity and flavored with real wood pellets, this product delivers authentic smoky BBQ flavor you can see, smell and taste. The air fryer function infuses wood-fired taste into your air-fried favorites, while the baking and roasting features add a rich, smoky flavor without overheating your kitchen or requiring lengthy preheating. A built-in thermometer allows you to closely monitor your food's progress, alerting you when it's done to prevent overcooking.
This versatile model offers a 141-square-inch non-stick grill grate, crisper basket, paddle and wood pellet scoop, accompanied by Robust and All-Purpose Blend Starter Packs. It also includes an easy-to-follow Quick Start Guide and 15 delicious recipes to kickstart your outdoor grilling adventures. This electric grill bundle combines propane and woodfire grilling without the fuss of fuel or charcoal, making it an excellent option for outdoor cooking enthusiasts looking to explore diverse culinary options.
Pros
Multifunction cooking with woodfire BBQ taste
Precision temperature control for even cooking
Thermometer alerts when food is fully cooked
Accessories, guide book and recipes included
Cons
Potential learning curve for temperature control
Assembly process may be complex for beginners
Buying Guide: Outdoor Electric Grill
Outdoor electric grills offer the convenience of grilling anywhere with access to electricity, making them an excellent alternative to charcoal or gas grills. They are easy to operate, require minimal cleanup and provide healthier cooking options than conventional grills. Additionally, electric grills are perfect for compact patios or decks due to their space-saving design. With many electric grills available on the market, however, selecting the right one for your outdoor area can be challenging.
Learn how to choose the perfect outdoor electric grill for your needs in our comprehensive shopping guide, where we explore the key features to consider to help you pick the ideal option for your space and budget. From cooking surfaces to temperature control settings, here's everything you need to know about shopping for an outdoor electric grill.
Temperature range
The temperature range of an outdoor electric grill is a crucial factor to evaluate. It's important to note the highest and lowest temperature settings and any variations for diverse dishes or grilling techniques. Many models display their maximum temperature, which can be adjusted with a dial on the front of the grill.
Grill size
Next, consider the grill's size and surface area. Choose a grill with generous space if you plan to cook large quantities of food for large families or events. For smaller meals, a compact surface area will suffice.
Features
Additional features play a significant role when shopping for an outdoor electric grill as they can enhance your overall grilling experience. Determine your priorities, such as built-in thermometers, adjustable hoods, detachable grease trays or extra storage through side shelves. Keep in mind that these upgrades may also increase the product's overall cost.
Heating element
When browsing for an outdoor electric grill, pay attention to the heating element's wattage. Depending on the model, heating elements come in various wattages, usually ranging between 500 and 1,000 watts. Higher wattage models often allow for quicker cooking times and broader temperature ranges but they also tend to be more expensive. Assess your power needs before selecting a grill based on its wattage capacity.
Ease of cleaning
Cleaning convenience is also important. Look for models with readily accessible and easy-to-clean detachable components. Many electric grills come with removable grease trays, brushes and additional cleaning tools to simplify the post-grilling cleanup process.
Durability
When selecting an outdoor BBQ grill, ensure it's made from weather-resistant materials, allowing safe use in any season without rust or corrosion issues. Check that parts like knobs and handles are securely attached to prevent them from falling off or breaking during use or transport.
Portability
If portability is important to you, consider choosing an electric grill with wheels, an adjustable stand and foldable legs. These features make it ideal for various occasions, such as parties and camping adventures and allow for effortless transportation between different locations.
Price
The last essential consideration is cost. Determine your budget and explore models within that range to find the perfect balance between features and affordability. Comparing various brands can help you discover unique features and ensure you choose the best electric grill for your needs.
People Also Ask
What are the benefits of an outdoor electric grill?
Outdoor electric grills offer various advantages, such as simple setup, convenient cooking in compact spaces like balconies and patios and enhanced safety features to prevent fires and sparks.
What are some safety concerns with using an outdoor electric grill?
When using an outdoor electric grill, prioritize safety by adhering to several guidelines. You should maintain a safe distance for children, securely fasten all components before use, avoid placing flammable objects nearby and never leave the grill unattended. Make sure to also connect it to a reliable power source, switch it off and disconnect it after use, inspect cords for any damage and clean it thoroughly after each grilling session.
What type of food can be cooked on an outdoor electric grill?
Outdoor electric grills are great for cooking various foods, including meats, vegetables, seafood, fruit and desserts. You can also use them to make pizzas, quesadillas, sandwiches, wraps and any other food items fitting on the grill surface.
How long do outdoor electric grills typically last?
High-quality outdoor electric grills can last eight to 10 years with proper care and storage between uses. The longevity of your grill also depends on the condition and materials used in its construction.
What are some cleaning and maintenance tips for outdoor electric grills?
Maintaining your outdoor electric grill is essential to avoid rust and damage from grease and food particle accumulation. Important cleaning practices include wiping surfaces with a damp cloth after grilling and brushing away debris before storing. Additionally, regularly applying a protective coating on metal components after cleaning helps to prevent corrosion.
Why Trust Us
Our commitment to customers begins with a carefully curated product selection process, ensuring we provide high-quality and reliable options. We meticulously vet each outdoor electric grill, analyzing quantitative aspects, such as star ratings and review count, and qualitative factors, including review content and product features. Our dedicated team of bargain hunters consistently prioritizes your budget by meticulously scouring the market and identifying the best electric outdoor grills available without ever compromising on quality or performance. Our panel focuses on presenting the pros and cons of each outdoor electric grill and converting technical specs into understandable insights. Our mission is to share top-of-the-line grilling products worth your money, ensuring a remarkable outdoor cooking experience that won't break the bank.