The Best Outdoor Fireplaces for Your Money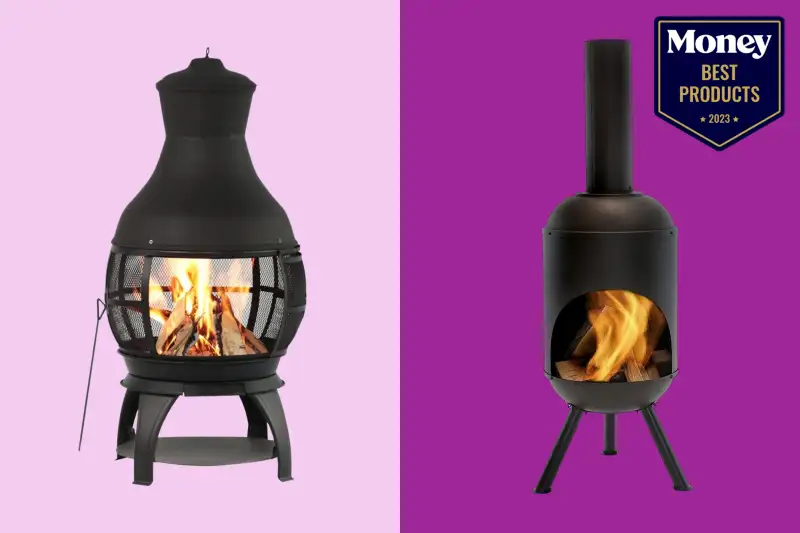 An outdoor fireplace is a great addition to any outdoor space. From summer parties to chilly winter evenings, an outdoor fireplace can add warmth, comfort, and charm to your backyard or patio. It can also be a beautiful focal point for your outdoor area, providing a central gathering place for friends and family. But with so many options on the market, it can be hard to choose the right one. That's why we've put together this list of the top outdoor fireplaces available on the market.
In this post, we'll review the most popular outdoor fireplaces of 2023, so you can find the one that's just right for your current setup. We'll talk about the pros and cons of each model, so you can determine which one is the ideal fit for your outdoor space. We've also included tips on choosing the right size fireplace and what features to look for when you're shopping around. With this guide, you'll soon be able to create the perfect outdoor space for relaxing and hosting fun gatherings.
Best Overall: Sunjoy Outdoor Fireplace
Coziest Ambiance: BALI OUTDOORS Chimenea Outdoor Fireplace
Best Value: Deckmate Corona Steel Outdoor Chimenea Fireplace
Most Compact: Sunnydaze Modern Chiminea Outdoor Fire Pit
Most Portable: Fire Sense Rolling Patio Fireplace
Reviewing the Leading Outdoor Fireplaces of 2023 in Detail
List Price: $680.00
The Sunjoy Outdoor Fireplace has earned the Best Overall award for its exceptional blend of style, function, and convenience. This elegant option features a classic design with a black powder-coated steel frame and copper accents, beautifully complemented by a natural stone-like ceramic tile finish. It includes two decorative mesh screen doors with a locking latch, allowing easy access to the fire while safely catching any flying embers. The well-constructed chimney of this outdoor fireplace effectively redirects smoke and ash away from you and your guests, providing superior exhaust control to enhance the safety and relaxing atmosphere of your gatherings. These features combine to create a warm and inviting ambiance, making it an ideal choice for anyone looking to add a touch of luxury to their outdoor living space.
Designed with functionality and convenience in mind, this fire pit includes a built-in fire poker to easily manage firewood without having to worry about any stray sparks. For easy and hassle-free cleanup, it has a removable grate that makes ash removal quick after enjoying a fire. Assembling the fire pit is a simple task as well, thanks to the included illustrated assembly instructions. This outdoor fireplace is the top choice on our list to transform your outdoor space into a cozy area. With its timeless design, solid construction, and quality features, you'll enjoy its warmth and sophistication for many years to come.
Pros
Steel frame construction is built to last
Vent ensures smoke flows away from you
Grate easily removes for quick clearing
Straightforward assembly thanks to detailed instructions
Cons
Included cover lacks durability for full protection
Repeated sunlight exposure may fade metal accents
List Price: $199.99
The BALI OUTDOORS Chimenea Outdoor Fireplace is the ideal option to add a captivating fireside ambiance to any patio or backyard. Its tall design and round wire mesh screening allow for 360-degree viewing of the fire, providing all-around warmth for you and your guests. This makes it ideal for larger gatherings as guests can mingle and still stay cozy by the fire. The design isn't only ideal for warmth and light purposes but also acts as a safety feature to prevent embers from flying out of the fireplace. The sleek and elegant black-brown finish offers a blend of modern and traditional designs that complement any outdoor setting's aesthetics.
Crafted with heavy-duty cast iron, this product stands the test of time to provide reliable use season after season. Thanks to its versatility, you can use firewood or artificial logs to fuel your fires. If you decide on wood, this pick features a sliding door and ash tray for easy refueling and ash disposal. All in all, this outdoor fireplace is a fantastic choice to make your outdoor space more inviting and keep warm on chilly evenings, whether you're spending time with friends and family or just relaxing to the sound of crackling flames.
Pros
Heavy-duty cast iron construction
360-degree fire view and warmth
Easy accessibility for adding firewood
Efficient heat retention with lid
Cons
May be slightly challenging to assemble
May be too tall for smaller spaces
List Price: $145.88
Ideal for the budget-conscious host with an eye for style and practicality, the Deckmate Corona Steel Outdoor Chimenea Fireplace is well-priced without compromising on quality. It strikes an optimal balance between affordability, functionality, and aesthetic appeal, boasting one of the lowest price tags on the market. Crafted from sturdy steel, this option features designer embossing and wire mesh screening, adding sophistication and class to any outdoor space. Its unique bulb shape provides a panoramic view of the fire and creates a cozy ambiance for your gatherings. With the fine wire mesh spark screen, you can enjoy unrestricted warmth from the glowing flames while resting assured that embers will stay safely contained.
Measuring 16 inches in diameter and standing 3 feet tall, this outdoor fireplace blends perfectly into any outdoor space, making it an excellent choice for your backyard or patio. This versatile product is compatible with real firewood or artificial logs so that you can set the perfect mood for your event. It also has a large sliding door for added protection and easy maintenance and cleaning. With its stylish design, reliable warmth, and quality safety features, this fireplace offers excellent value throughout every season.
Pros
Attractive, sturdy design with panoramic views
Large sliding door for quick refueling
Perfectly sized for almost any outdoor space
Suitable for both wood or artificial logs
Cons
May require two people to assemble
May rust if not maintained properly
List Price: $348.99
The Sunnydaze Modern Chiminea Outdoor Fire Pit is a compact outdoor accessory to create a warm and inviting atmosphere for intimate gatherings around the fire. Its unique design allows you to enjoy the cozy warmth and ambiance of a traditional chiminea fireplace without taking up too much space. At only 31 pounds, this fire pit is light enough to move around your yard or patio easily. Standing 5 feet tall on three 2-inch diameter legs, it fits comfortably into any outdoor space. The fireplace has an opening of 16 inches in diameter and 12 inches in height, providing easy access to the fire without compromising its slender design. Its large opening helps increase efficiency when kindling a fire or removing ash.
The 20-inch-tall and 6.25-inch-diameter flue channels smoke away, preventing any unpleasant smoke from ruining your enjoyment of the fire. Constructed from high-quality cold-rolled steel, this outdoor fireplace withstands frequent usage and weather variations so you can enjoy it for years to come. The manufacturer's one-year warranty attests to the product's durability, assuring coverage for any potential malfunctions or defects that may arise. The sturdy steel construction, space-saving design, and warranty make this pick a great investment for backyard enthusiasts who want to upgrade their outdoor space.
Pros
Durable steel construction withstands the elements
Large open-pit design to easily load wood
Smoke routes through the flue for a relaxing environment
Warranty covers any defects for one year
Cons
Doesn't include a chimney cap or grate
Doesn't provide enough warmth for large groups
List Price: $199.99
The Fire Sense Rolling Patio Fireplace is an ideal choice for anyone looking for a sturdy yet easy-to-transport option. Featuring heavy-duty wheels and a convenient handle grip, you can move it around your backyard or campsite with little effort. Crafted from porcelain enamel, this outdoor fire pit offers exceptional resistance against corrosion to withstand the elements. The black and silver finish allows it to blend seamlessly into any outdoor setting. Despite its durable construction, this product only weighs 32 pounds, making it lightweight and highly versatile.
The fire pit scores high on both aesthetics and functionality. It has a 28-inch diameter and a steel fire screen with a single door that keeps the fire contained and simplifies refueling, cleaning, and roasting marshmallows. The removable steel grate allows for safe log placement. This pick also features a domed lid that helps to push the heat outward rather than straight up to amplify warmth in all directions, making it a cozy centerpiece for any outdoor gathering. Thanks to its portable design and durable construction, this rolling outdoor fireplace is suitable for creating an inviting atmosphere at home or while traveling.
Pros
Quality, corrosion-resistant construction
Large, heavy-duty wheels for easy transport
Single door with latch provides quick access
Domed lid for efficient heat distribution
Cons
Assembly is challenging without two people
Wheels lack a locking mechanism
Buying Guide: Outdoor Fireplaces
Outdoor fireplaces are the perfect way to create a cozy, inviting atmosphere in your backyard or on your patio. Imagine gathering around the fire on a cool summer night with friends and family, roasting marshmallows over open flames, or simply sitting and watching the flickering flames as you relax in your outdoor retreat. But choosing the right one for your space can be tricky, which is why we're here to help.
In this detailed buyer's guide, we'll discuss the key elements that set a great outdoor fireplace apart from the rest. With a closer look at factors ranging from fuel type to cost, you'll be better informed and prepared to select the right model for your needs. Read on to find the ideal outdoor fireplace to add ambiance and warmth to your space.
Size and dimensions
When it comes to outdoor fireplaces, size matters. Proper measurements of the installation area are key to ensuring adequate clearance for airflow and exhaust venting. Don't forget to factor in additional space for accessories like a fire grate or windscreen. It's also important to consider the weight of the fireplace, especially if you plan to move it around to accommodate various spaces.
Material
To ensure durability and longevity, it's essential to choose the right material. Three of the most common materials for outdoor fireplaces are cast iron, steel, and stone. Cast iron is an economical choice that can handle high temperatures and is very sturdy. Stainless steel presents a modern, sleek look and is typically resistant to rust and the weather. Stone models offer a unique natural look and are fairly durable, but are usually rather heavy.
Design
Outdoor fireplaces are available in both traditional and modern styles. Traditional designs often feature ornate details and more intricate shapes, whereas modern designs are simpler, with clean lines and fewer embellishments. When choosing a style, consider which one best suits the overall look you are trying to achieve in your outdoor space.
Quality of craftsmanship
When looking for an outdoor fireplace, be sure to give top priority to models made with expert craftsmanship. Choose one with tight seams and welds that are free of gaps that could jeopardize your safety or let smoke escape in unwanted directions.
Maintenance
When it comes to purchasing an outdoor fireplace, it's not just about aesthetics. You'll want to ensure that you're aware of any maintenance or cleaning requirements that come along with it. Knowing how to care for your outdoor fireplace properly will keep it looking beautiful and help it function safely and effectively for years to come. Be sure to check the recommended cleaning schedules, fuel options, and any additional upkeep needed for your chosen model.
Safety features
When selecting an outdoor fireplace, it's crucial to ensure that the unit has all the necessary safety features. Look for models with a secure door for accessing the firebox, spark guards to prevent sparks from flying out of the fire, and sturdy screens to protect children and pets from the flames. Additionally, if you opt for a gas fireplace, ensure the unit is installed properly by a professional. Taking these precautions can help you enjoy your outdoor fireplace with peace of mind.
Flue type and size
When shopping for an outdoor fireplace, it's important to note that flues come in different sizes and types depending on the fuel you choose. If you opt for wood burning, the flue must be larger to accommodate the wider diameter of the smoke. If you prefer gas, a smaller flue will suffice, but it must be adequately vented to ensure the safe and efficient flow of gas.
Optional accessories
When selecting a model that best suits your needs, it's essential to explore all available accessories. Some models offer a range of optional accessories, such as covers for protection against moisture build-up, wind guards to minimize smoke blowback, fire screens to prevent debris from flying out, and log racks for convenient fuel storage.
Cost
Outdoor fireplace prices vary widely depending on size, materials, design, and fuel type. It's important to remember to account for add-ons like screens or grates as well. To get the most bang for your buck, you'll want to establish a budget that considers all these costs before making a purchase.
People Also Ask
How do I choose the right outdoor fireplace for my outdoor space?
Choosing the right outdoor fire pit depends on a few factors. Think about the size of your outdoor space, whether you want a gas or wood-burning fire, and if you want a portable or fixed fire pit. Also, consider the style and materials you prefer, like stone or metal.
You may also want to look at any extra features or accessories that would enhance your experience. Remember to factor in your area's climate when selecting a model and make sure to evaluate the level of maintenance required for your chosen unit.
How do I choose the right size and shape for my outdoor fireplace?
Whether you choose a wood-burning or gas-burning outdoor fireplace, selecting the right size and shape is crucial to efficient heat output and overall appeal. Consider your patio or deck design when selecting a shape that complements your space. A proportionate size is key as anything overly small or large will lead to inefficient burning or smoke issues. You may also want to consider how many people should be able to comfortably fit around the fire pit to ensure it can provide enough warmth and light for entertaining.
Are there safety concerns when using an outdoor fireplace?
There are several helpful safety tips to remember when using an outdoor fireplace. First, always keep a fire extinguisher nearby in case of an emergency. Second, never leave a burning fire unattended. Third, ensure that all combustible materials, such as firewood, plants, and blankets, are well away from the fire. Fourth, refrain from using flammable liquids like gasoline or alcohol to start the fire. Fifth, check the weather before lighting the fire and never light a fire under hazardous weather conditions. Lastly, always ensure that the chimney flue is open when the fire is burning to prevent carbon monoxide poisoning.
What is the best way to light an outdoor fireplace?
Properly lighting an outdoor fireplace depends on the fuel source. To light a wood-burning fireplace, use light, dry materials such as paper or grass combined with split logs arranged in a teepee formation before igniting them with a match or lighter. If you're using a gas burner, insert a long match or lighter into the lighting port for ignition, then adjust controls according to manufacturer instructions for your preferred flame height and heat output. Remember to check your fireplace regularly to maintain safety and efficiency before lighting any fires.
What kind of maintenance does an outdoor fireplace require?
Regular maintenance is required to ensure outdoor fireplaces function safely and optimally. Before use, inspect all components to determine if replacements are necessary. Wood-burning fireplaces require regular ash pan cleaning and chimney flue brushing to remove dangerous creosote build-up. Gas-fueled fireplaces require burner checks every two years. And as best practice, keep flammable materials away from the area and always wait for the fireplace to cool before handling it after use.
Why Trust Us
Our commitment to the consumer begins with a carefully curated product selection process, ensuring we provide high-quality and reliable options. We meticulously vet each outdoor fireplace, analyzing quantitative aspects, such as star ratings and review count, and qualitative factors, including review content and product features. Our dedicated team of bargain hunters prioritizes your budget by meticulously scouring the market and identifying the best home outdoor fireplaces available without compromising quality or performance. Our panel of experts focuses on presenting the pros and cons of each outdoor fireplace and converting technical specs into understandable insights. Our mission is to make sure you get the most bang for your buck…or, in this case, the best outdoor experience for your buck.