The Best Outdoor Rocking Chairs for Your Money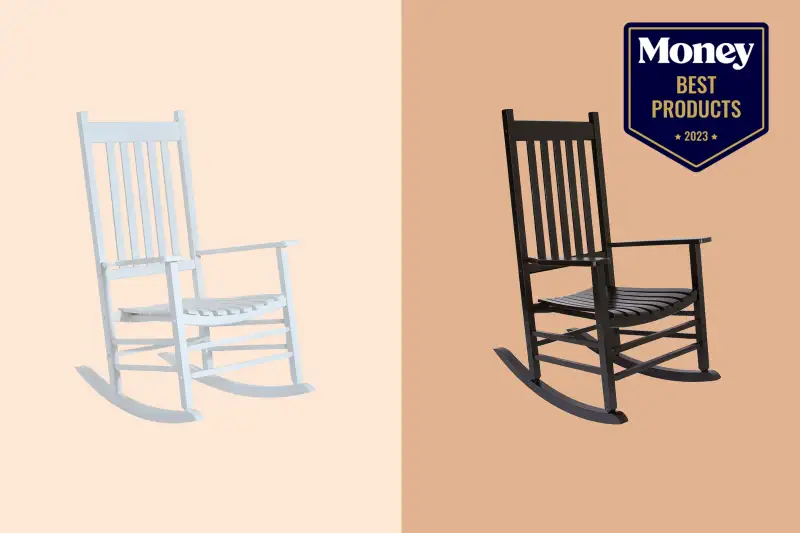 There's nothing like having a comfortable spot outside to kick back, relax and enjoy the fresh air. Whether for enjoying your morning cup of coffee or an evening of stargazing, outdoor rocking chairs allow you to enjoy a peaceful and tranquil environment almost any time of day or night. This seating option boasts a range of benefits, from comfort to durability.
We've scoured the market and compiled a list of the most popular outdoor rocking chairs of 2023, so you can find the ideal chair to suit your style, needs and budget. We'll discuss the features of each option, including its pros and cons. We'll also share a comprehensive buying guide that covers everything you need to know to make an informed purchase. So, if you're looking for a stylish rocking chair for your porch or patio, you've come to the right place.
Best overall: GCI Outdoor Pod Rocker
Rustic style: Outsunny Outdoor Rocking Chair
Best value: Amazon Basics Outdoor Lounge Rocker
Most sturdy: Shine Company Vermont Porch Rocker
Most comfortable: Christopher Knight Cushioned Home Rocking Chair
Comparing the Leading Outdoor Rocking Chairs of 2023
List Price: $79.99
Check on Amazon | Check on Walmart
The GCI Outdoor Pod Rocker takes our top spot thanks to its quality, comfort and convenience. The chair's comfortable sling-style seat and breathable mesh panels provide a supportive structure that allows you to relax comfortably. The frame is made from sturdy powder-coated steel with a lightweight design that makes it ideal for camping, concerts, picnics and more. This outdoor rocking chair also has patented spring-action rocking technology to provide a smooth rocking motion on almost any surface, including uneven terrain.
It measures 28.2 x 30 x 34.7 inches when open, with a seat height of 19.7 inches, and has an overall weight of 11.7 pounds. It folds to 6.5 x 5.5 x 40.2 inches to fit easily into the included storage bag for bringing seating on the go. This pick also has a side pocket and beverage holder to store your phone, drinks or other items. This outdoor rocker is the best overall option on our list because of its robust construction, comfortable design, ease of portability and patented rocking technology.
Pros
Boasts a sturdy and durable construction
Provides smooth rocking motion
Sets up easily and folds down quickly
Includes a thick and sturdy storage bag
Cons
Uncomfortable for those over six feet tall
Heavy if carrying for an extended time
List Price: $142.99
Check on Amazon | Check on Walmart
The Outsunny Outdoor Rocking Chair is an attractive and comfortable piece of furniture that adds a touch of rustic charm to any outdoor space. Crafted from poplar hardwood and bamboo, this option has a durable and eye-catching frame that can handle up to 352 pounds. It's available in four colors: white, black, natural wood and wine red. This pick has ergonomic armrests and sturdy high-back support, providing a comfortable lounging experience.
This outdoor rocking chair also comes pre-painted with a protective layer of polyurethane, making it durable enough to withstand weathering while resisting water damage and UV rays. This makes it an excellent seating choice for patios, porches, decks, or any other outdoor space you'd like to add a touch of classic, long-lasting style. With its rustic charm, strong construction and weatherproof coating, this product can look great in your outdoor area while providing comfort and relaxation all year round.
Pros
Durable wood construction
Traditional and attractive design
Weatherproof polyurethane coating
Available in four different colors
Cons
Assembly may be difficult and time-consuming
Small caps covering screws may come loose
List Price: $89.99
Check on Amazon | Check on Walmart
The Amazon Basics Outdoor Lounge Rocker offers exceptional value to fit almost any budget, making it an excellent choice for anyone looking for an affordable, high-quality outdoor rocking chair. This model features sturdy construction with a durable powder-coated steel frame to withstand the elements. An ergonomic textilene mesh seat with elastic cording provides plenty of support for your spine. The seat's mesh design also lets air pass freely to prevent perspiration build-up on hot days.
One of the best features of this folding rocker is that it collapses down for easy storage or transport. When you're finished using the chair for the day, quickly fold it and store it away. This feature is also handy if you want to take your outdoor rocking chair camping, to the beach or on vacation without wasting valuable space. Whether you're using it on your home porch or taking it on the go, this rocking chair offers great value without compromising quality or comfort.
Pros
Sturdy materials for quality construction
Collapsible design for easy portability
Adjustable armrests to improve comfort
Exceptional value for the price
Cons
Mechanism can be difficult to unlatch
Chair lacks adjustable back support
List Price: $249.98
Check on Amazon | Check on Walmart
The Shine Company Vermont Porch Rocker is a quality rocker that arrives partially pre-assembled so it can be set up quickly and easily. Its robust frame is constructed from hardwood, a quality material renowned for its strength and durability. The polyurethane paint applied to this product provides extra protection from outdoor elements, while the kiln-dried wood prevents cracking, splitting and warping. This model also features rust-resistant hardware to withstand wet weather conditions.
The design of this porch rocker incorporates a high back and ergonomic seat for added support, ensuring you'll be able to sit comfortably for extended periods without any discomfort. Its deep black finish ties together any patio, porch or yard, providing an elegant accent to any outdoor space. Quality materials and an attractive design make this chair an excellent blend of old-fashioned comfort and modern durability. These factors combined with its quality features and easy assembly make this outdoor rocking chair a comfortable centerpiece for your outdoor space.
Pros
Sturdy and durable material construction
Smooth rocking motion on various surfaces
Versatile for indoor and outdoor use
Quick and easy assembly with included tools
Cons
Wood color may be lighter than described
Pegs to hide screws may require glue
List Price: $97.88
Check on Amazon | Check on Walmart
In search of a luxurious outdoor chair to read or lounge in? The Christopher Knight Cushioned Home Rocking Chair features a padded seat for a relaxing and comfortable experience. It includes a water-resistant polyester cushion that provides extra comfort while you enjoy an afternoon outside. The seat measures 20.75 inches wide by 19 inches deep and 16.5 inches from the floor to the seat top, providing ample space to sit and relax. Assembly is also easy, only requiring a few minutes before you can enjoy the comfort of this chair.
This pick has a teak finish and a classic design that will surely add style to any outdoor area. The high-quality craftsmanship of the acacia wood material offers durability and resistance against elements such as wind and rain. The rich shade of the teak contrasts nicely against any greenery while the smooth curves of the armrests give the rocker an elegant silhouette. Its combination of style and comfort makes it an ideal seating option that will provide many years of enjoyment.
Pros
High-quality weatherproof construction
Wide seat compared to a standard patio chair
Smooth and comfortable rocking motion
Easy to assemble with included hardware
Cons
Wood construction creates more rocking noise
Cushion color may vary slightly
Buying Guide: Outdoor Rocking Chairs
Outdoor rocking chairs have seen a resurgence in popularity in recent years as more people are looking to get away from the hustle and bustle of everyday life and spend more time enjoying the fresh air and natural beauty of the outdoors. With so many available on the market, however, it can be tricky to determine which one is right for you. That's why in this detailed buyer's guide, we'll cover the key features to consider when searching for an outdoor rocking chair so you can make the most of your time outdoors.
Durability
When evaluating construction quality, consider the materials used and the overall craftsmanship of the product. The material should be weather-resistant and rustproof so it's able to withstand rain, snow and sun. Pay attention to the type of joints used in the construction and ensure they're strong enough to withstand regular rocking. Additionally, check for a manufacturer's warranty that covers your purchase in case of manufacturing defects.
Material
The material of your outdoor rocking chair is an essential factor to consider when it comes to durability and appearance. Standard materials are wood, plastic or metal, each of which has its own benefits. Wood is a classic, durable material that can be painted or stained to fit your outdoor space's aesthetics. Plastic is a lightweight and low-maintenance option that's also waterproof. Metal is usually the sturdiest option but can rust over time.
Size
The size of your outdoor rocking chair is also important, as it needs to fit in your space and provide enough room for you to sit. Measure the dimensions of the option you're considering, as well as the area where you plan to place it. Ensure the dimensions match and the chair has enough room to rock.
Comfort
Comfort is key when finding the right outdoor rocker. Look for chairs with good padding and ergonomic designs that provide plenty of support. Armrests and headrests are also great features to add extra comfort to your rocking experience.
Style
When it comes to design, you'll want to consider your personal style and the overall look of your outdoor space. For example, if you have a classic, traditional decor theme in your backyard, you may want to choose a wooden rocking chair with a slatted or stained finish. On the other hand, if you have a modern or contemporary aesthetic, you may want to opt for a metal or plastic rocking chair with a sleek, minimalistic design.
Portability
If you plan to take your rocking chair on outdoor adventures often, look for one with folding capabilities so you can store and transport it easily. Also, look for a lightweight model that doesn't take up too much space once folded since this will make transportation more convenient.
Price-to-value ratio
When comparing different models and brands of outdoor rockers, consider the value of what they offer when compared with their prices. Look at them side by side so you can get an idea of how many and what kind of features each model offers in relation to its price tag.
People Also Ask
What makes an outdoor rocking chair comfortable?
The most comfortable outdoor rocking chair is one that offers generous support for your back and has a high-quality frame to keep it steady.
Does an outdoor rocking chair require assembly?
Some outdoor rocking chairs come pre-assembled while others require minimal assembly upon delivery. Be sure to read reviews or consult the user manual before purchasing if you're looking for an outdoor rocking chair that's easy to assemble or doesn't require it.
Are outdoor rocking chairs weatherproof?
Most outdoor rocking chairs are designed with weatherproofing materials such as wicker and teak that helps them withstand rain, snow and other elements. Check out reviews or consult the user manual before purchasing to ensure you're buying a weatherproof outdoor rocking chair.
Are outdoor rocking chairs portable?
Some models are designed to be portable and come with foldable legs or compact frames. Most lightweight outdoor rocking chairs also feature handles or straps, which make them easier to transport.
How long does an outdoor rocking chair last?
The longevity of your specific model will depend on several factors, including how often it's used and what type of maintenance is required. With proper care and maintenance, most outdoor rocking chairs should last many years before they need replacing due to wear and tear on the frame or fabric cushioning.
Why Trust Us
Our commitment to the consumer begins with product selection and ends with the last word we write in each article. Each outdoor rocking chair is carefully vetted quantitatively through star ratings and the number of reviews qualitatively through careful examination of reviews and the features each one has to offer. Leveraging our team of bargain hunters, we're also always sure to keep your budget in mind while we find the best outdoor rocking chairs on the market. Our team of experts is dedicated to accurately depicting the pros and cons of each product, translating technical product specifications into information you can understand. Our mission is to make sure you get the most bang for your buck…or, in this case, the best outdoor experience for your buck.