The Best Pedometers for Your Money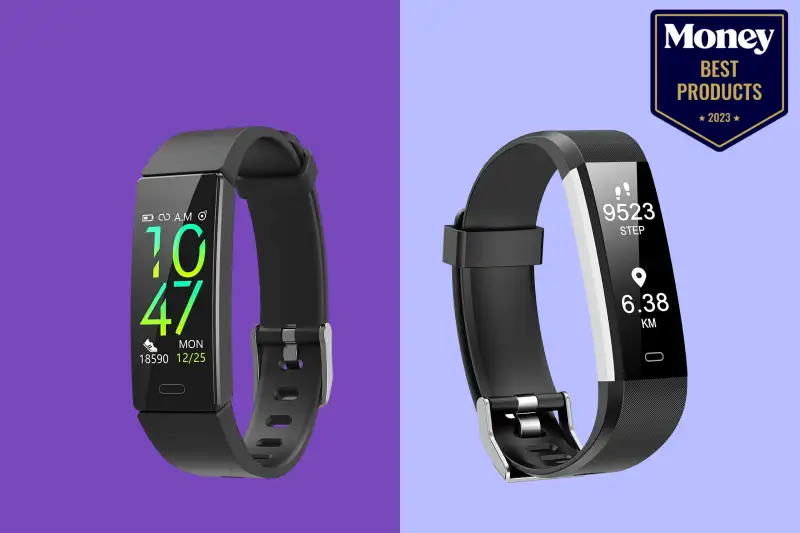 Did you know that walking for as little as 30 minutes daily can strengthen your bones and reduce your risk of developing type 2 diabetes, osteoporosis, heart disease, and other conditions? If you want to increase your activity level by going on walks, then a pedometer is a great way to stay motivated and track your progress. These handy devices count how many steps you take to help you meet your daily fitness goals and track changes over time.
In this article, we'll take an in-depth look at the top pedometers of 2023, covering each one's pros, cons, and features. To help you find the right one for your needs, we'll also include a detailed buyer's guide that breaks down the most important factors to evaluate when shopping for these devices. So, if you're ready to take the next step toward improving your health and increasing your activity, keep reading to learn more about our favorite pedometers.
Best Overall: 3DActive Pedometer
Best Minimalist Design: GRV Pedometer Watch
Best Features: Kummel Fitness Tracker With Pedometer
Most Convenient: iGANK Walking Pedometer
Most Accurate: ZURURU Fitness Tracker With Pedometer
Reviewing the Leading Pedometers of 2023 in Detail
List Price: $39.99
In our top spot is the 3DActive Pedometer due to its user-friendly interface and compact design. This product is a great way to stay motivated and track your steps. Thanks to its simple design and intuitive operation, it's extremely easy to use straight out of the package, making it accessible to users of all ages. Its advanced 3D Tri-Axis Sensor technology provides superior accuracy regardless of the device's position or angle.
This step tracker also has an extra-large digital display, making it easy to see the numbers clearly at a glance. It comes complete with a removable clip and a lanyard for multiple wearing options — clip it onto your pocket or belt, wear it around your neck, or place it inside your pocket or bag. The included battery will last around one year with regular use so you don't have to worry about charging the device or replacing its batteries often. The automatic sleep and wake features conserve battery power as well.
This handy step counter comes in several color choices ranging from neutral shades, like black and white, to vibrant hues, like pink, green, and yellow. Weighing only 0.8 ounces and featuring a compact handheld size, this tracker is highly portable and easy to take along on the go. Overall, it's a great pick for anyone looking for a reliable, easy-to-use product that delivers fast, accurate statistics.
Pros
Suitable for all fitness levels
Easy, single-button reset
Automatic on and off
Cons
Not for those who prefer advanced features
Included belt clip could be sturdier
List Price: $25.99
The GRV Pedometer Watch is an ideal option for those looking for a simple-to-use fitness-tracking device that's comfortable and features a sleek yet multifunctional design. This watch is equipped with a step counter, calorie counter, distance tracker, and sleep monitor to give you a comprehensive view of your diet and exercise regimen. Setting up the watch is simple, allowing you to easily adjust the time, date, and personal information in the settings menu. It also features a long-lasting battery, delivering one week of use after only a couple of hours of charging.
Its basic design makes this fitness watch accessible to everyone from children to seniors and beginners to fitness pros. With its lightweight construction and no need for a Bluetooth connection or app, this watch provides convenience without sacrificing accuracy. Its step counter tracks your steps precisely with just a simple touch of the button at the bottom of the screen. Plus, its calorie counter allows you to monitor your fitness goals and activity.
The additional distance-tracking feature allows you to stay mindful of how far you've traveled during your daily runs or walks, putting your steps into another useful metric, while the sleep-monitoring feature helps you evaluate your sleep habits to stay refreshed. All in all, this product is an excellent choice for anyone seeking the benefits of a modern all-inclusive fitness tracker without needing a phone or app.
Pros
IP67 waterproof rating for durability
Easy to set up and use
Available in multiple colors
Cons
Watchband may be uncomfortable for some users
Not suitable for diving or showering
List Price: $32.99
If you prefer a tracker with more advanced features, the Kummel Fitness Tracker With Pedometer is a great choice. It features 14 different sports modes and tracks multiple metrics, including steps taken, calories burned, and distance covered. This impressive product also tracks your heart rate, monitors your sleep quality, and alerts you if you've been sedentary for an extended period of time. The touch-operated OLED screen is also easy to view, even in the sunlight.
Additionally, this step-tracking device offers real-time notifications for incoming calls, texts, and pings so you'll never miss an important call or message again! Its efficient battery lasts up to a week after just a couple of hours of charge time. Plus, the watch has an integrated USB plug, allowing you to plug it directly into power sources without the need for extra wires or cables.
For added longevity and convenience, this pedometer also has an IP67 waterproof rating and can be used to remotely control your smartphone's camera. It's available in several stylish color choices so you can choose the one that best suits your preferences. Overall, this pick is the ideal device for busy people who want to stay connected while staying active.
Pros
Fast charge time and long battery life
Fourteen sports modes
Integrated USB plug for cord-free charging
Cons
May not be compatible with older smartphones
May irritate sensitive skin
List Price: $17.99
Featuring a carabiner-style construction, the iGANK Walking Pedometer is a great clip-and-go option for anyone looking for reliable results and a simple, convenient design. It has a slim profile and weighs only 0.5 ounces, making it lightweight and ultra-portable. There are no complicated settings, apps to pair with, or lanyards to attach so you can simply clip the tracker to your backpack or belt loop and start walking.
Resetting the pedometer before starting a new walk is easy, as you only need to press and hold a single button on the back of the device for a couple of seconds to set your step count back to zero. Plus, you don't have to worry about charging this tracker, as the included lithium-ion battery lasts approximately one year before requiring replacement.
This product uses a 3D Tri-Axis sensor to provide you with precise, accurate readings regardless of the device's angle or position. It's available in black, blue, purple, and red color choices to suit a range of styles. This easy-to-use pedometer is a solid choice for users who just want to get up and go without worrying about charging batteries, programming settings, or connecting to apps.
Pros
Convenient and straightforward to use
No battery charging is needed
Clip-on carabiner makes it easy to secure
Cons
Easy to misplace due to small size
No warranty coverage
List Price: $39.99
From counting steps to monitoring heart rate, the ZURURU Fitness Tracker With Pedometer is a reliable and accurate device for tracking your physical activity and sleep. Whether you're looking to maintain healthy habits or meet specific fitness goals, this waterproof step tracker has some great features to help you out. The sleep-tracking feature monitors your sleep cycles to help you better understand your patterns and determine whether you're getting enough rest. With all-day activity tracking, you can keep an eye on your daily steps taken, calories burned, distance traveled, and time spent working out.
This premium device has an upgraded HD color screen that can be customized in four different styles and various date/time formats to highlight the most important information to you. This pick comes in black, blue, pink, and purple, making it as stylish as it is useful. Plus, with convenient calls, messages, and social media notifications accessible directly on your wrist, it's easy to stay connected while you're on the move.
This fitness tracker with a pedometer reaches a full charge in just a couple of hours and has a one-week battery life. Plus, the integrated USB plug means you don't have to worry about using or losing charging cables — just plug it directly into the power source's USB port and you're done! Between its 11 exercise modes, alarm settings, built-in stopwatch, and easy-to-read display, this option can do it all to help you tackle your fitness goals and improve your health.
Pros
GPS helps accurately track distance
Impressive IP68 waterproof rating
Eleven exercise modes for versatile use
Cons
Swimming data isn't tracked
Some features require app use
Buying Guide: Pedometers
A pedometer is a useful tool for anyone looking to increase or monitor their activity levels. But with so many styles and varieties available, finding the right one for you isn't always easy. To help you navigate the market, this buying guide will walk you through the most important features and factors to consider while shopping for a step tracker so you can make an informed purchase.
Battery type and life
Some pedometers feature long-lasting lithium-ion batteries, whereas others have built-in rechargeable batteries. Depending on the battery type, a pedometer's battery life can last anywhere from a couple of days to a couple of years. We recommend choosing a pedometer with long battery life so you won't have to swap out the batteries or recharge the device often.
Price
Price is another important factor to consider when choosing a pedometer. Make sure to consider the cost of the pedometer and the features it offers so you get the best value for your money. It can also be helpful to set your search filters to show you options that fall within your preferred budget range. Aim for an affordable product without sacrificing quality and durability.
Size and weight
It's important to choose a compact, lightweight pedometer since you'll be carrying or wearing it throughout the day. Choose an option that isn't too bulky or heavy so it'll be comfortable to carry without interfering with your movements or making you feel weighed down. This is especially important since an uncomfortable pedometer might discourage you from walking more, which would defeat its purpose.
Durability
Choose a step tracker that's made with high-quality materials and will be able to withstand daily use, wear, and exposure to various weather conditions if you'll be walking outdoors. Many options are water-resistant or waterproof, making them ideal for humid or rainy days and water activities. Check the IP waterproof rating if available to select one that meets your needs.
Features
Many modern pedometers do more than just track your steps, often including additional features such as GPS, heart rate monitoring, connectivity to other devices or apps, and sleep monitoring. Additionally, many models also allow you to view messages, texts, and call alerts so you can stay connected, even on the go. Some pedometers feature alarms, stopwatches, and exercise modes to accurately track duration, heart rate, steps, and calories burned during specific activities. Consider which features are important for you before making a purchase, and check the product description to ensure the model you're considering has these features.
User-friendliness
Lastly, consider opting for a pedometer with a well-designed display or touchscreen interface that's easy to read and operate with minimal effort. Look for one that has intuitive buttons and a straightforward design. Some models also serve as a watch, so you can easily keep track of the date and time throughout your busy week.
By considering these product features, you should be able to find the best pedometer to fit your needs and lifestyle.
People Also Ask
How does a pedometer work?
Tracking methods and technology may vary, depending on the type of tracker. Generally, most pedometers feature a sensor that detects vibrations and hip movement to calculate how many steps the wearer has taken.
Can I use a pedometer without a smartphone or mobile app?
Yes, many step trackers feature simple, straightforward designs and don't require the use of other devices or apps. Look for models with basic features, single-button operation, and user-friendly interfaces.
How do I wear a pedometer?
This depends on your chosen model. Watch-style trackers are worn on your wrist just like a watch. Standalone models are typically attached to a lanyard and worn around your neck or clipped onto your belt loop. Check the product description for specific instructions on how to wear or carry your chosen device.
Can I use a pedometer while biking?
Yes, many models feature pre-programmed modes and settings to track your activity while riding a bicycle. Not all pedometers have these features, however, so it's important to check the product description to make sure your chosen model is suitable for use while biking.
Are there different types of pedometers?
Yes, there are three main types of pedometers: mechanical, electronic, and GPS. Mechanical models feature basic designs and use mechanical sensors to track your movement and steps. Electronic models use pendulums and electronic technology to track your metrics and display them on an LCD screen. GPS pedometers are known for their superior accuracy, but they're often more expensive than other types.
Why Trust Us
Our commitment to customers begins with a carefully curated product selection process, ensuring we provide high-quality and reliable options. We meticulously vet each pedometer, analyzing quantitative aspects, such as star ratings and review count, and qualitative factors, including review content and product features. Our dedicated team of bargain hunters consistently prioritizes your budget by meticulously scouring the market and identifying the best pedometers available without ever compromising on quality or performance. Our panel focuses on presenting the pros and cons of each pedometer and converting technical specs into understandable insights. Our mission is to help you accurately track health statistics and achieve fitness goals with top-rated step-tracking equipment.