The Best Pellet Grills for Your Money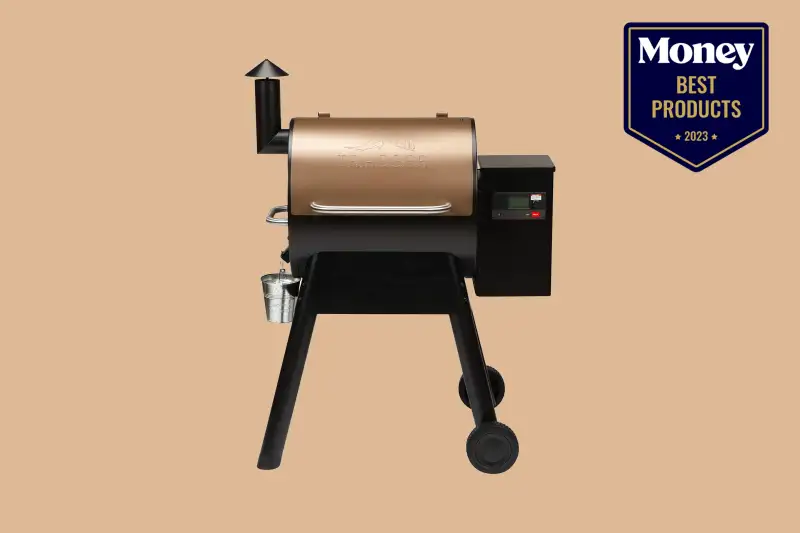 There's nothing quite like the taste of grilled food. Whether it's a juicy burger, succulent steak, or flavorful vegetables, there's something special about a meal cooked over a live flame. But the traditional charcoal and gas grills aren't always the most convenient models. That's why the pellet grill has become such a popular option in recent years.
Pellet grills offer the convenience and ease of gas or electric grills with the smoky flavor of charcoal. They are incredibly versatile, allowing you to cook on high and low heat to slow roast, sizzle, sear, and more. In this article, we'll look at the leading pellet grills of 2023 that can elevate your grilling experience. We'll also share a detailed buying guide outlining the key features to consider when selecting the perfect choice for your cooking style. From budget-friendly options to top-of-the-line models, you will surely find the perfect pellet grill to enhance your backyard culinary experience.
Best Overall: Z GRILLS Wood Pellet Grill & Smoker
Most Advanced: Traeger Grills Pro Series 575 Wood Pellet Grill and Smoker
Best Starter Grill: PIT BOSS PB440D2 Wood Pellet Grill 440 Series
Best for Camping and Tailgating: Green Mountain Davy Crockett Portable Wood Pellet Grill
Easiest Assembly and Maintenance: Camp Chef SmokePro DLX Pellet Grill
Comparing the Highest-Rated Pellet Grills of 2023
List Price: $339.50
Taking our award for the best overall pick, the Z GRILLS Wood Pellet Grill & Smoker boasts remarkable versatility and exceptional value. With 452 square inches of cooking space, it can easily handle up to 18 burgers, three whole chickens or four racks of ribs. Its all-in-one design functions as a grill, smoker, oven, roaster, searing station and braiser. Featuring eight temperature settings from a mild 180°F to a sizzling 450°F, this pellet grill delivers outstanding cooking control for various dishes.
This pick is also incredibly user-friendly, featuring a 15-pound capacity pellet hopper for hours of wood-fired flavor infusion. To start it, simply flip the switch on to activate the auger and fan and set the desired temperature using the control knob. The impressive PID technology and induction fan take over from there, maintaining a consistent temperature during the entire cooking session. This advanced technology delivers crispy or juicy chicken wings with a smoky flavor, tender ribs with a deep char, and flavorful homemade burgers. This pellet grill's incredible versatility, exceptional user-friendliness, and top-notch performance impresses on all fronts, securing our highest recommendation as the top choice for grilling enthusiasts seeking a wood-fired cooking experience.
Pros
Versatile cooking options with built-in temperature control
Flavorful, wood-fired taste thanks to 15-pound auger
Generous cooking area for grilling multiple portions
Durable steel construction with heat-resistant coating
Cons
Initial assembly can be time-consuming
Electricity is required for operation
List Price: $899.99
The Traeger Grills Pro Series 575 Wood Pellet Grill and Smoker is ideal for cooking enthusiasts seeking a user-friendly, smart pellet grill to take their outdoor grilling experience to the next level. Featuring WiFIRE technology, this product connects to your home Wi-Fi network, enabling you to monitor and control it with your phone. The user-friendly app provides customizable settings for effortless temperature and smoke level adjustments, ensuring perfect results each time. The efficient drivetrain ensures the grill starts quickly, heats up faster, and produces high-quality smoke. Its spacious 575-square-inch grilling area accommodates up to 24 burgers, five racks of ribs, or four whole chickens.
The integrated meat probe helps you ensure precisely cooked food while the maximum temperature of 500°F delivers outstanding results for every dish. This versatile model offers a range of cooking options such as grilling, smoking, baking, roasting, braising, and BBQing. Those looking for an easy way to achieve wood-fired taste should look no further than this premium pellet grill and smoker.
Pros
Durable, high-quality construction
Easy to use with Wi-Fi-enabled monitoring
Versatile grilling, smoking, and baking capabilities
Integrated meat probe for accurate cooking
Cons
Costly initial investment
Limited portability due to weight
List Price: $449.99
The PIT BOSS PB440D2 Wood Pellet Grill 440 Series is a fantastic and convenient option for those just starting to explore the world of wood-fired outdoor grilling. Crafted from high-quality steel, this durable grill features large, sturdy wheels for effortless portability and smooth maneuverability. Its detachable side shelf doubles as a serving tray, providing convenient access to grilling tools and ingredients. The digital control board featuring an LED display allows for precise temperature control, with fan-forced convection cooking to promote consistent heat distribution for evenly-cooked meals. The hopper, with a 5-pound capacity, ensures ample pellet supply during grilling. In total, this option offers 465 square inches of cooking surface, providing plenty of space to prepare a full meal and accommodate extras like appetizers or side dishes.
This versatile pellet grill offers ultimate flexibility for various cooking styles, featuring both direct and indirect heat options. Its porcelain-coated cooking grates provide excellent heat retention for even and thorough cooking and enhance flavor infusion while preventing food from sticking to the surface. All in all, this option offers an exceptional combination of quality and ease of use thanks to its intuitive design and bonus features for storage and portability, making it perfect for those interested in mastering the art of wood-fired outdoor grilling.
Pros
Easy-to-use digital control panel
Sturdy steel construction
Five-pound hopper capacity
Non-stick porcelain cleaning grates
Cons
Requires frequent cleaning
Can be time-consuming to assemble
List Price: $399.00
If you're looking for a portable grill that can handle anything from searing steaks to slow-smoking ribs while camping or tailgating, then the Green Mountain Davy Crockett Portable Wood Pellet Grill is an excellent choice. Weighing only 57 pounds, its foldable and lightweight design enables easy transportation and storage while maintaining durability against the elements. It offers several power options and includes 120AC and 12V adapters for convenient power access while away from home. Equipped with Sense-Mate, an advanced smart temperature sensor, it continuously monitors and maintains the grill's temperature during cooking. This feature helps enable confident cooking, allowing you to enjoy outdoor activities without constantly having to check your food.
This portable pellet grill's auger system ensures maximum flavor extraction from each pellet, as its hopper can hold up to 9 pounds for prolonged cooking periods. The raised lid offers extra height for rib racks and accessories, while the spacious tray stores essential tools and condiments. The meat probe thermometer offers manual temperature tracking, while the Wi-Fi controller enables adjustments from any connected location. This pellet grill offers versatility and convenience, making it perfect for tailgaters, outdoor enthusiasts, and backyard barbecuers alike.
Pros
Portable, durable construction with foldable legs
Several power options and adapters included
Innovative temperature-sensing monitoring and maintenance
Advanced probe thermometer and Wi-Fi controller
Cons
Limited cooking space for large gatherings
Potential learning curve first few times
List Price: $616.98
The Camp Chef SmokePro DLX Pellet Grill is an excellent option for those seeking a high-quality pellet grill that's easy to put together and has low-maintenance features. In under 30 minutes, you can assemble the grill by attaching its four sturdy legs, lid handle, and chimney. To maintain the grill, simply brush the grates to keep them clean and pull a knob to empty the ashes into a collector cup for easy disposal. This woodfire grill also has an automatic auger system that feeds pellets into the firebox, ensuring a consistent burn and heat output, allowing you to enjoy outdoor cooking without needing continuous manual adjustments.
This pellet grill features a 19-by-22-inch cooking area, along with a 6-by-24-inch smoking and warming rack. Its Gen2 digital control panel allows precise temperature settings and monitoring, while adjustable smoke control offers customized smoky flavor intensity. This easy-to-assemble, low-maintenance grill is suitable for outdoor cooking enthusiasts seeking a straightforward barbecuing experience. Its quick set-up, hassle-free cleaning, and automatic pellet auger system make it the ideal choice for those valuing performance and convenience in their outdoor culinary adventures.
Pros
Quick assembly and easy setup process
Effortless maintenance ash removal system
Auto-fed auger system for temperature control
Easy-to-operate Gen2 digital control panel
Cons
Heavy design limits portability
Initial learning curve
Buying Guide: Pellet Grills
There's nothing like the taste of wood-fired grilled food. The smoky, rich flavor is unbeatable and makes any meal one to remember. If you're looking to achieve that flavor without all the fuss, you should check out pellet grills. This type of grill is easier to use and maintain than traditional grills, delivering that delicious smoky flavor for a fraction of the cost. With so many options on the market, however, it can be difficult to choose the right one for your space and cooking needs.
That's why, in this guide, we'll discuss the key features to consider when selecting the ideal pellet grill for your cooking style. From price to cooking capacity, these factors are important to evaluate to make an informed buying decision. Whether you're new to grilling or a seasoned pro, this information will help you find the perfect pellet grill for all of your outdoor barbecues.
Size and capacity
When selecting a pellet grill, it's important to consider size and capacity. Pellet grills come in various sizes, from compact table-top models suitable for small cookouts to full-sized options capable of grilling up to 20 burgers at once. If you regularly host large gatherings or prepare sizeable meals, you will want a larger grill. If you're cooking smaller meals, a compact model will suffice.
Temperature range
When selecting a pellet grill, consider the temperature range, as different foods require various cooking temperatures. Opt for a model that offers both low and high ranges. Some grills can go as low as 160°F, while others reach up to 500°F or more.
Temperature control
Maintaining temperature is essential when grilling. For easy adjustments, choose pellet grills with user-friendly temperature control interfaces, such as knobs or digital displays. Additionally, you can opt for models with electronic auger systems to precisely modify pellet-burning rates and ensure consistent cooking.
Durability
When hunting for the perfect pellet grill, consider the materials used in its construction. Opt for high-quality models crafted with durable materials like stainless steel. Keep an eye out for weatherproofing features, such as powder coating or additional weather protection seals, to safeguard against corrosion in outdoor environments.
Pellet hopper capacity
The pellet hopper's capacity affects fuel availability for lengthy grilling sessions or multi-course meals with diverse temperature requirements. Models vary, offering 10 to 20-pound hoppers for smaller options and 40 to 60-pound hoppers for larger ones. Choose a size that suits your desired refilling intervals, ensuring you don't run out of fuel mid-cooking.
Grease management system
The ease of cleaning and maintaining your pellet grill depends on its grease management system. Choose models with detachable grease pans or drip trays under the cooking chamber, allowing for easy removal during clean-up without creating a mess in the firebox or your outdoor entertainment spaces. Some models also provide extra pans on both sides of the cooking chamber to minimize mess during prep and clean-up.
Digital temperature display
Modern pellet grills often come with digital displays alongside their dials, offering immediate, precise temperature readings. This feature removes the guesswork and minimizes trial and error when fine-tuning settings for optimal cooking results. The accuracy of digital displays proves especially helpful for those who require precise temperature control when grilling diverse foods over extended periods.
Convection fan
Most pellet grills feature convection fans within the fireboxes for individuals seeking precise control over cooking temperatures during the entire cooking process. These fans continuously circulate hot air throughout the cooking chamber, ensuring evenly cooked food. They also enable users to modify heat flow through dedicated vents in the firebox, eliminating the need for manual adjustments to dials whenever they wish to change heat distribution within the chamber.
Ignition method
Before buying a specific model, research the ignition method used by the particular brand to ensure safe fire-starting. Many contemporary designs employ convenient push-button electric igniters or manual lighting crank mechanisms for a reliable setup before cooking begins. Some highly advanced designs also feature built-in battery-operated lighting rod systems, enabling users to start fires safely with minimal effort, regardless of outdoor weather conditions.
Cleaning and maintenance
Cleaning and maintenance are crucial factors for convenient use. Opt for models that prioritize easy maintenance with accessible components, removable grease pans, and dedicated detachable ash and debris drip trays. This makes it simpler to remove used charcoal, greasy deposits, and food residue.
Accessories
For cooking enthusiasts seeking a unique BBQ experience, various modern pellet grill accessories are available. Popular options include smokers, rotisseries, pizza ovens, searing boxes, rib racks, and vegetable baskets, offering endless cooking possibilities.
Cost
Cost is the final factor worth considering. Prices of pellet grills vary based on size and features, starting around $200. Consider which features are most important to you before choosing a particular model based on your budget and needs. More expensive options may have digital temperature displays and convection fans, making them worth the extra cost if you plan to use these features regularly.
People Also Ask
What are the benefits of cooking with a pellet grill?
The benefits of cooking with a pellet grill include consistent temperature control, convenience, ease of use, and great flavor from wood-fired cooking. Additionally, pellet grills often have large cooking areas which allow you to smoke or grill more food at once.
How easy is it to use a pellet grill?
Using a pellet grill is very simple and intuitive. All you need to do is fill up the hopper with pellets, turn on the power switch, set the desired temperature on the digital controller, and wait until your food is cooked.
Do I need to season my pellet grill before use?
Most pellet grills come pre-seasoned, but it's always a good idea to clean and maintain your grill regularly to keep it performing well. Grills should be cleaned before use by wiping down the cook box with a damp cloth and removing any ash buildup from the fire pot.
How long do pellets typically last in a pellet grill?
Pellets typically last around 8-10 hours, depending on your settings and how much food you cook.
How often do pellets need to be changed in a pellet grill?
Replace pellets every few months, as their flavor diminishes with use. Alternating between different pellet types is also advised to explore different flavor profiles when grilling or smoking various recipes.
How much space do I need for my pellet grill?
The amount of space required for your pellet grill will depend on what type and size you choose and where you plan to put it. Most small-sized grills require at least two feet of clearance around all sides while larger grills may require up to four feet or more around each side for proper operation based on safety precautions.
Are there any safety concerns with using a pellet grill?
Yes, there are some safety concerns when using a pellet grill. For optimal safety, you should keep combustible materials away from the heat source, avoid leaving the grill unattended or near children and pets, ensure all screws are tightened, and wait for it to cool down before handling or cleaning.
Why Trust Us
Our commitment to the consumer begins with product selection and ends with the last word we write in each article. Each pellet grill is carefully vetted quantitatively through star ratings and the number of reviews qualitatively through careful examination of reviews and the features each one has to offer. Leveraging our team of bargain hunters, we're also always sure to keep your budget in mind while we find the best pellet grills on the market. Our team of experts is dedicated to accurately depicting the pros and cons of each pellet grill, translating technical product specifications into information you can understand. Our mission is to share top-of-the-line grilling products worth your money, ensuring a remarkable outdoor cooking experience that won't break the bank.