The Best Pickleball Bags for Your Money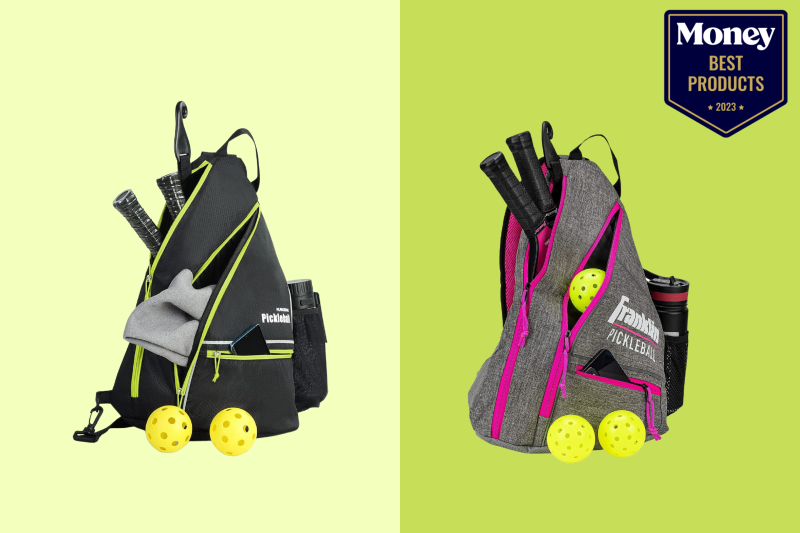 Just imagine this: You're getting ready to go play your favorite sport, pickleball. You've got your paddle, balls, and other essential gear. But how do you transport it all from point A to point B? This is where a pickleball bag comes into play. This essential pickleball accessory serves a critical role in storing, organizing, and transporting your equipment. Whether style or size (or a combination of both) is important to you, we've scoured the market to find the most popular pickleball bags of 2023.
These top-rated selections, each with unique features and designs, cater to diverse needs, so you should be able to find a suitable option for your needs. We'll take a close look at their features and functionality, and share some helpful buying tips to help you narrow down your options. So, whether you're a beginner or a seasoned pro, one of these pickleball bags will help you have a smooth and enjoyable experience on the court.
Best Overall: Glove It Sling Pickleball Bag
Most Comfortable: Sucipi Pickleball Backpack
Best Storage Capacity: Mangrove Pickleball Bag
Best Value: Franklin Sports Official US Open Pickleball Bag
Most Protective: Athletico Sling Pickleball Bag
Comparing the Best Pickleball Bags of 2023
List Price: $56.95
The Glove It Sling Pickleball Bag is the ultimate choice for carrying all your gear, offering durability, comfortable straps, and a large capacity in one stylish product. Available in a pastel-colored flowery print, it's constructed from a flexible blend of polyester and nylon, which makes it resistant to regular wear and tear, scratches, weather, and UV rays. The shoulder strap is adjustable and padded for maximum comfort, allowing you to customize it to your preferences while reducing pressure and strain on your shoulders, neck, and back.
As far as its size goes, rest assured this pickleball bag is large enough to store and organize your equipment. It measures 13 x 19 inches and can hold up to six paddles in the main pocket. The front pocket provides plenty of space for carrying balls and a towel while the elastic mesh side pocket will keep your water bottle secure and easily accessible. The smaller front pocket offers a safe space to store your phone, keys, and other personal items. Plus, this pick comes with a separate clip-on shoe bag for added convenience and odor-free organization. Between its storage features and durable, comfortable design, this pickleball bag is the best overall option on our list.
Pros
Flexible, weather-resistant material for long-lasting use
Stylish eye-catching design
Several large pockets provide versatile storage
Cons
Design may not be appealing to everyone
Zipper pulls aren't made from metal
List Price: $22.99
If you're hauling heavy gear or simply want to transport your equipment comfortably and safely, consider the Sucipi Pickleball Backpack. Featuring a double-strap design with zippered, adjustable, and reversible straps, this bag can be worn as a conventional or crossbody backpack depending on your preferences. The straps and back have air-mesh padding to reduce strain on your muscles and joints and keep you cool while on the go. This product also has a built-in hide-away hook to hang your bag off the ground, whether in a closet at home or on a fence at the court — which can be handy in wet weather.
This large-capacity pickleball bag measures 14 x 10 x 19 inches and features five compartments and an external cord-lock water bottle holder, providing plenty of storage space for all your essentials. The spacious padded main pocket and extra-large secondary pocket can hold up to six paddles, 20 balls, or even a 15-inch laptop. This pick also has a felt-lined tech pocket, a large personal pocket, and a security pocket to securely store your other small items and valuables. The heavy-duty metal zippers can withstand rigorous and frequent use. Crafted from extra-thick tear-resistant, water-resistant, and anti-abrasion nylon fabric, the rest of this bag is very durable as well. Finally, this product is available in 17 colors and patterns to suit every style.
Pros
Available in many fade-resistant colors
Versatile, comfortable design with various carrying options
Numerous spacious pockets with special features
Cons
Not ideal for tennis or racquetball rackets
Smaller pockets are somewhat shallow
List Price: $29.99
With dimensions of 15 x 7.7 x 19.3 inches and five pockets for various needs, the Mangrove Pickleball Bag can ensure your storage needs are met – and with room to spare. Designed to offer 10-20% more storage than most pickleball bags, it features a padded primary compartment, extra-large secondary pocket, deep side pocket, felt-lined valuable pocket, and discreet security pocket. It also has an external cinched water bottle holder. This makes it easy to organize several paddles, balls, towels, sunglasses, keys, a phone, and more.
This product is comfortable to carry thanks to its padded back with an adjustable and reversible air-mesh shoulder strap. Made from 100% polyester, it's resistant to scratches and water, ensuring its longevity despite regular wear and tear, sweat, and rainy weather. The zippers are also smooth and sturdy for convenient long-term use. For added safety, this pickleball bag includes reflective strips to improve your visibility in low-light conditions. It comes in green/black, black/white, and gray/pink for a simple splash of color. Plus, at under $30 (and sometimes on sale for under $20), this option is fairly affordable.
Pros
Has an extra-large capacity for many items
Features a comfortable and adjustable strap
Includes a convenient fence hook for hanging
Cons
Not suitable for carrying multiple big towels
Buckles may be difficult to lock
List Price: $34.99
As the official bag of professional athletes competing in the US Open Pickleball Championships, you can rest assured you're getting the best value with this pickleball bag from Franklin Sports. It's designed to fit everything you need to hone your skills on the court in only three easy-to-access pockets, including up to six paddles, two cans of balls, one water bottle, personal items, and other accessories. Made from durable polyester that can withstand everyday use, the interior is dual-padded to keep your gear safe and secure. The zipper pulls are also inverted and weather-resistant for added longevity. The internal fence hook ensures convenient storage on and off the court.
Besides its practical features, this product is designed to be worn comfortably while you're on the go. It boasts a sling design with an adjustable padded strap to suit your carrying preferences. It also has special built-in back support pads to reduce pressure in key areas, preventing muscle strain and shoulder pain. Whether you're into the striking black/green, the sleek charcoal gray, or the classy white/gold - there are six color options to match your personal style.
Pros
Targeted padding for optimal comfort
High-quality, durable materials
Multiple compartments for organizing gear
Cons
Front pocket only fits very small items
Water bottle holder could be larger
List Price: $49.99
Invest in the Athletico Sling Pickleball Bag with confidence thanks to its 100% money-back guarantee and one-year warranty. If you're unsatisfied with this option, you can easily return it for a full refund, emphasizing the manufacturer's commitment to quality. But between its roomy capacity and comfortable design, you likely won't have any issues. Measuring 14 x 6 x 20 inches, this backpack has five pockets and an external cord-lock water bottle holder. Suitable for more than just pickleball, the main compartment can store up to six paddles or two tennis or racquetball rackets. The three other zippered front pockets are ideal for a range of accessories and personal items, including balls, towels, and more. The rear anti-theft security pocket is ideal for your most valuable small belongings, such as your keys.
The comfortable padded shoulder strap can be worn in multiple ways for versatile use, whether you want to sling it over your left or right shoulder or secure it across your body. This bag also has all-day lumbar support with an air-mesh padded back to keep you cool and comfortable while traveling to and from the court. The rest of the bag is made from rip-resistant, professional-grade polyester to withstand wear and tear for long-term use.
Pros
Lightweight and comfortable to carry
Secure pockets and water bottle holder
Excellent warranty coverage for peace of mind
Cons
Only available in two colors
Pricier than some other options
Buying Guide: Pickleball Bag
Whether you're an avid pickleball player or are just diving into the world of this dynamic sport, finding an efficient way to carry your gear can help you get to your games faster and with less stress. Available in various sizes, types, and designs, pickleball bags are specially designed to keep your equipment safe and organized while making it easy for you to store and transport them. From paddles to balls and water bottles to personal items, a good bag will comfortably fit your gear while being easy to carry around. However, the numerous options on the market can sometimes be overwhelming. That's where this guide comes in to help. Below, we'll break down some of the most important features to consider when shopping for a pickleball bag so you can make an informed purchase.
Size
The size of a pickleball bag is one of the most important things you should consider. Most pickleball bags are 19 inches high, 6 to 10 inches wide, and 11 to 15 inches long. To find the right size, you'll need to think about how much gear you need to carry. The bag should be spacious enough to accommodate your paddles, balls, towels, and water bottles. You'll likely also want enough space for personal items like your wallet or phone. Be cautious not to go for something too large as it could become a hassle to take to and from the pickleball court.
Compartments
Related to the size of your ideal pickleball bag, you'll want to consider the number and types of compartments you need. Most bags feature multiple pockets to neatly arrange your gear, aid easy accessibility, and prevent your equipment from getting damaged. Some even come with insulated pockets for drinks, ventilated areas for odor-free storage of shoes, and smaller pockets for personal items. Assess your needs and make sure the design of the compartments meets them.
Material and durability
The material the bag is made of is central to its durability and how well it will protect your gear. The best pickleball bags are made from robust yet relatively flexible materials like nylon or polyester, which resist wear and tear. You may also want to opt for a bag with a water-resistant or waterproof feature if you play in different weather conditions to keep your gear from getting wet.
Comfort
Let's face it — no one wants to haul around an uncomfortable bag. So when shopping for your pickleball bag, comfort should also be an essential factor. Take a look at the straps; are they padded? This will help to distribute weight evenly and gently across your shoulders, making it easier to carry. Adjustable straps can also help you modify them to a length that fits your upper body to your preferences. If you prefer a rolling bag, ensure it has smooth wheels and a sturdy handle. Remember, a comfortable bag will make your trips to and from the pickleball court a lot easier.
Design and style
While functionality is paramount, you may also want a bag that reflects your personal style. Pickleball bags are available in an array of designs, colors, and patterns. Whether you're into a sporty look, a professional look, or a casual look, there's a bag out there that will match your style. Your pickleball bag can be seen as an extension of your personality on the court, so go for a design that you'll be proud to carry around — or that motivates you to get out and play more often.
Price
The price of pickleball bags can vary, usually between $20 and $75. When deciding on the price, set your budget and consider what features you need and would like. It's okay to spend a little more for a bag that offers durability, comfort, and style and meets all of your needs. However, don't compromise quality for a few saved dollars. Investing in a pickleball bag that's built to last will save you money in the long run.
Brand reputation
Finally, consider the brand's reputation before you make a purchase. Popular and high-quality brands are usually reliable and offer good customer service. Check customer reviews and testimonies to get a sense of the brand's reputation. Remember, a reputable brand is more likely to stand behind its products and may even offer warranties or money-back guarantees to ensure you're satisfied with your new bag.
Conclusion
Choosing the right pickleball bag requires a careful evaluation of various factors. Remember, the best bag for you is not necessarily the most expensive one, but the one that suits your needs and preferences. This buyer's guide has provided a detailed look at the most important features to keep in mind, so we hope it helps you make an informed decision and successful purchase. Happy shopping and good luck on the pickleball court!
People Also Ask
How should I clean my pickleball bag?
Generally, pickleball bags can be cleaned with a damp cloth and mild soap. For deeper stains or dirt, you can use a mild detergent or spot remover. Always make sure to follow the specific cleaning instructions provided by the manufacturer to avoid damaging the bag.
How much pickleball gear can I typically store in a pickleball bag?
The storage capacity of a pickleball bag largely depends on its size and design. A standard bag can usually accommodate two to four paddles, a few balls, towels, water bottles, shoes, and small personal items. However, larger bags or those with more compartments can hold more.
Is it necessary to have a separate compartment for pickleball shoes in my bag?
While it's not strictly necessary, a separate compartment for shoes can prevent dirt and odors from transferring to other items in your bag. It also helps in better organization of your gear, which can make it easier to find exactly what you need — saving you time on the court.
Why do some pickleball bags have a thermal insulated pocket?
This feature is designed to keep your drinks cool during outdoor games in hot weather. It can also be used to store snacks.
Can a pickleball bag be used for other sports?
While a pickleball bag is specifically designed for pickleball equipment, it can also be used for other sports gear, as long as the items fit comfortably and securely.
What should I do if the zipper of my pickleball bag gets stuck?
If your bag's zipper gets stuck, you can try applying a silicone or wax lubricant like WD-40; some options are specially designed for use on zippers. If that doesn't work, it may be necessary to contact the manufacturer or consult a professional repair service.
Do pickleball bags come with a warranty?
Warranty policies vary depending on the manufacturer and the model of the bag. It's recommended to check the product details or inquire with the manufacturer directly for coverage and policy information.
Why Trust Us
Our commitment to customers begins with a carefully curated product selection process, ensuring we provide high-quality and reliable options. We meticulously vet each pickleball bag, analyzing quantitative aspects, such as star ratings and review count, and qualitative factors, including review content and product features. Our dedicated team of bargain hunters consistently prioritizes your budget by meticulously scouring the market and identifying the best pickleball bags available without compromising on quality or performance. Our panel focuses on presenting the pros and cons of each pickleball bag and converting technical specs into understandable insights. We aim to ensure remarkable gameplay and performance on the court with top-rated pickleball equipment.