The Best Pickleball Clothes for Your Money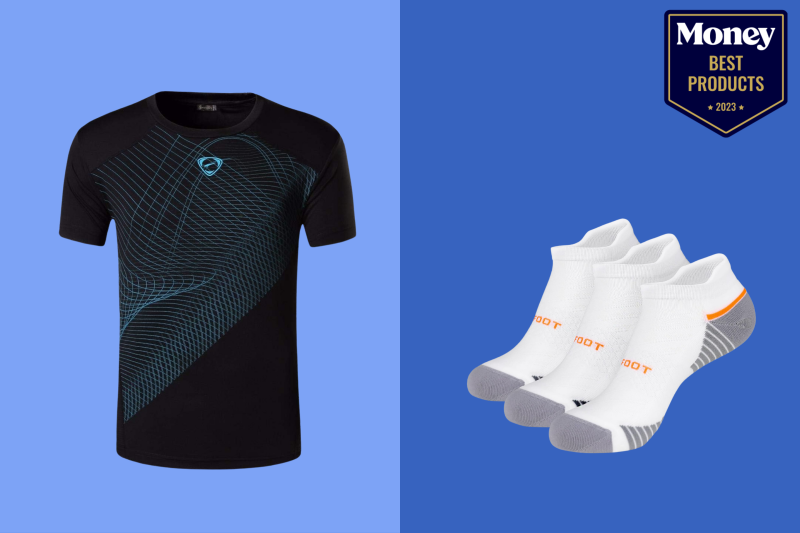 Imagine stepping onto the pickleball court feeling comfortable and looking stylish. Your game, boosted by your favorite pickleball attire, reaches new heights. But we're not just talking about aesthetics. High-quality pickleball clothes are more than just a fashion statement. They're precisely designed products crafted to improve your performance and cater to your needs while exercising.
From moisture-wicking fabric to keep you dry and cool to flexible fits for those intense volleys, the finest pickleball clothes of 2023 marry function and style with finesse. In this article, we'll walk you through the standout pieces worth investing in this season and share useful tips on how to choose the right apparel for you. So, get ready to discover how the right clothing choices can boost your performance on the pickleball court and help you hone your skills.
Best Overall: BLEVONH Womens Pickleball Apparel
Best Color Variety: Koscacy Womens Sleeveless Pickleball Polo Shirt
Best Men's Shorts: Pudolla Men's 2-in-1 Pickleball Shorts
Best Moisture-Wicking Material: jeansian Mens Quick Dry Pickleball T-Shirt
Most Comfortable Socks: MONFOOT Cushioned Pickleball Socks
Comparing the Best Pickleball Clothes of 2023
List Price: $20.99 - $29.99
The BLEVONH Women's Pickleball Apparel is the best overall option, blending style, comfort, and functionality. Featuring shorts with a long inseam under a stylish skirt, this athletic skort is designed to provide plenty of coverage and keep you cool and dry as you break a sweat on the court. It's made from a blend of 87% polyester and 13% spandex, which is moisture-wicking and stretchy for those intense games on hot days. This product also has a high elastic waist that's flattering and stays securely in place.
This hybrid skirt-shorts combo is great for the dynamic movements of pickleball and other active sports like tennis, badminton, and golf, making it a versatile option. Thanks to its cute and comfortable design, you can also wear it casually around the house or while running errands. But what really sets this activewear apart is the built-in hidden pocket, which provides space for your phone, keys, or any other small items you might want to keep on you. This pickleball skirt comes in 16 stylish colors and patterns to suit your tastes and is available in a wide range of sizes. All in all, this pick is the top choice for women who want to play pickleball while looking and feeling their best.
Pros
Cooling material for hot climates
Comfortable, soft and stretchy fabric
Built-in pocket for storage
Cons
Only has one pocket
Shorts may ride up depending on size/fit
List Price: $21.99 - $27.99
Whether you want to match all your pickleball gear or love sporting activewear in fun, bright colors, the Koscacy Women's Sleeveless Pickleball Polo Shirt may be the right fit for you. Available in an impressive 41 colors and patterns, from retro purple diamonds to floral pink, this product is the ultimate choice for ladies who value style on the court. That doesn't mean you have to compromise on quality or comfort though. This pick features a half-zip V-neck collar for ventilation and easy changing.
This pickleball polo is made from 100% polyester, which is stretchy, soft, and quick-drying for a comfortable fit and freedom of movement. The high-density material also provides UPF 50+ protection, effectively blocking up to 98% of harmful sun rays to keep your skin safe. It's available in sleeveless, quarter-sleeve, and long-sleeve styles for versatile coverage in any temperature. The flatlock seams further enhance the comfort of this product during intense activity, as they decrease the chances of skin chafing.
Pros
Comfortable and stretchy fabric
Available in a wide range of colors
Suitable for hot climates
Cons
Price is somewhat high for a sleeveless top
Sizing may run small
List Price: $31.99
Suitable for indoor and outdoor wear, whether you're exercising or lounging, the Pudolla Men's 2-in-1 Pickleball Shorts are the most versatile activewear for men on our list. These aren't your typical athletic shorts. Designed for the active man, these shorts feature a quick-dry outer layer and inner lining for optimal coverage and to prevent chafing during intense games. The outer layer is crafted from a lightweight blend of 90% nylon and 10% elastane, providing a soft, lightweight, and breathable feel. The inner lining is made from 87% polyester and 13% elastane, which is snug yet stretchy to ensure unrestricted movement.
And don't even get me started on the convenience factor. These pickleball shorts come with two hip pockets and a zippered back pocket, so you can keep your phone, keys, and small valuables like credit cards within reach and safely stowed away. This option also prioritizes style. These shorts have a 7-inch inseam, the best length for an athletic style. This gives them a modern and trendy look, while also facilitating ease of movement. Available in 18 colors and six sizes, they're sure to enhance your athletic style on and off the court.
Pros
Lightweight and comfortable fabric
Useful for static gym workouts
Built-in pocket for convenience
Cons
Lining may be too long for some
Pocket doesn't fit a phone well
List Price: $15.99
No more feeling like a damp towel after intense pickleball matches; the jeansian Men's Quick Dry Pickleball T-Shirt is made from lightweight moisture-wicking polyester to keep you dry during and after exercise. The elastic material feels cool against the skin and is breathable to ensure you stay comfortable. The fitted racerback style adds a touch of sleekness without feeling restrictive, but if you prefer a looser fit, simply size up. Regardless of your optimal fit, the sizing chart provided by the manufacturer is clear and easy to evaluate based on your measurements.
When it comes to care, cleaning this piece of pickleball clothing is simple and straightforward. It can be machine-washed, tumble-dried, and ironed on low as needed, so you can spend less time fussing over washing it and more time enjoying the game. Plus, at under $20, this activewear offers great value at a low price. So, if you're after quality and comfort, especially if you play pickleball in hot weather or sweat easily, this shirt is definitely the one to consider.
Pros
Moisture-wicking material for cool, dry comfort
Flattering and stretchy fit
Great quality for the price
Cons
Material is thicker than other brands
Sleeves may be short for some
List Price: $15.99
Comfortable athletic socks are a must-have for any pickleball player, which is where the MONFOOT Cushioned Pickleball Socks come in. Sold in a pack of three, these high-performance socks are specifically designed to support you through the most intense pickleball matches. Their quick-dry and moisture-wicking feature ensures your feet stay dry and odor-free, even after hours of play. The mesh ventilation technology takes these benefits a step further. They also have built-in arch support to provide balance and shock absorption, keeping your feet comfortable and less tired over time.
Made from a blend of 68% nylon, 29% polyester, and 3% spandex, these socks score high on comfort and fit as well. Your feet will thank you for the soft, cushioned feel these socks provide, which holds up after multiple washes. Additionally, the protective heel tab protects your ankles from chafing. And you can purchase them with confidence as MONFOOT guarantees a full refund if you experience any quality issues or aren't completely satisfied. Whether you're a seasoned player or just starting out, these cushioned fitness socks are a must-have for every pickleball wardrobe.
Pros
Air dries quickly after washing
Doesn't retain bad odors
Provides good cushioning
Cons
Material attracts dust and hair
Some colors show dirt and stains easily
Buying Guide: Finding the Best Pickleball Clothes
Welcome to the world of pickleball, a game that's not just about technique and skill but also about comfort and style. The right apparel can drastically enhance your performance and allow you to fully enjoy the game. In this comprehensive buyer's guide, we'll explore the key features to consider when shopping for pickleball clothes.
Pickleball clothes include all kinds of apparel worn by pickleball players during a game. This can range from T-shirts and shorts to shoes and hats. The right clothes can help keep you comfortable while you play, improve your mobility on the court, and protect you from the sun. Now, let's dive into the details of each product feature.
Material
The fabric material of your pickleball clothes plays a crucial role in your comfort and performance. Choose breathable and flexible materials like cotton, polyester, nylon, spandex, or a blend of them. These fabrics allow for optimal airflow, keeping you cool during intense gameplay. Additionally, materials with moisture-wicking properties are excellent for absorbing sweat and maintaining a comfortable body temperature.
Fit
Your pickleball clothes should fit well and yet allow for unrestricted movement. Clothes that are too tight may limit your swing, while those that are too loose could interfere with your ability to move quickly around the court. Focus on finding a balance: clothes that flatter you and fit snugly without impeding your performance.
Durability
Pickleball is a high-energy sport, so your clothes should be up to the challenge. Prioritize durable materials that can withstand the rigorous nature of the game. Features such as reinforced stitching and high-quality finishing indicate that the clothes are built to last. Remember, it's better to make a lasting investment in quality activewear than to have to regularly replace your clothes.
UV protection
Pickleball is often played outdoors under the bright sun, making ultraviolet (UV) protection an essential consideration. Clothes with UV protection shield your skin from harmful UV rays. This feature is a must-have for those sunny games to prevent sunburns and other skin conditions.
Style
Pickleball is all about having fun, and your clothes should reflect that spirit. Don't be afraid to add some pizzazz to your pickleball wardrobe. Opt for bright colors, cool patterns, or anything that lets your personality shine. However, always ensure that your style preferences don't compromise the functionality and comfort of your pickleball clothes.
Ease of cleaning
Given the sport's active nature, your pickleball apparel will need frequent washing. Consider materials that are easy to clean and maintain. Machine-washable clothes are a practical choice, saving you time and energy on laundry days.
People Also Ask
What material are pickleball clothes typically made of?
Pickleball clothes are typically made of moisture-wicking materials such as polyester, nylon, or spandex. These materials help to manage sweat, keeping you dry and comfortable during games.
Are pickleball clothes unisex?
While there are many unisex options available, pickleball clothes are generally designed to fit and flatter specific genders. There are men's, women's, and unisex designs to choose from depending on your personal preference.
How should I wash and care for my pickleball clothes?
To prolong the life of your pickleball clothes, it's best to hand wash them in cold water and hang them to air dry. If you are machine washing your exercise gear, use a gentle cycle with cold water. Avoid using bleach or fabric softener to maintain the quality of the fabric.
Do pickleball clothes offer sun protection?
Many pickleball clothes come with built-in UV protection. However, the level of protection can vary between different brands and products. Check the product description for specific details.
Can I wear regular athletic clothes for pickleball?
Yes, you can wear regular athletic clothes for pickleball. However, specialized pickleball clothes are designed to provide optimum comfort, mobility, and sweat management, which can greatly enhance your playing experience.
Are pickleball clothes different for indoor and outdoor play?
While the basic design of pickleball clothes remains the same for indoor and outdoor play, you may want to consider factors like UV protection for outdoor play. Lightweight materials are typically suitable for both scenarios to ensure comfort and breathability, though weather may impact your preferred coverage.
What size pickleball clothes should I order?
Sizing can vary between different brands and styles of pickleball clothes. It's recommended to check the specific size chart provided by the manufacturer for each piece of clothing. When in doubt, it's often better to size up to ensure comfort and movement freedom.
Why Trust Us
Our commitment to customers begins with a carefully curated product selection process, ensuring we provide high-quality and reliable options. We meticulously vet all of the suggested pickleball equipment, analyzing quantitative aspects, such as star ratings and review count, and qualitative factors, including review content and product features. Our dedicated team of bargain hunters consistently prioritizes your budget by meticulously scouring the market and identifying the best pickleball equipment available without compromising on quality or performance. Our panel focuses on presenting the pros and cons of our selected pickleball equipment and converting technical specs into understandable insights. We aim to ensure remarkable gameplay and performance on the court with top-rated pickleball equipment.