The Best Pickleball Paddles for Your Money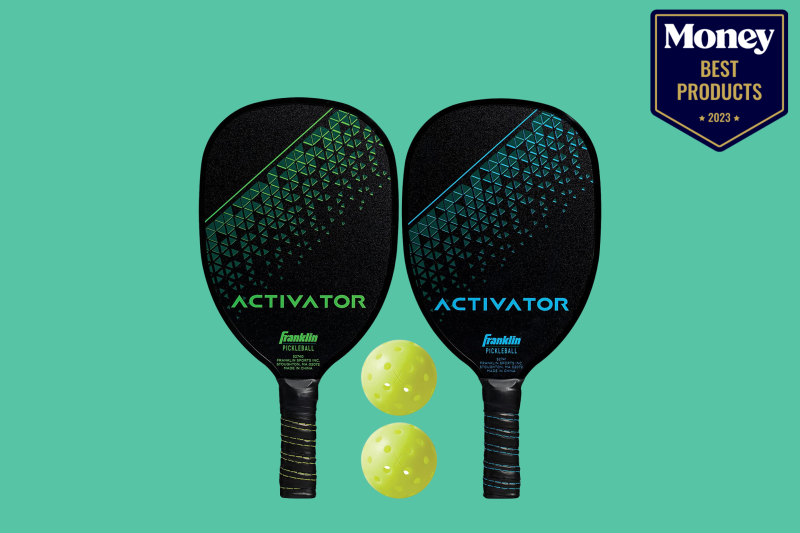 Pickleball is becoming an increasingly popular game thanks to its family-friendly, fun-filled nature. If you're looking to join in on the fun, then you'll need the right equipment — and that includes a high-quality pickleball paddle that's suitable for your playing style and experience level.
In this article, we'll compare the top pickleball paddles of 2023 and discuss each product's pros, cons and features in detail. We'll also share our expert buying advice so you'll have all the information you need to choose the right option for your needs. So, if you're ready to try pickleball for the first time or take your game to the next level, keep reading.
Best Overall: Champion Sports Pickleball Paddle
Best Set: Palms-O-Aces Pickleball Paddle
Best Materials: Palms-O-Aces Pickleball Paddle
Best for Beginners: Franklin Sports Pickleball Paddle Set
Best Accessories: Panel Sound Pickleball Paddles
Reviewing the Finest Pickleball Paddles of 2023 in Detail
List Price: $54.99
The Champion Sports Pickleball Paddle earned its spot at the top of our list thanks to its durability and user-friendliness. The paddle is surrounded by a plastic edge guard that protects it from impact and damage, ensuring a long service life. It's made from a sturdy combination of fiberglass and polypropylene materials, and its medium-weight construction makes it hardwearing yet easy to swing.
This product weighs 8.5 ounces and has a 4.75-inch handle length, making it a solid choice for beginner, intermediate and advanced players alike. The padded handle features a textured surface for superior grip and comfort. This also enables excellent control and vibration absorption. If the fiberglass construction isn't preferable to you, this pick is also available in wood, graphite and aluminum styles.
Pros
Suitable for beginner, intermediate and advanced users
Cushioned, textured handle provides a comfortable grip
USAPA-approved for competitive play
Cons
Surface can be scratched easily
Not available in additional sizes
List Price: $45.60
Featuring everything you need to get started, the TrailBuddy Boulder Sports Pickleball Paddle Set comes with two paddles — one red and one blue — and four plastic balls. The balls feature a hollow design with holes to decrease wind resistance, and their bright yellow color makes them easy to spot and visually track on the playing court.
The paddles' handles are cushioned and textured, offering plenty of comfort and a secure, slip-resistant grip. The red and blue colors make it easy to tell which paddle belongs to which player. Their versatile design makes them suitable for kids and adults while the edge guards shield the paddles from physical damage.
Pros
Includes two paddles and four balls
Features anti-slip handles
Has raised edges for protection
Cons
Could offer better control
Isn't USAPA-approved
List Price: $69.99
The Palms-O-Aces Pickleball Paddle stands out from the competition with its superior materials. It's made from a combination of top-quality graphite, carbon fiber and polypropylene for a lightweight, easy-to-swing design and impressive durability. It offers excellent precision, power and performance, as well as great spin and control, making it suitable for players of all skill levels.
The longer-than-average handle measures 4.9 inches and is made from imitation leather material. It features a perforated, moisture-wicking design for a comfortable, secure and anti-slip grip. The paddle measures 7.8 ounces and is USAPA-approved for competitive play. This option is backed by a one-year manufacturer's warranty and is suitable for indoor and outdoor use.
Pros
Includes a protective neoprene cover for storage
Comes in eight stylish prints
Offers excellent spin and control
Cons
Has an initial odor
May be too heavy for some users
List Price: $29.99
The Franklin Sports Pickleball Paddle Set comes with everything you and a partner need to start playing. This beginner's set includes two paddles and two balls. The paddles are made from durable wood material and feature a seven-ply construction and guarded edges to prevent physical damage. The pickleballs are a bright yellow color, making them easier to spot in the air and on the court.
The paddle handles are padded for optimal comfort and their anti-slip design ensures a secure grip and superior control. At under an ounce each, the lightweight balls have a perforated construction for enhanced speed and wind resistance. This USAPA-approved set is suitable for outdoor use and competitive and tournament play, so if you develop a passion for pickleball you can use this product in official games.
Pros
Padded handle for comfort
Durable, seven-layered construction
Ideal for beginners and competitive use
Cons
Not ideal for use in cold weather
Heavier than some other options
List Price: $39.70
Featuring a polypropylene core and strong fiberglass construction, the Panel Sound Pickleball Paddles are part of a larger set, ensuring you'll have every accessory you'll need on the court. Besides the two paddles, this product includes four pickleballs, two towels and a carry bag. The paddles feature ergonomic handles with a cushioned, perforated construction for maximum comfort and grip.
The included vibrant yellow balls are designed for indoor play and have perforations for optimal air resistance. The bag makes transporting this set a breeze, and it offers a safe storage solution when you aren't using your paddleball equipment. It comes complete with a shoulder strap and a handle, allowing you multiple wearing and carrying options. This pick is available in four prints, as well as options that come with outdoor balls.
Pros
Ergonomic handles ensure comfortable use
Ultra-visible, bright balls enhance gameplay
Convenient case included for storage and portability
Cons
Paddles may feel heavy for some users
Towels must be washed before initial use
Pickleball Paddle Buying Guide
While shopping for a pickleball paddle, there are several factors to keep in mind. This buyer's guide will walk you through the most important considerations to help you make an informed decision and find the right product for your needs and skill level.
Materials
Pickleball paddles are typically made from either graphite, aluminum, wood, fiberglass or carbon fiber. Graphite paddles are the primary choice for serious players thanks to their thin, lightweight construction and powerful force. These options are at the high end of the price spectrum though. Carbon fiber offers the same benefits as graphite with the added benefit of increased durability. Aluminum paddles are also lightweight and easy to handle. They're less expensive than graphite models but don't pack as much power. Wood products are heavier and less expensive than other choices. They're great for beginners and kids but aren't generally used in competitive play. Fiberglass models are ideal for recreational players due to their lightweight construction and durability, however, they can be difficult to control.
Weight
When deciding on the optimal weight for your pickleball paddle, it's important to consider your playing style. Lighter paddles offer better control but need to be swung harder. Heavier paddles, on the other hand, offer less control but more power. Think about whether power or control is more important to you when making your final choice.
Grip size
To determine the best grip size, you'll need to measure your hand. With your fingers completely extended and held close together, use a ruler to measure the distance between the center of your palm and the tip of your index finger. This measurement usually falls somewhere between 4 and 5 inches and will tell you the ideal grip size for your paddle. If you fall between two sizes, opt for the smaller one, as you can always use overgrips to increase the size if needed.
Certification
If you'll be playing competitively, then you'll want to choose a paddle that's approved by the USA Pickleball Association (USAPA), which is the official governing organization of pickleball in the United States. USAPA-approved paddles have been tested and evaluated and are suitable for competitive play.
Edge design
Pickleball paddles come in edged and non-edged styles. The first option features a raised edge that's designed to protect the paddle from damage if it's dropped. One downside of this is that the edge can compromise control. On the other hand, edgeless models are more vulnerable to impact damage, but they offer better control. Before making your final selection, consider which style will work best for you.
Size
For competitive play, the total length of a paddle and its handle must be 24 inches or less, with the paddle portion not exceeding 17 inches. Most USAPA-approved models measure approximately 8 by 15 inches.
Quantity
Most pickleball paddles are sold solo or in sets of two. The per-paddle price is generally lower if you purchase more than one at a time, so if you want to give one to your partner or have an extra on hand in case of loss or damage, it may be a good idea to purchase a set.
Warranty coverage
Choose a pickleball paddle that's backed by a manufacturer's warranty. This will allow you to purchase with confidence and peace of mind, knowing your purchase is protected if you experience issues with the product down the line.
People Also Ask
Are pickleball and tennis the same?
While there are many similarities between pickleball and tennis, there are also some differences. A pickleball court measures 44 by 20 feet, making it shorter and narrower than a tennis court. Tennis equipment includes heavy rackets and rubber balls, whereas pickleball equipment consists of lightweight paddles and hollow plastic balls. The two sports also differ slightly in terms of rules.
How much does a pickleball paddle cost?
This depends on a range of factors, including quality, materials and quantity, especially as paddles are typically sold individually or in sets of two. Generally, this piece of equipment can range anywhere from $20 to over $200.
What's the best paddle weight for players who have tennis elbow?
If you have tennis elbow, also known as lateral epicondylitis, then it's important to avoid paddles that are too heavy or too light. A paddle that's too heavy can be difficult to hold and further aggravate your condition, and one that's too light won't be as shock-absorbent and will require you to swing harder, possibly causing additional strain. For optimal comfort and performance, you'll want to aim for a paddle that weighs around eight ounces.
How do I maintain my pickleball paddle?
Sweat and grime typically accumulate on pickleball paddles during gameplay, so it's important to clean them after each use. Wipe the paddle and handle with a soft, damp cloth. For stubborn, stuck-on grime, moisten the cloth with soapy water before cleaning. Avoid using household cleaners, as these often leave a sticky residue that can impact your performance the next time you use your paddle. Extreme temperatures and exposure to outdoor elements can also damage paddles, so we recommend storing them indoors when they're not in use.
Why do some players put tape on their pickleball paddles?
There are several types of paddle tape, each with a specific purpose. Lead tape is applied to the edges to increase weight and hitting power. Replacement grip tape is used to improve the paddle's grip when it starts to wear. Lastly, overgrip tape is used to increase comfort and grip while minimizing sweat accumulation.
Why Trust Us
Our commitment to customers begins with a carefully curated product selection process, ensuring we provide high-quality and reliable options. We meticulously vet each pickleball paddle, analyzing quantitative aspects, such as star ratings and review count, and qualitative factors, including review content and product features. Our dedicated team of bargain hunters consistently prioritizes your budget by meticulously scouring the market and identifying the best pickleball paddles available without ever compromising on quality or performance. Our panel focuses on presenting the pros and cons of each pickleball paddle and converting technical specs into understandable insights. We aim to deliver remarkable power, performance and comfort with top-rated sports equipment.