The Best Pickleball Shoes for Your Money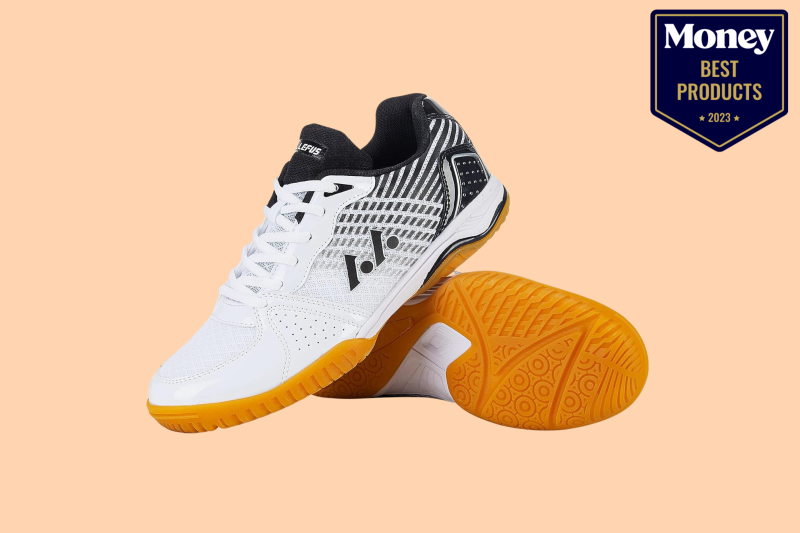 Pickleball is becoming increasingly popular, and it's no wonder why. This game offers a fun way to spend time with friends or loved ones while helping you stay active. But to reap the full benefits of the sport and play it to the best of your ability, it's important to have the right footwear. A high-quality pair of pickleball shoes can go a long way in enhancing your gameplay and preventing injuries and muscle strain by offering comfortable support.
In this guide, we'll take a close look at the highest-rated pickleball shoes in 2023, comparing each option's pros, cons and features. We'll also share our expert buying tips so you'll have all the information you need to make a successful purchase. So, if you're ready to up your pickleball game, keep reading to find out how the right shoes can improve your performance on the court.
Best Overall: FitVille Pickleball Shoes for Men
Most Eco-Friendly: ASICS Pickleball Shoes for Women
Best Variety: K-Swiss Men's Pickleball Shoes
Most Versatile: Skechers Viper Court Men's Pickleball Shoes
Most Comfortable: Condromly Indoor Pickleball Shoes
Comparing the Finest Pickleball Shoes of 2023
List Price: $65.89 - $69.51
The FitVille Pickleball Shoes for Men are the best overall option on our list thanks to their comfortable design and high-quality materials. They come in wide and extra-wide sizes ranging from 7 to 14. The extended width prevents toe cramping and offers superior comfort on and off the pickleball court. The mesh material provides plenty of breathability to prevent overheating and odors. The outsoles are made from dense EVA material and torsion-resistant TPU rubber for optimal traction and support.
The honeycomb-style insole offers plenty of padding for optimal comfort. This pick also features excellent arch support for individuals with plantar fasciitis. These shoes are available in black, orange, white and gray-and-white color selections. Overall, these pickleball shoes are as stylish as they are durable, and they're well-suited for excellent performance on various types of surfaces.
Pros
Wide and extra-wide sizes available
Breathable mesh for ventilation
Cushioning and arch support for maximum comfort
Cons
Only available in men's sizes
Somewhat limited color options
List Price: $60.95 - $84.95
If you're looking for footwear to wear on the pickleball court with a minimal carbon footprint, then consider the ASICS Pickleball Shoes for Women. The sockliner dyeing process reduces water usage by 33% and carbon emissions by 45%, making this product an eco-friendly choice. The shoes are made with unique TRUSSTIC technology for unparalleled stability and twist reduction.
The sole is made from imitation leather, and the outsole features grooves for enhanced flexibility. This product is available in sizes and half sizes ranging from 5 to 12 as well as five different color combinations. It's designed to support multi-directional movement for optimal performance on the pickleball court.
Pros
Comes in half sizes for a true fit
Made using eco-friendly processes
Minimizes twist and improves stability while moving
Cons
Isn't available in men's sizes
Doesn't come in wide-width options
List Price: $105.95
In addition to multiple color combinations, the K-Swiss Men's Pickleball Shoes are available in regular, wide and half sizes, making it easy to find a pair that fits well. This product features rubber soles and a 180-degree plantar support chassis for comfortable wear and improved mid-foot stability. The high-density outsole is ultra-sturdy while the DRAGGUARD technology in the heel and toe areas provides protection against abrasion, further enhancing the shoes' durability.
The sockliner of these pickleball shoes utilizes OrthoLite technology, which features an open-cell structure for enhanced breathability and odor prevention. This foam also wicks moisture to keep you cool and comfortable whether you're walking or playing. Featuring a discreet and neutral design, this pick comes in six colors, so it's easy to find one that suits your style.
Pros
Provides excellent plantar support
Comes in wide and half sizes
Features open cells for ventilation
Cons
May have a rubbery odor
May irritate the skin below the ankles
List Price: $89.95
Unlike many comparable products, the Skechers Viper Court Men's Pickleball Shoes are suitable for both indoor and outdoor use as well as all-season wear. Not only can they be worn for playing pickleball, but they're also ideal for other activities including volleyball, badminton, tennis, running and walking.
The outsoles are made from Goodyear rubber material and offer superior traction. The mesh upper promotes air circulation to keep you cool and comfortable while also preventing unpleasant odors. This product is comfortable enough for daily wear yet durable enough to withstand vigorous gameplay. Striking an excellent balance between performance and style, these comfortable pickleball shoes are available in seven colors and various sizes ranging from 7 to 14.
Pros
Ideal for everyday wear and year-round use
Suitable for indoor and outdoor settings
Relaxed extra-wide fit and breathable design
Cons
Toe box may be too wide for some
Sizes may run large
List Price: $49.99
Available in unisex sizes, the Condromly Indoor Pickleball Shoes are designed specifically with comfort in mind. The upper mesh and imitation leather materials ensure your feet stay well-supported and cool throughout your pickleball session. The interior sponge material cradles the feet and offers plenty of padding, while the shoes' soft, elastic construction ensures a flexible, comfortable fit.
With eight years of testing and improvements behind it, the rubber sole features a unique pattern design to provide traction and skid resistance, helping prevent slips and falls. The shoes are available in six bright, eye-catching color combinations, including vibrant shades. They come in 10 size choices, ranging from women's 5 to 12 or men's 3.5 to 10.5.
Pros
Suitable for unisex wear
Supportive, comfortable design with reliable traction
Multiple color combinations
Cons
Somewhat limited sizes for large feet
Not ideal for outdoor use
Buying Guide: Pickleball Shoes
When choosing the right pair of pickleball shoes, there are several factors to consider. This buyer's guide will walk you through the most important features you should keep in mind to help you make an informed choice and find the ideal option for your needs.
Comfort
Pickleball shoes should fit comfortably without feeling too tight or too loose. Look for a pair with plenty of cushioning in key areas, such as the heel and forefoot, to provide extra comfort during gameplay.
Durability
Choose footwear made from materials that can withstand regular use and are designed to last long, such as leather, rubber or synthetic materials. To ensure maximum durability, read customer reviews and product descriptions to confirm the option you're considering has been tested for long-term wear.
Support
Look for shoes that offer proper arch and ankle support to minimize the risk of injury during gameplay. It's also important to select shoes with good cushioning and shock absorption technology to ensure your feet are adequately supported during gameplay.
Non-marking outsole
It's essential to select pickleball shoes with a non-marking outsole so you don't leave marks on the court's surface. This type of material will also help you maintain better control and traction when playing pickleball.
Traction
Opt for shoes with strong traction that'll keep you steady on the court surface while playing pickleball. This will help to prevent slips and other injuries caused by poor footing. Rubber soles, especially those with grooves and unique patterns, are ideal.
Breathability
Choose shoes made with breathable materials so your feet stay cool and comfortable throughout the game. Mesh panels are great for providing ventilation, while additional features such as perforations or air vents further increase breathability.
Style and appearance
Since pickleball is a social sport, it can be fun to look stylish while playing. Aim for a pair of shoes that make you feel confident and reflect your personal style. These shoes usually come in a wide variety of colors and designs to suit all styles.
Size
As is the case with all types of footwear, pickleball shoe sizing can vary from one brand or product to another. To ensure the best possible fit, we recommend measuring your foot and comparing the measurements against the manufacturer's size chart. This will help you determine which size will fit you best. If you fall between two sizes, opt for the larger one.
People Also Ask
Can I wear regular sneakers instead of pickleball shoes while playing?
We don't recommend substituting regular sneakers for pickleball shoes. Pickleball shoes are designed specifically for playing pickleball and offering optimal traction on court surfaces. Most regular sneakers are built to move in a straight line and aren't supportive enough to accommodate the lateral movement required in pickleball. Pickleball shoes offer superior torsional stability and can help to prevent ankle strain and injuries.
How much do pickleball shoes cost?
Pickleball shoes can be found at various prices depending on their materials and quality. Generally, they cost between $30 and $100.
Are certain types of pickleball shoes better suited for certain playing styles?
Yes, certain types of pickleball shoes are better suited for certain playing styles. Lightweight shoes are best for aggressive players who move quickly on the court, while heavier and more substantial shoes are ideal for players who need more stability and support while playing.
Are pickleball shoes suitable for indoor and outdoor use?
Generally, pickleball shoes are designed with either outdoor or indoor use in mind. Outdoor pickleball shoes tend to have thicker, more durable soles for protection against rough surfaces and lots of traction to prevent slips and falls. Indoor pickleball shoes, on the other hand, tend to be lightweight with less traction because smoother surfaces typically don't require as much traction.
Do pickleball shoes support the ankles?
Most high-quality pickleball shoes offer good ankle support and have reinforced countermeasures built into their design to help keep your ankles positioned properly during gameplay. This can help to reduce the risk of ankle injuries, which is especially important for players who have weak ankles or move quickly on the court.
Why Trust Us
Our commitment to customers begins with a carefully curated product selection process, ensuring we provide high-quality and reliable options. We meticulously vet each product, analyzing quantitative aspects, such as star ratings and review count, and qualitative factors, including review content and product features. Our dedicated team of bargain hunters consistently prioritizes your budget by meticulously scouring the market and identifying the best pickleball shoes available without ever compromising on quality or performance. Our panel focuses on presenting the pros and cons of each pair of pickleball shoes and converting technical specs into understandable insights. We aim to ensure remarkable performance, support and comfort with top-rated athletic footwear.