The Best Projectors for Your Money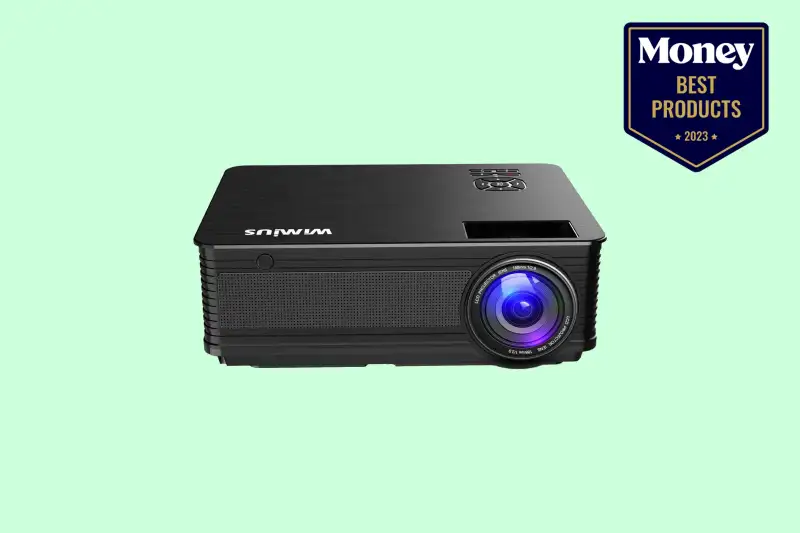 Whether you're a film buff, a gamer, a sports enthusiast or just a fan of streaming the latest TV shows, having a quality projector can make a world of difference. With a good projector, you can enjoy a huge, bright and clear picture to immerse yourself in your entertainment. But with plenty of options on the market, it can be hard to find the ideal projector for your needs.
In this article, we'll share our reviews of the best projectors of 2023. We reviewed the latest models from top brands to bring you only the leading features and performance. Whether you want to watch movies at home or host game nights with your friends, you're sure to find a projector that's right for you.
Best Overall: AuKing Mini Projector
Best Value: TMY Projector
Most User-Friendly: Projector Store Mini Projector
Best Picture Quality: WiMiUS P62 Auto Focus Projector
Best Warranty: CiBest Mini Projector
Comparing the Best Projectors of 2023
List Price: $89.99
The AuKing Mini Projector is the best overall portable home theater projector on the market. It takes the top spot on our list due to its impressive range of features at a surprisingly affordable price. With 7,500 lumens and 1080p full HD resolution, this projector produces clear images with accurate color reproduction. The projected images are vibrant and scale seamlessly on screens from 32 to 170 inches wide. It offers a flexible projection distance between 3.2 and 16.4 feet, making it ideal for any room size. This pick also comes with a powerful cooling system to extend the lamp's life up to 55,000 hours, providing 15 years of usage without needing replacement.
Sound quality is not lacking either, as this projector is equipped with powerful noise reduction technology and dual stereo speakers, delivering excellent sound quality with minimal background noise. It has multiple device connections, including HDMI, VGA, AV and USB interfaces, so it's easily compatible with most devices. Its versatility makes this top projector ideal for gamers, movie lovers and those who just want to enjoy their favorite shows on a big screen.
Pros
Easy to set up and use
Compatible with multiple devices
Good sound quality for the price
Cons
Requires dark room for clear viewing
Can't merge remote controls from different devices
List Price: $99.99
Check on Amazon | Check on Walmart
Want an all-in-one set for an economical price? Sold with a 100-inch projector screen, the TMY Projector is the perfect choice for anyone looking for an immersive cinematic experience at a great value. Its powerful 8,500-lumen LED light source and resolution of 720p with 1080p full HD support make it an ideal choice for projecting movies, TV shows and video games. Its 3LCD color calibrating and adjusting technology adds even more vibrant detail to each image. With its manual focus and keystone correction, you'll have complete control over watching movies or videos from any angle.
It's designed with an efficient cooling system that drastically decreases fan noise while still providing excellent high-volume sound quality without the need to connect external speakers. This pick offers many connection options, including ports for HDMI, VGA, AV, USB, headphones and more. Between these and the included cables, this projector can be quickly and easily connected to TV sticks, game consoles, PCs, smartphones, DVD players and more. This projector and screen combination is an excellent pick for an affordable and comprehensive entertainment experience in the comfort of your own home.
Pros
Loud speaker offers nice audio quality
Customizable picture settings with remote
Projector screen and accessories included
Cons
Fan noise can be bothersome at times
No Bluetooth connectivity
List Price: $75.99
Simple and convenient to use, the Projector Store Mini Projector is an excellent choice for those looking for a full HD movie-viewing experience with wireless connectivity and a straightforward user interface. One of its top features is its Bluetooth 5.1 capability for seamless connection to speakers, headphones or other devices for a truly immersive theater experience. The intuitive user interface makes it easy to navigate through the settings to make the most out of your entertainment experience. Its 5000:1 contrast ratio and 1080p resolution produce clear and vivid images 50% brighter than similarly priced projectors.
The diverse range of connections allows you to easily connect this option to laptops, smartphones, tablets, USB drives and gaming consoles. It even comes with a 100-inch screen and extra adapters for your convenience. This projector also features a powerful cooling system that is quiet and effective in dispersing heat, extending the lamp's life up to 50,000 hours or over 15 years of usage.
Pros
Bright display during daylight
Bluetooth enabled with easy pairing
The built-in menu is easy to navigate
Cons
Some pixelation may occur on larger screens
Remote control may freeze occasionally
List Price: $299.99
Check on Amazon | Check on Walmart
The WiMiUS P62 Auto Focus Projector features innovative auto-focus and auto-keystone correction technology to provide an impressive, high-quality picture within five seconds of powering up. It offers native 1080p resolution with a 20000:1 contrast ratio and supports 4K video for an outstanding viewing experience. Another feature that makes this projector stand out from the competition is its groundbreaking Wi-Fi 6 connectivity for more stable streaming. Compatible with both 2.4GHz and 5GHz networks and boasting a maximum rate of 9.6Gbps, it delivers content transmission with no delays or lags.
This pick also comes with Bluetooth 5.2 connectivity, allowing you to pair it with various speakers and devices for an immersive sound experience. The built-in 12W stereo speaker delivers crisp and loud audio, eliminating the need to connect external speakers. Multiple ports are available to connect phones, PCs, TV sticks and other devices easily. With its brilliant image quality, clear resolution, powerful audio and seamless connectivity, this projector offers exceptional quality for its premium price.
Pros
Auto-focus feature automatically detects and adjusts
Auto-keystone support automatically aligns images
Sound quality is clear even in a large room
Cons
Limited tilting adjustment on uneven surfaces
No SD port for additional connectivity options
List Price: $139.99
Check on Amazon | Check on Walmart
Only want to invest in a projector one time? The CiBest Mini Projector offers 80% more brightness than other projectors in its price range and includes a lifetime warranty for added peace of mind. It features a 1080P full HD resolution with a 6000:1 contrast ratio, providing an incredibly lifelike image for videos and movies. It's also equipped with the latest diffuse reflection technology, which provides an image that is softened to protect your eyes. It can project image sizes from 30 to 200 inches, offering a highly immersive viewing experience. Viewers can also enjoy sound effects through the built-in stereo speakers or connect to their home theater system for an even better sound experience.
The latest cooling system reduces fan noise and the manual keystone correction allows viewers to adjust the screen size for optimal viewing. It's compatible with various devices, including TVs, laptops, gaming consoles and more. The five-year return timeline and lifetime repair warranty ensure that you can have any potential issues resolved easily and promptly. With so many features packed into such a small device, this is an ideal choice for quality home entertainment or outdoor events.
Pros
Quality picture clarity and brightness
Easy to adjust focus and keystone dials
Lightweight and compact design
Cons
Adjusting focus often requires fine-tuning
The power cord is short
Finding Your Next Projector: A Buyer's Guide
Projectors have come a long way in recent years and now offer a range of features, from wireless connectivity to increased image quality. In this guide, we go over the features to consider when shopping for a projector so you can find the ideal option to bring your movies, shows and games to life.
Price
When choosing a projector, it's important to consider the initial cost and any ongoing costs associated with your purchase. You'll want to buy a projector with the features and performance you need without breaking the bank. You'll also want to factor in maintenance or replacement costs for things such as lamps or bulbs. Good options are available in all price ranges, from entry-level models under $100 to high-end models over $400.
Brightness
The brightness of a projector is typically measured in lumens (lm), which measure a projector's light output. A projector with higher lumens will produce brighter images with better color saturation and image quality, especially when viewing in rooms with ambient lighting. Projectors with at least 2,500 lumens are recommended for rooms with ambient light or outdoor use, while projectors with 1,500 lumens should suffice in a dark room or home theater setting.
Resolution
Resolution is an essential factor when choosing a projector as it determines how detailed and clear the images will be when displayed on the screen or wall. The most common resolutions are 720p (1280×720) and 1080p (1920×1080). Higher resolutions offer increased detail and clarity but may not always be necessary for your needs. It's also important to consider compatibility with your sources when selecting a resolution.
Contrast ratio
The contrast ratio is the amount of white that can be shown against black on a projector's display. Projectors with higher contrast ratios typically produce more vibrant images with better clarity and detail between shadows and highlights. The range for contrast ratio varies but generally ranges from 10000:1 to 50000:1 or higher for some of the more expensive models.
Audio output capabilities
Not all projectors support audio output, so check if this feature is included in the model you're considering. Some projectors may have built-in speakers that deliver loud audio, while others aren't powerful enough for large venues. External speakers should be considered instead if this is where you plan on using the projector.
Connectivity options
Most modern projectors come with various connection ports for external sources, such as streaming devices or gaming consoles, without requiring additional hardware or adapters. Look for models that feature HDMI 2.0 with at least one USB port to maximize compatibility with current-generation media sources.
Lamp life
Lamp life refers to how long the bulb or lamp inside the projector should last before needing replacement or maintenance. Lower-end models generally have lower lamp life ratings, while higher-end models usually feature extended lamp life ratings of 15,000 hours or more.
Throw distance
Throw distance refers to how far away from the wall or screen an image needs to be projected to reach its full size when viewed up close. This measurement is typically shown on product listings in feet or meters. If you plan on having the projector close to the screen, make sure you take into account any limitations associated with distance requirements before purchasing your projector model.
Screen size
The size range of screens supported by a given projector will vary depending on the model purchased. Most should support displays ranging from 32 to 200 inches, depending on their specifications (specifically their throw distance). If you plan on projecting onto large screens often, select a model rated for larger sizes since distance requirements tend to increase along with size restrictions on some models.
Installation options
Projectors can be mounted to the wall or ceiling, depending on where you plan on placing them. Ceiling mounting offers greater flexibility as it allows for a wide range of tilt angles as well as adjusting throw distance without having to move furniture around. Wall mounting is more straightforward but requires more work with mounting brackets and positioning since space may be limited if placed near walls or other furniture pieces that are close together.
Warranty and support
It's always advisable to purchase products backed by warranty coverage, preferably those that offer extended coverage periods beyond the standard one-year timeline. This can help save money in repair costs should any issues arise within lengthier coverage times.
People Also Ask
What are some features of the finest projectors?
When looking for a projector, key features include resolution, brightness, contrast ratio, lamp life, ports, throw ratio and zoom ratio. The resolution will determine how sharp the image is, while brightness affects how visible the image is during daylight or in lit rooms. The contrast ratio will affect the clarity of shadow details and colors. Lamp life will determine how long a projector bulb can last before needing to be replaced. Ports connect the projector to various devices like laptops or gaming consoles. The throw ratio measures the size of the projected image relative to the distance between the projector and the projection surface. Zoom influences how much you can adjust the image size without losing quality.
How bright should my projector be?
The optimal brightness of your projector will depend on the size of your screen and the amount of ambient light in the room. For screens up to 100 inches in size under normal lighting conditions, 2,000 lumens is generally recommended as a minimum brightness level. For larger screens or higher levels of ambient lighting, you'll need a brighter projector with at least 2,500 lumens or higher.
What resolution should I choose for the best picture quality?
For most applications, 1080p (full HD) resolution is sufficient for good picture quality. If you want more detail, you should opt for at least 4K (ultra HD) resolution, which offers four times more pixels than 1080p for sharper image quality. For larger screens or highly detailed content such as movies or gaming, 8K resolution provides even greater image detail with 16 times more pixels than 1080p.
How do I set up a projector?
Setting up a projector involves connecting it to your video source device, mounting it in its desired location, adjusting the focus and zoom settings, configuring any audio settings and calibrating the image to your preference. Depending on your chosen model, this may involve additional steps, such as installing specialty lenses or mounting brackets.
What ports do I need on a projector to connect it to my device?
Most modern projectors come equipped with digital and analog connections such as HDMI (High Definition Multimedia Interface) to provide video and audio output from digital devices. VGA (Video Graphics Array) connections offer video output from analog devices like laptops and DVD players. Some projectors may include other connection ports, such as a USB Type-A port that connects USB flash drives directly to the device or SD memory card reader slots. Select models may also offer Bluetooth compatibility, enabling wireless connectivity between the projector and your devices.
Do projectors require special maintenance?
Yes, projectors require special maintenance to keep them functioning properly, as any buildup of dust particles can reduce brightness or hinder air circulation, leading to overheating or damaging other components within the unit itself. You should clean the inside and outside of your projector with compressed air and lightly wipe down surfaces with soft cloths or cotton swabs dampened with water or alcohol solution to remove any dirt or dust buildup. Additionally, for the safety of you and the projector, it's important to turn off your device before any cleaning to prevent electric shock or sudden power surges.
Why Trust Us
Our commitment to customers begins with a carefully curated product selection process, ensuring we provide high-quality and reliable options. We meticulously vet each projector, analyzing quantitative aspects, such as star ratings and review count, and qualitative factors, including review content and product features. Our dedicated team of bargain hunters consistently prioritizes your budget by meticulously scouring the market and identifying the best projectors available without ever compromising on quality or performance. Our panel focuses on presenting the pros and cons of each projector and converting technical specs into understandable insights. Our mission is to make sure you get the most bang for your buck…or, in this case, the best picture and sound for your buck.
More From Money:
The Best Projector Screens for Your Money