The Best Propane Fire Pits for Your Money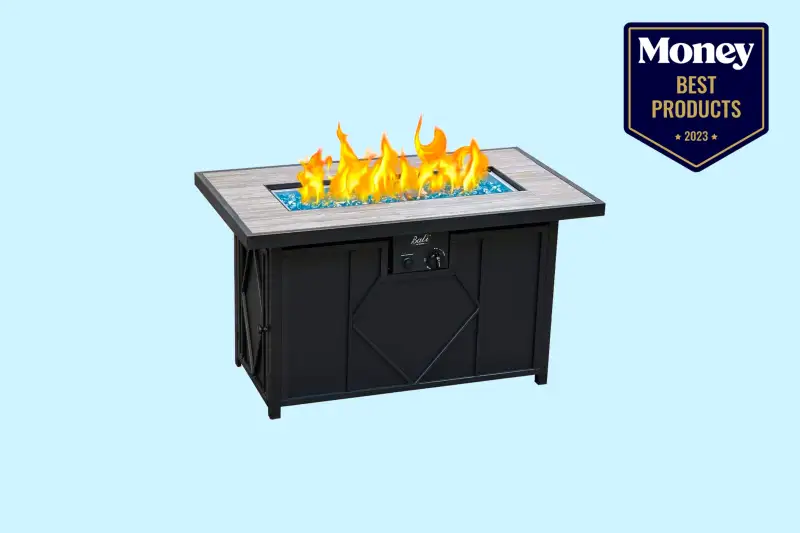 A propane fire pit can instantly transform your backyard into a cozy gathering place for entertaining friends, cooking delicious meals or enjoying time outdoors. These fire pits also offer the same convenience as wood-burning fire pits without the hassle or mess of charcoal and wood.
In this article, we'll share detailed reviews of the top propane fire pits of 2023, so you can find the right one for your outdoor space. We'll also discuss features to look for and considerations to keep in mind when making your selection. Read on to find the perfect propane fire pit for sharing stories, roasting marshmallows or just enjoying the warmth and ambiance of a cozy fire.
Best overall: Endless Summer Rectangular Outdoor Fire Pit
Most Stylish: U-Max Propane Fire Pit
Ideal for small spaces: Endless Summer Propane Fire Pit
Most premium: BALI OUTDOORS Propane Fire Pit
Best value: Legacy Heating Propane Fire Pit
Comparing the Leading Propane Fire Pits of 2023
Elevate your outdoor living space with the Endless Summer Rectangular Outdoor Fire Pit. As an eye-catching centerpiece, this pool combines style, warmth, and functionality. Crafted with meticulous attention to detail, this fire pit is designed to create a cozy and inviting atmosphere in your backyard or on your patio. Its sleek and modern rectangular shape complements various outdoor aesthetics.
This fire pit is a safe and convenient way to enjoy the allure of a crackling fire. Thanks to its innovative technology, the integrated electronic ignition system and adjustable flame control mean you can effortlessly customize the heat. That way, you get to control the ambiance for any occasion. This fire pit offers a captivating and warm environment that transforms outdoor areas, which is why it's our top choice.
Pros
Versatile outdoor ambiance
Designed with user-friendliness in mind
Crafted with a sleek and modern design
Cons
Requires propane or gas as fuel source
List Price: $329.99
This outdoor propane fire pit by U-Max is our top choice for anyone looking to add both warmth and beauty to their outdoor space. Its design features a black tempered glass table top, transparent tempered glass wind-guards, hand-woven brown rattan base and ocean blue glass rock. The frame is made of powder-coated aluminum that resists rust and heat damage and its all-weather rattan adds texture to enhance its overall design. Each high-quality component offers impressive strength and durability, even in extreme weather conditions.
This fire table uses propane gas to enable smokeless and ashless burning, providing ample warmth for your patio or backyard. The ignition system is easy to use, with a battery-operated, push-button ignition to get the fire going quickly. Boasting a heat output of 50,000 BTU, it provides plenty of warmth during any season. This fire pit offers many quality features to make it stand out from the crowd, with stylish functionality that will provide a nice setting for many memorable moments around a cozy fire.
Pros
Stylish design and easy to operate
Smokeless and ashless burning
Tempered glass tabletop and wind-guards
Resistant to high heat and rust
Cons
May need to purchase more glass stones
Doesn't include batteries
List Price: $184.00
Check on Amazon | Check on Walmart
The Endless Summer Propane Fire Pit offers plenty of warmth to cover five to eight feet of space, making it ideal for patios, balconies and other small areas. Its dimensions are 30 x 30 x 24 inches, which makes it suitable for placement in a range of spaces. This model features a 30,000 BTU stainless steel burner and is surrounded by a sleek brown fire glass bed. The fashionable wicker-style base supports the all-weather steel bowl and the mosaic resin mantel adds another layer of sophistication and class.
This fire pit operates with a simple electronic ignition, allowing you to quickly set up and enjoy the ambiance of a warm fire without the fuss of a traditional wood-burning fire pit. This unit is durable enough to handle every season and includes a fabric cover for another layer of protection. This propane fire pit's easy controls and clean burning flames add warmth and light to any evening, making it the ideal centerpiece for enjoying the outdoors all year.
Pros
Adds style to any outdoor area
Warms radius of up to eight feet
Measures 30 inches to fit smaller spaces
Operates with easy electronic ignition
Cons
Fabric cover may need replacement over time
Users felt instructions lacked some details
List Price: $299.99
Check on Amazon | Check on Walmart
The BALI OUTDOORS Propane Fire Pit is perfect for those looking for luxury features and customization options. The unique design of six interchangeable tiles allows you to customize the table's look to fit your outdoor entertaining style. This pick also includes 15 pounds of fire glass for extra elegance, providing a beautiful shimmering light when the fire is lit. Its natural slate table top has a sleek look and its black steel base provides both style and structural support.
This fire pit is easy to operate with its push-button igniter and adjustable flame control knob. Its 60,000 BTU LP stainless steel burner provides plenty of warmth for 10 people. When not in use, the fire table lid provides protection from external elements or curious animals. With great features, high heat output and customization options, this premium propane fire pit will definitely add some warmth to your outdoor entertaining space.
Pros
Sturdy alloy steel material built to last
Plenty of warmth for 10 people
Interchangeable tiles for easy style changes
Base design conceals a propane tank
Cons
Users found assembly a bit challenging
Batteries for the ignitor are not included
List Price: $199.99
Check on Amazon | Check on Walmart
The Legacy Heating Propane Fire Pit offers excellent value for those looking to upgrade their outdoor space at an economical price. It combines modern style and practicality at a low price, offering up to 50,000 BTUs of heat to provide plenty of warmth and light. The fire table is constructed with weather-resistant and corrosion-proof materials. The bottom steel panel has a wicker and rattan aesthetic while the lava stones enhance the beauty of the flames to achieve a natural glow.
The table interior has enough room for a 20-pound propane tank and features a pull-out bracket for quick and easy fuel changes. Its ignition device starts the fire with a simple rotation and can be further rotated to adjust the flame intensity. With its included lid, this product is not only great as a source of warmth but also doubles up as a great dining table to hold food and drinks during your outdoor gatherings. With its many quality features and attractive design, this propane fire pit is priced at an incredible value.
Pros
Durable weather-resistant and rust-resistant materials
Tablespace for holding food and drinks
Easy to regulate and adjust flames
Incredible value for features and quality
Cons
May require additional lava rock
Requires two people to assemble
Finding Your Ideal Propane Fire Pit: A Buyer's Guide
If you want to upgrade your outdoor space, a propane fire pit is the perfect solution. These decorative fire pits typically require little maintenance and provide plenty of warmth. But, with so many options available, finding the right model for your particular needs can be challenging.
We created this detailed buyer's guide to help make your buying decision much more straightforward. We'll discuss the features to consider so you can find the perfect addition to your backyard, patio or anywhere to create a warm and inviting space for spending quality time with family and friends.
Safety
When shopping for a propane fire pit, look for models that have been UL certified. UL, which stands for Underwriters Laboratories, tests electrical products to ensure they meet safety standards. This certification ensures optimal fire pit safety and provides peace of mind that you're investing in a quality product.
Fuel efficiency
The next factor to consider is the fuel efficiency of your propane fire pit. Determine how much fuel the fire pit requires and how often you'll need to refill it. This can help you choose the most cost-effective model for your needs.
Portability
If you plan on using your propane fire pit in multiple locations, select one that's lightweight and includes handles for easy transport. This will make it much more convenient to move around without disassembling it each time you want to use it elsewhere.
Ignition system
The ignition system on a propane fire pit is another key feature to consider. Look for models with an easy-to-use ignition system, such as a push-button design that quickly lights the fire and ensures consistent flame intensity. Consider how many settings the ignition system offers and if it includes safety measures like child locks or overheating protections.
Size and design
When selecting a propane fire pit, choose a size and design to fit your outdoor space. Ensure the dimensions work in that area, and opt for functional and aesthetically pleasing designs. For instance, consider if you prefer a traditional square or modern round fire pit so it blends into your existing decor.
Heat output
Generally measured in BTU (British Thermal Units), the heat output of a propane fire pit is also something to think about. Consider how much heat the fire pit will provide. You may also want to opt for a model with adjustable heat output so you can control the flame size based on your desired level of warmth. If you plan to use the fire pit during cooler weather, look for models with higher outputs.
Durability
It's essential to look for a propane fire pit made of durable materials. Ensure the model you invest in is made from quality materials like stainless steel or aluminum that won't rust or corrode over time. Check for protective coatings on the exterior finish to keep maintenance needs minimal throughout its lifetime.
Price
Be mindful of your budget when selecting a propane fire pit, as various models are available at different costs. Look for a model that provides all the features you need within your price range without sacrificing quality or performance.
Warranty
Finally, it's a good idea to check if a warranty is included with the fire pit in case any problems arise after purchase. Most models come with a manufacturer warranty, so read through the details carefully before making your purchase.
People Also Ask
How do I choose the right fire pit for my needs?
The right propane fire pit for your needs will depend on your budget, space and desired features. Consider other factors such as size, portability, ease of use and safety when evaluating options.
What size propane fire pit is best?
The optimal size of a propane fire pit for you will depend on your available space and the number of people you plan to include around the fire pit. A small fire pit may be ideal for just two people, while a larger model may be better suited for larger gatherings.
What type of fuel is required for these fire pits?
Propane is the most common fuel used in propane fire pits and is available in many sizes, from 20-pound tanks to larger 100-pound tanks. Propane provides an odorless flame and produces less smoke than wood-burning options.
How long will a propane fire pit burn?
Typically, propane fire pits with a 20-pound tank are designed to burn for up to 12 hours, depending on the design and settings. Larger tanks can provide up to 40 hours of burn time at lower settings.
Are there any safety concerns when using a propane fire pit?
Yes, there are some safety concerns when using a propane fire pit, including overheating or explosion. Read the manufacturer's instructions carefully before using your propane fire pit to understand potential safety risks and take any necessary precautions. Also, keep children away from the fire and only use the fire pit in an open area away from flammable materials or structures.
What is the best way to maintain a propane fire pit?
The best way to maintain your propane fire pit is by following manufacturer instructions for cleaning it regularly. You should inspect it for signs of damage or wear before each use to spot any potential problems and resolve them before they become dangerous or costly to repair. Also, you should always store your unit according to manufacturer recommendations.
Why Trust Us
Our commitment to the consumer begins with product selection and ends with the last word we write in each article. Each propane fire pit is carefully vetted quantitatively through star ratings and the number of reviews qualitatively through careful examination of reviews and the features each one has to offer. Leveraging our team of bargain hunters, we're also always sure to keep your budget in mind while we find the best propane fire pits on the market. Our team of experts is dedicated to accurately depicting the pros and cons of each product, translating technical product specifications into information you can understand. Our mission is to make sure you get the most bang for your buck…or, in this case, the best outdoor experience for your buck.