The Best Sleep Headphones for Your Money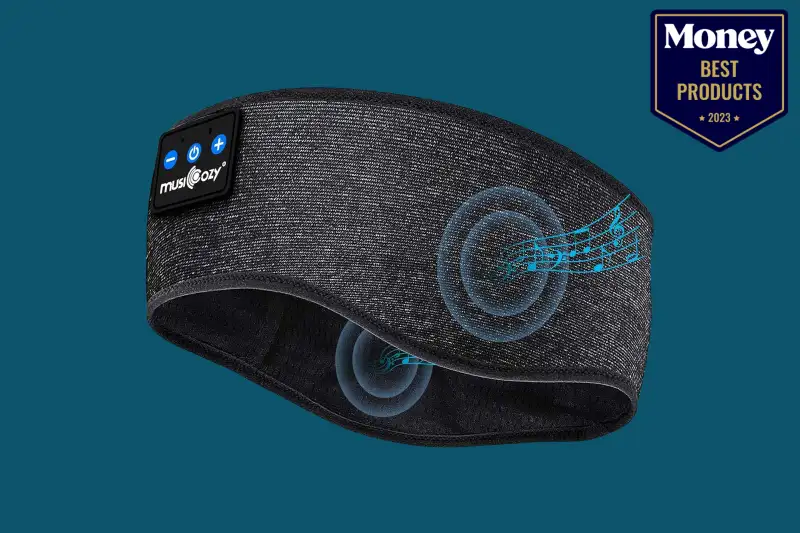 Getting enough restful sleep is an essential part of maintaining a healthy lifestyle. Unfortunately, it can be hard to switch off and drift off when constantly disturbed by noise. Whether you're looking to block out your partner's snores or your neighbor's music, investing in high-quality sleep headphones can go a long way in helping you fall asleep faster and stay asleep longer. They are specifically designed with comfort in mind, featuring noise-canceling technology to drown out unwanted sounds.
In this article, we'll review the highest-rated sleep headphones in 2023 and discuss each option's features, pros and cons to help you find a pair that meets your needs. We'll also share our expert buying advice covering everything you need to know to make an informed purchase decision. If you're ready to say goodbye to noise and hello to peaceful sleep, read on.
Best Overall: Perytong Wireless Bluetooth Sleep Headphones
Best Battery Life: MUSICOZY HD Stereo Speaker Sleep Headphones
Most Versatile: LC-dolida Bluetooth Sleep Headphones
Best Materials: TOPOINT Bluetooth Sleep Headphones
Most Comfortable: Fulext Noise-Canceling Sleep Headphones
Comparing the Finest Sleep Headphones of 2023
List Price: $19.99
The Perytong Wireless Bluetooth Sleep Headphones top our list with their comfortable, headband-style design and long battery life. The headband fits snugly over the ears and is made with breathable, moisture-wicking fabric to keep you cool and comfortable throughout the night. The speakers are also removable, allowing you to easily machine wash the headband. Featuring a rechargeable battery, these headphones only take a couple of hours to fully charge, and they work for up to 10 hours on a single charge.
Thanks to their soft, machine-washable design and absorbent materials, these earphones are also great for exercising. With Bluetooth technology, they can be easily paired with various electronic devices, including most smartphones. They have an impressive 33-foot wireless range, and their integrated microphone and volume controls make it easy to answer phone calls and skip or replay songs whether you're in bed or on the move. Plus, you can choose from 16 color options to find the one that matches your style best. Between their comfortable fit, smart features and impressive battery, these are the best overall sleep headphones on our list.
Pros
Comfortable for side sleepers
Excellent noise cancellation
Suitable for exercising as well
Cons
May move around while sleeping
Doesn't feature a memory function for volume
List Price: $39.99
Featuring an upgraded lithium battery, the MUSICOZY HD Stereo Speaker Sleep Headphones reach a full charge in only two hours and will work for more than 10 hours on a single charge. They also come complete with a charging cable. They offer Bluetooth connectivity, allowing you to pair them with your favorite devices, and are powered by 40mm composite drivers for crisp, clear sound. The stereo sound offers an immersive experience whether you're listening to an audiobook in bed or your favorite playlist while exercising.
Ideal for hot sleepers, these earphones are worn like a headband and are made from sweat-absorbing, fast-drying fabric to keep you from overheating while you sleep. The headband can be pulled down over the eyes, doubling as a sleep shade and blocking out unwanted light and ambient noise. It offers plenty of elasticity and is designed to fit most wearers. This pick also has an IPX6 waterproof rating, making them a great choice for outdoor walks and workouts. With 15 colors and patterns to choose from, you're sure to find one that appeals to you.
Pros
Doubles as an eye mask
Charges in two hours or less
Offers excellent, crisp sound quality
Cons
May slip off while exercising
May be too quiet on lowest volume
List Price: $39.99
The LC-dolida Bluetooth Sleep Headphones have a unique, multifunctional design. A great choice for anyone looking to block out unwanted sound and light, they function as both earphones and as a sleep mask. The silky, hypoallergenic material is gentle on the skin, and the three-dimensional eye cups offer a contoured fit while the adjustable strap allows for a customized fit. The earpieces don't protrude, and their placement makes these headphones a comfortable choice for lateral sleepers.
Powered by 11mm drivers, these earphones provide high-fidelity stereo sound for an enveloping sleep experience whether you're listening to soothing sounds, music or an audiobook. They feature Bluetooth compatibility, as well as a higher-than-average 45-foot wireless range. The built-in microphone makes it easy to answer calls and stay connected with family, friends and co-workers while traveling. The device also comes with a charger and a convenient pouch for easy carrying and storage, allowing you to begin using it right away.
Pros
Impressive 45-foot wireless range
Intuitive, user-friendly controls
Adjustable strap for customized comfort
Cons
Not suitable for exercising
Volume resets on each use
List Price: $29.99
A solid choice for those with skin sensitivities, the TOPOINT Bluetooth Sleep Headphones boast a breathable cotton construction. This natural fabric is gentle and smooth compared to many synthetic materials, which can irritate sensitive skin. Its cotton construction also makes this product durable and easy to clean. Its multifunctional design allows you to effectively block out both sound and light for a peaceful, undisturbed sleep experience. Thanks to its flexibility, it can easily be folded to a compact size for effortless portability, making it an ideal travel companion.
This nighttime audio device features Bluetooth version 5.2, making it easy to pair with any compatible device. It's also machine-washable thanks to the removable Bluetooth module, which allows for convenient cleaning. The built-in microphone ensures you won't miss any important calls while the adjustable strap provides a tailored, comfortable fit. These headphones are available in 11 color choices to suit any style.
Pros
Versatile, two-in-one design
Portable and travel-friendly
Natural, skin-friendly material
Cons
Mediocre sound quality
Long charge time
List Price: $19.95
The Fulext Noise-Canceling Sleep Headphones are stretchable and foldable for personalized comfort. The fabric blend is gentle on the skin, and the non-protruding earpieces allow you to sleep laterally without discomfort. A great choice for gifting and traveling, these headphones charge quickly and have a generous 10-hour runtime on a full charge. They also are available in 16 color options, so finding one that matches your style is a breeze
The manufacturer offers a 12-month warranty so you can purchase with confidence and peace of mind knowing you're covered should you experience issues down the line. The headband-style earphones can also be worn over the eyes as a sleep mask. The built-in microphone lets you easily answer hands-free phone calls as well. Plus, this stretchy and soft product is suitable for use while exercising.
Pros
High-fidelity stereo sound
One-year warranty coverage
Washable and quick-drying design
Cons
Material is somewhat thin
Non-adjustable earpiece placement
Buying Guide: Sleep Headphones
When it comes to choosing the best sleep headphones, there are many features to keep in mind. This buyer's guide will walk you through the most important factors to consider as you're shopping so you can find a product that meets your needs.
Comfort
When shopping for sleep earphones, comfort should be a priority. Look for soft materials such as cotton, adjustable ear cups and a lightweight, stretchy design. Some models even feature headbands with memory foam padding for extra comfort. Make sure the headphones are adjustable so they'll fit securely without causing any discomfort or pain.
Sound quality
Choose a product that offers superior sound quality with quality drivers to get the most out of your listening experience. Check the product description and read through customer reviews to ensure the headphones deliver clear sound and have good noise-canceling capabilities.
Battery life
When selecting nighttime earphones, battery life should be one of your top priorities. Choose a pair that offers long battery life so you don't have to worry about recharging it constantly. Ideally, the headphones should have a minimum battery life length of 10 hours to ensure the device will work through the night. Opt for a model that's rechargeable as this will save you money in the long run.
Compatibility
Verify that the sleep headphones you choose are compatible with your devices and can connect through Bluetooth for wireless use. Some models also support multiple devices so you don't have to keep switching between different ones. For versatile use anytime, select a pair that can connect through USB-C or lightning ports too.
Adjustability
Many models offer adjustable headbands and ear cups to give you a custom fit and prevent the headphones from slipping off while you sleep. Additionally, most models have adjustable sound controls to fine-tune your listening experience according to your preferences. Look for models with volume and bass settings so you can listen to music or audiobooks without disturbing others in the room.
Durability
When purchasing sleep earphones, it's important to choose a pair made from high-quality materials that are designed to last. Look for options that feature reinforced stitching and a sturdy design. If you plan to use them outdoors or for workouts, it's a good idea to opt for headphones that are water-resistant and moisture-wicking.
Price
Price is an important factor when investing in sleep headphones. Don't sacrifice quality for an inexpensive option; shop around to find the best value for your budget while still getting a product that meets your needs.
Ease of use
When selecting sleep headphones, look for ones that are easy to put on and take off. They should have accessible controls that are intuitive to use, even without looking at them directly. A good pair of sleep headphones should have buttons or dials that are easy to find in the dark so you don't have to search for or fiddle around with them while trying to fall asleep.
Warranty
Check to see if the product comes with a good warranty so you can get it fixed or replaced if it breaks or malfunctions within a certain period of time. Many companies offer warranties on their products, so it's worth choosing a pair of sleep headphones with one to ensure you're covered if anything goes wrong in the future.
People Also Ask
Is there a difference between noise-canceling and sound-isolating sleep headphones?
Noise-canceling sleep headphones block out additional external noises, whereas sound-isolating headphones seal out existing background noises in your environment. Generally, noise cancelation is considered more effective than sound isolation when it comes to blocking out common disruptive noises such as street traffic or loud neighbors. On the other hand, sound isolation is better at eliminating low background noises like buzzing air conditioners.
What kind of batteries do sleep headphones use?
Most sleep headphones feature integrated lithium-ion batteries. These batteries are typically rechargeable, which can eliminate the expense of replacement batteries.
How do I clean my sleep earphones?
It's important to clean your sleep headphones regularly to prevent any bacteria or dirt accumulation and ensure your safety. Generally, to clean your sleep headphones, use a damp cloth dipped in warm water and gently wipe down all surfaces. Many models also feature removable components and are machine-washable for easy maintenance. Be sure to check the manufacturer's care instructions before cleaning your headphones, as the instructions may vary depending on the product.
How can sleep headphones help me sleep better?
Sleep headphones can help you sleep better by blocking out disruptive noises that would otherwise wake you. Some models also function as sleep masks to block out unwanted light as well as ambient noise. Additionally, they allow you to listen to soothing sound effects and music, which can help you relax and fall asleep more easily and faster.
What are the benefits of using sleep earphones?
Sleep headphones offer many benefits. They block out ambient noise, minimize sleep disruption, help you fall asleep faster and ensure your music or audiobooks don't disturb others. Additionally, some models allow you to make and answer phone calls for added convenience.
Why Trust Us
Our commitment to customers begins with a carefully curated product selection process, ensuring we provide high-quality and reliable options. We meticulously vet each pair of sleep headphones, analyzing quantitative aspects, such as star ratings and review count, and qualitative factors, including review content and product features. Our dedicated team of bargain hunters consistently prioritizes your budget by meticulously scouring the market and identifying the best sleep headphones available without compromising quality or performance. Our panel focuses on presenting the pros and cons of each pair of sleep headphones and converting technical specs into understandable insights. We aim to help you enjoy remarkable and efficient sound quality with top-rated audio devices.