The Best Small Air Fryers for Your Money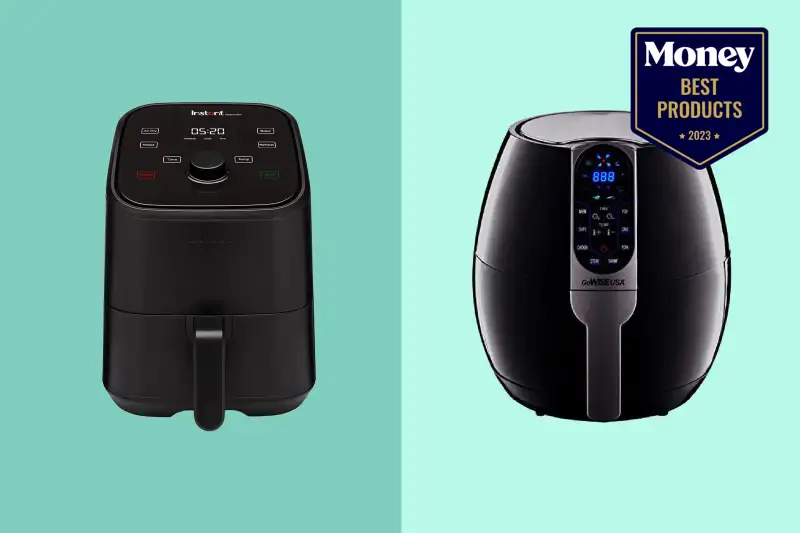 While there's an almost endless range of ways to prepare meals, nothing can beat the crisp, juicy taste of fried food. Unfortunately, traditional methods of frying (whether deep or shallow frying) require the use of oil, which can lead to health issues like high cholesterol levels if you eat too much of it. What if we told you, though, that you can enjoy your favorite fried foods by making them in a healthier way? Interested? Then it's the right time to invest in a small air fryer.
Air fryers have been all the rage for quite a while now, and there are tons of options on the market. This compact kitchen appliance gives your food the great flavor, crispness and texture of fried food, but without having to use a significant amount of oil. To help you find the right one for your kitchen, we've put together a list of the top-rated small air fryers of 2023 to crisp up chicken, veggies, fries and more.
Best Overall: Chefman Small Air Fryer
Most Reliable: Ninja AF101 Small Air Fryer
Premium Quality: Dash Tasti-crisp Small Air Fryer
Most Versatile: Instant Vortex Small Air Fryer
High-end Pick: Gowise USA Small Air Fryer
Comparing the Top Small Air Fryers of 2023
List price: $39.99 - $56.54
If you're looking for an efficient yet compact air fryer to add to your kitchen, look no further than the Chefman Small Air Fryer. This all-in-one appliance boasts a space-saving design, making it an ideal choice for apartments and dorms. With its ability to reach temperatures of up to 400 degrees Fahrenheit, this small air fryer can produce tasty fried results with little to no oil, which means that whatever you make will have less fat and calories than if it were fried another way. Plus, its adjustable temperature control and 60-minute built-in timer can ensure your food is cooked to perfection.
Not only is this small air fryer packed full of impressive features, but it has a user-friendly design that's extremely easy to operate, even for first-timers. Its cool touch exterior and auto-shutoff features make for increased safety, while the nonstick, BPA-free basket requires no cooking spray and offers mess-free cleanup. Plus, the basket and its tray are dishwasher-safe, so all you have to do is toss them in the top rack after you're done cooking for easy cleaning.
This small air fryer is approved by the ETL (Electrical Testing Laboratories) for its reliable durability, making it a good choice if you're looking to make a long-term investment. If that's not enough for you, though, it also comes backed by a one-year warranty. With all these amazing features, this small air fryer is our top pick for anyone looking for a healthier frying option that doesn't come at the cost of convenience or quality.
Pros
Intuitive design with easy-to-use controls
Dishwasher-safe basket for quick cleanup
Durable and built to last
Cons
Fan noise can be annoying
May heat up counter
List price: $96.00 - $129.99
The Ninja AF101 Small Air Fryer is a must-have for any kitchen. It has a sleek finish that can look great wherever it's set up, and its four-quart capacity can fry, roast, reheat, and dehydrate various foods with ease. Its temperature range spans from 105 degrees to 400 degrees Fahrenheit, making it perfect for pretty much any way you want to prepare your food.
The ceramic-coated nonstick basket comes with a crisper plate, letting you cook without having to worry about creating a mess. The basket can easily fit up to two pounds of French fries, making it an ideal choice for preparing snacks and meals for friends and family. Another great thing about this small air fryer is that its preheat time is only three minutes, which means you won't have to wait long before you can begin cooking your meal.
Not only is this small air fryer convenient and easy to use, but it can also help you enjoy your favorite foods with less fat compared to traditional frying methods. What's more, cleaning it is a breeze, as all of its parts are dishwasher-safe. Its sleek design, versatile functions and easy clean-up can make it a great addition to any kitchen.
Pros
Preset cooking functions for added convenience
Non-stick basket for easy cleanup
Comes with a recipe book
Cons
May set off smoke alarms
No multi-layer rack (as advertised)
List price: $39.87 - $59.99
The Dash Tasti-Crisp Small Air Fryer is a revolutionary kitchen appliance designed to help you cook healthier fried food. Thanks to its AirCrisp Technology, this fryer efficiently cuts down on fat without affecting your food's flavor or texture. Its basket can hold 2.6 quarts, and you can adjust temperature and timer settings by simply turning the respective knobs. The auto shut-off feature ensures your meals are never overcooked, while the cool touch handle helps keep you safe every step of the way.
Additionally, this small air fryer's updated crisper basket features more surface area so that whatever you're making takes less time to get crispy. This design feature makes it perfect for preparing freezer favorites like chicken nuggets and French fries, and because it's lightweight and compact, it can be a great choice for studio apartments, college dorms and RVs.
Plus, this small air fryer's sleek design and trendy color options can help it stand out in any kitchen. Its build quality is second to none, so no matter what you're making, you can be sure it will last you many meals to come.
Pros
Auto-shutoff feature for increased convenience and safety
Greater basket surface area offers faster crisping
Multiple size and color options available
Cons
Cleaning it can be a hassle
Controls are difficult to read
List price: $49.95 - $59.99
If you want to make meals a little healthier, the Instant Vortex Small Air Fryer is a real kitchen game-changer. With its EvenCrisp Technology that heats your food from the top down for crispy results that look and (more importantly) taste great, you'll be able to whip up delicious meals in minutes. This small air fryer has four functions — air fry, bake, roast, and reheat — and its temperature range of 120 to 400 degrees Fahrenheit can help you make an array of different dishes without having to use too much oil.
The one-touch smart programs allow you to make everything from wings to cinnamon buns, and its digital display simplifies things by keeping you updated on your food's cooking progress and letting you know when it's time to flip it or take it out. With this small air fryer in your kitchen, you can cut down on prep time when putting together meals, as there is minimal preheat time required. This appliance has a capacity of 2 quarts and is ideal for recipes that serve 1-2 people, making it perfect for small kitchens or single-person households.
This countertop-friendly appliance also comes with added safety features like overheating protection and auto-off functionality, so you won't have to worry about the safety of you or your family while using it. And, because it comes with a nonstick basket and tray (both of which are dishwasher-safe), cleaning this small air fryer is a breeze. As if all these amazing features weren't enough, you can also download the free Instant Pot app (available on iOS and Android devices) that gives you access to over 100 delicious recipes so you can quickly become a master chef in no time.
Pros
Easy-to-control, one-touch operation
Digital message display
Built-in overheating protection
Cons
Plastic body can feel cheap
Persistent "new appliance" smell
List price: $79.99 - $138.42
The Gowise Small Air Fryer is a great choice for anyone who wants to make healthier versions of their favorite fried foods. This is thanks to its rapid air technology, which requires practically no oil to cook meals. It comes with eight pre-programmed settings, which are perfect for anyone who wants an easier way to prepare meals quickly. You can choose from warm, fries, chicken, shrimp, pork, steak, fish, and cake settings, depending on the type of dish you'll be making.
For home chefs who may want a little more freedom, the digital screen also allows you to set the temperature from 170 degrees Fahrenheit all the way up to 400 degrees, and you can program a timer that will cook your food for up to 30 minutes. This makes it easy to prepare all kinds of recipes, as this small air fryer will let you know when the time is up and will beep five times to let you know your food is ready to enjoy.
If you could use a little inspiration in the kitchen, this small air fryer also comes with a recipe book containing 50 air fryer recipes you can make to wow your loved ones. It's perfect for anyone looking for an easy way to prepare delicious, healthy meals, so don't miss out; your tastebuds will thank you.
Pros
Features a high-powered heating element
Includes eight cooking presets
Offers manual time and temperature settings
Cons
Basket is a bit fragile
Noisy during use
Buying Guide: Small Air Fryers
Even though air fryers have been around for several years now, today they're more popular than ever. You can find them in all different shapes and sizes, including options that are pretty compact. If you want to upgrade your kitchen appliance collection and are looking for a healthier way to cook fried food, an air fryer should be at the top of your list. To help you out, we've put together this comprehensive buying guide to help you choose the right model for your needs when shopping for a small air fryer in 2023.
How To Choose a Small Air Fryer
Capacity
It's important to think about your needs and what you'll be using your air fryer for when trying to find the right size. If you're cooking for just yourself or a couple of other people, a smaller-capacity air fryer can be ideal. Small air fryers usually come with a basket size of two or three quarts, which is big enough to prepare approximately two to four servings at a time. But if you need to feed more people or cook larger items (like a whole chicken or a large batch of fries), you'll need a larger-capacity air fryer.
Temperature range
Air fryers usually have temperature settings ranging from around 170 to 400 degrees Fahrenheit. Some have an even wider range of temperatures, giving you more control over how you cook. When choosing an air fryer, think about the types of food you plan to make and whether a specific temperature is required for optimal cooking results. Also, keep in mind that if your air fryer doesn't have an adjustable temperature setting, you won't be able to change it while cooking.
Ease of use
Reading the manual before purchasing your small air fryer is key, as it will give you an idea of how user-friendly the product is and if there are any complicated features or settings. If you're comfortable navigating technology, you can go for a more advanced model with additional features such as a digital display, pre-set cooking programs, and smartphone app compatibility.
Control
The type of control your small air fryer features determines how easy it is to use and adjust settings (like temperature and time) as needed. Digital controls allow for greater versatility and programmable cooking functions, while manual controls may be easier for those who don't plan on adjusting settings too often. You should look at reviews and customer feedback to see how easy it is to use the different options available before making a final decision.
Safety features
Many small air fryers come with safety features, such as automatic shut-off and cool touch handles, to prevent accidents and injuries. Some models also come with a timer that allows you to set a certain cooking time for your food so you won't have to worry about overcooking it if you take your eye off it for a second. Make sure to read through the product description carefully to check that the model you're considering has all of the safety features important for ensuring your safety and the safety of others.
Dimensions
Before buying, measure the space on your counter where you plan on setting your air fryer up to ensure that it will fit properly. If your kitchen has upper cabinets, it's important to also check the height clearance, as these could limit what size air fryer can fit in that space. Check that it's large enough to fit the amount of food you plan on regularly cooking and ensure that the counter can withstand its weight when open and full.
Accessibility
Look for an air fryer that's easy to access from both sides (the top and the front) for convenient adding and removing of food, as well as for cleaning it after you're done. You should check that any removable parts, like baskets and trays, can be easily accessed without having to move any other parts of the fryer, which can be difficult when full of hot food.
Cooking settings
Not all small air fryers can cook all types of food; some are better suited for certain things than others. Look into which types of food each model can cook before making your purchase so that you know it's capable of fulfilling all your cooking needs. Also, check whether or not it has adjustable settings (such as temperature control and timer length) so that you can better customize your cooking experience.
Noise level
While all small air fryers make some noise during operation, some models are better than others when it comes to noise levels. This feature is important to consider if you live with others, as it could disturb them while it's cooking, especially if the kitchen is near bedrooms. Check customer reviews so that you have an idea of how loud a certain air fryer model is before finalizing your purchase.
Why trust us
Our commitment to the consumer begins with product selection and ends with the last word we write in each article. Each small air fryer is carefully vetted quantitatively through star ratings and number of reviews qualitatively through careful examination of reviews and the features each one has to offer. Leveraging our team of bargain hunters, we're also always sure to keep your budget in mind while we find the best air fryers on the market. Our team of experts is dedicated to accurately depicting the pros and cons of each small air fryer, translating technical product specifications into information you can understand. Our mission is to make sure you get the most bang for your buck…or in this case the best cooking for your coins.
People Also Ask
Is buying a small air fryer worth it?
If you know how to use it correctly, an air fryer can be well worth the money you'll spend. These machines are great at quickly cooking food without having to use too much oil, and even better is that clean-up is a breeze. If you're in the market for one, you don't have to settle for a bulky design; you can find a shape and size that fits your needs and your kitchen countertop without being an eyesore or taking up too much space.
People often use air fryers to cook pre-packaged frozen foods, like chicken nuggets or French fries. They're also great for reheating leftovers that would get soggy if heated in the microwave. You can use a small air fryer to make all kinds of quick dinners, such as chicken, salmon, steak, and more.
How do I clean my small air fryer?
When you're ready to clean your small air fryer, the first step is to take out the basket and let the machine cool down completely. Then, wipe the inside of your air fryer with a damp, non-abrasive sponge or microfiber cloth and add a few drops of dishwashing soap for better results; you can use the same method to clean the basket or any other part of your air fryer. Next, wipe off the soap residue with a clean, damp cloth and let it dry completely before using it again.
Some models come with trays and baskets that are dishwasher-safe for quick and easy cleanup. You can clean the rest of the appliance by hand and put these parts in the dishwasher to make your job a little easier.
How much does a small air fryer cost?
Price is usually one of the most important factors for people when it comes to purchasing small air fryers. Because they feature electrical components, higher-quality units may last longer than cheaper models as they're likely better able to endure the wear and tear caused by regular use. You can sometimes find small air fryers for as low as $25, while the upper price limit is around $80. It's a good idea to compare prices online and look closely at customer reviews to get an idea about a certain model's performance before investing; you won't want to buy an expensive model only to find out that it wasn't worth spending the extra money.
How do I know if I should buy a small or a large air fryer?
It depends on your personal preferences and how you intend to use the air fryer. If you often cook in large batches for a big family, a small air fryer might not be the ideal choice, as they can only hold up to four quarts of food at most. But, if you'll only use your air fryer occasionally or for just yourself and a couple of others, a small air fryer can be a great kitchen companion.
Can I layer my small air fryer's basket using aluminum foil or cooking paper?
When getting the basket of a small air fryer ready to cook food, it's fine to use aluminum foil or cooking parchment paper as separating materials. Because the foil or paper will capture any food splatter, this is a terrific trick to minimize clean-up. And, since the heating process utilizes hot air to cook, using foil or paper is safe and won't affect the taste or texture of your food.
Why should I use a small air fryer?
Using a small air fryer has many benefits, including lower amounts of fat and calories compared to deep-fried foods, faster cooking times, and increased user convenience. Additionally, air frying requires minimal oil, making it an ideal option for anyone looking to enjoy healthy foods without sacrificing taste.
Regular air fryers often take up significant space on the countertop, while small air fryers are more compact and can help you cut down on kitchen clutter. They're also easier to store, which can be great if you don't want to leave them out all the time.