The Best Small Food Processors for Your Money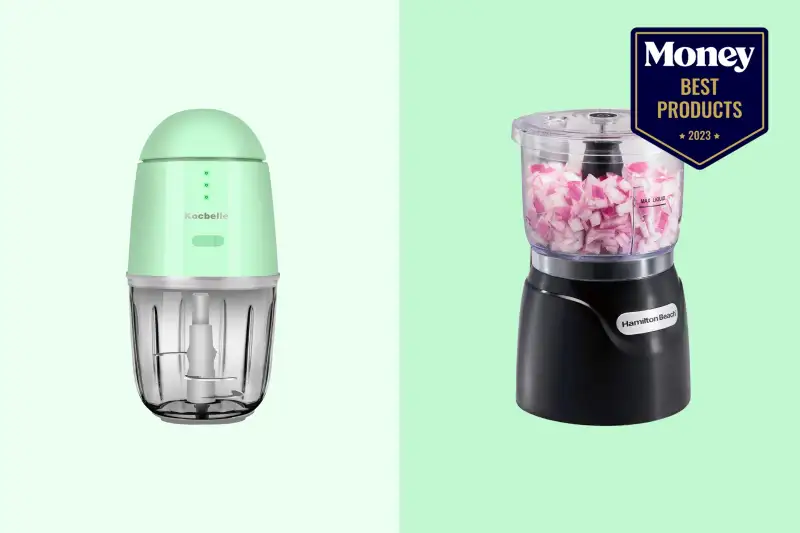 Food processors are kitchen staples that can help you save time when slicing, chopping, grating, and even pureeing. While they're convenient appliances, they can be a bit bulky and take up a lot of space on your kitchen countertop. If you're looking for a versatile kitchen appliance that can make your meal prep a breeze and save you from tedious cooking tasks without being an eyesore, a small food processor is the perfect solution.
Even though it's compact, a small food processor can handle almost all the things a regular food processor can, just in smaller portions. This powerful kitchen tool can do everything from grinding spices and chopping fresh vegetables to making your favorite pie crust or pureeing some hummus. But with so many products on the market, it can be hard to figure out which one is ideal for your needs. That's why we've rated and reviewed some of the most popular small food processors for 2023 that can save you time in the kitchen and help you get dinner on the table faster.
Best Overall: KitchenAid Small Food Processor
Minimalist Design: Black+Decker Small Food Processor
Most Powerful: Hamilton Beach Small Food Processor
Most Reliable: La Reveuse Small Food Processor
Most Convenient: Fanxieast Small Food Processor
Comparing the Top Small Food Processors of 2023
List price: $59.95
The KitchenAid Small Food Processor is a great product for anyone looking to do quick meal prep and make delicious condiments with ease. This option is the one I have in my kitchen and it features a convenient 3.5-cup work bowl with a locking blade, handle, and pour spout that makes it easy to serve ingredients and clean up afterward. If you have limited counter space like I do, you'll appreciate the compact design that makes it easy to store without taking up too much space. Plus, the cord wrap design makes for less cluttered storage.
As far as performance goes, the two speeds and pulse function allow you to coarsely or finely chop foods and make sauces, dressings, and more. The stainless steel multipurpose blade is strong enough to prepare anything from pico de gallo to pesto; plus, it locks in place for hassle-free use and unlocks for simple pouring. And with the drizzle basin, you don't have to worry about incorporating liquids while processing — just add them into the basin and the chopper will do the rest.
What truly sets this product apart from others is its versatility and ease of use. With this small food processor, you can efficiently create tasty dishes — quickly and easily. Whether you're making salsa for chips or creamy dressing for salad, this compact chopper has everything you need to get the job done right. With all these amazing features, this small food processor is unquestionably the best choice on our list.
Pros
Polycarbonate plastic construction for longevity
Drizzle basin on the lid offers convenience
Precise controls deliver consistent results
Cons
Lid can be somewhat hard to open
May be difficult to assemble
List price: $21.62 - $24.99
If you want the ideal combination of modern convenience and powerful performance in one polished appliance, look no further than the Black+Decker Small Food Processor. This product is a great choice for anyone who wants to quickly and conveniently chop smaller portions of food. I found that thanks to its compact and small-sized bowl, it's the perfect option for simple but tedious chopping tasks such as mincing garlic, onions, or herbs.
Additionally, its improved chopping assembly and lid make this pick easier to use for both novice and hobbyist chefs. I also appreciated the oil holes, which allow you to add oil while mixing ingredients without having to take the lid off and risk making a mess. The stainless steel blades should stay sharp and provide long-lasting performance even if you use this small food processor regularly.
With easy one-touch operation, this food processor helps you chop up your food in no time. The removable parts are all dishwasher safe, so clean-up is easy and fast for those of you who dislike handwashing like I do. The compact size and sleek design makes this small food processor an ideal choice for cooking in a small-sized kitchen, dorm, or apartment — especially since you can easily stash it away.
Pros
Easy-to-operate, one-touch controls
Features bi-level stainless steel blades
Backed by a two-year warranty
Cons
Some may not like its plastic body
Not ideal for liquids
List price: $19.99 - $24.99
The Hamilton Beach Small Food Processor is a must-have appliance for busy home cooks or anyone looking to quickly prepare a variety of ingredients. It comes with a patented stack and press design, which makes it easy to use — all you need to do is stack the lid on top of the bowl and press the lid to chop, puree, or shred your ingredients.
The chopper has a 3-cup capacity, making it the perfect size for everyday use yet still small enough for easy storage. The durable stainless steel blades make easy work of all sorts of ingredients including onions, carrots, and nuts, while the oil dispenser on top allows for simple emulsifying of dressings and sauces. If you're like my wife, who hates chopping onions, you'll appreciate the odor-free design — you can chop garlic and fragrant herbs without worrying that the smell will linger the next time you use it.
As the chopper bowl, lid, and blades are all dishwasher safe, cleaning this small food processor is a breeze. Plus, its compact size also makes it great for smaller kitchens that lack countertop space. Whether you need to dice, mince, or puree fruits and vegetables or mix up dips and sauces, this small food processor can help you get the job done quickly and easily.
Pros
Cord wraps around for easy storage
Free from bisphenol A (BPA)
Safe and easy to use
Cons
Potentially noisy and loud operation
May be delivered with missing parts
List price: $29.99 - $38.99
If you're looking for a product that delivers professional performance without taking up valuable space on your kitchen countertop, the La Reveuse Small Food Processor is for you. It's incredibly compact, occupying only minimal space in the kitchen while still featuring a 2-cup chopping bowl that is ideal for everyday food preparation. This model has one-touch pulse control buttons that make chopping, pureeing, and blending simple and precise. In tests, I loved the stay-sharp stainless steel blade that ensures that food gets chopped efficiently and easily. You can mince everything from veggies and fruits to herbs and even meat with this handy food processor.
Thanks to its fully disassemblable design, this small chopper is easy to put together and use as well as take apart for cleaning. The bowl and lid are also dishwasher safe (top rack only), so you can spend more time cooking and enjoying your delicious dishes. Another great feature of this small food processor is its built-in oil dispenser that allows you to add liquids to the bowl during processing, which is great for making homemade dressings and marinades without making a mess.
On top of all these great features, this product includes a spatula to easily scrape out every last bit of your processed ingredients. This small food processor also has a safe-locking lid feature to ensure your safety while the unit is turned on. With hardened stainless steel chopping blades and a strong 200-watt motor, this option is sure to process even tough ingredients in a snap. Plus, it's built to North American electrical standards, so you can feel confident knowing that this small food processor can be used for years in your kitchen.
Pros
Chop and puree buttons for customized operation
Includes a spatula to scrape bowl walls
Available in black and white
Cons
Not suitable for hot ingredients
Cannot crush ice
List price: $31.49 - $39.99
The Fanxieast Small Food Processor is a handy kitchen tool that allows you to efficiently prepare all kinds of delicious meals. This cordless food processor is an innovative and smart kitchen gadget that combines convenience and performance. Its lightweight and compact size make it ideal for personal use. This product features a 1.3-cup glass bowl that helps you make sauces, dressings, and more. The wireless design makes it convenient to move around and use anywhere in the kitchen and on the go. To keep it working smoothly no matter where you are, this option comes with a USB charger which can have it ready to use again in just a few hours. I took it along on a camping trip and it worked well for prepping pancake batter and homemade (camp-made?) pasta sauce.
This small food processor is designed with efficiency in mind, as it can quickly process ingredients including meats, nuts, and onions in as quickly as 30 seconds. Cleaning up is straightforward with this model, too; you can easily dismantle the blade and bowl, then toss them in the dishwasher while you're busy cooking your food. With its safe product design, you won't need to worry about blade cuts or overheating. I appreciated the ease of cleaning the glass bowl even in a camping setting.
As far as accessories go, you also get a scraper with this option to ensure that you won't waste any food or hurt yourself while removing your chopped ingredients. Plus, this small food processor is backed by a team of professional customer service professionals who are available to answer any questions regarding the product. The package also includes a user manual with easy-to-understand guidelines to assemble it in a few seconds and start using it right out of the box.
Pros
Non-slip base mat prevents sliding
One-touch control for easy operation
Safe-to-use, BPA-free glass bowl
Cons
Doesn't come with an adapter
May develop issues holding a charge
Finding Your Next Small Food Processor: A Buyer's Guide
If you want a single appliance that can pulverize fruits, whip up sauces, and make a thick dough, look for a small food processor with the right combination of power and attachments. Of course, it's not always easy to find the right model for your needs. That said, we've put together this buyer's guide to help you find the perfect small food processor in 2023 for your kitchen.
How to choose a small food processor
Size
When looking for a small food processor, consider the size of the appliance to make sure it's big enough to accommodate the portion of food you want to prepare. For smaller kitchens, look for a food processor with a bowl capacity of 2 to 4 cups and dimensions that won't take up too much counter space. Personally, I've found that the 3.5-cup food processor is perfect for most homemade meals that my wife and I make. If you need to quickly pulse frozen fruits and vegetables consider a portable blender, instead. To process large amounts of food at once, like if you have a large family, a small-sized food processor may not be the ideal option for you.
Motor
Besides size, you should also pay close attention to the motor size and wattage of small food processors. Look for one with at least a 200-watt motor to handle tough ingredients like nuts or raw vegetables. Also, consider how much noise it may make when running in case you want to avoid disturbing other people in the household.
Blades
It's important to look at the type of blades in a small food processor as this will determine what tasks it can handle. Look for adjustable blades or disc attachments that can be used for slicing, shredding, chopping, and other tasks. Some models feature stainless steel blades, which are very durable and easy to clean. If you're looking for a product that can handle additional tasks such as kneading dough, make sure that the blades are sharp and sturdy enough to handle them (though, if you are looking to knead dough, I'd recommend getting a stand mixer).
Accessories
The accessories that come with a small food processor are important because they'll determine how much precision and accuracy you can achieve with your recipes. Look for a food processor that has a variety of add-ons such as slicing and shredding disc attachments or a scraper or spatula. This will give you more versatility when it comes to food preparation so you can cook meals more easily and efficiently.
Control settings
When you buy a small food processor, you don't always have to give up control options. You can find a compact model with a pulse setting for quick and easy operation; all you need to do is hold down the button for as long as you want the device to work. It's worthwhile to look for products that offer multiple speeds, so you can choose one based on what you're processing. For example, a low-speed setting is ideal for soft fruits and vegetables while a high-speed setting delivers more power for tougher foods like carrots and nuts.
Safety features
Safety should always be a top priority when shopping for any kitchen appliance, so look for a model that comes with locking mechanisms or other built-in safety features to protect you while using it. Some small food processors also offer blade covers to limit the risk of injury while removing or installing blades.
Design
The design of a food processor is also an important factor to consider; it has to be both easy to clean and easy to store when not in use. Choose a model with a compact design so it won't take up too much counter space, but still has enough capacity to handle all your food preparation tasks. Look for extra features such as cord storage or non-slip rubber feet which can make using the appliance more convenient.
Disc options
It's great to have different shredding and slicing options, but if your small food processor comes with a lot of disc attachments, you'll need to find a place to store them so they don't end up lost somewhere in the kitchen. Some food processors have blades for different functions, while others have discs that can be set to different sizes for cutting. Select models are designed so that the discs and other attachments can be stored right in the bowl to save space and keep things tidy.
Want to learn more about using your food processor? Check out this video.
People Also Ask
Why should I get a small food processor?
A mini food processor is a great tool for anyone who often cooks at home because it can save you lots of time and effort by cutting, mincing, and chopping ingredients quickly and precisely. You can also use them to make salsas and dips at home or to grate cheese, which allows you to buy more affordable blocks of cheese instead of pricy pre-shredded cheese. You can also use small food processors to prepare homemade mayo, sauces, and gravies.
How much should I spend on a small food processor?
Food processors are available at a wide range of prices, so how much you should spend will likely depend on how often you plan to use yours and what it needs to be able to do. Small food processors with built-in scales, timers, accessories, and heating features can cost as much as $200 or more. A simple machine, on the other hand, can cost as little as $30.
If all you want to do is chop things quickly and you don't think you'll use or have room for a lot of attachments, it's a good idea to get a small food processor that costs less than $100. But if you like to cook all sorts of different recipes or meal prep ingredients to put in the freezer, you may want to invest in a more comprehensive model. For example, select food processors can also be used as stand mixers or blenders, making them more versatile.
How many accessories should my small food processor include?
One thing that makes modern food processors stand out is the number of attachments and accessories they can come with. One of the standard accessories is a chopping blade that can be used to chop, mix, mash, and puree ingredients. Some small food processors can also be used for kneading with a special dough hook that stretches the dough instead of cutting it. Some models may even include one or two discs with a spindle that can be used to shred, slice, and grate cheese and vegetables.
Some pricier appliances have a julienne disc for slicing potatoes or carrots into matchstick-like pieces, a slicing blade that can be adjusted to different thicknesses, and attachments for whipping or beating. Other food processor accessories include a blender jug and different-sized bowls to chop smaller amounts of nuts, herbs, or chocolate.
What's the difference between a food processor and a blender?
Even though both of them can do similar tasks, food processors and blenders are not the same thing. The perfect tool for chopping and mincing, a food processor's sturdy base lets the blades cut through more at once, so you can quickly and evenly chop ingredients. Most food processors have blades that can slice and grate, which is something a blender can't do. Many people only use their food processor to chop vegetables, but it should also be your go-to kitchen appliance for easily grating cheese, slicing potatoes for a gratin, grinding fresh bread crumbs, or quickly mixing butter into flour to make pie dough.
You can also puree dips and sauces with a food processor, but the results will be chunkier than with a high-powered blender, so it works best for things like hummus and pesto. If you want to make smoothies that are lump-free or puree liquids like soup, you'll need a blender. Since the bowl of a food processor is usually shaped like a doughnut, it isn't as practical for keeping liquids contained inside.
How do I take care of my small food processor?
The blades of a food processor are not made to be sharpened, but they can become dull if you use the appliance very often or for professional use. If that happens, you can buy replacement blades from the manufacturer to ensure consistent results.
To clean the appliance after use, you should put water and a few drops of dish soap in the bowl and turn it on to get it as clean as new. You can also use a bottle brush for cleaning around the feed tube, inside the food pressers, and along the sharp blades. You should never put water in the base of a food processor though; instead, use a damp cloth or sponge to wipe it clean.
Why trust us
Our commitment to the consumer begins with product selection and ends with the last word we write in each article. Each small food processor is carefully vetted quantitatively through star ratings and number of reviews qualitatively through careful examination of reviews and the features each one has to offer. Leveraging our team of bargain hunters, we're also always sure to keep your budget in mind while we find the best small food processors on the market. Our team of experts is dedicated to accurately depicting the pros and cons of each small food processor, translating technical product specifications into information you can understand. Our mission is to make sure you get the most bang for your buck…or in this case the best processing for your pennies.
Related Posts
Food Processor vs. Blender: Weighing In on the Pros and Cons of Each
Save Space With the Best Blender-Food Processor Combos