The Best Smart Door Locks for Your Money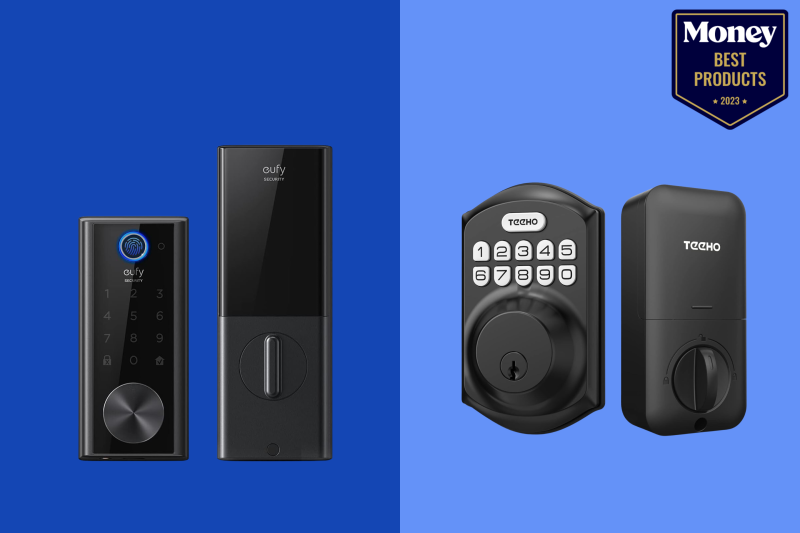 In today's tech-filled world, traditional key-based door locks may seem a bit outdated. If you're looking to upgrade your home's security, a smart door lock can help. These smart security devices use electronic locks, digital keypads, mobile apps and biometric recognition to keep your home secure and give you better control over who has access to it.
In this guide, we've reviewed the top smart door locks of 2023 to help you find the right model for your home. We've covered each option's pros, cons and features as well as buying advice and installation tips so you can make an informed purchase. If you're ready to take your home's security to the next level, keep reading to learn more about how you can benefit from a smart door lock.
Best Overall: ULTRALOQ U-Bolt Pro Smart Door Lock
Best Minimalist Pick: TEEHO TE001 Smart Deadbolt Lock
Most Secure: SMONET Fingerprint Electronic Door Lock
Most Convenient: eufy Security E130 Smart Door Lock
Best for Rental: Hornbill Keyless Smart Door Lock
Comparing the Leading Smart Door Locks of 2023
List Price: $199.00
The ULTRALOQ U-Bolt Pro Smart Door Lock earned its spot at the top of our list with its versatile design and impressive weather resistance. The lock can be opened with a key, passcode, fingerprint recognition or remote app control. It's designed to withstand extreme temperatures ranging from -31 to 155 degrees Fahrenheit. It also has an ingress protection (IP) rating of IP65, meaning it's highly resistant to dust and moisture.
Offering versatile access for family members and guests, this product can store a maximum of 100 fingerprints and 50 passcodes. The mobile app keeps an entry log, allowing you to see who enters your property and when. With first-grade American National Standard Institute (ANSI) certification, this product is also up to 35 times stronger than a traditional door lock with a service life that's about seven times longer. For your peace of mind, the device is backed by a lifetime warranty for mechanical issues and an 18-month warranty for electronic issues. While this smart door lock is sold at a relatively high price, the dependable quality and features are worth it. Plus, it occasionally goes on sale for under $150.
Pros
Easy drill-free, DIY installation
Automatic lock/unlock features
Resistant to dust and severe weather
Cons
Separate adapter is required for remote access
Incompatible with some door types
List Price: $59.99
If you're looking for a smart product that doesn't require a Wi-Fi connection or an app for use, then consider the TEEHO TE001 Smart Deadbolt Lock. It has a straightforward, user-friendly design and can be easily self-installed in a matter of minutes. It can store up to 20 passcodes for residents and family members, and you can also set one-time-use codes for service people, babysitters, petsitters and other visitors.
For convenience, this device can be programmed to lock itself between 10 and 99 seconds after the door closes so you'll never have to worry about forgetting to lock up when you leave the house. You can also easily activate the locking mechanism manually by pressing and holding any key for two seconds. An indicator will alert you when the battery runs low, so you don't have to worry about getting locked out. This option also has an IP54 waterproof rating to withstand weathering.
Pros
Three stylish finishes are available
One-time access codes deleted after use
Durable aluminum alloy construction
Cons
Incompatible with 38-millimeter door holes
No remote access or control
List Price: $119.99
If you're concerned about unwanted guests attempting to enter your home by guessing the keypad's entry code, the SMONET Fingerprint Electronic Door Lock is designed to prevent unauthorized access. For added security and peace of mind, it will automatically lock for five minutes after five incorrect passcode entries. It can be unlocked using one of five methods including mobile app control, keypad, fob, fingerprint recognition or a traditional key. This device is also compatible with voice assistants like Alexa or Google Assistant. The app allows you to monitor entries and activity in real time as well.
Self-installation is a breeze and only requires a few minutes and a screwdriver, saving you the hassle and expense of professional installation. It's powered by four AA batteries, which can last up to one year before needing to be replaced. This smart door lock boasts a sleek, stylish design and an intuitive touchscreen control panel for quick, convenient access to your property.
Pros
Compatible with Google Assistant and Alexa
Impressive IP63 waterproof rating
One-year warranty coverage
Cons
Fingerprint recognition may not work occasionally
No low-battery alerts
List Price: $169.99
The eufy Security E130 Smart Door Lock takes one-third of a second to recognize your fingerprint and about one additional second to unlock your door, saving you the time and hassle of looking for or fumbling with your keys. This model can also be easily unlocked via key, Bluetooth connection or access code, offering plenty of convenient options. Thanks to an internal sensor, it automatically detects when the door closes and locks it so you'll never have to spend the day wondering if you forgot to lock the door.
Boasting a weather-resistant design, this product is built to withstand extreme temperatures ranging from -22 to 158 degrees Fahrenheit, and it has an IP65 waterproof rating. In addition to protecting your home and family, this smart door lock also protects your personal information by storing your fingerprints and data locally instead of on the cloud. Choose from stylish black or nickel finishes for a sleek, attractive addition to your home security system.
Pros
Suitable for all-season use
Encryption chip to safeguard private data
Sturdy steel and zinc materials
Cons
Remote controller sold separately
Only two finishes are available
List Price: $104.99
If you're looking for a reliable lock for your rental property, consider the Hornbill Keyless Smart Door Lock. This product allows you to grant access to whomever you want for as long as you want. This makes it easy to give your guests access for the duration of their stay and revoke it when they leave to maintain security. Plus, you won't have to worry about any lost keys with its passcode entry system. This product is compatible with a mobile app that allows you to remotely monitor who comes and goes from your property so you can have peace of mind.
For optimal security, it'll lock automatically 5 to 120 seconds after the door closes, and it'll remain locked for five minutes after five incorrect passcode entries. With the included and detailed instructions, DIY installation can be completed in under 15 minutes; you won't have to drill holes, and you'll only need a screwdriver. The device and the app will notify you when it's time to replace the unit's four AA batteries. It's available in black and silver finishes, and it's designed to fit most residential wooden doors.
Pros
Automatic locking feature
No need for keys
Remote monitoring and control
Cons
Frequent battery replacements may be needed
App may be difficult to navigate initially
Buying Guide: Smart Door Lock
When shopping for the ideal smart door lock for your home or rental property, there are many features to keep in mind to ensure you choose the best one for your needs. This buyer's guide will give you a detailed overview of these essential considerations to ensure you make a successful purchase.
Security level and encryption features
The most important factors to consider when selecting a smart door lock are its security and encryption features. Look for products that provide a high level of security and authentication with multi-factor encryption, anti-tampering and other verification and safety features. Reputable companies should always provide detailed lists of their products' security and encryption features so you can assess which model is right for you.
Smartphone compatibility
Before purchasing a smart lock, verify it's compatible with your existing smart devices. Most products are compatible with Android and iOS devices as well as other smartphones or tablets. If you have an older device, check to make sure the door lock is compatible with it before making your purchase.
Battery life
Another essential factor to evaluate when choosing a smart door lock is its battery life. Most of these products are powered by batteries that must be recharged or replaced periodically. Look for a model with a long battery life so you don't have to constantly monitor, recharge or replace its batteries.
Door compatibility
Check the size and shape of the smart lock you're considering to make sure it'll fit your door without difficulty. Also, ensure your door will be able to accommodate any additional hardware the lock may require, such as strike plates and deadbolts.
Connectivity
Smart door locks offer different types and levels of connectivity depending on the technology they use to communicate with your smartphone or other devices. Common connectivity options for these products include Wi-Fi, Bluetooth, Zigbee and Z-Wave. Consider which connection type best meets your needs before making your purchase.
Additional features
In addition to basic security features, some smart door locks come with additional features such as voice recognition, mobile app control, remote user access, time-based access and geofencing capabilities. Evaluate which additional features are necessary for your home security setup, and look for models that offer those features at an affordable price point.
Ease of installation
Some smart door locks are easier to install than others. Before purchasing one, assess how difficult it is to install as well as whether you'll be able to install it yourself. Some models may require professional installation, which can cost additional fees.
Warranty
Make sure your chosen smart lock is backed by a manufacturer's warranty in case you experience issues with the product down the line. Read through the warranty's terms and conditions before investing in a product.
Price
The price of smart door locks can vary greatly depending on features, quality and construction materials. Compare the prices of models with similar features to ensure you get the best value for your money. Additionally, read customer reviews to get an idea of how satisfied buyers are with their purchase before making yours.
People Also Ask
How secure are smart door locks?
Smart door locks typically offer excellent security. However, their efficacy depends on the user's adherence to recommended safety practices, such as choosing a strong, difficult-to-guess password or access code. Properly maintaining your smart lock and ensuring its technology is up-to-date will also ensure the product offers the highest level of security possible.
Do smart door locks come with user authentication features?
Yes, many smart door locks have user authentication features such as biometric scanning and encrypted passwords. These are designed to ensure that only authorized people can access the property.
Are smart door locks compatible with all types of doors?
No, smart door locks aren't compatible with all doors. Some models are designed specifically for certain door types and may not be compatible with others. We recommend checking the product specifications or with the manufacturer directly before making a purchase to ensure the lock you're considering is suitable for your existing door.
Can I control my smart door lock remotely?
Yes, many modern smart door locks can be controlled remotely using an associated app or web platform. This makes it easy to monitor access and adjust settings while traveling or away from home.
What kind of battery does a smart door lock use?
Some models use standard AAA or AA batteries, which can easily be replaced when needed. Other models may feature rechargeable lithium-ion batteries, which need to be kept charged in order for the lock to function properly.
Is it possible to install a smart door lock without professional help?
Yes, many models can be self-installed. However, more complex devices or systems may need to be professionally installed to ensure proper functioning.
Can I set up multiple access codes with a smart door lock?
Yes, most modern smart door locks allow you to program multiple access codes for various users or occasions, making it easy to manage who has access to your home or property and when they have access. Often, these codes can be set to expire at certain times or dates; some may also expire automatically after one use. This can be especially helpful if you have a rental property.
Are there additional fees for activating a smart door lock or using its associated app?
This depends on the particular model. Some brands may require monthly subscription fees while others may include activation and operation fees in the purchase price of the lock itself. Check with the manufacturer to determine exactly what fees, if any, may apply before committing to a purchase.
Why Trust Us
Our commitment to customers begins with a carefully curated product selection process, ensuring we provide high-quality and reliable options. We meticulously vet each smart door lock, analyzing quantitative aspects, such as star ratings and review count, and qualitative factors, including review content and product features. Our dedicated team of bargain hunters consistently prioritizes your budget by meticulously scouring the market and identifying the best smart door locks available without compromising on quality or performance. Our panel focuses on presenting the pros and cons of each smart door lock and converting technical specs into understandable insights. We aim to ensure safety and peace of mind with top-rated home security devices.