The Best Smokeless Fire Pits for Your Money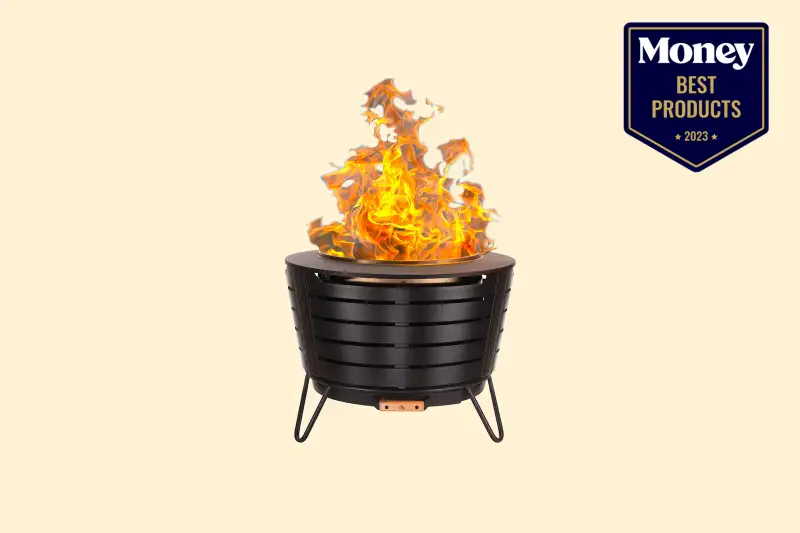 Are you looking to enjoy a cozy backyard fire without the pesky smoke? A smokeless fire pit might be just the solution you're looking for. These compact outdoor fireplaces don't produce the same amount of smoke as traditional fires yet create the same warm, inviting atmosphere in your backyard so you can spend more time enjoying the outdoors.
In this article, we'll introduce you to some of the top smokeless fire pits of 2023. We've researched the leading brands and models and compiled a list of the finest options that offer the ideal combination of style and function. We also included some helpful tips to help you choose the right smokeless fire pit for your needs and space.
Best Overall: Inno Stage Smokeless Fire Pit
Stylish Design: TIKI Smokeless Patio Fire Pit
Easy to Use: Solo Stove Smokeless Fire Pit
Most Versatile: Blue Sky Outdoor Living Ridge Portable Fire Pit
Most Portable: Coozoom Smokeless Fire Pit
Comparing the Top Smokeless Fire Pits of 2023
List Price: $89.95
The Inno Stage Smokeless Fire Pit is our top pick for anyone looking for a safe, affordable, and efficient way to enjoy a warm fire outdoors. This model is made from a durable metal construction and painted black with antirust protection, so it's resistant to high temperatures. It has a patented double-wall construction that maximizes the airflow and burning process, resulting in reduced smoke and a hotter flame. Its two-tier structure makes it very simple to set up while the portable handles allow you to easily lift it and shake the ash out to keep air circulating.
This smokeless fire pit's outer diameter is 15 inches and the height is 12.5 inches, so it's a great choice for small spaces or taking along with you to campsites or picnics. It also comes with a waterproof carrying bag to make transporting it easier. With its attractive design, budget-friendly price, and convenient portability, this smokeless fire pit is the best overall option for any backyard or patio.
Pros
Durable construction with weatherproof finish
Smokeless design, even with wood burning
High heat production with tall flames
Portable with waterproof carrying case
Cons
Maintenance required frequently to prevent rust
Size limits heat output radius
List Price: $395.00
Featuring a sleek, modern design and hairpin legs, the TIKI Smokeless Patio Fire Pit is a stylish addition to any outdoor living space. It's constructed with 16-gauge stainless steel and a weatherproof black powder-coated finish that makes it resistant to rain and other elements. With an internal airflow system designed to reduce excessive smoke and ash, this unit offers a complete bonfire experience without creating much air pollution. This unit provides a heat radius of four feet to create a pleasant campfire experience on your outdoor patio or in your backyard.
The included wood pack provides approximately 30 minutes of burn time, allowing you to quickly create a cozy atmosphere right away. It also comes with a weather-resistant cover and stand for further protection from the elements. Its modern design, durable construction, and convenient accessories make this smokeless fire pit a great option for enjoying a bonfire experience in your outdoor space.
Pros
Heavy-gauge stainless steel fire bowl
Weather-resistant steel outer frame
Pull-out tray for easy ash dumping
Waterproof cover and stand included
Cons
Firewood may need cutting to fit
No handles for maneuverability
List Price: $299.99
The Solo Stove Smokeless Fire Pit sets itself apart from the competition for its quality features, ease of use, and straightforward maintenance. The modern design of this option is further enhanced by its easy setup, requiring no parts for assembly. All you have to do is flip the ring and light your fire. It also comes with a removable pan that catches all the fine ash in one place, making clean-up quick and easy. Constructed of durable stainless steel, this fire pit is surprisingly lightweight, weighing just 20 pounds, yet it can withstand ultra-hot flames.
This upgraded model features a signature 360-degree airflow and double wall design with bottom vent holes for oxygen. These holes feed the fire from below to create a burst of hot air over the fire to reduce the smoke. This creates an enjoyable fire without the irritations or odors often associated with campfire smoke.
Pros
Durable stainless steel construction
Easy to clean and maintain
Lightweight at approximately 20 pounds
Efficient burning with minimal smoke
Cons
Fire pit emits some smoke when started
Caution required if bottom gets very hot
List Price: $109.99
The Blue Sky Outdoor Living Ridge Portable Fire Pit is a versatile addition to any backyard thanks to its dual-fuel design and infused airflow technology. These features allow it to burn standard firewood, wood pellets, or a combination of both. This means the fire can also generate significant heat in the burn chamber according to your preferences, with temperatures exceeding 1,400 degrees Fahrenheit. Plus, this thoughtfully designed smokeless fire pit provides all the warmth and ambiance of a campfire without excessive smoke, spark, ash, or embers.
Constructed with heavy-duty steel that has a high-temperature, heat-resistant black powder coating, this fire pit is designed to withstand rugged outdoor conditions. Another great feature is its size and portability. It measures 15.76 x 12.5 inches and fits into an included carrying bag for easy transportation. This makes it a great option for barbecues, camping trips, and backyard campfires.
Pros
Transports and sets up easily and quickly
Throws off significant heat when fully going
Burns both wood pellets and firewood efficiently
Features value price for its quality performance
Cons
May smoke when refilling with pellets
May smoke when burning large logs
List Price: $179.99
The Coozoom Smokeless Fire Pit is ideal for camping, tailgating, and other outdoor adventures. Its portable design allows it to be assembled in seconds without any required tools. This model measures 22.25 x 19.25 inches when put together but separates into two pieces for easy transportation. It also comes with a fitted carrying bag for easy transportation and protected storage in campers and RVs. Once assembled, the handles make it easy to move the fire pit whenever necessary.
This smokeless fire pit has a double-wall structure that facilitates secondary combustion, meaning a burst of hot air will be above the fire for optimal heat while reducing the smoke significantly. The included ash pan catches any loose ash while acting as a heat shield, protecting the ground beneath from getting too hot. These features and accessories make this option an ideal choice for anyone looking for a safe, smokeless fire pit to take along on an outdoor excursion.
Pros
Transports anywhere easily
Starts easily and quickly
Assembles in seconds
Generates great heat output
Cons
Does not include a screen or cover
Has a 10-person capacity for warmth
Buying Guide: Smokeless Firepits
Choosing the right smokeless fire pit can be a daunting task. With so many factors to consider, it's important to do your research before making a purchase. This guide provides an overview of the key features to evaluate when choosing a smokeless fire pit so you can make an informed decision.
Size
When choosing a fire pit, it's important to consider the size of your outdoor space and the number of people that will be using it. Make sure to get a fire pit that has enough room for everyone but still fits in the available space. Keep in mind that some fire pits are designed for larger groups, while others are better suited for more intimate gatherings.
Fuel type
There are several types of fuel sources available for smokeless fire pits. Propane is one of the most commonly used fuel sources but charcoal, firewood, and wood pellets may also be used depending on the type of fire pit. Read the fire pit specifications carefully and choose a fuel source that fits your needs and preferences.
Heat output
The heat output of a smokeless fire pit will vary depending on the fuel source and design of the fire pit. The heat output is typically measured in Fahrenheit or BTUs (British Thermal Units) to tell you how much heat is produced. It's essential to consider how much heat you need as this will impact its overall performance and efficiency.
Safety features
Safety should always be a top priority when using any fire pit. Look for a fire pit with safety features such as flame shields, spark screens, and heat deflectors to keep everyone (and your outdoor space) safe while enjoying the warmth of the flames.
Durability
Outdoor fire pits should be designed for long-term usage. Look for heavy-duty construction that can withstand extreme temperatures and weather conditions. Stainless steel is usually the best choice for durability because it can withstand high temperatures and won't rust over time. You may want to look for other features, such as waterproof seals and coatings, that help protect against deterioration as well. Some models may also come with weather-resistant covers.
Portability
Some smokeless fire pits are designed to be easily moved from one place to another, while others must remain stationary. Consider how often you'd like to move your fire pit and choose one accordingly. Be sure to check the weight of each model before purchasing to make sure it's manageable for transportation if needed.
Ease of use
Ease of use goes hand-in-hand with portability. Consider how easy each model will be to assemble, use and maintain before making a purchase. You should also pay attention to any instructions or safety requirements that the product may have before using it.
Aesthetics
The design of your smokeless fire pit should complement your outdoor décor, so be sure to choose one with a style that fits the rest of your furnishings. Many smokeless fire pits come in various colors, shapes, and sizes so you can find one that matches your space.
Warranty
A warranty is another important consideration when selecting any product, especially those designed for long-term outdoor use such as smokeless fire pits. Before making a purchase, check to see if the model comes with a warranty and review its terms to ensure it meets your requirements for coverage duration and replacement parts if needed in the future.
People Also Ask
What are the benefits of using a smokeless fire pit?
Smokeless fire pits are better for the environment as they produce low-carbon emissions; plus, they create more warmth than an open fire. They also require less wood and burn at higher temperatures, resulting in improved energy efficiency. Most smokeless fire pits do not produce any odors or fumes, but depending on the fuel used, there may be some odor when it's first lit.
What materials are used to build smokeless fire pits?
Smokeless fire pits are typically made of cast iron, stainless steel, aluminum, or galvanized steel. Other materials such as brick and stone can also be used to build smokeless fire pits.
Are smokeless fire pits safe to use indoors?
No, smokeless fire pits should only be used outdoors due to potential risks from carbon monoxide poisoning and smoke inhalation.
Are there any safety precautions I should take when using a smokeless fire pit?
Yes, always ensure the area around the fire pit is clear of flammable items such as fabric, paper, and other materials. Also, be sure to keep children and pets away from the area or supervise them closely. Make sure to wear appropriate clothing when working with open flames and avoid direct contact with skin or eyes when using propane tanks or similar fuel sources.
How often should I clean my smokeless fire pit?
You should clean your smokeless fire pit at least once a week if the fire pit is used frequently. Cleaning it will help reduce soot buildup, which could affect its performance and cause it to produce excessive smoke.
Why trust us
Our commitment to the consumer begins with product selection and ends with the last word we write in each article. Each smokeless fire pit is carefully vetted quantitatively through star ratings and the number of reviews as well as qualitatively through careful examination of reviews and the features each one has to offer. Leveraging our team of bargain hunters, we're also always sure to keep your budget in mind while we find the best smokeless fire pits on the market. Our team of experts is dedicated to accurately depicting the pros and cons of each product, translating technical product specifications into information you can understand. Our mission is to make sure you get the most bang for your buck…or, in this case, the best outdoor experience for your buck.